John Fanta
College Basketball Broadcaster and Reporter
CHICAGO — Now that the San Antonio Spurs have won the Victor Wembanyama sweepstakes and the draft order is set, it's time to circle back to our FOX Sports NBA Mock Draft 2.0. 
Some questions started to get answered Tuesday night, but there are still a plethora that remain deeper into this class. The hot debate that will rule in the coming weeks ahead of the draft is what the Charlotte Hornets will do at No. 2, and whether Brandon Miller or Scoot Henderson will go higher in the draft.
Here's what we have at the moment. 
1. San Antonio Spurs: Victor Wembanyama, PF/C, Metropolitans 92
Wembanyama will join David Robinson in 1987 and Tim Duncan in 1997 as San Antonio's third No. 1 pick in franchise history. He is what the Spurs have been working for and will instantly become the franchise centerpiece, surrounded by a young core of Keldon Johnson (23), Devin Vassell (22), Tre Jones (23), Malaki Branham (20) and Jeremy Sochan (19). Wembanyama is 7-foot-3 with an eight-foot wingspan, has the ability to hit 3s with a signature runner shot from beyond the arc, shows the skill set to be a playmaker for others, and is a lock, if healthy, to be in the NBA's Defensive Player of the Year race every season because of his length. It's simply absurd just how many boxes Wembanyama checks off. 
All Wembanyama has done with Metropolitans 92, the LNB Pro A team in France, is average 21.6 points on 47% shooting, 10.5 rebounds and 3.1 blocks in just over 32 minutes per game. Beyond the numbers, the effort he gives and how he's been a teammate to others are areas that have been praised. There's just no downside to Wembanyama, creating a specific aura that we have not seen from a prospect since LeBron James. 
The only thing stopping Wembanyama from being one of the greats in NBA history is if injury issues arise. Three scouts have told FOX Sports the same thing in the last week in Chicago: "By Year 3, he will be a top 3-5 player in the NBA, if not the best all-around talent in the league." 
Spurs win 2023 NBA Draft Lottery, right to draft Victor Wembanyama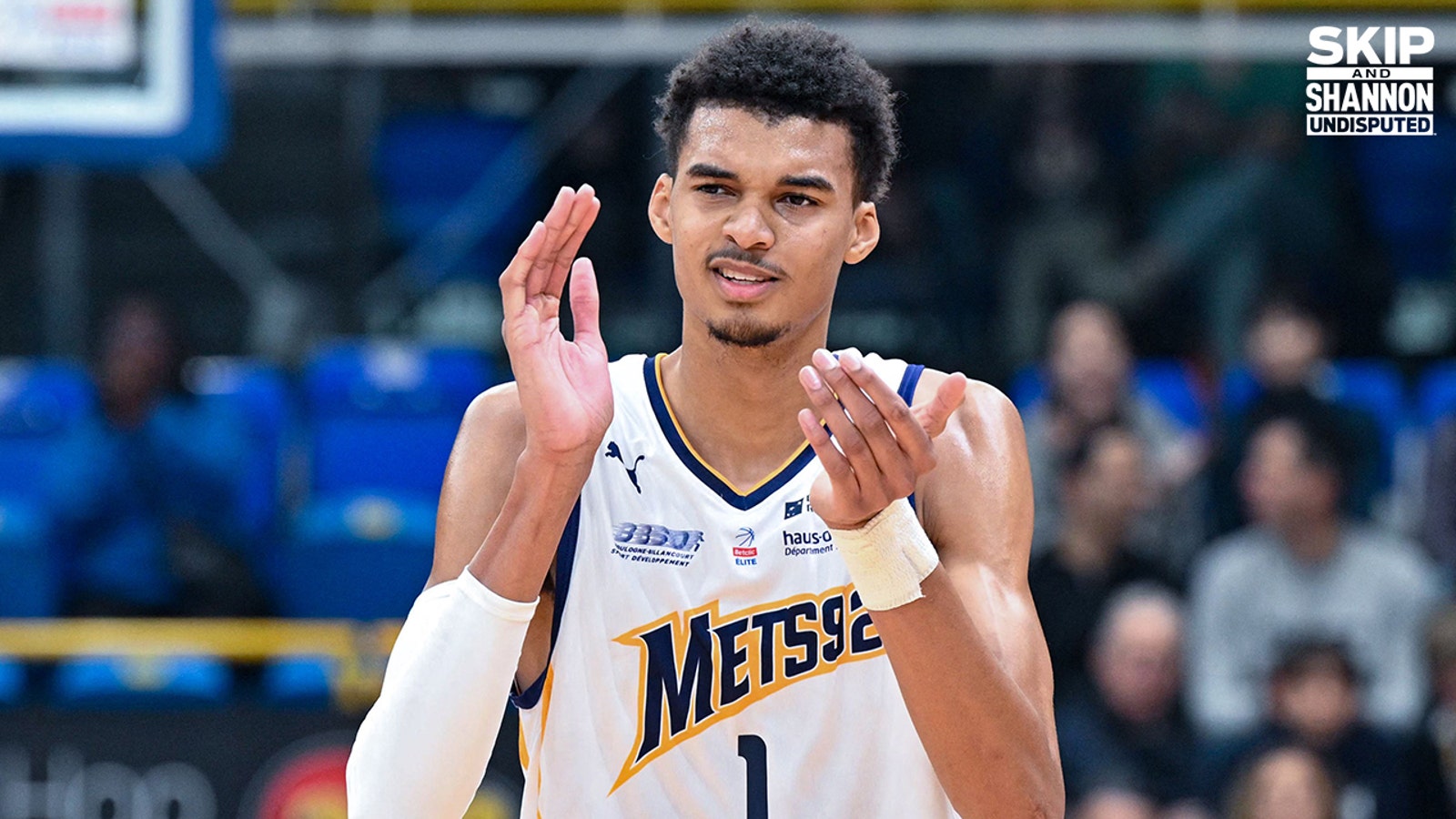 Skip Bayless and Shannon Sharpe react to the Spurs winning the NBA Draft Lottery, giving them the right to select Victor Wembanyama.
2. Charlotte Hornets: Brandon Miller, F, Alabama
Charlotte has several questions to address this offseason. First and foremost, who's the owner of the team? Reports have stated owner Michael Jordan is in talks to sell a major stake of the franchise. This could impact restricted free agent Miles Bridges, who was suspended by the NBA after getting charged with domestic violence. Is he worthy of a long-term deal? We'll see what Charlotte thinks of a player who put up over 21 points per game in the second half of the 2021-22 season but has character issues. 
The other question will be what they do with restricted free agent P.J. Washington. LaMelo Ball's season ended because of a broken foot, but you are still talking about an All-Star and a lead guard option. Adding Miller as the team's franchise centerpiece is a nice second prize in the lottery. There are concerns with Miller's character after a Tuscaloosa police investigator testified that he brought the gun that ex-teammate Darius Miles used in a fatal January shooting near campus on Jan. 15. Miller was not charged for this involvement. 
On the basketball floor, Miller is a 6-9 wing with a 6-11 wingspan, and his offensive skill set is strong. He shot over 38% from 3-point range this past year and showed the ability to make shots off the dribble. He mimics his skill set after Paul George and goes about the game with a playmaking flair. His length allows him to guard multiple positions, block shots and disrupt opposing offenses with his active hands. Miller has to do one thing: show he can hold up from a durability standpoint in the NBA. 
3. Portland Trail Blazers: Scoot Henderson, G League Ignite
Let's be honest here: This is not the best fit in Portland, but you can't pass on Henderson at No. 3. The Blazers have an elite player and seven-time All-Star in Damian Lillard, along with 19-year-old Shaedon Sharpe, who went No. 7 to Portland last season. That being said, Henderson is an outstanding athlete with elite speed that leads to a quick first step and the talent to finish at the rim. He can make plays for others as a really strong guard in pick-and-roll situations, and he's shown the ability to hit pull-up shots. The skill set beyond the 3-point arc is something that needs to keep coming along, but all of his plus activity on the offensive end, along with the pride he takes in getting stops and in his game in general, are all reasons why he is one of the best prospects in this draft class. The 19-year-old is only 6-2, but he has a 6-9 wingspan and possesses elite hops. His leadership qualities have grown leaps and bounds in the last two years, while his upside and being able to potentially grow under Lillard's wing make him a really interesting prospect to watch in Portland. 
I would not be surprised if the Blazers traded out here based on Henderson not being the perfect fit and his value and upside being so high.
4. Houston Rockets: Amen Thompson, G, Overtime Elite
The 6-7, 20-year-old is the best prospect from the Overtime Elite program in Atlanta, serving as a high-level playmaker and elite distributor. His quickness in transition and burst to go above the rim are on another level, and Thompson tries to create those types of sequences by being a really steady defender that blows up plays with his activity on that end of the floor. As for the fit, Thompson can come into the Rockets organization and set up the offense while teaming up with Jalen Green, who put up 22.1 points and 3.7 assists per game this past season. 
5. Detroit Pistons: Jarace Walker, F, Houston
It was Detroit devastation on Tuesday as the Pistons fell out of the top four and into the fifth slot. The vibe around the town has to be one of sadness. The good news for this franchise? They have backcourt pieces to build off with Cade Cunningham and Jaden Ivey, and while the organization does have Jalen Duren and James Wiseman, going after who I believe is the best available talent and someone who will serve as a huge addition to a team that was atrocious defensively this past season seems like a smart move. 
Walker, a 6-7 forward with a 7-3 wingspan, plays the game with a physicality level that would make you think he's a fullback on a football field. He is switchable defensively and has the ability to play through anything opposing teams throw at him on that end of the floor. Walker can also be in a small-ball lineup, possessing versatility that should play well in the NBA. The key question: can a shot doctor get him to become more consistent in that department? If so, watch out. Everything else is in place. 
6. Orlando Magic: Cam Whitmore, F, Villanova
With NBA Rookie of the Year Paolo Banchero, Franz Wagner, Wendell Carter and Markelle Fultz, Orlando has a rising core of talent that is well-positioned for the future. The big need for the Magic entering the 2023 NBA Draft? A catch-and-shoot offensive option who can do a variety of things. While Whitmore is not a proven shooter, he has shown the ability to get hot from 3, shooting just over 34% on the season. The first one-and-done Villanova prospect since Tim Thomas in 1997, Whitmore has a good handle while being a really active defender and rebounder. The key will be honing in on the different ways he can attack the rim and the balance he can find with his shotmaking ability from the outside. If the latter comes through, Whitmore's explosiveness and the way he embraces contact make him a great fit for any roster. He can supply the Magic with another perimeter option. 
Cam Whitmore leads Villanova to a victory over Georgetown
Villanova's Cam Whitmore scored 19 points against the Georgetown Hoyas in an 80-48 victory.
7. Indiana Pacers: Ausar Thompson, G, Overtime Elite
Indiana has its backcourt set with Tyrese Haliburton and Bennedict Mathurin. Pursuing a high-upside wing who carries a ton of athleticism and bounce while improving his jumper as time has gone on is what the Pacers would be getting in Thompson, the twin brother of Amen. Indiana could use a lockdown defender on its roster, and that's Ausar to a tee. He's got elite quickness and understands how to get stops on that end of the floor, possessing the ability to guard any position. He uses his speed to get to the rim, where he's developed into a solid finisher. The key is the perimeter shot, but his ability to do so many little things, along with the pure athleticism, give him value for an Indiana team seeking defensive stoppers. 
8. Washington Wizards: Taylor Hendricks, F, UCF
The Wizards are in a deep hole right now. They're in the market for a general manager after firing Tommy Sheppard earlier in the offseason. Bradley Beal is under team control through 2026, while 27-year-old Kyle Kuzma averaged over 21 points, seven rebounds and close to four assists this past year and has a player option. The goal in this draft for Washington is to aim for upside. Hendricks has shot up boards like a rocket as a 6-8 big man with a 7-1 wingspan. Averaging over 15 points per game this past year while shooting nearly 40% from 3-point territory, the UCF product can be special in the pick-and-roll and pick-and-pop situations. Hendricks is also a really strong defender who can protect the rim, guard the ball well against any position and get after the opponent. His pull-up jumper off the dribble is another one of the tools in a loaded box for the versatile talent. There are not many negatives to what he can do, just a bit of an unproven nature to his overall sample size. 
9. Utah Jazz : Anthony Black, G, Arkansas 
The Jazz are set with size as Lauri Markkanen and Walker Kessler are in the fold, but building with a dynamic guard who makes high-level plays for his teammates could be the way Danny Ainge goes as he enters the next phase of an organizational rebuild. Black has a change-of-pace to his game that allows for him to be a really difficult cover in transition, and he has a knack for knowing when and where to distribute on the court. Averaging close to 13 points and nearly four assists per game in his freshman year with the Razorbacks, Black showcased a well-rounded ability on both ends, utilizing his quickness to be disruptive defensively. The key for Black will be when opponents go under screens and whether he can bury them by hitting jumpers.
10. Dallas Mavericks: Cason Wallace, G, Kentucky
What a difference a year makes for the Mavericks. Kyrie Irving is eligible for a five-year, $272 million extension, which would put Dallas over the salary cap and into a tough spot. While there's a consensus that the Mavs need to fill the void with interior defense, there's not really a great value with this tenth pick in the draft. It's possible Dallas moves back via trade, but if the Mavs pick someone, how about the Kentucky product, Wallace? His commitment and intensity on the defensive end of the floor at the age of 19 is beyond his years, and he has an offensive game that carries some burst. The way that he can dig in and disrupt opposing guards at just 6-2 is pretty special, and on the offensive end, he's developed a floater game with solid touch. There are some things he needs to figure out in the scoring column, but he bothers people in the way that he guards and that helped John Calipari's Wildcats get on track. Could Wallace be the next Kentucky guard to get rolling in the NBA like we've seen in the playoffs? Certainly. 
11. Orlando Magic: Gradey Dick, Kansas
As Orlando tries to build out its future, capitalizing on a 6-8 wing who has great feel for the game and was coached by Bill Self at Kansas should play at the next level. Dick's shooting release is really sharp, and he can move well without the ball, a nice attribute to an offensive system with a playmaker like Banchero. The amount of pressure he puts on a defense to guard the 3-point line can lead to him scoring as a driver and slasher while being able to make plays with a high IQ. Dick isn't necessarily great on the defensive end, but he can be a role player in the system. 
12. Oklahoma City Thunder: Jordan Hawkins, Connecticut
With Shai Gilgeous-Alexander rising to star level on both ends of the floor and Josh Giddey showcasing his ability to be a distributor and playmaker for his teammates, the Thunder are in need of shotmaking. There's absolutely a case to be made for Hawkins being the best pure shotmaker in this class. The 21-year-old can move well off screens and has a smooth, quick release that can devastate a defense. He shot 21-of-42 from downtown on the Huskies' ride to a national championship. This feels like a no-brainer fit for OKC. 
13. Toronto Raptors: Nick Smith Jr., G, Arkansas
Toronto has plenty of questions to figure out this offseason. What's going to happen with Fred VanVleet and Gary Trent Jr.? Both impact guards could walk away from the organization this summer and head elsewhere as free agents. With that in mind, it might be beneficial for Toronto to try and get a playmaking guard with serious upside. Smith, a 6-5, 19-year-old from Arkansas, was the No. 1 recruit in the class of 2022. A knee injury hampered his freshman season, but Smith's pure scoring ability combined with high-level athleticism allow him to do a variety of things on the offensive end of the floor. Shot selection is an important area for Smith to work on, but there's no denying his finishing ability and touch. His perimeter shot also needs to develop. The defensive end isn't too big of a concern, as Smith plays with a lot of energy on that end of the floor and his positional size is good enough. Helping out Scottie Barnes is key for Toronto, and the backcourt is where it has to begin.
14. New Orleans Pelicans: Jalen Hood-Schifino, G, Indiana
The Pelicans could use more help on the perimeter to swing their offense into a different gear at times. While Zion Williamson, Brandon Ingram and CJ McCollum make up a nice core, this team needs to find another guard option to help them score the ball more effectively. There's no denying the defensive tenacity that Willie Green's team plays with. The 6-4, one-and-done Indiana prospect, Hood-Schifino could fill a nice role in New Orleans. His pull-up game off the dribble was really impressive this past year at Indiana, and the way he took over the lead guard slot when Xavier Johnson went down showed just how much he was capable of night in and night out. The pressure he can put on a defense in ball-screen action is really good, and Hood-Schifino is a solid defender who disrupted Big Ten guards this past season. He didn't get overwhelmed by the big expectations and bright lights of Bloomington either, and could prove to be the right supplemental piece for the Pelicans, who just hope Williamson can be fully healthy and ready to go for a full season. 
Jalen Hood-Schifino goes off against No. 5 Purdue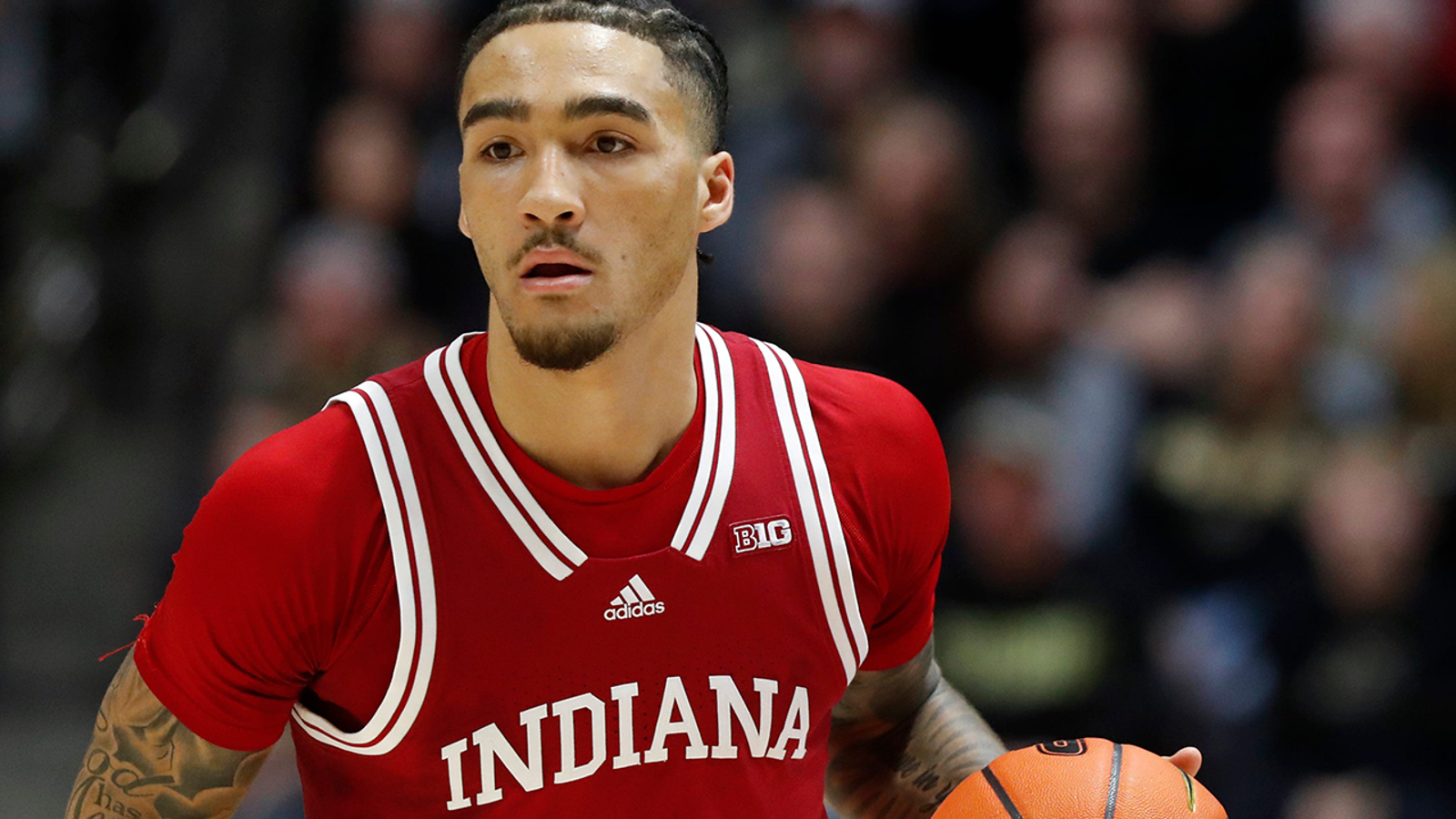 Indiana freshman star Jalen Hood-Schifino went off against No. 5 Purdue with a career-high 35 points in a 79-71 win.
15. Atlanta Hawks: Jett Howard, G, Michigan
After being among the worst 3-point shooting teams in the NBA, the Hawks need to address perimeter shotmaking to help support their superstar, Trae Young. While Dick or Hawkins could be lead options, they're tracking to not be around by the time the Hawks pick at No. 15. Howard, a 6-8 wing who is 19 years and the son of Michigan head coach Juwan Howard, would fill the hole on the perimeter in Atlanta. Between the positional size and the desire to be a playmaker, there's some upside to him at this slot.
16. Utah Jazz: Keyonte George, G, Baylor
The Jazz have size and major potential with Lauri Markkanen and an established rim protector in Walker Kessler, so the strategy for Utah is to target upside and potential bucket-getters. George can be that type of guy in the league. At 19, he stepped into Baylor and made certain things on the offensive end look a lot easier than they actually were. With 12 performances of at least 20 points in his freshman year, George plays a way that should translate to the NBA, from drilling 3s to being able to score on the drive to the rim. George also tallied three assists per game this past year. While the 6-4 frame is of slight concern defensively, his offensive skill set could be a nice fit for Utah's system. 
17. Los Angeles Lakers: Rayan Rupert, G, New Zealand Breakers 
Los Angeles has other offensive options beyond LeBron James and Anthony Davis with Austin Reaves, D'Angelo Russell and Rui Hachimura, among others. But how about an elite perimeter defender with significant upside? That's an area of need for L.A, and Rupert can fill it. The 6-6, 19-year-old Frenchman is one of the best defensive players in the class, disrupting anything and everything in his way with a 7-3 wingspan. He is all over passing lanes – seriously, his activity on that end of the floor in the NBL has been outrageous. The shotmaking is up-and-down, but that's an area that can evolve. He is the son of French national team captain, Thierry Rupert, while his sister Iliana was a first-round WNBA draft pick in 2021. 
18. Miami Heat: Brice Sensabaugh, F, Ohio State
As Miami has been the surprise of the NBA postseason, let's not forget the general area this team was exposed for in the regular season: 3-point shooting. The Heat are set up with centerpieces as Jimmy Butler is guaranteed $146.3 million through 2026, while Bam Adebayo is in Year 2 of his five-year, $163 million deal. But Miami can use more shotmaking, and Sensabaugh showed off plenty of that in one year with the Buckeyes. Shooting 41% from downtown this past year in Columbus, the 6-6 wing has tremendous mechanics, a smooth delivery and displayed a knack for knowing where to be from a spacing perspective to get good shots in transition. 
19. Golden State Warriors:  Kobe Bufkin, G, Michigan 
While the Warriors have taken some projects in recent years in the midst of the reign of Stephen Curry, Klay Thompson and Draymond Green, getting a two-way talent who can add something defensively to a group that really struggled this season seems like a very logical move. The 6-4 Bufkin has a really good feel for the game and the athleticism to help the Warriors or another team in a variety of capacities. His speed and ability to move without the ball are positives, and he showed that he could finish at the rim in the Big Ten, averaging 14 points per game. The pull-up game off the dribble is another quality trait, and Bufkin's midrange was really solid with the Wolverines. He uses his quickness to defend and for someone at his size, he's a quality defender. While he could be turnover-prone at Michigan, there's no question he can come into an organization and help in some capacity on both ends. Golden State needs to add depth and athleticism. 
20. Houston Rockets: Leonard Miller, F, G League Ignite
Houston was abysmal defensively this past season and Miller can address that need. A 6-10 forward with a 7-2 wingspan, Miller possess guard skills while being ambidextrous at the rim. His skill set is unique and the Rockets should be looking to take big swings in their rebuilding efforts. With his length and athleticism, the defensive growth should continue for Miller. He also would follow in the footsteps of G League Ignite product Jalen Green, who Houston picked two years ago and obviously has a connection to that team. While perimeter shotmaking isn't necessarily a strength, his jumper inside the arc was pretty solid for Ignite, so that part of his game could progress. The athleticism and upside are present for Miller to sit somewhere in the top 20. 
21. Brooklyn Nets: Dereck Lively II, C, Duke
Let's start with where the Nets stand – they do have some stability following the drama and end to Kevin Durant and Kyrie Irving. That doesn't mean Brooklyn is set up to win at a high level, making back-to-back draft picks in the 20s important because the organization enters the offseason just $10 million below the $162 million tax threshold. Having Ben Simmons healthy, getting a deal done with Cameron Johnson and building off Mikal Bridges are priorities for this team. Getting a rim protector is a priority for this team, and that's why Lively II would be a nice selection. At 7-1 with a 7-8 wingspan, Lively II picking up steam as the year went on changed Duke's season. He's a quality help defender and is really mobile, giving him the upside to be strong in ball screens and be a lob threat. His aggressiveness and overall agility are areas to improve upon, but the way the game slowed down for him as the year went on led to him becoming as good as any rim protector in college basketball by the end of the season. Hitting the weight room this summer will be a priority for Lively II.
22. Brooklyn Nets: GG Jackson, G, South Carolina 
Watching Jackson at the combine in Chicago this week left me wondering if he's going to end up shooting up draft boards. It's been a wild last year for the South Carolina product, who reclassified after originally getting ranked as the No. 1 recruit in the 2023 class and electing to go to the Gamecocks after decommitting from North Carolina. As one scout said, Jackson is hard to gauge on a board because he played for a bad South Carolina team and was so young, but you can't deny the upside when watching him at the combine. He's 6-9 and more than physically ready for the NBA level. Jackson can create shots off the dribble for himself, and he's got quality touch while using his frame to be a capable defender. The shotmaking upside is the area in question, but when you look at all Jackson can do with the idea in mind that he can handle the ball at his length and could take off with the right coaching, this is a really interesting prospect whose stock could prove to be a steal in the 20s. 
23. Portland Trail Blazers: Noah Clowney, F, Alabama
The biggest need for the Blazers is size, and Clowney can certainly fit the bill for that. Jusuf Nurkic is a solid 7-footer, but Clowney's upside, mobility and defensive talent are all a plus, and he could be a long-term big for whoever he ends up with. With a 7-2 wingspan while averaging 10 and eight per game, Clowney showed that he could attack the rim and cover a lot of ground on both ends. Shooting just 28% from 3, that's the area for the 18-year-old to continue to evolve in. And yes, that young age is why there's a lot to like about him if he's still around at 23.
24. Sacramento Kings: Bilal Coulibaly, F, Metropolitans 92 
Coming off a breakthrough 48-34 season and an epic playoff series with the Warriors, the Kings are on the map and have a core of De'Aaron Fox, Domantas Sabonis and Malik Monk, among others. So, the Kings can get creative with their selection, and Coulibaly is one of the rising prospects in this class. At 6-7 with a 7-3 wingspan, the 18-year-old is a really athletic player who can defend at a high level already. He moves well off the ball and showed the trait of attacking the rim this year. The ball handling and shooting are areas for improvement, but the Kings possess a lot of that. Coulibaly's pure athletic ability and disruptive nature on defense are why he's rising on boards, especially if there's a belief that the shot can come around. 
25. Memphis Grizzlies: Kris Murray, F,  Iowa
While the Grizzlies' hopes for next season are in great jeopardy with disciplinary action hovering over Ja Morant following his suspension from all team activities after being captured for a second time holding a gun in an Instagram video, in terms of who Memphis drafts, the need for more 3-and-D threats is the thought in mind. Murray, the twin brother of Keegan, is a bucket-getter who averaged over 20 points per game this past year at Iowa and showed an ability to impact the game off the dribble. Murray would be a nice addition to a team that believes it can win in the near future because he is already 23. The way the offensive side comes easy for him should make him a plug-and-play option. 
26. Indiana Pacers: Bobi Klintman, F, Wake Forest 
While the Pacers have their backcourt of the future in place with Tyrese Haliburton and Bennedict Mathurin, acquiring high-upside weapons is of obvious benefit to a Pacers organization looking to build up a core. Klintman is a 6-10, two-way wing whose college stats this past year at Wake Forest (5.3 PPG, 4.5 RPG) don't tell the whole story. His handling and passing ability at his size combined with shot creating have allowed for his rise, and the eyebrow-raising decision to withdraw from the combine means that he has been given a guarantee from somebody in this draft and could create more interest from other organizations to take a shot on him. Klintman has to get stronger, but the shot mechanics and mobility fit today's game.
27. Charlotte Hornets: Colby Jones, G, Xavier 
The Hornets have a need at every position to build around LaMelo Ball and they need to get NBA-ready talent. How about a 6-6 wing who steadily got better in a power conference and averaged 15.0 points, 5.7 rebounds and 4.4 assists per game on 51% from the floor? That's the story with Jones, who has solid positional size and a feel for the game that has only progressed throughout his career. He's a very willing defender who will fight through screens and take his assignments personally. The jump shot can be a bit inconsistent, but he should help Charlotte as another perimeter scoring option. 
28. Utah Jazz: Jaime Jaquez, F, UCLA 
His will to win, the way he plays on both ends, and his sneaky good athleticism are all reasons why Jaquez could be the steal of the first round. If the Jazz are in fact looking for players who have had a proven college background and have shown they can score the ball in a variety of capacities, Jaquez is that answer. The All-American averaged 17.8 points, 8.2 rebounds and 2.4 assists per game while shooting an effective 48% from the field. Jaquez is just a winner and should fit in well in Utah. Mick Cronin called Jaquez a dream to coach, and while there are valid concerns with his jumper, Jaquez has a pullup game, a physicality and a supreme ability to execute the fundamentals within a game. He's a nice value in the final 5-10 picks of the first round. 
29. Indiana Pacers: Dariq Whitehead, G, Duke 
The 18-year-old, former No. 2 ranked recruit out of high school had an up-and-down freshman season at Duke that had a lot to do with a fractured foot injury, so it's difficult to fully evaluate Whitehead heading into this draft. At 6-6 with a 6-10 wingspan, he can step into the Indiana organization and address the catch-and-shoot need for Haliburton to look to on the perimeter. Whitehead shot 43% from downtown this past year. On the defensive end of the floor, Whitehead is actually a very interesting prospect. He has a high motor and active hands, and based on a year at Duke, he didn't shy away from physicality. Any two-way wing player is going to get valued in the back end of a first round if he is still there, and that's the logic with Whitehead late in the first round with Indiana taking on more of a risk at 26 with Klintman. 
30. LA Clippers: Sidy Cissoko, F, G League Ignite 
Not one, not two but how about three French natives in the first round of the NBA Draft? The Clippers could use a quick and hard-nosed defensive talent with upside, and Cissoko fits that bill. The 6-6, 19-year-old averaged 13 points and 3.5 assists per game this past season for Ignite while showing that he can be a quality defender and shot blocker. Cissoko is also good at attacking the rim, and he showed growth in his perimeter game as well. That jump shot is unproven, and there are some questions about his lateral quickness, but the energy he can give on the floor could lead to him having a role off the bench. 
LA's priority is simple: Will Kawhi Leonard and Paul George stay healthy and play together? Thus far, the formula has not worked out. Russell Westbrook and Mason Plumlee are the only pending free agents with 13 players expected back. Adding an upside wing who has shown that he can be a high-level finisher is what makes Cissoko a desirable prospect.
John Fanta is a national college basketball broadcaster and writer for FOX Sports. He covers the sport in a variety of capacities, from calling games on FS1 to serving as lead host on the BIG EAST Digital Network to providing commentary on The Field of 68 Media Network. Follow him on Twitter @John_Fanta.
FOLLOW
Follow your favorites to personalize your FOX Sports experience
---
NBA trending



2023 NBA Draft Order: Complete list of picks by team


2023 NBA Draft Lottery: Odds, how it works, date, time


Adam Silver 'shocked' by Ja Morant video; Morant releases statement





Lakers vs. Nuggets: Prediction, Game 2 odds, schedule, TV channel


Philadelphia 76ers reportedly fire coach Doc Rivers after three seasons


2023 NBA playoff bracket, standings: Updated schedule, scores, dates





NBA Mock Draft 1.0: No certainties outside of Victor Wembanyama


Heat vs. Celtics: Game 2 odds, prediction, schedule, TV channel


Lakers-Nuggets Western Conference finals: 5 things to watch

---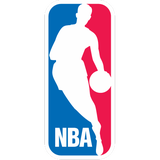 Get more from National Basketball Association Follow your favorites to get information about games, news and more
---