Rob Rang
NFL Draft Analyst
With all due respect to quarterbacks, perhaps no position on the offensive side of the ball this year has NFL scouts more excited than 2023's unique crop at tight end.
It is a much stronger class than we've seen in the past several years, offering both high-end talent and excellent depth. The first tight end off the board a year ago was Trey McBride, who the Arizona Cardinals selected 55th overall. There could be a handful of prospects selected by that point this year with a trio of future NFL starters — Utah's Dalton Kincaid, Notre Dame's Michael Mayer and Oregon State's Luke Musgrave — duking it out for the honor of being this year's top tight end.
Adding to the fun is the fact that Kincaid, Mayer and Musgrave could not be much more different in background, style and production.
Perhaps best of all, the depth this year extends throughout Day 2 and well into the middle rounds. An average of four tight ends were among the Top 100 selections over the past three NFL drafts. I would be surprised if that number does not double this spring.
1. Dalton Kincaid, Utah, 6-4, 246, Redshirt Senior
Overview: Given that he only played one year of high school football, the success Kincaid enjoyed on the college gridiron is almost unimaginable. After focusing on basketball for much of his prep career (including winning a national championship with an AAU squad), the Las Vegas native initially signed with the University of San Diego, where he immediately dominated, scoring 11 touchdowns on just 24 receptions for 374 yards. 
He was less efficient (but more productive) a year later, hauling in eight more scores but nearly doubling his catches (44) and more than accomplishing that feat with 834 receiving yards. Utah convinced him to transfer for his remaining years of eligibility and Kincaid continued his playmaking ways for the back-to-back PAC-12 champs, catching a combined 106 passes for 1,400 yards and 16 touchdowns over the past two seasons.
Bryson Barnes finds Dalton Kincaid on a five-yard TD to put Utah up 21-7 on Washington State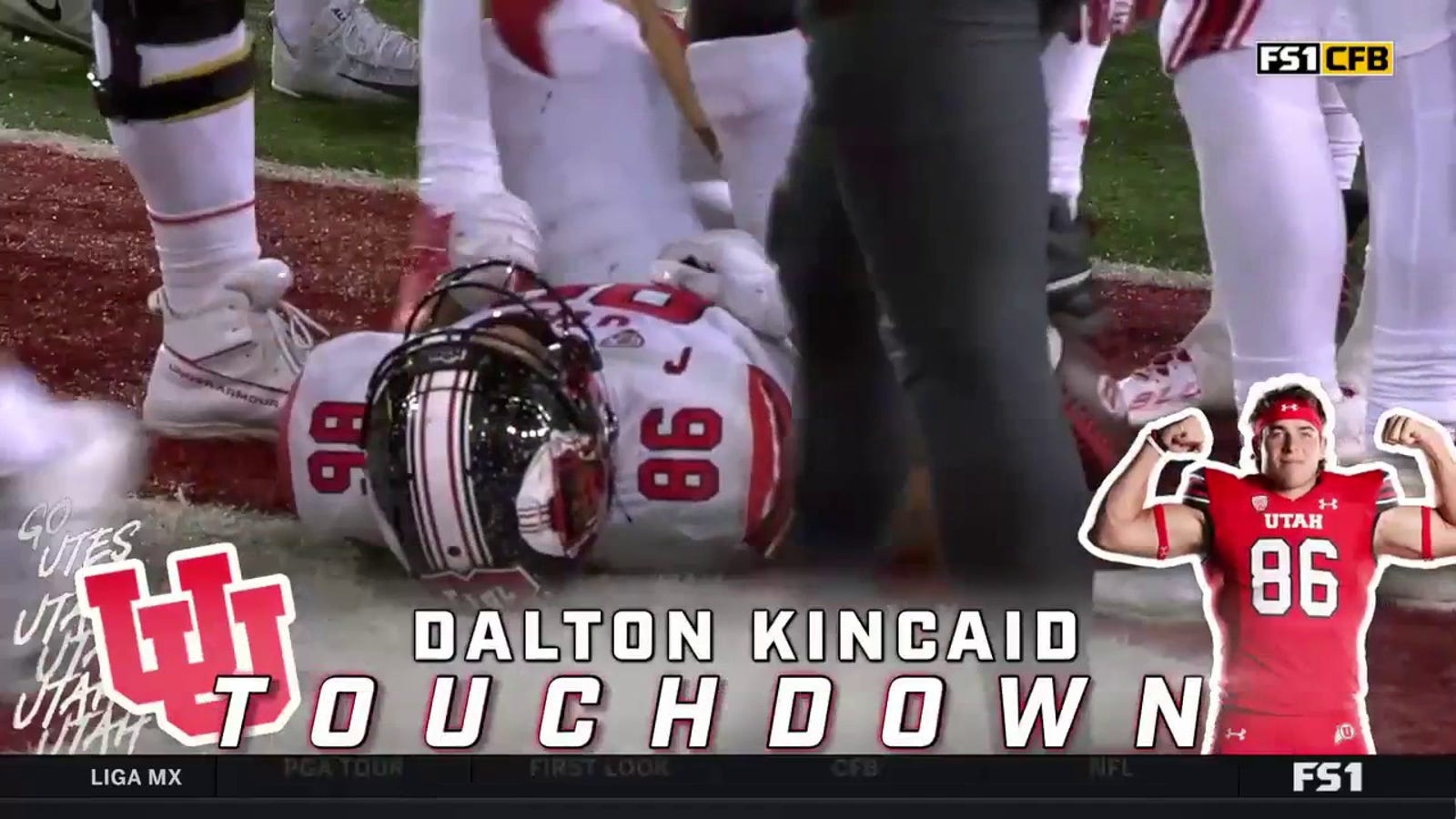 Bryson Barnes finds Dalton Kincaid on a five-yard touchdown to put the Utah Utes up 21-7 against the Washington State Cougars.
Strengths: The basketball background is clearly evident in Kincaid's grace, body control and ability to pluck the football. He is an effortless mover, easily shifting speeds to create space and exploit it after the catch. He is cat-quick as a route-runner and is arguably the most dynamic of this year's tight ends after the catch, showing lateral agility to elude, quickness to break away and even developing strength to run through arm tackles.
Kincaid plays even taller than he measures, winning "above the rim" because of his extraordinary timing and extension to truly catch the ball at its highest point. His blood type must be half-glue, as the ball sticks to his fingers even with defenders draped over him.
Concerns: Kincaid offers very little, at this time, as a run blocker. He's willing to help teammates but simply lacks the size and strength to do more than pester NFL defenders and is clearly not a candidate for in-line blocking duties. Kincaid relies on his quickness and can struggle with sticky, physical defenders hampering his release and nagging him throughout his route. He will need to gain more core strength to handle the uptick in physicality he'll see in coverage in the NFL… He comes with legitimate medical questions following the discovery of a reported "tiny fracture in his back" during NFL Combine medical evaluations. Kincaid fought through multiple injuries in 2022, including a shoulder issue.
Bottom Line: The beauty of the 2023 tight end class is that it offers several prospects with seemingly untapped potential and many others with terrific production at the college level. Much to the delight of NFL scouts, Kincaid has both. You'll always wish he was a little bigger, but Kincaid's quickness, body control and soft hands are perfectly suited to the modern NFL. He should make an immediate impact on his NFL team's passing game, justifying a first-round pick if teams are comfortable with his medical evaluation.
Grade: First round
Prior draft rankings:
2. Michael Mayer, Notre Dame, 6-5, 249, Junior
Overview: Like most Notre Dame players, Mayer signed as a premium recruit, earning four-star designation and being lured to South Bend despite playing his prep ball in Kentucky. His immediate success with the Irish justified leaving SEC country as Mayer earned Freshman All-American honors in 2019, leading the team with 42 receptions (for 450 yards and two scores. 
Consistency personified, Mayer would go on to lead Notre Dame in receptions each of the next two years as well, setting all-time Notre Dame records for tight ends with 180 receptions for 2,099 yards and 18 scores in just three years. With little else left to prove, Mayer gave up his remaining eligibility and entered the 2023 NFL draft, hauling in at least one reception in all 36 games of his college career.
Strengths: He is an imposing and well-built athlete with good overall musculature. Mayer has a plan as a route-runner, slipping past traffic at the point of attack and easing into his route, showing the core strength and sense of urgency to get into his route efficiently. He's more nuanced than explosive but does a nice job of creating space and providing his quarterback with a big target. Mayer is a savvy route-runner. He has soft mitts to pull in passes outside his numbers and shows good concentration and grip strength to win contested throws. 
Combine measurements proved that Mayer has smaller-than-ideal hands, but his fingers are strong enough to haul in throws. He's among the better blockers in this class. Mayer initiates the action with defenders, providing a powerful initial pop and utilizing the same grip to latch and sustain blocks. He keeps his feet chugging to move defenders, rather than simply turn and seal them off.
Concerns: Mayer isn't the elite athlete that his production suggests, as his relatively pedestrian numbers in the 40-yard dash (4.70), vertical jump (32.5″) and broad jump (9'10") reflect. He's a bit sluggish out of his stance and wins more with body positioning than truly creating space. He has slightly below-average arm length (31 5/8″) and hand size (9 ½") for a man of his height. Mayer was charged by Pro Football Focus with 12 drops (on 266 targets) over his career.
Bottom Line: More polished than his golden helmet, Mayer is as safe as a prospect gets. That isn't to suggest that he's a particularly flashy athlete, with teams looking for a playmaker in the slot or down the seam likely to target one of the other, swifter athletes in this class. However, Mayer is a full-service tight end capable of boosting a team's running and passing game immediately, and those often require a first-round investment.
Grade: Top 50
3. Luke Musgrave, Oregon State, 6-6, 250, Redshirt Junior
Overview: Given his football bloodlines and an exceptional size/speed combination that suggest he is one of the unique athletes of the entire 2023 NFL draft class, Musgrave has understandably generated a lot of pre-draft buzz. He received similar attention when initially signing with Oregon State, choosing the rival of the program where his father (Dave) and uncle (Bill) had starred. Musgrave's talent earned him playing time almost immediately but production was tough to come by with talented upperclassmen ahead of him on the depth chart. 
He entered the 2021 season with just 14 career grabs for 160 combined yards on his resume, but broke out in his third year on campus, setting a career high with 22 passes for 304 yards and the first score of his college career. Musgrave's numbers might have been better, but he was splitting snaps with Teagan Quitoriano (19 catches for 214 yards and three scores), who was drafted in the fifth round a few months later by the Houston Texans. Musgrave appeared poised for a truly dynamic 2022 campaign — hauling in 11 passes for 169 yards and another score in the first two games of the season — but he suffered a knee injury which abruptly ended his campaign. He was able to return for jaw-dropping performances at both the Senior Bowl and NFL Scouting Combine, tantalizing scouts with seemingly untapped potential.
Strengths: Musgrave looks the part of an NFL athlete with ideal height and well-developed musculature. He's a smooth athlete with good initial quickness that extends into rare top-end speed. He was clocked at an eye-popping 20.5 MPH at the Senior Bowl, routinely getting behind quality defenders. His ease of movement for a man of his size really stands out on tape, as he is able to slither his way through traffic, showing good stop-start quickness and burst out of his breaks to project as a top-notch route-runner with a little patience. 
He has soft hands and looks natural catching the ball. He's a technically sound blocker who bends at the knees and shows good pop and balance to latch on and fight at the line of scrimmage. Doesn't back down from a challenge at the point of attack and shows good awareness and body control to pick off defenders at the second level, as well. Mustgrave has good football bloodlines.
Concerns: Musgrave contributed less than expected at Oregon State. He's a bit of a freelancer as a route-runner, incorporating little stops and pauses that appeared to throw off the timing of his quarterbacks over the years. His production was boosted by misdirection and boots that got him the ball in space. He flashes power as a blocker but doesn't play with an angry or violent element that can strike fear into opponents seeking to tackle him in space. Musgrave was cleared by NFL doctors to participate in both the Senior Bowl and NFL Scouting Combine, but individual teams may still want their own evaluations for a player who started less than one full professional season over four years at the college level.
Bottom Line: In terms of flashy upside, Musgrave could be called the Anthony Richardson of the 2023 tight-end class, as his unusual combination of size, speed and a lack of production will make him one of the hotly debated prospects of the year. It should surprise no one if in three years Musgrave is considered the best tight end from this class. The reality is, however, that despite his own talent as well as a quality offense around him, Musgrave simply did not produce at the college level. The top 50 selection Musgrave is likely to earn is a true roll of the dice. He is nearly a complete projection, scoring just two touchdowns over the 34 games (15 starts) of his college career.
Grade: Second round
4. Darnell Washington, Georgia, 6-6, 270, Junior
Overview: Washington is a throwback to a previous generation of football where tight ends were primarily blockers who only occasionally caught the ball — and even then, likely for short yardage. Blessed with rare size and strength for the position, Washington looked like an NFL player when he initially joined the Bulldogs, understandably earning five-star grades from recruiting services and choosing Georgia over offers from virtually every program after growing up in Las Vegas. He made himself eligible for the pros as soon as he could, declaring early despite ho-hum statistics (45 catches for 774 yards and three touchdowns) over his career, especially in comparison to his Georgia teammate and 2022 John Mackey Award winner, Brock Bowers.
Strengths: Quite possibly the most imposing player in the 2023 NFL draft. Washington's listed size still doesn't do him justice until you see him matched up with the poor defensive backs and linebackers tasked with controlling him. A punishing, brutal blocker at the point of attack and downfield who seemingly relishes bullying opponents. He probably had more knockdown blocks than any offensive lineman in the country. Washington simply shoves opponents to the ground and looks for someone else to dominate. 
Of course, Washington is just as intimidating with the ball in his hands, wading through arm tackles and carrying defenders for extra yardage. While perhaps he doesn't have the most natural hands, Washington is fairly dependable in this manner, clamping down on the ball. PFF charged him with five drops (on just 76 targets) and zero fumbles over his Georgia career. Theoretically, he has potential still to be tapped as a redzone target.
Concerns: Washington is a rudimentary receiver who entered the NFL early with only three career touchdown receptions over 27 games. He has below-average speed and agility for the position. He's a sluggish, predictable route-runner who relies on his size to get open, struggling to generate much separation from defenders tasked with following him in man coverage. Washington can be a bit hesitant with the ball in flight, almost like he's being asked to catch someone's phone rather than the football with hands wide and waiting for it to come to him, rather than confidently snatching it out of the air. 
He may have the build and intimidating factor of a tank but he's about as mobile, lurching ahead with slow steps and showing very limited lateral agility. Repeated ankle and foot injuries in 2021 (missing first four games of the season) and 2022 (including being limited in the national title game vs TCU) warrant a close look by NFL doctors.
Bottom Line: The expression "bull in a china shop" is a common one in scouting, and perfectly describes a massive and physical mauling presence like Washington. He is the kind of prospect who winds up more popular with draft fans than scouts across the league. That is because while Washington offers undeniable gifts, he is a bit of a specialist, whose game translates best to more of a run-heavy, power-based offense that relatively few clubs are prioritizing in today's league.
Grade: Second-to-third round
5. Sam LaPorta, Iowa, 6-3, 245, Senior
Overview: Few programs routinely churn out high-caliber NFL tight ends like the Iowa Hawkeyes do. Consider that the last three drafted from the program are San Francisco 49ers star George Kittle (2017) and 2019 first rounders T.J. Hockenson and Noah Fant, with nine players at the position selected total during Kirk Ferentz's time as head coach. LaPorta leaves Iowa City as the most productive pass-catching tight end in the program's illustrious history, with 153 grabs, good for 1,756 yards and five touchdowns over 46 games, including 32 starts. 
Those career totals — as well as the fact that LaPorta was named one of three finalists for the John Mackey Award in 2022 — are a testament to his durability and reliability, as, much to the chagrin of many Iowa fans, the Hawkeyes have one of the more conservative and methodical offenses in the college game. Iowa averaged 156.7 passing yards a game last year and scored a total of just seven touchdowns through the air. LaPorta's tape suggests he could be much more productive, and his history suggests the same. Originally given a three-star grade by recruiters who doubted he could remain at wide receiver in college, LaPorta dominated in high school, ranking second in Illinois prep history with 50 receiving touchdowns, as well as third with 3,793 yards.
Spencer Petras connects with Sam LaPorta for a 16-yard touchdown as Iowa takes a 7-0 lead over Purdue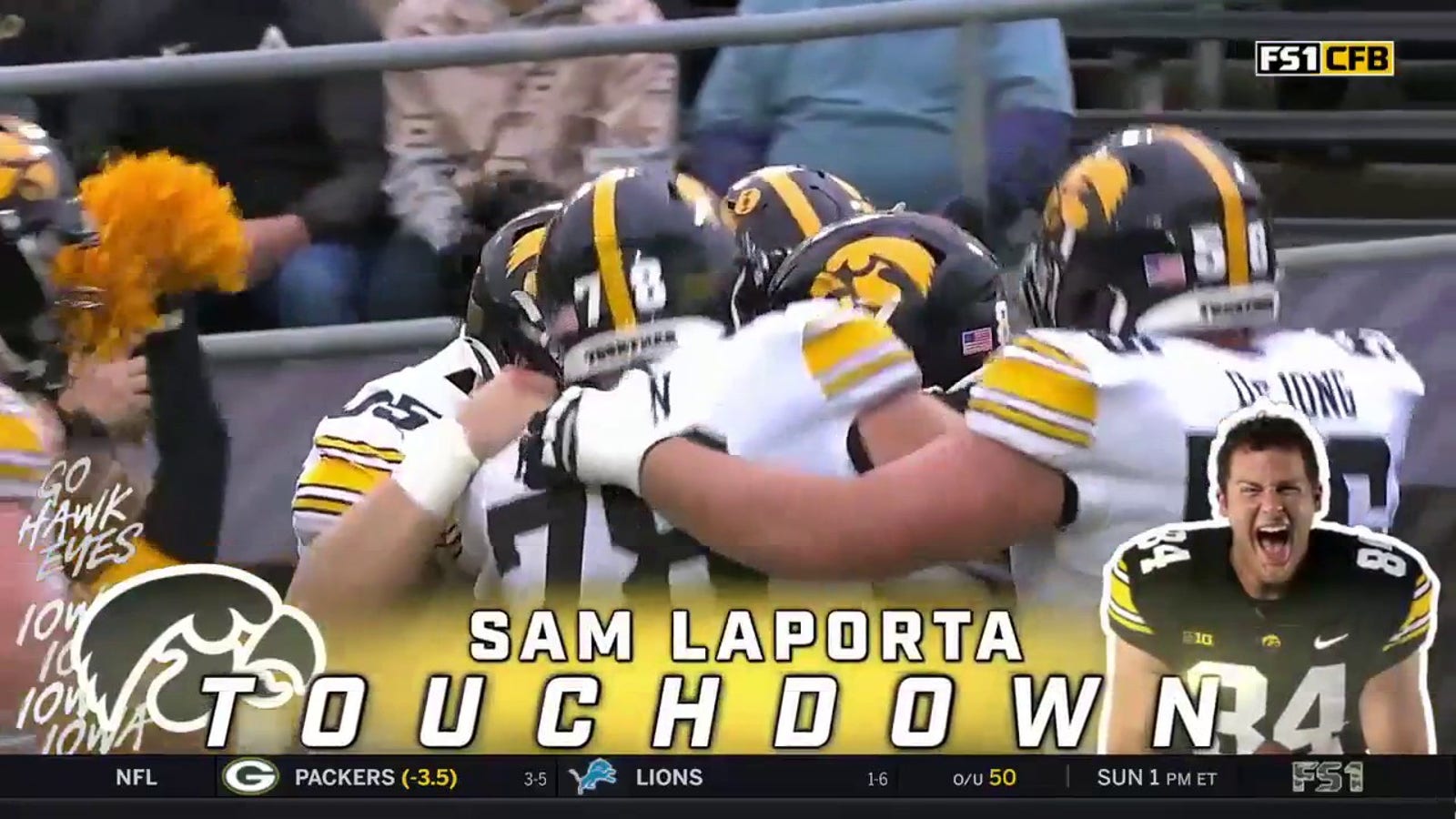 Spencer Petras found Sam LaPorta for a 16-yard touchdown. The Iowa Hawkeyes take the lead 7-0 over the Purdue Boilermakers.
Strengths: Former wide receiver who grew into a tight end and still possesses the shiftiness and speed to make covering him one-on-one a tough task. A quality athlete with good initial quickness and above-average straight-line speed for the position, but one who plays faster and stronger than he'll likely test as he's a "natural" football player who runs sharp routes, catches the ball cleanly and competes to the whistle. LaPorta has a plan as a route-runner, adjusting his gait and lean to get defenders off-balance and exploding out of cuts, creating easy throwing lanes for quarterbacks to exploit. He shows good awareness against zone coverage. Recognizes soft spots and where the sticks are and works to uncover for his quarterback. He has soft hands and tends to snatch and secure the ball in one fluid motion. 
He shows good core flexibility to widen his catch zone, extending high, low, behind and diving ahead to make difficult grabs look routine. LaPorta is creative after the catch. He has some lateral agility to elude and runs tougher than he looks, lowering his shoulder and bouncing off contact with good balance and burst to gobble up yards. He isn't going to wow anyone with his blocking but he's assignment-sound and possesses enough strength and competitiveness to turn and seal off defenders. He's alert and looks to help out teammates. Voted a team captain in 2022 and the recipient of the Coaches Appreciation Award.
Concerns: LaPorta has just average size for the position. His average height and arm length (32 ¼") does show up on tape with defenders able to jostle him at the line of scrimmage and throughout his route, ruining the timing with his quarterback, at times. While typically a reliable hands-catcher, there are occasional "drops" of contested passes where defenders' longer reach can knock the ball away… Similarly, he lacks the bulk to handle consistent in-line duties in the NFL, projecting best on the wing or in motion. LaPorta is more quick than fast and played in a tight-end-friendly scheme that created advantageous matchups for him.
Bottom Line: LaPorta isn't the biggest, strongest or fastest, but he's among the better pure football players in this talented class of tight ends. Don't be surprised if he ultimately winds up outperforming some of the flashier prospects who may have been drafted ahead of him.
Grade: Third round
6. Tucker Kraft, South Dakota State, 6-5, 254, Redshirt Junior
Overview: Lightly recruited after spending his much of his prep career at running back in a nine-man football league, Kraft was one of the true breakout stars in 2021, finishing among the most productive tight ends at any level of college football with 65 catches for 773 yards and six scores. Big, fast and productive, he drew plenty of interest from Power 5 teams hoping that he might transfer "up" in 2022 but he elected to remain loyal to SDSU, one of just two D-I teams (along with Wyoming) to offer him a full ride out of high school. Unfortunately, Kraft's commitment to the Jackrabbits in 2022 wasn't rewarded. In large part due to an ankle injury that robbed him of a month of the season, his statistics dropped significantly (27-348-3) and, with just one dominant year against questionable competition, he enters the NFL with the typical concerns about his ability to acclimate to the greater speed and physicality.
Strengths: Kraft looks the part of an NFL player with a well-developed frame that speaks to his commitment in the weight room. He flashes good initial quickness of a player of his size and is a smooth accelerator with above-average straight-line speed for the position. He's a full-service tight end who was asked to play multiple roles in the Jackrabbits' offense, including as a traditional blocker at the line of scrimmage. Has the frame to remain in this role, though he'll need to continue to gain strength and technique. He's also a diligent blocker in space, working to sustain and understanding how to use angles to block the opponent without drawing flags. Kraft shows reliable hands and can smoothly gather and tuck away the ball. He can also track over his shoulder.
Concerns: Kraft physically outmatched most of the defenders he faced and will need time to master the intricacies of the position now that he will be going against better players. His routes lack pace and explosion. He has shorter arms (32 ¾") than his size suggests. Generated stalemates on most of his blocks, turning and sealing off defenders rather than physically mauling them, as one might expect of the lower competition.
Bottom Line: The Jackrabbits typically line up in "12 personnel" with two tight ends, featuring Kraft as a blocker, receiver and even an occasional runner. He was clearly better than most of his competition at this level but is making quite a jump in competition and it likely will take some time. Kraft may never be a starter in the NFL but he's demonstrated the work ethic and versatility to at least be a quality reserve with upside worthy of developing.
Grade: Third round
7. Josh Whyle, Cincinnati, 6-6, 250, Redshirt Senior
Overview: A star for powerhouse La Salle High in the football-loving state of Ohio, Whyle elected to stay close to home and sign with the Bearcats, turning down offers from Georgia, Tennessee, Auburn and Wisconsin, among others. It took him a couple of years to work his way up the depth chart but Whyle lived up to the early hype, earning All-American Athletic Conference recognition each of his final three years at Cincinnati and proving to be a big part of the Bearcats' postseason run in 2021-2022, finishing second on the team that year with six receiving touchdowns. 
Whyle surprised some by returning in 2022 but he was voted a team captain and posted solid numbers (32 catches for 326 yards and three touchdowns), earning First Team All-AAC honors and leaving a program known for producing quality NFL tight ends (like Travis Kelce and Brent Celek) with a record 15 career touchdown receptions.
Strengths: Whyle has an imposing frame with excellent height and length. He's a smooth accelerator for a big man with a late burst that helps him run his way open down the seam and on crossing routes. He's an easy collector of the football with soft hands and body control to turn and pluck outside of his frame, taking advantage of his size, length and agility to win on contested passes downfield. He has a bit of shake to him after the catch. Picks his feet through traffic and can surprise defenders with his burst. Whyle runs hard after the catch, lowering his shoulder and showing good leg drive and determination to run through arm tackles. He's a willing and assignment-savvy blocker who shows good initial burst and aggression to challenge defenders and works to sustain. He's an experienced blocker tasked with pass protection as well as downfield duties.
Concerns: Whyle is held back due to a lack of suddenness. He only averages initial quickness out of his stance as a route-runner and is too predictable and casual with his breaks at this time — though the flashes after the catch suggest this is a coachable issue and he may just need to run them with more urgency. He struggles to sustain blocks for long, eventually getting tossed aside. Whyle is more of a seal-off blocker than mover at the line of scrimmage.
Bottom Line: There is enough inconsistency in Whyle's tape to provide pause, but one could make the argument that he offers the best total package of traits, production and intangibles of any tight end in this class. That fact might very well earn Whyle a top-100 selection.
Grade: Third-to-fourth round
8. Brenton Strange, Penn State, 6-4, 253 pounds, Redshirt Junior
Overview: Pardon the pun, but Strange took an unusual route to becoming an NFL prospect, with the West Virginia native first surprising locals by signing with Penn State and becoming one of the rare Nittany Lions to earn greater appreciation from rival coaches than the media during his four years on campus. Strange signed with Penn State as a celebrated three-star, multi-sport prep and showed steady development over his career, boosting his numbers each season. He wound up starting 31 of the 37 games he played, topping out this past season with 32 receptions for 362 yards and five scores, earning Third Team All-Big Ten honors from league coaches, as well as honorable-mention accolades from the conference's media.
Strengths: Strange has a compact but powerful frame which allows him greater contact balance than many of the tight ends on this list. He bounces off would-be tacklers nicely, pinballing his way through traffic and forcing defenders to bring him to the ground. He shows little regard for his own safety, plunging into traffic or vaulting himself into the air in an effort to get every extra inch. This same physicality and competitiveness is evident in the blocking game, as well. Strange is at his best on the wing or as a lead blocker, barreling into opponents with his knees coiled to create big collisions. There is an explosiveness to his game that showed itself with an above-average 36″ vertical jump at the Combine. He complements his tough play and explosiveness with soft, reliable hands to catch outside of his frame, as well as the dexterity to pick up passes off the turf, high over his head and behind him. He shows good initial quickness as a route-runner as well as burst and balance out of his breaks to create separation.
Concerns: Strange is more quick than fast, with only average top-end speed for the position. He lacks breakaway speed and is too easily caught from behind to be the dangerous seam threat some teams are looking for, projecting best as more of an East-West H-back or "joker" tight end than a traditional full-service tight end. He possesses a slightly stubby frame, appearing shorter than his measured size on tape. Relatively short (31 1/8″) arms leave him vulnerable to defenders punching the ball out. He punches above his weight class as a blocker but lacks the bulk preferred to handle traditional in-line duties.
Grade: Fourth round
9. Luke Schoonmaker, Michigan, 6-5, 250, Redshirt Senior
Overview: A testament to good, old-fashioned work ethic, Schoonmaker originally signed with Michigan as a relatively unheralded three-star recruit out of Connecticut. Neither particularly large nor fast, the then-225 pounder dedicated himself to gaining strength and improving his quickness, steadily working his way up Michigan's depth chart. After his first three years in Ann Arbor, however, Schoonmaker still had just two total catches to his credit. He flashed in 2021, hauling in 17 receptions for 165 yards and three scores and with injuries to others creating an opportunity to shine in 2022, Schoonmaker took full advantage, essentially doubling his previous career totals with 35 receptions for 418 yards and three more scores while also serving as a key component to Michigan's running game, helping the Wolverines earn the Joe Moore Award as the nation's top blocking unit.
Michigan's J.J. McCarthy hits Luke Schoonmaker for a seven-yard TD to put the Wolverines ahead 14-10 against Purdue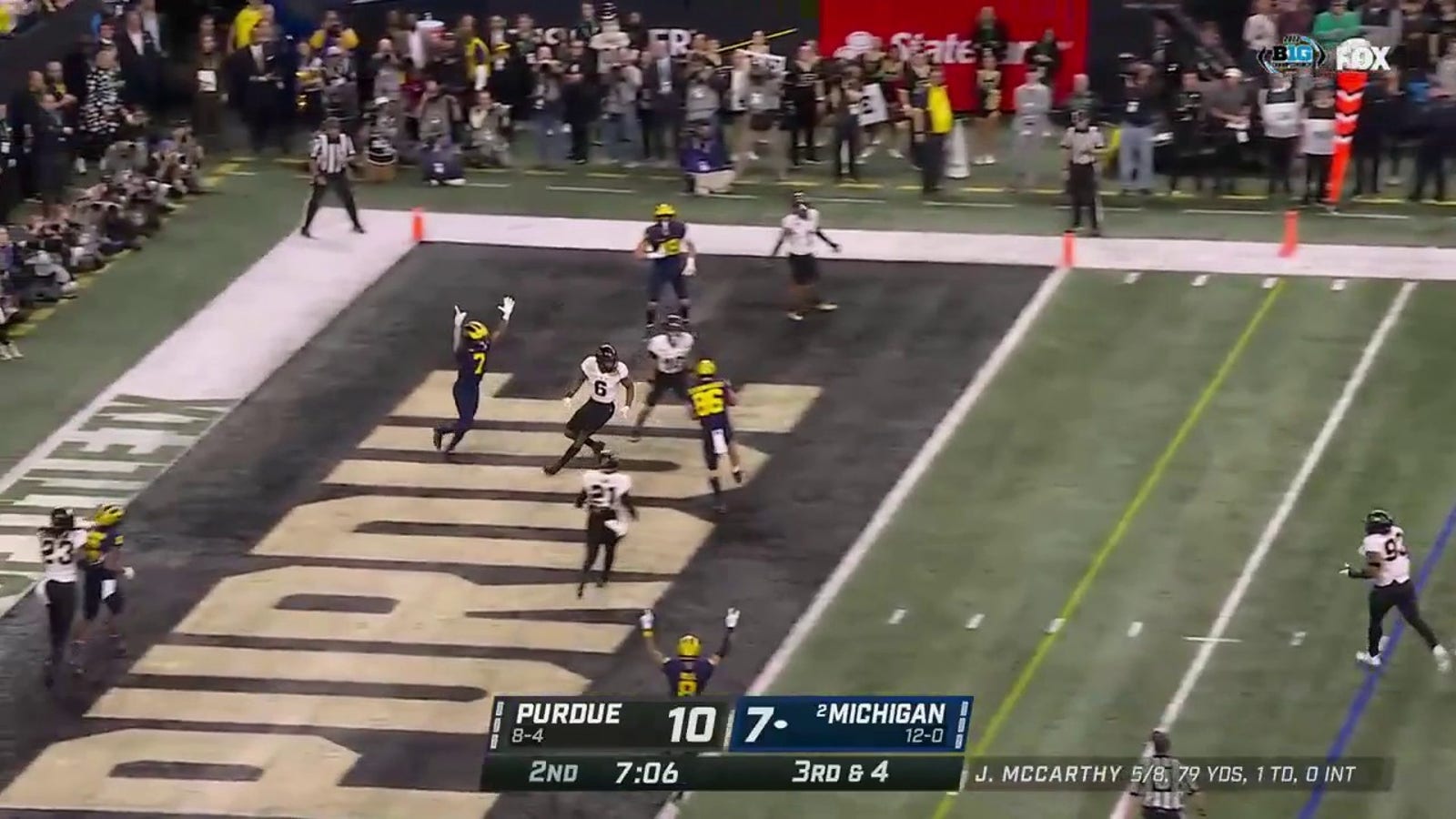 Michigan Wolverines' J.J. McCarthy hit Luke Schoonmaker for a seven-yard touchdown to put the Wolverines ahead 14-10 against the Purdue Boilermakers.
Strengths: Schoonmaker looks the part of an NFL tight end with a tall, powerful frame, including good length (32 7/8″ arms). Played in a pro-style offense and it shows with his NFL-ready strength and awareness as an in-line blocker, attacking opponents with proper knee bend, grip strength and tenacity to sustain blocks. He's more sure-footed than truly sudden as a route-runner but has good core strength and balance to get a clean release at the line of scrimmage and gets into his route efficiently, showing enough deception to get free against man coverage, as well as the smarts to settle in the holes of zone. He offers a big, sure-handed target for his quarterback. Schoonmaker is more nimble than he looks and is tough to bring down after the catch, lowering his shoulder into would-be tacklers and running hard.
Concerns: Schoonmaker has some medical issues that required a closer look at the Combine, including a sprained AC joint in his shoulder that caused him to miss time against TCU in the Fiesta Bowl, as well as a two-game absence prior in the year (reportedly for a head injury). 
Bottom Line: Teams looking for a dynamic seam threat might want to look elsewhere. But if a blue-collar, full-service tight end capable of creating push at the line of scrimmage and finding the soft spots in zone coverage is the need, Schoonmaker is a nice pro-ready option likely to be available on Day 3.
Grade: Fourth round
10. Davis Allen, Clemson, 6-6, 250 pounds, Senior
Overview: The fact that Allen leaves Clemson tied for second all-time among tight ends with 12 touchdown grabs over his career is quite a statement given that he starred at the prep level more on the defensive side of the ball. The former three-star recruit quickly shifted his attention to "just" tight end at Clemson, playing in all 15 games and even starting a game as a true freshman. With so many mouths to feed on team loaded with future NFL draft picks, Allen didn't post the sorts of statistics that earn much buzz in the media, but his production steadily improved, topping out in 2022 with Allen starting all 14 games for the Tigers and earning Third Team All-ACC accolades, setting career-highs with 39 receptions for 443 yards and five scores.
Strengths: Allen has excellent height for the position with long arms and good overall musculature. Allen's best attribute is clearly his receiving ability. He possesses pillow-soft hands and impressive body control to adjust in mid-route (or mid-flight) to make acrobatic grabs look routine. Perhaps due to his basketball background at the prep level, Allen seems to have a greater awareness of tight windows, slithering his way past defenders with tricky footwork and core flexibility, truly taking advantage of his large catch radius by snatching the ball with strong, outstretched hands. He tracks the ball well over his shoulder and shows excellent timing to spring into the air and haul it in "above the rim." While his ability as a receiver stands out, so too does Allen's flexibility, lining up in multiple roles (inline, H-back, split out wide, etc.). He isn't a dominant blocker but gets a good initial pop and works hard to sustain. He's long and strong enough to contribute at the line of scrimmage and shows good awareness, competitiveness and quickness downfield in this area. Allen was voted a permanent team captain in 2022 and was a core special teamer throughout his career.
Concerns: He is just an average athlete from an NFL perspective and his relatively pedestrian 40-yard dash time (4.84 seconds) at the Combine reflects this fact. Allen has average initial burst and speed to challenge defenders in coverage, too often being forced to make difficult grabs because he didn't provide his quarterback much space to fit the ball. He's more graceful and gliding than explosive or aggressive after the catch, rarely breaking tackles or making defenders miss. This is a jack-of-all-trades, master-of-none type who may lack the upside to get multiple chances in the NFL.
Bottom Line: Allen will be appreciated more by NFL coaches than scouts, as he possesses just average traits. He does a lot of the little things well — most importantly, making his quarterback look smart by turning his relatively few opportunities into important plays. I wouldn't be surprised if he's still on the board well into Day Three but believe he will ultimately outplay his draft slot and prove a quality, reliable producer at the next level.
Grade: Fourth-to-fifth round
Rob Rang is an NFL Draft analyst for FOX Sports. He has been covering the NFL Draft for more than 20 years, with work at FOX, Sports Illustrated, CBSSports.com, USA Today, Yahoo, NFL.com and NFLDraftScout.com, among others. He also works as a scout with the BC Lions of the Canadian Football League. Follow him on Twitter @RobRang.
Top stories from FOX Sports:
FOLLOW
Follow your favorites to personalize your FOX Sports experience
---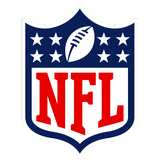 Get more from National Football League Follow your favorites to get information about games, news and more
---