Rob Rang
NFL Draft Analyst
The NFL went all-in on wide receivers in the 2020 to 2022 drafts, picking 17 of them in the first round during that time. 
That's more than any other three-year run in league history.
At first glance, the 2023 class does not compare well to those bumper crops. Most agree that there is no can't-miss receiver in this class. Even the top-rated prospects are flawed in a meaningful way. Ask a handful of NFL scouts (or draft analysts) to name their top receiver in the 2023 draft and one might hear five different names. 
But while this class may fail to measure up in some respects, I believe there are a few future starters likely to be available throughout Day 2 and even into Day 3. 
The wide assortment of sizes, strengths and weaknesses from this year's wide receiver class make it one of the 2023 NFL Draft's most fascinating positional groups. Team fit could wind up proving just as important as raw talent when it comes to forecasting who from this group will go on to become stars at the next level. 
Each week leading up to the 2023 NFL Draft, we will break down the top 10 prospects at a different position. Each positional group will be assigned an overall grade, with scouting reports on each individual player, noting specific areas of strength and concern, as well as their projected round. 
Read the last two weeks' rundowns of the drafts top 10 quarterbacks and running backs: 
2023 NFL DRAFT RB PROSPECT RANKINGS: BIJAN ROBINSON STANDS OUT IN DEEP CLASS

2023 NFL DRAFT QB PROSPECT RANKINGS: BRYCE YOUNG LEADS TALENTED TOP 10
1. Quentin Johnston, TCU, 6-4, 215 pounds, Junior 
Overview: Among the most celebrated prep recruits ever signed by longtime Horned Frogs head coach Gary Patterson, Johnston picked TCU over the likes of Texas, Oklahoma and Notre Dame, among many others. He lived up to his billing by showing immediate big-play ability, averaging an eye-popping 22.1 yards per catch as a true freshman, setting an all-time record for first-year players in the Big 12. 
Despite missing three games in 2021, Johnston led TCU in receptions (33), receiving yards (634) and touchdowns (six), racking up more than 100 receiving yards in three of his final five games of the year. With all due respect to his celebrated teammates — quarterback Max Duggan and cornerback Tre'Vius Hodges-Tomlinson — Johnston is the most talented prospect from the gutty TCU squad that rode a magical season all the way to a national title berth. His importance to the team's success was never more evident than in the ugly loss to Georgia, when Johnston was rendered a complete non-factor, catching one pass for three yards.
Strengths: Blessed with an exceptional combination of size and athleticism, including good build-up speed, Johnston is a smooth accelerator who tracks the ball well over his shoulder and with his size is a real matchup problem on vertical routes. For such a tall player, Johnston can be surprisingly sharp with his routes, a testament to his loose core and light feet. He lined up all over the formation for TCU, including in the slot, and can sink his hips and explode back to the ball, helping him get open on a variety of routes. 
There simply aren't many receivers of his height on this planet who can shake defenders one-on-one like Johnston can, showing impressive lateral agility to elude. He has terrific balance and suddenness after the catch to make defenders miss, consistently surprising opponents with his nimbleness and burst to spin free. Spin is the operative word with Johnston, as he shows great awareness, balance and burst to roll off contact, almost like a pick-and-roll in basketball. That's appropriate as he is built like an NBA small forward, with broad shoulders and long arms that give him a massive catch radius and obvious potential in jump-ball situations. He uses an aggressive stiff-arm to ward off would-be tacklers after the catch.  
Max Duggan hits Quentin Johnson on over-the-shoulder fade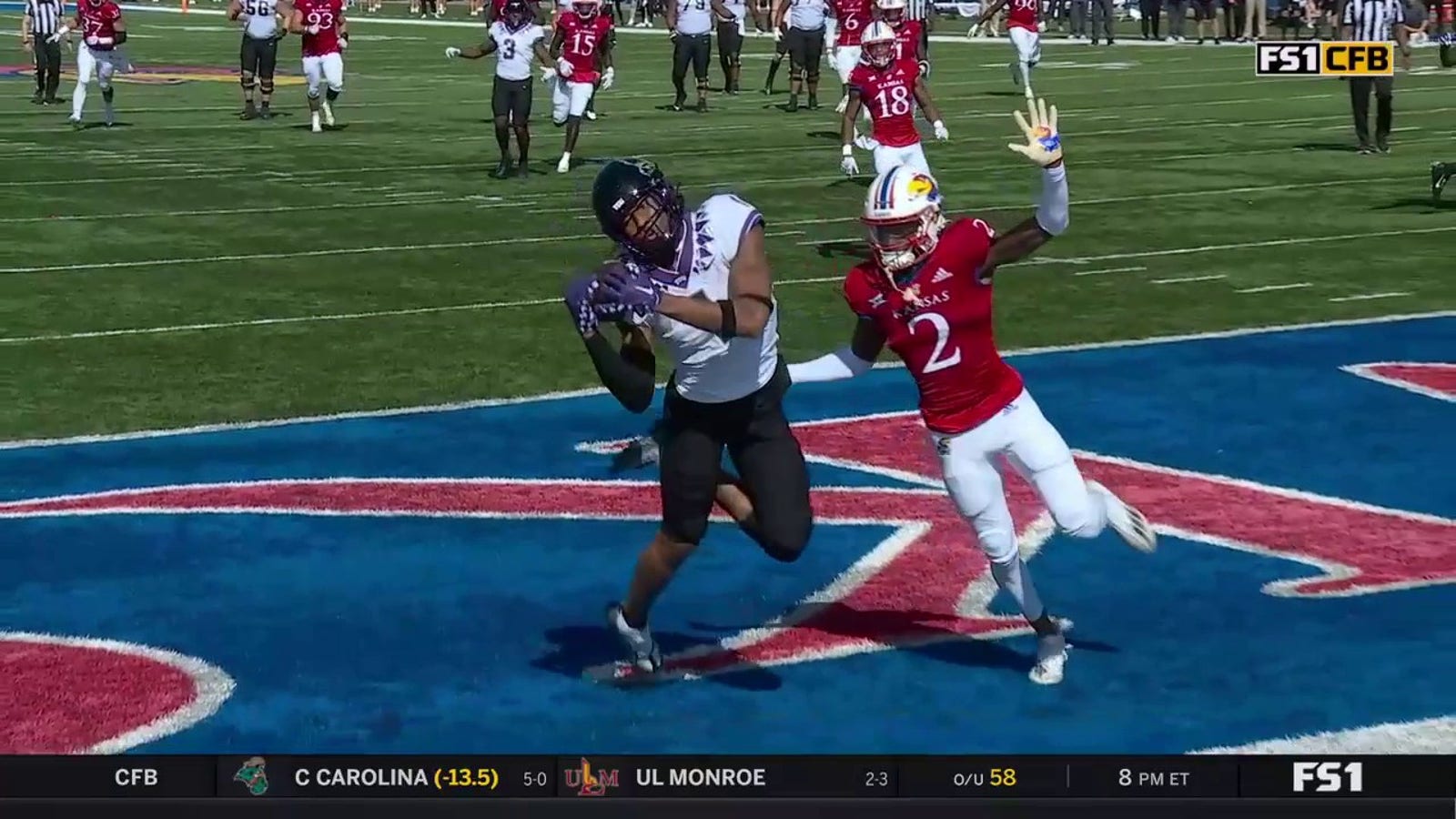 Max Duggan finds Quentin Johnson on a perfect over-the-shoulder fade in a game last season against the Kansas Jayhawks.
Concerns: Johnston has below-average ball skills for the position, allowing too many passes to clang off of his hands, or worse, his shoulder pads. He doesn't attack the ball in the air, allowing it to come to him. Pro Football Focus charted eight drops for Johnston in 2022, which was the 14th-most in college football. 
It isn't just Johnston's hands — his routes lag when he doesn't expect the ball, showing just average effort to contribute as a decoy or blocker in the running game. He's big but isn't particularly physical. He also fails to catch the ball at its highest point too often, jumping only to corral the ball at his chest rather than extending his arms over his head and taking advantage of his height. He has a lanky frame with long limbs that look susceptible to injury and was hampered at times in 2022 with an ankle injury that robbed him of his trademark explosiveness. 
Bottom Line: Along with Florida quarterback Anthony Richardson, Johnston is the biggest boom-or-bust prospect of the 2023 NFL Draft. The highs and lows of Johnston's tape are like comparing the Rocky Mountains to the Mariana Trench. Johnston's upside is that of a future All-Pro, which is why he earns the top spot (just barely) for me in this muddled receiver class. If Johnston does not cut down on his ugly drops, however, he could lose the confidence of his quarterback and/or playcaller.
Grade: Top 20
2. Jordan Addison, USC, 6-0, 175 pounds, Junior
Overview: The 2021 winner of the Biletnikoff Award as the nation's top receiver at Pittsburgh and a megawatt transfer who excelled at USC with 2022 Heisman Trophy winner Caleb Williams and Lincoln Riley, Addison is the most recognizable name on this list for many, which is a testament to his immediate success at the college level. He had initially signed with Pitt as a relatively modest three-star recruit. 
Addison immediately outperformed expectations, however, becoming the first Panther freshman since current Cincinnati Bengal Tyler Boyd to lead the team in receptions before taking the nation by storm as Kenny Pickett's favorite target, setting a school record with 100 grabs for 1,593 yards and tying for the national lead with 17 touchdown receptions. While his production certainly tailed off at USC in 2021 (59 catches, 875 yards and eight touchdowns), Addison quietly led the Trojans in receptions, receiving yards and touchdowns, showing clutch big-play ability when called upon.  
Strengths: Addison is a silky-smooth route-runner who springs off the line of scrimmage. Light feet, greasy knees and loose hips allow Addison to slither his way to daylight, creating inviting space for his quarterback to operate. He accelerates quickly and has good speed. His stop-start ability and overall quickness make him very effective on sharp angle routes and in getting clean releases against tight coverage. He is a natural and composed hands-catcher, plucking and securing the ball in one effortless motion. He shows good body control to adjust in space and make acrobatic grabs, even with a defender closing. 
Caleb Williams connects with Jordan Addison
Caleb William and Jordan Addison connected on a beautiful play to extend the USC Trojans' lead against the Utah Utes. 
As his size and route-running prowess would suggest, Addison has some shake and bake to him after the catch, though he's better described as smooth rather than explosive. He's a smart player and good at a lot of the little things. He knows where the sticks are and has a real knack for finding soft spots while working off-script. He works back to his QB, and while less than imposing as a blocker, he gets a shove in and will work angles to support teammates. He might be viewed as too valuable to be used as a punt returner but excelled in limited opportunities, averaging 12.2 yards on 18 career attempts, seeing action in this role all three years.  
Concerns: Officially listed by USC at 175 pounds, Addison's lack of body armor and strength shows up on tape with the receiver getting knocked off his routes (or worse, to the ground), leaving the quarterback out to dry, at times. A slight frame offers his quarterback a relatively small catch radius, requiring both precision and trust from his teammate. The lack of size shows up after the catch as well as Addison lacks the strength to break arm tackles.   
Bottom Line: Addison may not be as big or dynamic as TCU's Johnston, but he's a significantly more polished player, winning with fluidity and savvy. He has the sure routes and hands to potentially put up huge stats in the NFL, specializing out of the slot. The greater size and physicality he'll face at the pro level are legitimate concerns but, as noted earlier, the modern NFL rules favor slight pass-catchers like Addison. Having proven effective in two different offenses against quality competition, I think he has the grit and smarts to be a quality starter early in his pro career.  
Grade: Top 20
3. Zay Flowers, Boston College, 5-10, 172 pounds
Overview: During an otherwise stormy season for a 3-9 BC squad, Flowers bloomed in 2022, setting school and conference high-water marks for the season and leaving as the program's all-time leader in career receptions (200), receiving yards (3,056) and touchdowns caught (29). 
A three-star recruit out of football-rich Fort Lauderdale, Flowers was a standout almost immediately for the Lions, playing in all 13 games and starting two as a true freshman, while rushing the ball more times (27 attempts for 195 yards and a touchdown) than he caught it (22 receptions for 341 yards and three scores). Flowers leapt to First Team All-ACC honors just a year later, leading the conference with nine receiving touchdowns in 2020 and though his overall production was down in 2019, Flowers' big-play ability once again shined, averaging a career-high 16.0 yards from scrimmage. He finished his career in style, again leading the conference in receiving scores (and setting a new single-season school record) with 12 scores on a career-high 78 catches for 1,077 yards. 
Strengths: Flowers plays the game like he's hooked to a battery, with electric cuts, stop-and-start quickness and explosive downfield plays. He challenges press corners with the sudden acceleration to race behind them and shows terrific balance and burst out of his breaks, creating passing lanes for quarterbacks to work. He's a nuanced, natural route-runner with quick, efficient movement to keep defenders guessing. He has excellent stop-start quickness for double-moves and to create after the catch. He has a jump-cut a lot of running backs would envy, zipping to his left and right to avoid contact before darting ahead. He has good body control to twist his frame and track the ball, generally catching the ball cleanly with his hands and securing it quickly. Flowers also has impressive spatial awareness, timing and even core strength to compete on jump balls despite his frame. He's highly competitive, fights for yardage and has a real nose for the sticks, end zone and sideline. 
Concerns: Though injuries were not an issue for Flowers at BC, he is undeniably undersized. In truth, he looks and plays bigger than his listed frame with a little stockier, more compact frame than some of the other mighty mites among this year's receiver class. Further, there are some ugly drops on tape, but they are of the correctable variety, with Flowers mostly just rushing to collect the ball and make an oncoming defender miss, failing to secure it first.
Bottom Line: In a receiver class teeming with potential but offering only shreds of consistency, Flowers' dependability as a big-play magnet stands out. Scoring 31 touchdowns against ACC competition speaks itself, but further consider that in 2022 — for a team that ranked dead last in the FBS in rushing yards and fired its offensive coordinator, John McNulty, after just one season — Flowers generated at least one play of 30-plus yards in 11 of 12 games. He's a natural playmaker whose game translates well to the next level. 
Grade: First Round
4. Josh Downs, North Carolina, 5-10, 175 pounds, Junior
Overview: The Tar Heels lured Downs, a celebrated four-star recruit, out of the football-loving state of Georgia, where he helped North Gwinnett High School qualify for the playoffs his final three years, including winning a state title as a sophomore. He hinted at his future stardom by appearing in 10 games as a true freshman but few saw his breakout sophomore season coming, when he led the ACC with 101 receptions, racking up 1,335 yards and eight touchdowns. Downs generated similar production in 2022 with Drake Maye at quarterback (94-1,029-11) despite playing in two fewer games. Downs played just three years in Chapel Hill yet leaves with the second-most touchdown receptions in school history. 
Strengths: He's a twitchy-athlete with the stop-start quickness, change of direction and top-end speed to leave corners in his dust. He complements his obvious athleticism with arguably the purest hands of the 2023 draft. Downs possesses exceptional ball skills, winning at the catch point with a combination of body control, strong hands and impressive spatial awareness. Downs' soft hands are complemented by the fact that he is a virtual contortionist when the ball is in the air, adjusting to make difficult contested grabs. He's got a more compact and athletic frame than his listed size suggests. Downs is an aggressive, competitive player who shows no hesitancy in running to and through traffic and was an accomplished punt returner with an 11.1 yard-per-return average. 
Concerns: He was the featured target at UNC with the offense designed to put him in advantageous positions. He has the burst to attack downfield but does most of his damage in the short to intermediate zones, limiting his fit with some clubs. Though he plays with the bravado of a bigger man, Downs has below-average size and strength to break through contact and too easily goes down to arm tackles. While he's quick, there are some caught-in-the-headlights moments on tape where Downs freezes in traffic, absorbing the kind of punishing blows that could lead to durability issues in the NFL. He also gets absolutely rag-dolled at times and can get pretty loose with the ball, allowing it to get ripped out of his hands. He missed time in 2022 with various injuries, including reportedly for a left knee and sore back. 
Besides the obvious size concerns, there is some wasted motion to Downs' route-running that could draw the ire of some. Downs can get bottled up against long-armed press corners and be forced to incorporate dips and jukes to get free, taking precious time that often isn't afforded in the NFL. This slight freelancing as a route-runner contributes to the disproportionate number of catches on Downs' tape in which he is forced to react late to balls thrown slightly ahead of or behind him. 
Bottom Line: Downs has the production and skill set to project a relatively quick transition to the pro game. This lightning bolt won't make it out of the top 50 picks if teams are comfortable with his medical evaluation.
Grade: Top 50
5. Jalin Hyatt, Tennessee, 6-0, 185 pounds, Junior
Overview: In a draft class full of breakout stars, few can match Hyatt's emergence in 2022. Though he signed with Tennessee as a celebrated four-star recruit, few expected his massive leap from 21 receptions and 226 yards and two scores a year to becoming the first player in Tennessee's long, storied history to snag the Biletnikoff Award winner as the nation's receiver of the year in 2022, hauling in an SEC-leading 15 touchdowns receptions in just 12 games. Hyatt was critical in Tennessee's epic win over then-No. 3-ranked Alabama in mid-October, tying an SEC record with five scores against Nick Saban's bunch. Hyatt isn't as polished as his statistics suggest and is an absolute wild card.
Strengths: A gliding, galloping runner whose ability to attack deep can tilt the field for his offense, demanding safeties stay over the top and creating openings for teammates in the passing and running game alike. He uses subtle fakes and altered gaits to manipulate defenders at the stem of his route, breaking into another gear to create separation. 
He excelled outside for Tennessee in 2022 but showed smarts and toughness inside in the slot as well. Hyatt tracks the ball well over either shoulder to be a big-play threat from any level of the field and has the body control and long arms to provide his quarterback with a wide catching radius. He shows good body control and strong hands to pluck outside of his frame. Hyatt currently excels as a deep threat but appears to have the quickness and body to project as a full-service route-runner, should his future team wish to expand his role. Could be just scratching the surface of his potential.
Concerns: With all due respect, the route tree Hyatt excelled at with Tennessee was so limited, it should be called a branch. Of Hyatt's 15 receiving touchdowns this season, less than a handful of them required him to make more than a minor cut downfield, with Tennessee doing a terrific job of scheming up free releases and slight variances of go-routes to take advantage of his speed. Due to the play design and an accurate quarterback, a remarkable percentage of Hyatt's catches in 2022 were caught in stride, taking full advantage of his unique speed. Duplicating that won't be easy.
Further, while exceptional in a straight line, there are fewer instances on tape where Hyatt beat defenders one-on-one in tight quarters or breaks tackles. Finally, while drops were not an issue, Hyatt did double-clutch several throws on tape, including two touchdowns.
Bottom Line: The challenge for scouts with Hyatt (as well as his Tennessee teammates) is separating the many platinum plays from the fool's gold that is Vols coach Josh Heupel's scheme. His ultra-wide splits, orchestrated releases and extreme vertical approach just don't translate well to most NFL offenses. What does translate, of course, is Hyatt's speed. He is the best vertical threat in this draft and that alone could get him drafted in the first round. 
Grade: Top 50 
6. Jaxon Smith-Njigba, Ohio State, 6-0, 200 pounds, Junior
Overview: JSN is perceived by some as one of real wild cards of the 2023 receiver class after missing all but a few moments of last season due to a nagging hamstring injury and entering the draft early with plenty of questions about his health and speed. 
Fans of Smith-Njigba's game will point out that his production a year earlier spoke for itself — when JSN simply set new Ohio State records with 95 receptions for 1,606 yards despite playing on a team that boasted future 2022 first-round picks and immediate NFL standouts Garrett Wilson (voted the NFL's Offensive Rookie of the Year for the New York Jets) and Chris Olave, a similarly dynamic first-year standout for the New Orleans Saints. Like many Buckeyes, Smith-Njigba signed as one of top recruits in the entire country, earning a five-star grade as the Texas 6A State Player of the Year.
Ohio State's Jaxon Smith-Njigba 2021 highlights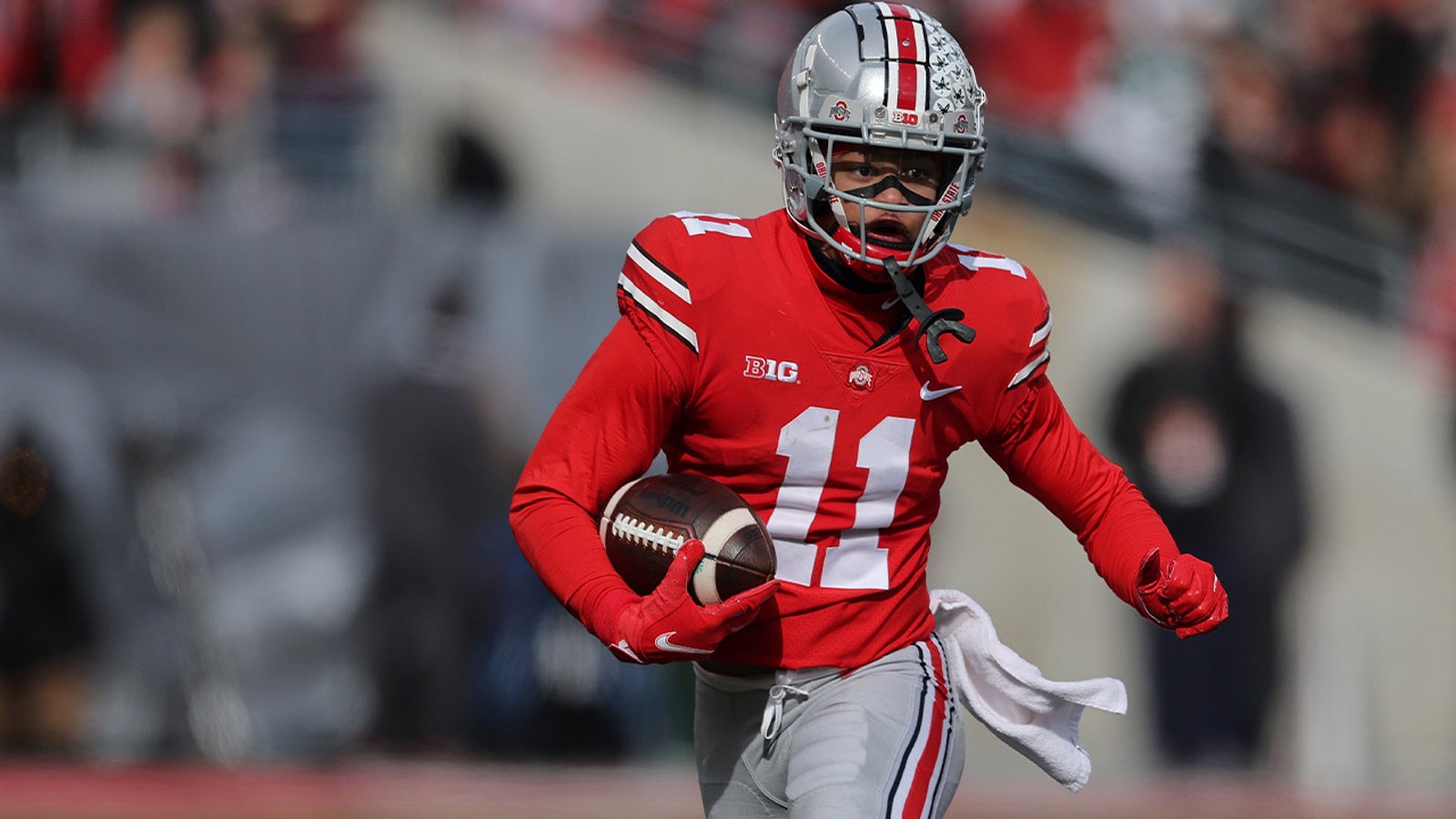 Check out the top highlights from Ohio State WR Jaxon Smith-Njigba from his breakout 2021 season.
Strengths: He's a solidly built wideout who plays faster than he's likely to run in workouts. JSN is a savvy route-runner whose shoulder fakes, staggered steps and body control help him create space. He understands where the holes are in zone coverage and settles, offering his quarterback strong hands, stellar body control and the body armor to bang with defenders and win at the catch point.
The statistics might suggest otherwise, but he has some of the stickiest hands in this draft, showing the ability to make the circus grab look routine. He's also instinctive, aggressive and creative after the catch, beating opponents for extra yardage with subtle jukes, strong stiff-arms and sheer want-to. Turns into a bit of a running back with the ball in his hands, dropping his shoulder and running with good forward lean and leg drive to finish runs.
Concerns: Smith-Njigba has just average speed for the position, lacking the explosive breakaway element most expect of a possible first round pick. He was protected in the slot, where his size and physicality helped him beat overmatched nickel corners, safeties and linebackers. Excelled in a creative offense and surrounded by an exceptional supporting cast, almost never seeing double-coverage over his career. He missed all but three games in 2022 with a hamstring injury that some have publicly questioned.
Bottom Line: JSN is a bit of an enigma in that his relative lack of production at the college level would suggest he's underdeveloped. After all, 35% of his career receiving yards and four of his 10 touchdowns came in just two games (at Nebraska and in the Rose Bowl win over Utah to cap the 2021 season). 
In terms of speed and style, Smith-Njigba couldn't be much more different than his speedy Ohio State predecessors Garrett Wilson and Chris Olave, but his surprisingly pro-ready game projects very well nevertheless. One of the greatest challenges college receivers typically have in making the jump to the NFL is the sudden closer proximity and physicality of defenders. JSN is at his best in traffic, showing the poise and skill set to quickly emerge as a legitimate security blanket for some lucky quarterback.  
Grade: Top 50 
7. Nathaniel "Tank" Dell, Houston, 5-8, 163 pounds, Redshirt Senior
Overview: At first glance, the diminutive Dell's chosen sobriquet, "Tank," would seem comically ironic, in much the same way a big guy is sometimes called "Tiny." After all, his given name is Nathaniel, and if you think he earned his nickname because of football, it should be pretty clear Dell's game is more about quickness than lurching power. 
In reality, his mother affectionately gave him the nickname because he grew up with a relatively big head on his relatively small body. That small body led most recruiters to overlook the then-155-pound high school senior, and Dell worked his way to becoming an NFL prospect via stops at Alabama A&M and Independence Community College (the one known for the Netflix documentary "Last Chance U") prior to signing with Houston. 
It was there, as the focal point of Dana Holgorsen's scheme, that Tank went from catchy nickname to an absolute legend, leading the American Athletic Conference in catches, receiving yards and touchdowns each of the past two seasons, and the entire nation in the latter two categories in 2022 with an eye-popping 1,398 yards and 17 touchdowns. 
Strengths: Even in a class as rich with twitch as this one, Dell's elusiveness stands apart. He is jackrabbit quick, bounding in every direction to leave defenders guessing at his next move, resulting in Dell often wide open and frequently in the end zone. Dell isn't just quick, he's flexible, showing very good body control to twist and contort and make tough grabs outside his frame. He is highly competitive and doesn't shy from contact, vaulting his body into traffic on contested throws and fighting above his weight class, winning more battles for the ball than you'd think with a receiver of his size. This aggression also shows in his willingness to attack upfield as a returner and after the catch, with Dell showing the vision to set up and play off blocking teammates. According to Holgorsen, Tank's nickname is well-deserved as "he thinks he's the toughest guy in the room." 
Concerns: There is a borderline reckless element of Dell's play, both in his route-running and inconsistent catching of the ball. Most obviously, Dell's tiny frame gives him a relatively small catch radius for quarterbacks to target. Similar to North Carolina's Josh Downs, in that there is some extra movement — dips, shoulder-fakes, flailing arms — that could be cut from Dell's route-running. Some of the stuff that looked great in one-on-ones during Senior Bowl practices doesn't translate well to the orchestrated timing required in NFL games. 
Given his small size and the number of intermediate and downfield throws Houston gave him, Dell is surprisingly effective in tracking the ball, but when he is late to locate, he's forced to vault at awkward angles for throws he can barely get a hand on, tipping or deflecting passes that can get his quarterback intercepted. Some of these deflections would be catchable throws to larger, more consistent receivers. Dell was, not surprisingly, tagged with 20 drops over the past two seasons, per PFF, including nine this past year, as well as three fumbles.  
Bottom Line: Even in today's era of bloated statistics, Dell's 30 combined touchdowns scored over the past two seasons is remarkable. Dell's savvy and fluidity help him shake even the stickiest cornerbacks, but his production was boosted by both creative play design and accurate passing. The drops and durability concerns are real, but Dell is a lightning-in-a-bottle athlete, capable of injecting instant juice into an offense and return game. 
Grade: Second round
8. Tyler Scott, Cincinnati, 5-11, 185 pounds, Junior
Overview: An undersized running back and track star at the prep level, Scott earned three-star grades from recruiters, choosing to sign with Cincinnati over offers from various Big Ten and Big 12 programs. 
His breathtaking speed stood out immediately for a Cincinnati squad that won the AAC Championship in 2020 with the true freshman playing in all 10 games. He developed as a big-play threat for the Bearcats a year later, finishing with 520 yards and five touchdowns on just 30 receptions before emerging as a legitimate star this past season, leading the team in receptions (54), receiving yards (899) and touchdowns while earning Second Team All-ACC honors. 
Strengths: His easy athleticism is readily apparent, with Scott fluidly accelerating downfield to show excellent top-end speed, as well as impressive balance and change-of-direction skills. He can sink his hips and explode out of his breaks, creating easy separation as a route runner and should only improve in this area with more experience. He shows easy lateral agility and burst to elude in close quarters with proven breakaway ability, as evidenced by the fact that 10 of his 14 career touchdowns went for 30-plus yards. He's far from imposing but has wiry strength and the surprising contact balance to slide off arm tackles. His experience at running back shows with his ability to brace and spin off would-be tacklers as well as his courage to run through traffic and vision to set up blocks. 
Concerns: Scott is still learning the nuances of playing the receiver position, currently winning mostly due to his extraordinary speed and an offense that created easy opportunities for him. There's inconsistent depth and timing with his routes. He's equally still a work in progress as a receiver, too often allowing the ball into his chest. He gives away his intentions, placing his hands up early to snag the ball and giving defenders unnecessary opportunities to rip it away from him, showing below-average grip strength to hang on. Has the traits to project as a dynamic returner (and has some experience in high school) but saw little time in this role in college.
Bottom Line: Scott was a Junior Olympian track star in high school (clocking a 10.6-second time in the 100 meters) and nothing excites the NFL like pure speed. He's one of the more unpolished receivers to make the top 10, entering the NFL early with just three years of experience playing the position. The combination of speed and balance through contact suggests that his big plays at receiver are only just beginning, however. 
Grade: Second Round 
9. Cedric Tillman, Tennessee, 6-3, 215 pounds, Redshirt Senior
Overview: Las Vegas is hardly known as a hotbed for future All-SEC wide receivers, but that is where Tennessee lured Tillman from after he helped national prep powerhouse Bishop Gorman to back-to-back state titles as it extended a winning streak to 54 games. The well-built three-star recruit had to bide his time at Tennessee before ascending the Rocky Top depth chart. He starred once on the big stage in 2021, becoming the first Vol receiver to eclipse the 1,000-yard mark in a decade, finishing the year with 64 grabs for 1,081 yards and 12 touchdowns. 
Strengths: Tillman is a prototypically built split end with broad shoulders, a tapered middle and long arms. He accelerates smoothly off the ball and generates separation on slants, posts and other shallow-angled routes with strong, decisive cuts, using his frame to shield defenders from the ball. A big receiver who plays big with the ball in the air, attacking the ball in flight, he has impressive balance and body control to contort in space even with defenders draped on him. 
Tillman has good timing and awareness for back shoulder throws. Strong hands help him pluck and secure the ball outside of his frame. He's also a strong runner after the catch, burrowing his head and plunging forward through contact. He also brings this same gritty style as a downfield blocker for teammates, delivering solid shots to defenders and working hard to sustain his blocks. He's also an NFL legacy, with his father of the same name playing four years in the league, spending time with the Denver Broncos and Jacksonville Jaguars.  
Concerns: Tillman started just 21 of 44 possible games at Tennessee with nearly two-thirds of his career production coming during the 2021 campaign. He played faster in 2021 than he looked at any point in 2022, lacking the same degree of initial burst that had opposing corners bailing early in 2021. Whether this was due to a nagging ankle injury or Tillman perhaps bulking up prior to the 2022 season, he was not as explosive off the snap, relying more on his size and physicality to bully defenders this past year. Generally a very reliable hands-catcher but had some double-clutches on tape and was knocked by PFF with six combined drops over the past two years. He's slightly old for a prospect, turning 23 the week before the draft. 
Bottom Line: Workouts typically count as just 10% (or less) of a player's final evaluation, but scouts will be reminded of Tillman's breakout 2021 campaign if he can turn heads at the NFL Combine or his Pro Day. Regardless of what he runs, Tillman is strong and savvy, checking a lot of the boxes required of a future NFL starter. 
Grade: Second-to-third round 
10. Michael Wilson, Stanford, 6-1, 216 pounds, Senior
Overview: A four-star recruit out of Simi Valley, California, Wilson signed with Stanford amid great fanfare and really captured the imagination of Cardinal fans when he broke out as a true sophomore to lead the team in both receptions and receiving yards. He has teased with potential rather than production since that time, however, entering the NFL after five seasons with the kind of numbers (134 catches for 1,662 yards and 11 scores) other receivers on this list essentially generated in a single campaign. 
Wilson's 11-yard TD catch ties "The Big Game"
In 2020, Stanford WR Michael Wilson tied "The Big Game" against Cal at 10-10 in the second quarter. The Cardinal went on to win 24-23 with Wilson leading the team in receiving yards.
Strengths: Wilson looks the part, with a broad-shouldered, well-developed frame and excellent weight distribution. He is much more athletic than most of the pass-catchers we saw at Stanford during the David Shaw era, bounding out of his stance and showing impressive stop-start quickness and balance out of his breaks, snapping them off with precision to create separation. Wilson is a smooth accelerator with impressive playing speed for a receiver of his size, offering much more big-play potential than his pedestrian stats at Stanford suggest. He catches the ball cleanly, showing the ability to pluck outside his frame, scoop the ball off the turf or track it over his shoulder with reliable, natural hands. 
He was also a valuable player on special teams, serving as both the returner and gunner at times. Wilson was voted a team captain, with coaches and teammates gushing about his commitment to the team and his game. He played five years at Stanford but is not old, having only turned 22 this month.
Concerns: Bright (or is it Cardinal?) red durability warning flags. He has played in just 14 of Stanford's past 30 games, missing at least two games each during his last three seasons. Wilson suffered season-ending injuries in 2020 (which reportedly required foot surgery) as well as 2022 (undisclosed), though in fairness, he returned to star at the Senior Bowl and may very well do the same in pre-draft workouts. He's a bit too muscle-bound for his own good, limiting his flexibility to reach back and corral off-target throws. Generally, he's a reliable hands-catcher but had some concentration drops against USC in 2022.
Bottom Line: Wilson surely looks back fondly at 2019, as that was the high-water season of his college career and, frankly, given today's video game-like statistics, he wasn't even that productive then, catching 56 passes for 672 yards and five touchdowns. Wilson has caught a total of five more scores in three seasons since. 
So why is he perched so highly on my list? Because the talent every scout in the stands in Mobile saw is very real, with Wilson among the most gifted senior prospects I evaluated this year, regardless of position. The durability concerns would push him into the third round for me, but I won't be at all surprised when some team gambles on him before then — assuming, of course, Wilson gets a clean bill of health from NFL doctors.   
Grade: Third round
Rob Rang is an NFL Draft analyst for FOX Sports. He has been covering the NFL Draft for more than 20 years, with work at FOX, Sports Illustrated, CBSSports.com, USA Today, Yahoo, NFL.com and NFLDraftScout.com, among others. He also works as a scout with the BC Lions of the Canadian Football League. Follow him on Twitter @RobRang.
Read more about the NFL Draft:
Top Stories from FOX Sports: 
FOLLOW
Follow your favorites to personalize your FOX Sports experience
---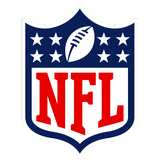 Get more from National Football League Follow your favorites to get information about games, news and more
---