David Helman
Dallas Cowboys Insider

Carmen Vitali
NFC North Reporter
The NFL Draft picture is finally starting to take shape.
The draft is the lifeblood of roster building in the modern NFL, so it's only logical that it dominates offseason discussion. Still, it's one thing to blindly speculate and it's something else to genuinely project. 
With the league year now underway, big trades in the books and free agents finally on the move, we can better assess each NFL team's needs heading into the 2023 NFL Draft.
Of course, a lot is still subject to change; Aaron Rodgers is still keeping us all in the dark, after all. But as the league's rosters take shape for the coming year, we're better equipped for another mock draft. So that's exactly what we're going to do.
1. Carolina Panthers: C.J. Stroud, QB, Ohio State
Truthfully, I think this could be any one of the top three quarterbacks (maybe four!) but there have been reports that the Panthers like Stroud above the rest. I don't think you part ways with multiple first- and second-round picks in addition to your top receiver unless you are convicted in who you want under center. 
Stroud still has some developing to do, but under head coach Frank Reich he'll have the chance to do that. He played one of his best games against a dominant Georgia defense in the semifinal this past college football season and I think that made him a lot of money — potentially first overall money.
2. Houston Texans: Bryce Young, QB, Alabama 
We can't say for sure how any of these teams feel about the four quarterbacks at the top. But if I had to guess, the decision makers down in Houston would do backflips if the most polished quarterback in this draft class fell to them despite their failure to secure the No. 1 overall pick.
Where does Bryce Young deserve to be drafted?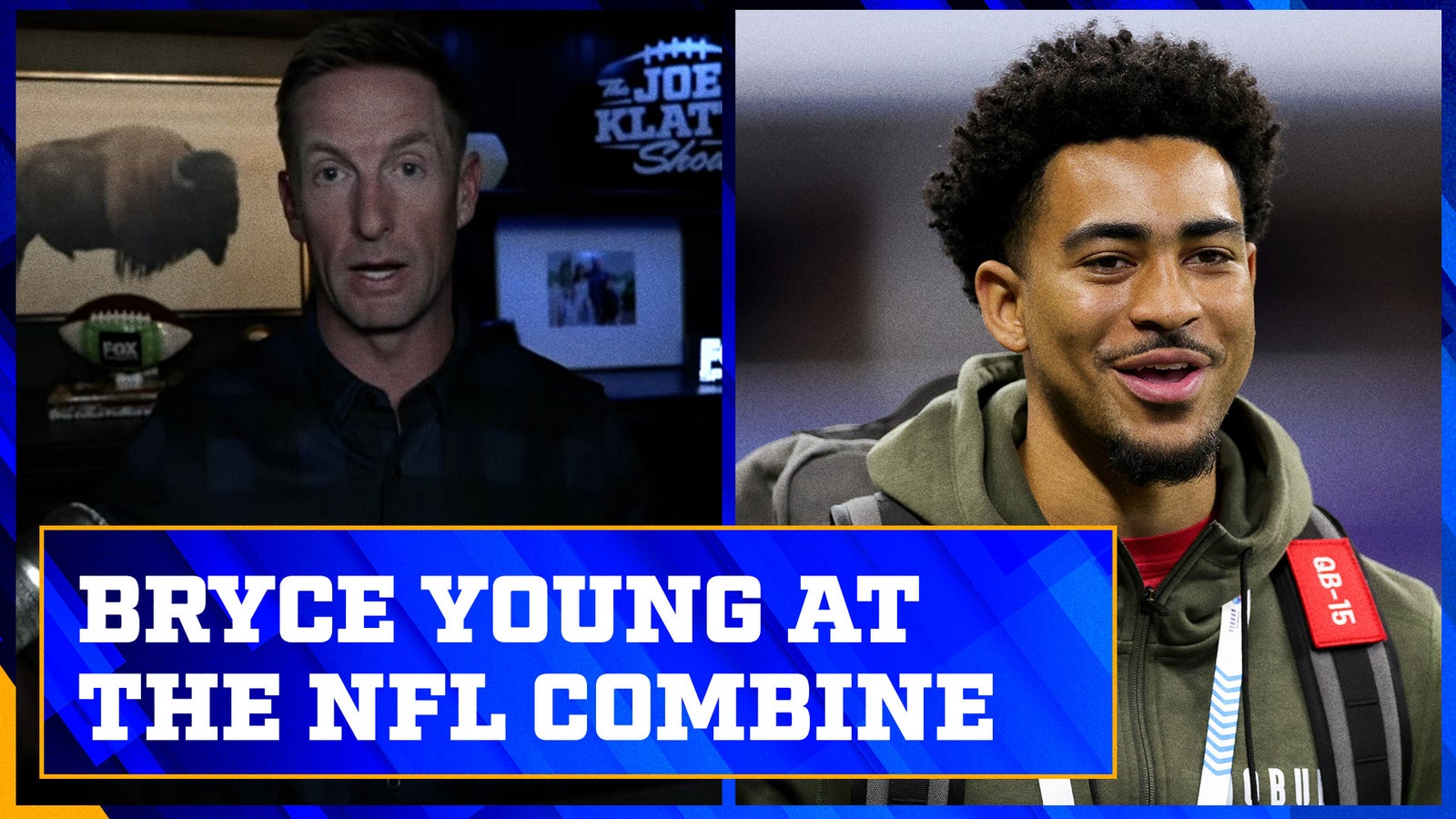 Joel Klatt analyzed Bryce Young's gameplay throughout the season and explained why he thinks Young can be the No. 1 pick in the NFL Draft.
3. Arizona Cardinals: Will Anderson, Edge, Alabama
The Cardinals already have their quarterback and after the previous regime extended Kyler Murray's contract, they're stuck with him for the time being. They instead should look to the defensive side of the ball and Anderson is the consensus top prospect there, especially considering all the off-field issues Jalen Carter is now facing.
4. Indianapolis Colts: Will Levis, QB, Kentucky
I'd send a chunk of my signing bonus to Josh Allen if I were Will Levis or his agents. Allen also produced mixed results despite incredible talent during his college career, but he's gone on to become one of the NFL's most dynamic quarterbacks. Long desperate for a franchise quarterback, I don't think Jim Irsay will be able to resist trying to replicate that success with Levis' cannon arm and sturdy frame.
5. Seattle Seahawks: Anthony Richardson, QB, Florida
I love what the Seahawks are doing so far this offseason. They did right by Geno Smith, signing him to a well-earned extension — but it's not a contract that should prohibit them from taking advantage of this draft position. We all know about Anthony Richardson's arm strength and athletic ability. A chance to sit and learn behind Smith could pay off big-time for him and Seattle.
6. Detroit Lions: Devon Witherspoon, CB, Illinois
Truthfully, we thought about being an agent of chaos and giving the Lions a quarterback, but the top four are off the board already and the Lions don't have to reach. Quarterback Jared Goff played one of the best seasons of his career last year and is still only 28. They can continue with him for the foreseeable future. The quarterback class next year looks even better than this one, and who knows? Maybe they can finesse a trade down with this pick to arm themselves in anticipation of 2024 with this pick. 
For now, I have them further addressing the back level of the defense. Between adding Cam Sutton in free agency and now Kerby Joseph's former teammate, they look set in the secondary, which was a major weak spot in 2022.
7. Las Vegas Raiders: Jalen Carter, DT, Georgia
It's tough luck for Vegas that they're picking seventh and all the first-round quarterback prospects might be gone. It could be a heck of a silver lining if those quarterback prospects push a talent like Carter down the board. He might be the best player in the draft, and that type of talent is going to keep him from falling too far down the board, regardless of the misdemeanor charges on his record.
8. Atlanta Falcons: Tyree Wilson, Edge, Texas Tech
The Falcons were big spenders in the first day of free agency but they didn't address any sort of pass-rushing need. They have David Onyemata on the interior now; let him open up one-on-one opportunities for one of the best pass rushers in this year's draft class in Wilson.
9. Chicago Bears: Peter Skoronski, OT/OG, Northwestern
If anything is good or right in the world, the Bears will keep Skoronski in the Chicagoland area. Chicago signed Nate Davis on the interior but has yet to address any need on the outside of the line. And there is a need. Skoronski is by far the most polished Northwestern player, and short arms never stopped Rashawn Slater from being one of the best at his position. I say Skoronski follows in his footsteps and gives the Bears the upgrade they need at left tackle while Braxton Jones continues to develop.
10. Philadelphia Eagles: Christian Gonzalez, CB, Oregon
It's a bit of a projection, but an easy one to believe. The Eagles are reportedly allowing Darius Slay to explore a trade, which makes sense given his advanced age and hefty cap hit. If Philly is able to deal him, why not immediately replace him with one of the best corners in this draft? That's the benefit of finagling your way to an extra first-round draft pick.
11. Tennessee Titans: Quentin Johnston, WR, TCU
The Titans need help all over their offense, but this is a question of position depth. Tennesseee needs receiver help, and this is not a great draft for finding it later on. With the top offensive tackle already off the board, why not splurge on the best deep threat in this draft class and address the offensive line later?
12. Houston Texans: Nolan Smith, Edge, Georgia
It's hard to believe DeMeco Ryans will hold two first-round picks in his inaugural draft as Houston's head coach and not spend at least one of them on defense. With his quarterback in place, it'd be nice to give some help to his side of the ball. Smith has the rare, freakish ability you look for in a pass rusher, and his eye-popping combine results are going to help him go quickly in this draft.
13. N.Y. Jets: Dalton Kincaid, TE, Utah
Is this too rich for a tight end? Maybe. Heck, this pick may not even exist for the Jets in the next few days if the trade for Aaron Rodgers goes through, so why not get a little weird? The Jets could conceivably take another receiver here. Or a tackle. But they need a tight end and can get by at those other positions in the meantime. It's kind of a catch-22 given that Rodgers likes throwing to tight ends, but if they get him they likely won't be able to use this pick.
14. New England Patriots: Paris Johnson, OT, Ohio State
It feels like the Pats have needed skill players for years, but it hasn't helped that their offensive line has been a hodgepodge since Tom Brady left. As much as Mac Jones might need receivers, an athletic superfreak who can protect him and open up lanes in the running game wouldn't hurt.
15. Green Bay Packers: Lukas Van Ness, DE, Iowa
I'm not totally sure why, but Van Ness just seems like a Packers guy. Yes, they already have seven first-round picks on the defense, but what's one more? The Packers saw what happened when Rashan Gary went down. He and Preston Smith need a better rotation on the outside. Van Ness can help with that. Besides, what are the Packers going to do? Take a wide receiver in the first round?
16. Washington Commanders: Broderick Jones, OT, Washington
It makes sense that the Commanders want to upgrade their offensive line, especially if they wind up starting a young quarterback in 2023. They technically have bigger needs on the line than left tackle, but Jones is talented enough that it shouldn't matter. He could either be a Day 1 starter on the left side or begin his career at right tackle. Regardless, it's a clear upgrade and a step in the right direction.
17. Pittsburgh Steelers: Joey Porter Jr., CB, Penn State
This started out as a feel-good story because Porter Jr.'s father is a Steelers great. Beyond the sentimental storyline, though, this makes a ton of sense. Even with Patrick Peterson in the fold, the Steelers need help at corner. Porter Jr. has a case to be considered the best in this class. Don't overthink it.
18. Detroit Lions: Jaxon Smith-Njigba, WR, Ohio State
Speaking of fun things: This a fun thing. The Lions don't have an immediate need at wide receiver with Amon-Ra St. Brown leading the way. Jameson Williams should be 100% by next season. Why not throw in his old college teammate and call it a day? That would give Detroit the depth they need at wide receiver to make their high-flying offense sustainable. And did I mention it would just be fun?
Is Jaxon Smith-Njigba the No. 1 wide receiver in the NFL Draft?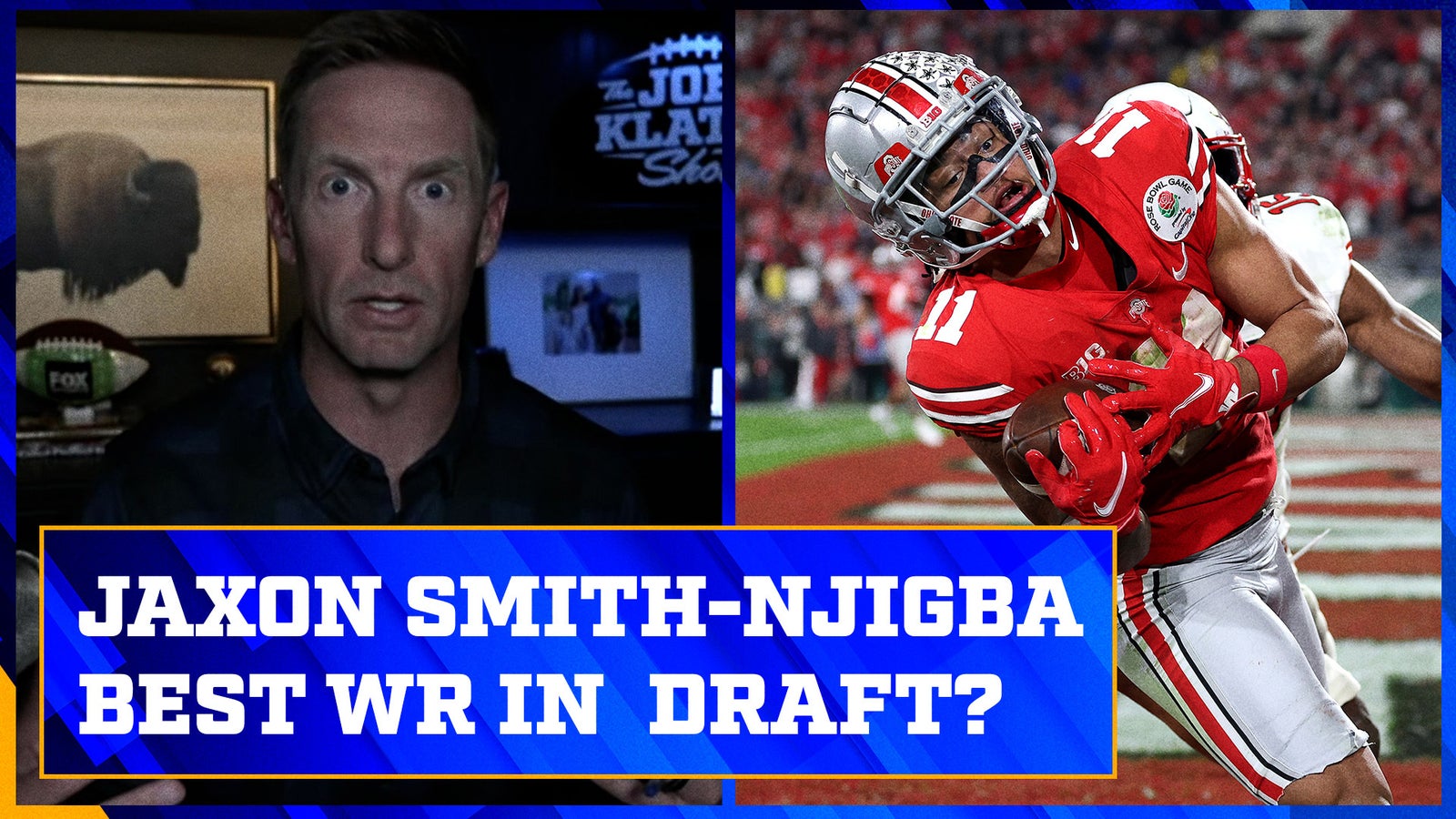 Even though he played only 60 snaps during the season, Smith-Njigba has lots of undeniable talent to show scouts. Joel compared his skills to LA Rams wide receiver Cooper Kupp.
19. Tampa Bay Buccaneers: Bijan Robinson, RB, Texas 
The Buccaneers were dead-last in rushing offense last season. They likely have a young (or at least new) quarterback coming in after the retirement of Tom Brady. You know what helps a new quarterback? A good running game. They can solidify that and atone for their sins of 2022 by drafting Robinson and diversifying their run scheme between him and Rachaad White behind what should still be a good offensive line full of young players.
20. Seattle Seahawks: Calijah Kancey, DT, Pittsburgh
Anthony Richardson may be a project pick, but this one wouldn't be. The Seahawks badly need pass-rush help, and they need to remake the middle of their defensive line. They did a lot of that work on Monday, signing Dre'Mont Jones to a huge contract. It sounds awfully fun to pair him with an undersized but effective pass rusher in Kancey. It's not fair to compare him to Aaron Donald just because he went to Pitt, but his burst and slipperiness make him a heck of a fun prospect.
21. L.A. Chargers: Myles Murphy, Edge, Clemson
 The Chargers restructured Khalil Mack's deal but he hasn't panned out the way they'd initially hoped when they took him off Chicago's hands. Maybe they could get their pass-rush rotation going with an injection of youth. Murphy fits the bill.
22. Baltimore Ravens: Jordan Addison, WR, USC
It feels lazy to pick a receiver for Baltimore simply because they've needed one for a while. But consider this: we're in the middle of what looks like a lengthy contract discussion between the Ravens and Lamar Jackson. Proving to him that you're willing to put talented weapons around him might go a long way toward getting him to agree to a new deal.
USC's Caleb Williams finds Jordan Addison for the 35 yard touchdown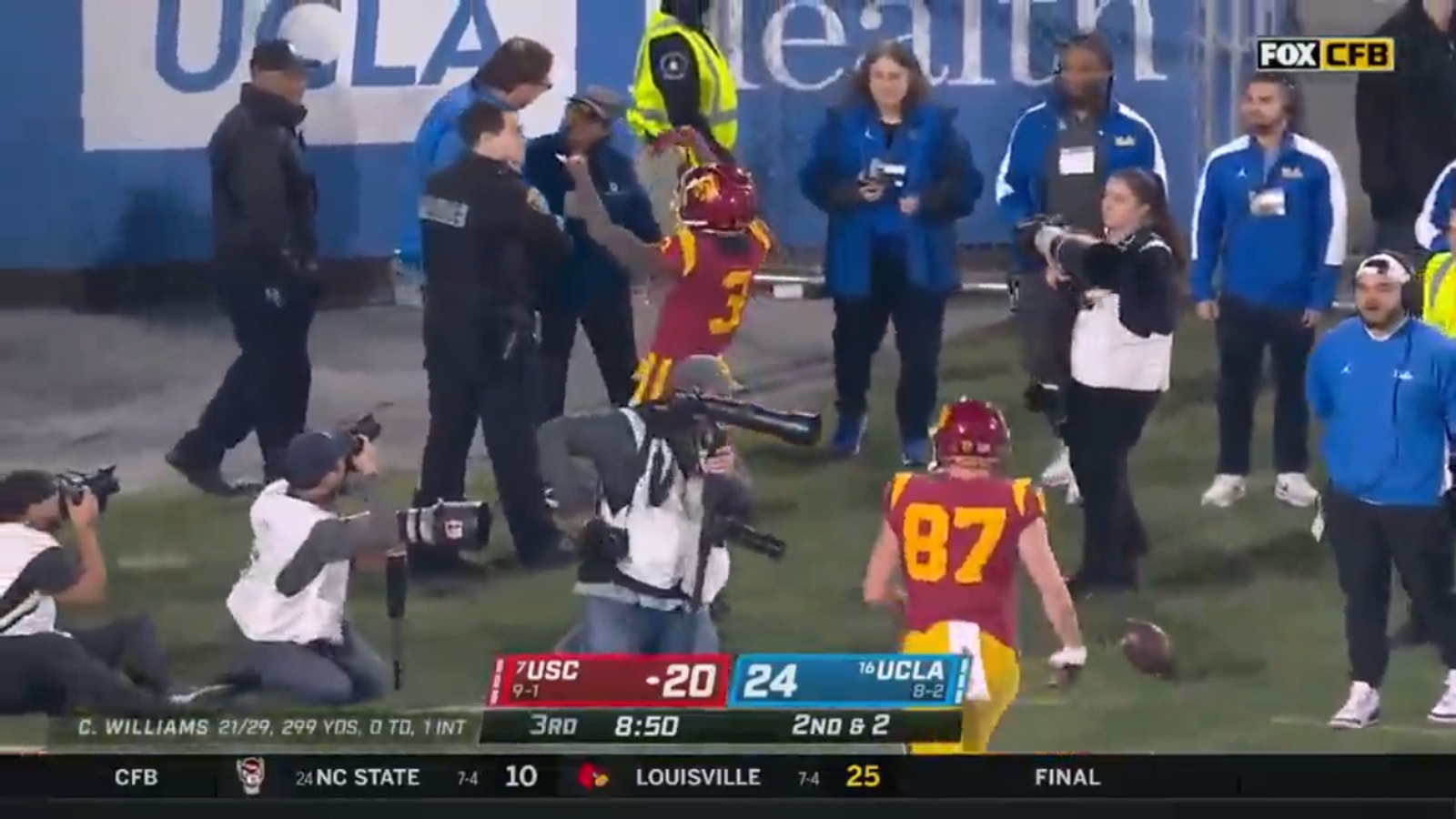 23. Minnesota Vikings: Brian Branch, DB, Alabama 
The Vikings need help all along the back level and Branch can do it all. Safety Lewis Cine is ahead of schedule in his injury rehab and Andrew Booth should also be healthy, but adding a player who can play the slot, the deep half or the outside should instantly upgrade the unit.
24. Jacksonville Jaguars: Michael Mayer, TE, Notre Dame 
This is a sneaky-good tight end class. Jacksonville did a lot better last year than people thought and might not be all that far away from contention. Mayer is a very good tight end and could provide yet another option for quarterback Trevor Lawrence to wheel and deal.
25. New York Giants: O'Cyrus Torrence, OG, Florida
The Giants are another team that needs receiver help, but unfortunately this might be a year where the value just doesn't line up. Rather than force it with a skill player, this is a perfect range to take the best guard in the draft. I doubt Daniel Jones or Saquon Barkley would complain.
26. Dallas Cowboys: Deonte Banks, CB, Maryland
For all the focus on their offensive ineptitude, there are some holes on the Cowboys' defense. DaRon Bland was a huge success story as a rookie, but Dallas could still use another boundary corner to play opposite Trevon Diggs. Banks' athleticism, length and tape are all good enough that the only problem might be whether he even lasts this long.
27. Buffalo Bills: Trenton Simpson, LB, Clemson 
This one is easy. The Bills just lost Tremaine Edmunds to free agency when the Chicago Bears gave him a four-year, $72 million deal. You can draft his replacement immediately in the rangy Simpson, whose 6-foot-2, 235-pound frame can help him make up for Edmunds' absence. His 4.43-second 40-yard dash doesn't hurt, either.
28. Cincinnati Bengals: Anton Harrison, OT, Oklahoma
The Bengals tried to fix their offensive line via free agency last year and were met with mixed results. They also could use a ton of help in the secondary, but the opportunity to add a plug-and-play guy at either left or right tackle was too enticing to pass up.
29. New Orleans Saints: Bryan Bresee, DT, Clemson
The Saints lost a ton of talent all along the line to free agency and need a ton of interior help now. Bresee has quietly been gathering steam as a prospect and may not even last this long.
30. Philadelphia Eagles: Will McDonald, Edge, Iowa State
Philly has been to the Super Bowl twice since 2017, and both of those squads featured wave upon wave of quality pass rushers. Haason Reddick and Josh Sweat are a great start, but even though Brandon Graham just re-signed, he can't do this forever. McDonald's athleticism will allow him to contribute early on while he develops into a more complete player.
31. Kansas City Chiefs: Jalin Hyatt, WR, Tennessee
Just look at who caught touchdowns for the Chiefs in the Super Bowl and you'll see they are in need of some wideouts. Kelce isn't getting any younger and the entire offense shouldn't depend on him. With Matt Nagy taking the reins at offensive coordinator, the more weapons the better.
Carmen Vitali covers the NFC North for FOX Sports. Carmen had previous stops with The Draft Network and the Tampa Bay Buccaneers. She spent six seasons with the Bucs, including 2020, which added the title of Super Bowl Champion (and boat-parade participant) to her résumé. You can follow Carmen on Twitter at @CarmieV.
David Helman covers the Dallas Cowboys for FOX Sports. He previously spent nine seasons covering the Cowboys for the team's official website. In 2018, he won a regional Emmy for his role in producing "Dak Prescott: A Family Reunion" about the quarterback's time at Mississippi State. Follow him on Twitter at @davidhelman_.
Top stories from FOX Sports:
FOLLOW
Follow your favorites to personalize your FOX Sports experience
---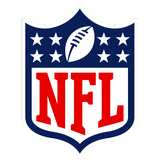 Get more from National Football League Follow your favorites to get information about games, news and more
---