By Richie Zyontz
FOX NFL Lead Producer
Editor's note: Richie Zyontz has been an NFL producer for FOX since 1994 and the lead producer for the past 20 seasons. He has more than 40 years of experience covering the league and has produced six Super Bowls. Throughout the 2022 NFL season, it will provide an inside look as FOX's new #1 NFL team makes its journey to Super Bowl LVII.
One small step for the calendar, one giant step for NFL teams and their broadcast networks. The playoffs are here and the real fun began with a Wild Card matchup between the New York Giants and the Minnesota Vikings.
Many aspects of preparation remain the same for production teams. There are rosters to study, videos to watch, articles to read, coaches and players to meet. Business as usual.
So what really changes when covering a postseason game?
Is there a discernible difference between the way a playoff game is televised compared to a regular season game?
The short answer: a little. There are often more cameras, resulting in additional playback angles. Visually, it should be noticeable if the producer and director do their job well. And best of all, we no longer need to display the NFC playoff image graphic. The only teams in the hunt are the ones that haven't lost a playoff game! The field is set.
Another tweak revolves around feedback. The game reigns supreme. Stories that were relevant during the regular season take a back seat to document the action on the field. Don't get me wrong: chemistry in the broadcast booth still matters. But the back and forth should be more focused and focused on the game with less idle banter. The guiding principle should be "less is more".
Here's the conundrum, and it rang true after hearing from Giants head coach Brian Daboll during our video chat. His message to his players this week was "you have to be you," the logic being that he can't fundamentally change players just because they're involved in a playoff game. What was imperative for Daboll was for his players to stay focused and control their emotions.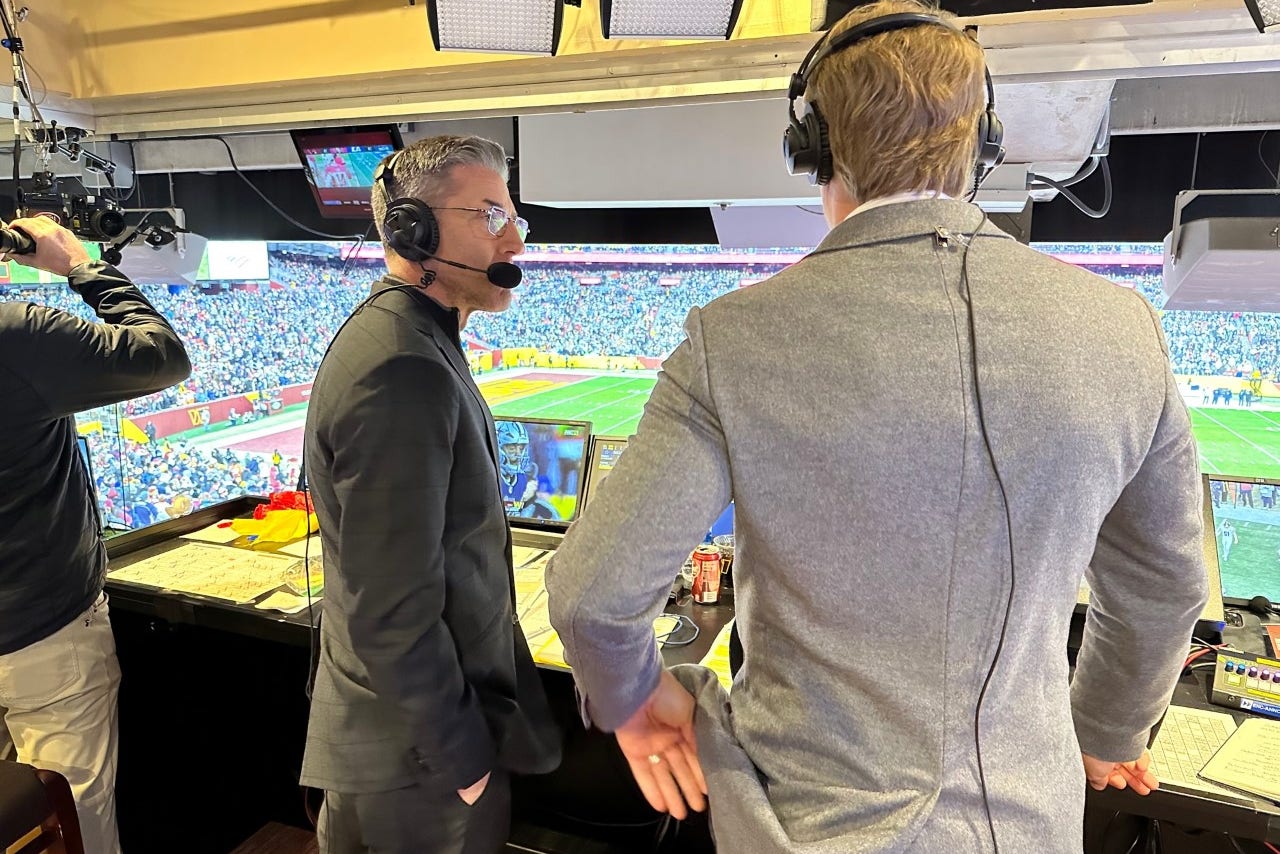 Kevin Burkhardt and Greg Olsen during Sunday's broadcast of the Giants-Vikings game.
I think that sentiment applies to our approach as well. Broadcast teams establish a rhythm and personality throughout an 18-week regular season. Why change now? Everyone understands the magnitude of coverage of postseason games
With that in mind, our production meeting began with this gentle reminder. The last thing we want is for Kevin Burkhardt and Greg Olsen to suddenly think a different strategy is needed. They've been fantastic all season, calling good and bad games with equal focus and energy.
This was Greg's first playoff broadcast. His natural enthusiasm jumps off the screen and his ability to communicate and explain the game in compelling terms has been telling. He was a very accomplished player; a three-time Pro Bowler who played in more than 200 total games, including one Super Bowl. But his television career is still in its embryonic stage.
So the same reminders applied not only to Greg, but to the entire crew: be patient, don't overdo it, let the visuals tell the story, let the viewers enjoy the game.
If there was one aspect of a football match that a broadcast team could stumble upon, it would be the recognition and instant application of the rules. Trust me, I've been there. The edict of the heads of each network was to know the rules. Easier said than done, especially since the game got faster and more complicated.
At each summer network seminar, the NFL's bureau chief spent an hour going over the rules to a room full of announcers, producers and directors. It was mostly a dry presentation with a short film more suited to a hostage video than a group of TV people.
That all changed when Mike Pereira took over as craft czar in 2001. His visits to our annual meeting became an event. A bit more adept at the performing arts of arguing the rules than his predecessors, Mike brought a dry subject to life. These skills led to a decision that changed the way sports were covered on television. Our boss, David Hill, was so impressed with Pereira's annual appearances that in 2010 he offered him an on-air job. Broadcasters would no longer face controversial situations. We had an expert in place, and this idea was soon copied by all of the NFL's broadcast partners. Along with the constant on-screen scoring and clock, the addition of a rules expert is arguably FOX Sports TV's most significant innovation.
But there is only one Pereira.
For the past six years, Mike has traveled with the crew to all of our nationally televised games. Along with his trusted assistant, former NFL replay official Roger Ruth, Mike is positioned in the front corner of our broadcast booth, within sight and reach of Greg and Kevin. It is the part of the ear that is innovative. Through some ingenious work by our audio staff, Pereira has the ability to speak directly into his headphones. Sometimes it's just to confirm what they've said about a play or call, sometimes to offer a suggestion.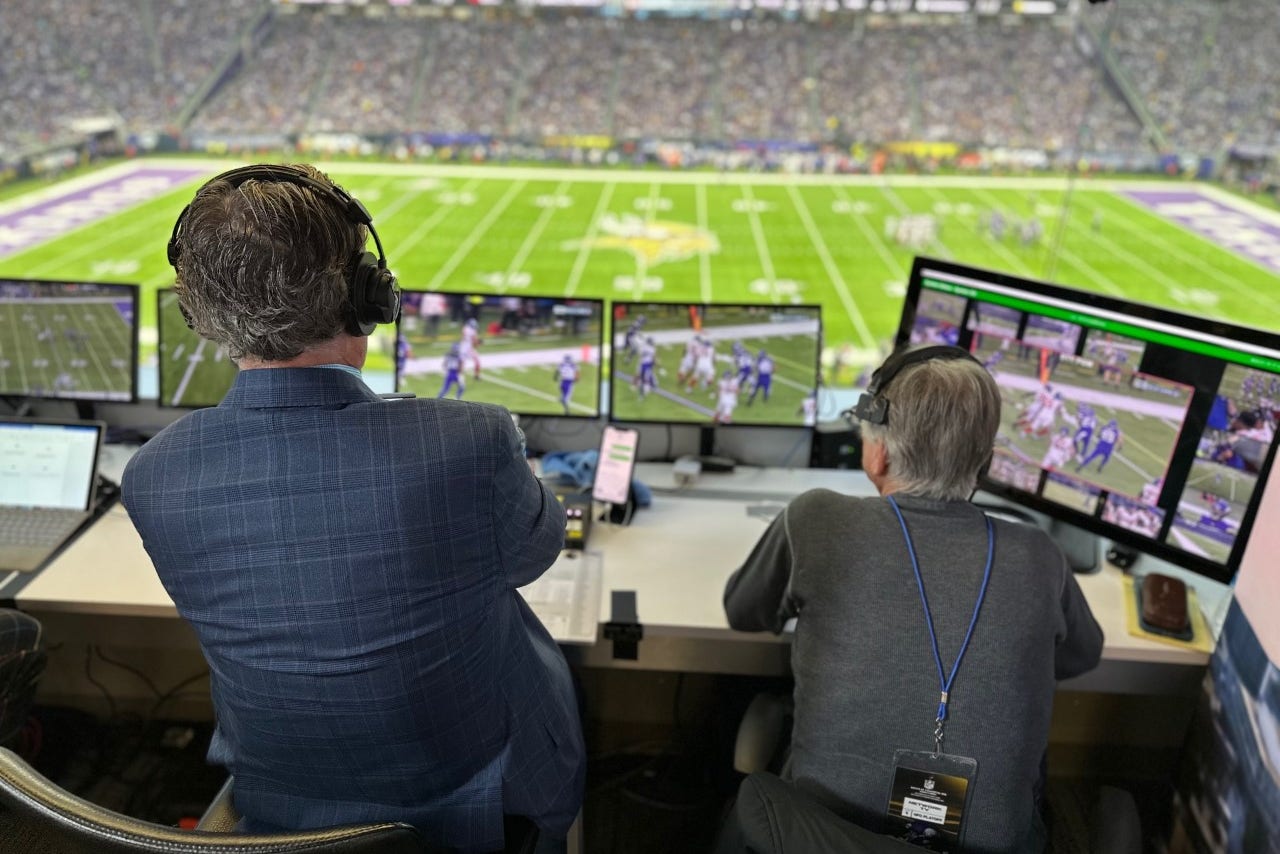 Mike Pereira and Roger Ruth watch Sunday's Giants-Vikings game.
When deemed significant, Kevin can bring it into the discussion as if we had a three-person stand.
Mike is honest and straightforward. He does not shy away from criticizing the referees of the game. And he doesn't hesitate to disagree with his broadcast partners either. Several times yesterday, Pereira and Olsen had differing opinions on penalties and non-calls.
Disagreement is good, it makes the broadcast better.
Minnesota is one of the loudest places in the league and the Vikings fans nearly blew the roof off. But she was very proud of Kevin and Greg for not trying to fight the noise. Announcers are paid to speak, but often the most effective parts of a broadcast don't include any commentary.
I found myself praising them throughout the game for not doing and saying anything.
It seems strange but it is not. Silence is often golden.
On Monday night, our crew will sit back and listen to our old friends Joe and Troy call the Dallas-Tampa game. The winner will go on to play the 49ers next Sunday, and we'll be there to cover it.
FOX Sports Top Stories:
FOLLOW
Follow your favorites to personalize your FOX Sports experience
---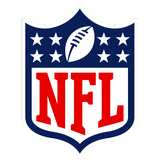 Get more from the National Football League Follow your favorites for information on games, news and more
---
---