Statistically, the NBA is on a run never seen before in league history.
Luka Dončić, LeBron James and others have been rearranging the record books during the holiday season, and on Tuesday night, Donovan Mitchell tried to make history.
Here are the key numbers from Mitchell's legendary performance.
70 and 10: Mitchell is the first player in NBA history with more than 70 points and more than 10 assists in a game.
7: Mitchell is the seventh player to score more than 70 points in an NBA game.
81: Mitchell's 71 points are the most points in a game by any player since Kobe Bryant's 81 against Toronto on January 22, 2006.
11: Mitchell tied his career high with 11 assists.
20: Mitchell's 20 free throws were also a career high, making him the first player to make 20-plus free throws in a game since Jerami Grant made 21 in Portland on Nov. 25 against the Knicks.
25: Mitchell's 25 free throws are a career high and match the number Dončić attempted against the Rockets on Monday night.
55: Mitchell's 55 points after halftime tied Bryant for the most in a half by any player over the past 25 seasons.
57: Mitchell broke the Cavs single-game scoring record held by Kyrie Irving and James.
99: Mitchell scored or assisted on 99 points for the Cavs, second most all-time behind Wilt Chamberlain's 104 points scored or assisted during his historic 100-point effort.
68: Mitchell surpassed the previous record for most points scored against the Bulls, held by Wilt Chamberlain, who scored 68 points against the Bulls in 1967.
6-foot-1: At 6-foot-1, Mitchell is now the shortest player to score 70+ points in NBA history, surpassing the previous record held by 6-foot-4 David Thompson.
22: Mitchell's 22 field goals are the most by a Cavaliers player since James made 23 against the Wizards on Nov. 3, 2017. Mitchell is just the second Cavs player to make 20+ field goals in a match
Mitchell isn't the only NBA star on a roll lately.
Check out these numbers from Dončić, James and Nikola Jokić, among others.
December 20: Let's go big
On December 20, Jokić became the third player in NBA history to record 40+ points, 25+ rebounds and 10+ assists in a single game, joining Wilt Chamberlain and Elgin Baylor .
December 23: James Harden it shows that sharing is caring
Harden had 21 assists in the 76ers' win over the Clippers, tying Wilt Chamberlain (1968) and Mo Cheeks (1982) for a Philadelphia franchise record.
December 23: 43 points for all
For the first time in NBA history, five players scored 43 or more points on the same day: Dončić (50 points), RJ Barrett (44 points), Joel Embiid (44 points), Shai Gilgeous-Alexander (43 points ) and Tyrese. Haliburton (43 points).
December 25: A LeBron Christmas
LeBron set an NBA record and showed his durability by playing in his 17th game on Christmas Day, one of the Lakers' 124-115 loss to the Mavericks.
December 25: The gift of buckets
On December 25, 10 players scored 30 or more points, a Christmas Day record: Jayson Tatum (41 points), Jokić (41 points), James (38 points), Ja Morant (36 points), Embiid (35 points), Julius Randle (35 points), Dončić (32 points), Jordan Poole (32 points), Landry Shamet (31 points) and Christian Wood (30 points).
December 25: I already turn it on
Morant became the second player in NBA history to have 35+ points, 5+ rebounds and 5+ assists in his Christmas NBA debut (Kareem Abdul-Jabbar).
December 26: Duncan is all effective
Against the Timberwolves, Duncan Robinson went 3-for-5 from 3-point range and, in the process, became the fastest player in NBA history to 800 3-pointers. Robinson needed just 263 career games, 25 less than the previous record held by Dončić, who did it in 288 games. Robinson was also the fastest in the 200, 300, 400, 500, 600 and 700 triples.
December 27: Legend of Luka
Dončić became the first player in NBA history to record 60+ points, 20+ rebounds and 10+ assists in a game during the Mavericks' win over the Knicks. The 60 points also set a Mavericks franchise record, becoming the first player since Wilt Chamberlain in 1968 with a 50/10/10 game and the youngest player to record a 50 triple-double points in NBA history. Finally, the triple-double was tied for the highest scoring triple-double in NBA history with Harden, who did it in 2018 against the Magic with 60 points, 10 rebounds and 11 assists.
December 29: Buddy wastes no time
Buddy Hield's 3-pointer just three seconds into a game against the Cavaliers was the first 3-pointer ever made in the play-by-play era, breaking fellow Pacer Reggie Miller's record of four seconds.
December 29: Knicks two of a kind
Against the Spurs, Randle (41 points) and Immanuel Quickley (36 points) became the first pair of Knicks teammates to record more than 35 points in the same game since David Lee (37) and Al Harrington (36) on November 29. 2008
December 29: Scoring machine
With his third 50+ point game of the season, Dončić became the eighth player in NBA history to have three 50+ point games in a single season before age 25, joining to James, Kobe Bryant, Michael Jordan and Kareem Abdul. -Jabbar, Rick Barry, Nate Archibald and Wilt Chamberlain.
December 30: Lights out
CJ McCollum set a Pelicans franchise record by making 11 3-pointers in a win over the 76ers. It was the second time this season a player hit 10-plus 3-pointers, joining Damian Lillard, who hit 11 against the Timberwolves on Dec. 12. McCollum is also just the 17th player to make more than 10 3-pointers in a game. in NBA history.
December 31: Another NBA first for Luka
In a five-game stretch, Dončić became the first player in NBA history to have 225 points, 50 rebounds and 50 assists.
January 3: Still king of the court
Over his last two games, James has accumulated 90 points, 21 rebounds and 15 assists. He is just the sixth player in NBA history to record 90 points, 20 rebounds and 15 assists in a two-game stretch, joining Wilt Chamberlain, Elgin Baylor, Russell Westbrook, Embiid and Dončić.
January 3: Age is just a number
James joins Michael Jordan as the only two players in NBA history to record back-to-back 40+ point games at age 35 or older.
---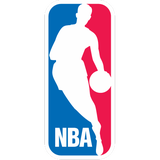 Get more from the National Basketball Association Follow your favorites for information on games, news and more
---
---