Airlines as a group are hardly flying high, but stocks like American Airlines (NASDAQ: AAL ) and Delta Air Lines (NYSE: DAL ) are at least participating in this week's market rally.
If you're like me and have flown regularly over the past year, you may have experienced fully booked flights and expensive tickets, which suggest higher revenue for airlines, but also cancellations and delays, which only infuriate and frustrate customers.
Both Delta and American posted earnings in July. Delta got a small boost after the report, but American is trading slightly below where it closed after its results.
Delta earned $1.44 per share on revenue of $13.8 billion. These were year-on-year increases of 235% and 94%, respectively.
Despite that annual gain, Delta missed analysts' bottom-line estimates but beat the top line.
MarketBeat earnings data shows that Delta beat fund views in the previous four quarters, but lost in four consecutive quarters in 2020 and 2021. That's no surprise, as Covid restrictions in the US and international travel reduced.
Among Delta's highlights:
The country continues to lead the recovery, even as international travel accelerates. Domestic passenger revenue was 3% higher and international passenger revenue recovered 81%, compared to the June 2019 quarter.
Revenues in Latin America and Transatlantic exceeded 2019 levels in June and the pace of recovery in the Pacific saw a significant improvement, driven by the reopenings of Korea and Australia and the easing of restrictions in Japan.
Business travel recovery progresses: Domestic corporate sales for the quarter recovered about 80% from 2019, up 25 points compared to the March quarter.
Delta issued guidance for the December quarter, saying ""With sustained strength in bookings, we expect September quarter revenue to rise between 1 percent and 5 percent compared to 2019, with growth in total unit revenue improving sequentially."
Delta's chart reflects some volatility that hasn't dropped much since the pandemic began. Like the airline industry as a whole, it has underperformed the S&P 500 index.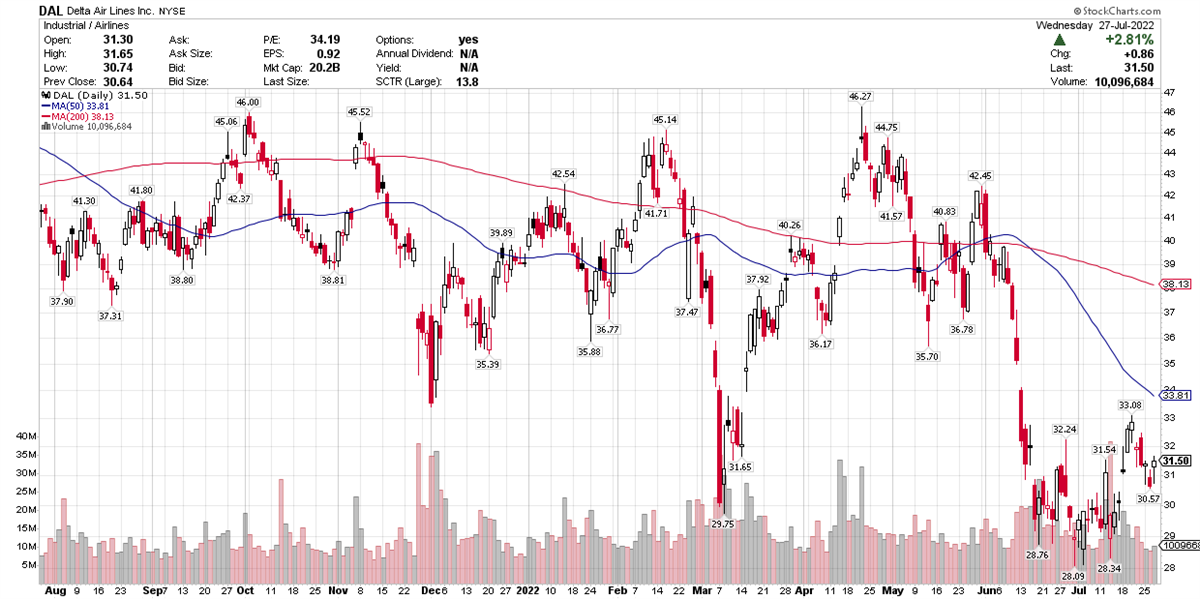 Meanwhile, rival American Airlines is also underperforming the broader market, for essentially the same reasons.
American reported second-quarter earnings of $0.76 per share on revenue of $13.4 billion. Both were improvements over the previous year's quarter, but the bottom line particularly stood out. According to MarketBeat data, American posted losses in the previous nine quarters, starting with the quarter ending in December 2019, even before the Covid restrictions.
In its report, the company highlighted several new developments:
The company continues to execute on its plan to repay approximately $15 billion of total debt by the end of 2025.
In the second quarter, American and its regional partners operated more than 500,000 flights, up 8% from the second quarter of 2021, with an average load factor of 87%, which is 10 points higher than the second quarter of 2021.
Despite a challenging operating environment in June, American's on-time departure rate, on-time arrival rate and completion factor for the second quarter of 2022 each improved from the second quarter of 2019.
The American may be starting a new uptrend, but that's also true for the broader market. To use a very accurate market forecasting term: who knows?
The share price soared higher above the clouds in January 2018 and has been in a long-term downtrend ever since.
It staged a rally between October 2020 and March 2021, but was never able to break through the resistance around $26.
At this point, look for the American to hold above its June structure of $11.93. This is the relevant floor to watch out for. If stocks can recover from here, it may have potential once the broader market enters a confirmed rally and once we get more clues that the economy is improving.
Given the vagaries of fuel prices and a looming recession that could curtail plans for leisure and business travel, now may not be the time to grab bargains on discounted stocks. This is especially true in an industry like the airline business, the success of which depends on so many variables.
If you're wondering about choosing Delta vs. American, you might want to consider waiting for broad economic improvements before sending a flyer. There are many other industries with near-term strength potential. There is nothing wrong with picking up a stock while a stock is meandering through the bottom, as long as you have conviction in the stock's potential. However, you don't incur an opportunity cost by investing in stocks that continue to underperform the market while others are taking off and flying high.