The Georgia Bulldogs had 10 players selected in last month's NFL Draft, in addition to seeing several impact players enter the transfer portal. But just like last year, Kirby Smart has constructed a roster loaded with outstanding talent and depth.
That is why FOX Sports college football analyst Joel Klatt has the Bulldogs slotted in the top spot of his post-spring top 25 rankings for the upcoming college football season.
Georgia, Ohio State & USC lead Joel Klatt's post-spring top 25
Joel Klatt revealed his post-spring top 25 teams ahead of the 2023 college football season.
Michigan, Ohio State, Alabama and Penn State round out the top five teams in Klatt's rankings, which he revealed Monday on his podcast, "The Joel Klatt Show."
Here is a look at Klatt's complete post-spring football top 25 rankings.
1. Georgia
"They are loaded. Back-to-back national championships. You can claim they don't have a quarterback, but I trust Kirby Smart with everything they've done. This is a team that is going to be loaded for the foreseeable future. Stetson Bennett played great, he had great statistics, he gets to New York, but this is not a guy that's gonna be overly difficult to replace. I think that they will be able to replace him and they are going to continue to be a dominant force in college football."
2. Michigan
"They've got so much talent coming back. This is a team that has been the best team in the Big Ten over the last two years. They're great on the offensive line and they are great on the defensive line. They can run [the ball] and they've got probably one of the best corners in college football, if not the best, in Will Johnson. They've got Matt Sainristil, they've got Junior Colson. Their defense is going to be fantastic. Then you look at the offensive side and they have reloaded on the offensive line in the transfer portal, as well as developed what they already have. J.J. McCarthy is gonna be a year older, Blake Corum is coming back, and Donovan Edward is coming back. This team is gonna be really, really good."
3. Ohio State
"If Ohio State had a returning QB, they would be No. 1. Because when you look at draftable players going into the 2024 NFL Draft, it's littered with Ohio State guys in the top 25. They are going to have four, five, maybe even six guys drafted in the first round. This talent is not concentrated in one area like it's been over the last couple of years, I think it's more spread out for Ohio State. Will Kyle McCord be the QB? Devin Brown? I do think it's going to be Kyle McCord and I do trust Ryan Day in his ability to develop quarterbacks. Look at the quarterbacks Ohio State has had since he's stepped on campus. The last three guys have been first-round draft picks. So, is Kyle MCord probably gonna play well? Yes. Ryan Day has a unique ability to get the most out of his quarterbacks. Ohio State is right there. [They have] top-end talent. I'm so impressed with them."
4. Alabama
"Alabama is not comfortable with what they had in spring ball, so that is why they had to bring in Tyler Buchner. Am I concerned for Alabama? No. Now, is it a bit eyebrow-raising? Yes. Tyler Buchner wouldn't be there unless they feel like they needed something, and by the way, Tommy Rees wouldn't have told him to come there unless he thought he was going to play. Buchner is not going to transfer to go sit, so you can read between the lines as far as the communication between Buchner's old coach [Tommy Rees] and Buchner and why he lands at Alabama."
5. Penn State
"This is the best team James Franklin has had since they won the Big Ten Championship Game. They've got these two young running backs, they're fantastic, the best tackle in college football in Olu Fashanu, and a new QB in Drew Allar, who a lot of people are excited for. This is a defense that continues to be very solid. I'm very interested in Drew Allar. This is the type of guy that I think could be a top-end talent. I think he could have a sophomore campaign similar to what we saw from Drake Maye a year ago. That's something to watch for when we're watching the Big Ten."
6. USC
"USC has an amazing offense, but yet, this same issue kept arising: Are you good enough on defense? Do you play requisite defense to win a championship? Up to this point, the answer was no. But, they've added real defensive players. I do think they've got really good players based on what happened in the transfer portal. When you combine the fact that I think they are going to be better on defense and that they have Caleb Williams, who is the Heisman Trophy winner and one of the best quarterback prospects we've had in a long time, they've got something there."
7. LSU
"I trust Brian Kelly. He's one of the best coaches in America. I really like Jayden Daniels and what he brings. I think they are going to be talented around Jayden Daniels. This is a team that when I looked at last year and I saw the things they were able to do well and the things they struggled with, it was a maturation process, and it was something I could see trending in a positive direction."
8. FSU
"I like Jordan Travis after a breakout season. I like Mike Norvell a lot. This is a high ranking. This is about as high as they deserve, because over the last five years, there were nothing. What you have to fight against is this being a blip on the radar. Was the double-digit wins a blip on the radar or is it something we can expect year over year? In the last four or five years, the most wins they had was six in any given season. It was a slow build for Norvell, but it needs to stick now. I'm gonna throw an asterisk down next to Florida State."
9. Washington
"He doesn't get a lot of attention, but [Michael Penix] should be third or fourth on the odds in terms of winning the Heisman Trophy. If [Michael Penix] stays healthy for Kalen DeBoer, they've got the wide receivers and I think they've got he schedule to go out there and do some damage. I like Washington a lot. I think Washington's going to be a really good team."
10. Tennessee
"Tennessee, similarly to Florida State, has to prove [last season] wasn't a blip on the radar. … that it wasn't a one-off that they could go out there and win 10 games. If you look at their offense under Josh Heupel, this is a very wide receiver-centric offense and quarterback-centric offense. They've got to replace their top two receivers and their quarterback. That can be difficult to do. I think it's going to be Joe Milton at quarterback. This guy has an amazing arm. At times, I think he's either going to throw a ball five rows into the stands or he's going to drop a dime into an absolute small window. His accuracy absolutely has to get better. I've seen this quarterback since he was a young kid at Michigan. He's very talented and I think he can do it, but we're going to have to wait and see."
11. Utah
"There's one team that's earned the top spot of the next group of teams and that's Utah. Utah's back-to-back Pac-12 champions. They've been to the Rose Bowl in two straight years. Kyle Wittingham has built something that's very sustainable, I believe 10 wins in three of the last four years. This is a really good team with their quarterback returning, with their running back returning. We know their defense is always going to be very good. Utah's not going anywhere. That's why they're going to get the benefit of the doubt."
12. Oregon
"The next team I really trust is Oregon. Not just because they've recruited at a really high level, but also because they're bringing their quarterback back. Bo Nix is going to be there in the top five in terms of Heisman Trophy odds to start the year, and rightly so. The one concern I have for Oregon is that they have four offensive linemen to replace and this is a very offensive line and run-game-centric offense in front of Bo Nix. It kept him clean for the most part even though he struggled with injuries during the course of the year. Oregon's very talented and I think they're going to have a very solid defense. They've got to replace those guys and develop upfront."
13. Notre Dame
"Notre Dame is going to be upgraded at quarterback. Sam Hartman is an upgrade at quarterback. This guy threw 110 touchdown passes at Wake Forest. He's a good player. This is better than what they had. Which, by the way, read between the lines, if Tyler Buchner is starting for Alabama and he's the one starting last year for Notre Dame, and I'm now telling you Notre Dame has upgraded at quarterback with Sam Hartman, that tells you that Notre Dame is at a better spot at quarterback than Alabama. Which I think is interesting. I think Notre Dame is going to be very good on the offensive line. They're going to be upgraded at quarterback, which they needed to be because their offense wasn't very good last year. I still think they're going to be very good on the defensive side of the ball with Marcus Freeman."
14. Clemson
"Clemson is in a point in their natural evolution where they got to the mountain top and they've had a little bit of a lull now. They've started to lose assistant coaches and there's these little things that make it difficult to win championships over cycles of recruits or coaches. This is what makes Nick Saban so special. It's just difficult to do, just ask Dabo Swinney. They're suffering through a bit of a lull. Are they still elite? Absolutely. Are they still going to be great on defense? Yes. Are they still talented out at wide receiver? Probably not compared to what they've been in the past. I do like [Cade] Klubnik, a lot. Here's the key: I think Dabo is doing the right thing by going outside and trying to bring in a voice to jumpstart and spark the offense and really his entire program by hiring Garrett Riley. It really reminds me of what Bob Stoops did after an eight-win season when he brought in Lincoln Riley to Oklahoma and all of a sudden they went on a really nice run and Riley became the head coach. … This seems like that type of move."
15. TCU
"The place [Riley] left was TCU and the reason why I've got Clemson right above TCU is because he left. Fifteen might be high. This is the benefit of the doubt that Sonny Dykes is a very good coach. It's their culture. It's the fact that they're coming off a really great year. Could they fall off like I was talking about with Tennessee and FSU? Yeah, maybe. Remember, Tennessee didn't have a 10-win season since 2007 and then all of a sudden they jumped up and had a double-digit win season. Last year, TCU out of nowhere won a bunch of close games and then there they were in the national championship. Could that go the opposite direction? Sure. But I'm going to give them the benefit of the doubt. Remember, Chandler Morris was the starting quarterback at the beginning of last season. I don't feel like they're starting at ground zero at quarterback replacing Max Duggan."
16. Oregon State
"Why is Oregon State at 16, Joel? Jonathan Smith is their head coach. It's not actually about DJ Uiagalelei. It's more about Jonathan Smith. I think he's one of the more underrated coaches in America. They're incredibly sound. They run it well. They're physical at the point of attack. I like what they do at the line of scrimmage. That's a culture that I trust with Jonathan Smith as their head coach. I think that's a good program that no one really looks at."
17. Texas
"Against my better judgment, mostly because there are some teams with some holes in the next few, Texas is going to be at 17. Texas at 17 due to their overall talent and what they were able to do in the portal. I think that Quinn Ewers is a type of player where if we saw him play at the level he did against Alabama and others, they're going to win a lot of football games. Now, again, am I going to talk about Texas in any high regard until they earn it? No, I'm not going to. Do I think they should be a top 25 team? Yes, because of their overall talent and what they've been able to do compared to some of these other teams. So, Texas is going to be in there. Quinn Ewers and Xavier Worthy are incredibly talented. They're better at the line of scrimmage than they've arguably been in a decade. I think that's going to help them more than anything."
Utah, TCU & Texas in Joel Klatt's top 25 post-spring rankings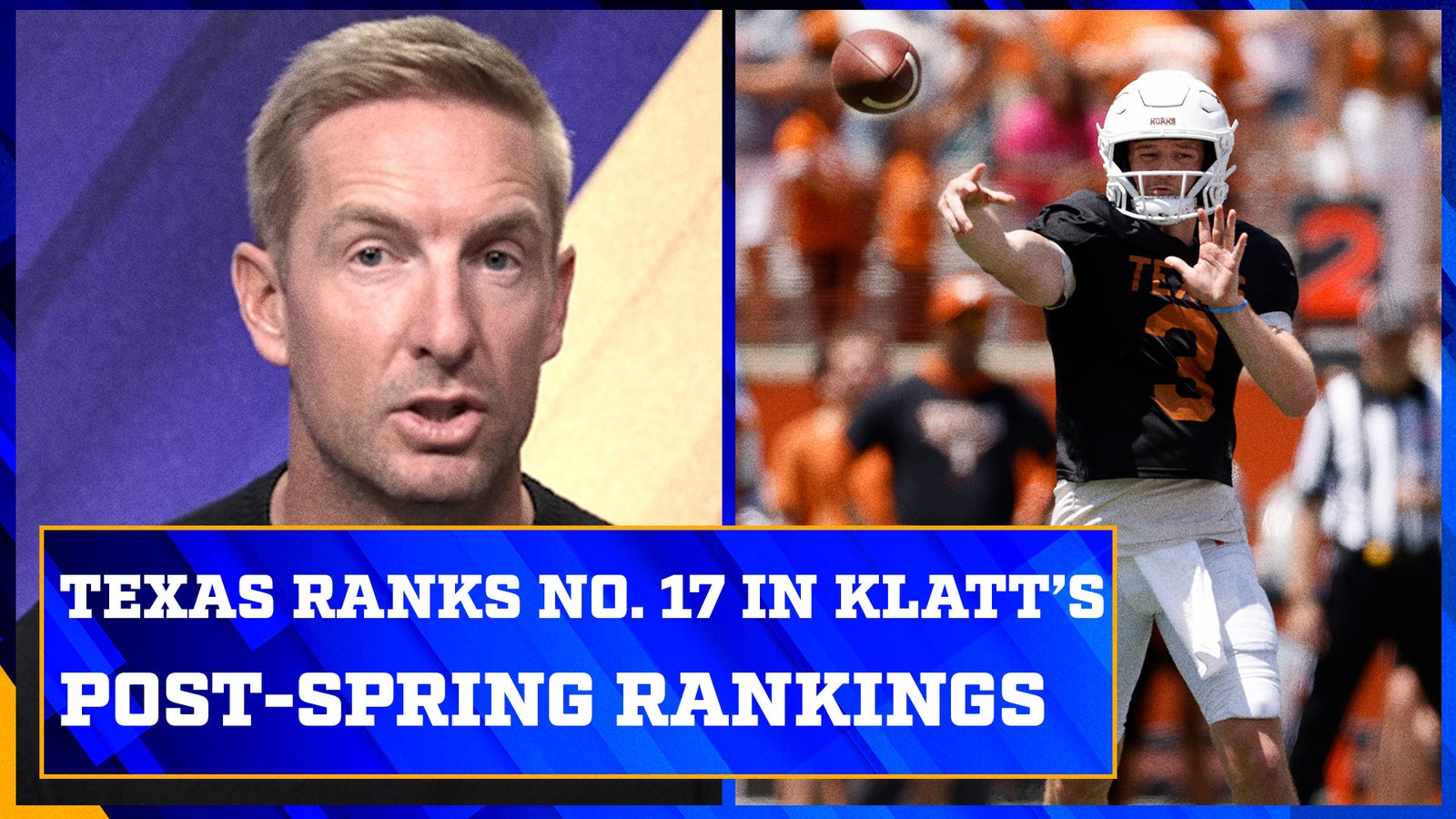 Joel Klatt is excited to see how QB Quinn Ewers will play this season after what he showed against Alabama last season.
18. Kansas State
"Kansas State won the Big 12 last year and [Chris] Klieman got his contract extended. So, good for him. Will Howard is a guy I really like. I like Treshaun Ward, a Florida State transfer at tailback. I think he's a really good player. I think this is a program we should never really underestimate."
19. Oklahoma
"I thought about moving them up a bit higher because I like a lot of the pieces Oklahoma has. Oklahoma went 0-5 in one-score games last year. So, basically the exact opposite of TCU. Now, they're bringing their quarterback back in Dillon Gabriel. They got way better in the transfer portal, specifically on the defensive side of the ball. They got Dasan McCoullough, Jacob Lacey, Andrel Anthony and Reggie Pearson. They were fourth in the country in high school recruiting, including a five-star safety and three players in the top 16 in the country. OU could have a big splash season. If there was a team in the top 10 that I would bet wouldn't be in the top 10 at the end of the season, it'd be Florida State. If there was a team in the 10-20 range that you had to bet on entering the top 10 by the end of the year, it'd be Oklahoma. The fact that they lost all of their one-score games makes me think they can get back to double digits and I think they're a very good team."
20. Ole Miss
"Quinshon Judkins – love him. Obviously he was fantastic. They've got four offensive linemen starters returning for Lane Kiffin. The quarterback situation is a little wonky with Jaxson Dart and Spencer Sanders plus Walker Howard. So, I don't know exactly who's going to be there. But similar to a Ryan Day or a Lincoln Riley, I know he's a little wonky, but Lane Kiffin always seems to get good quarterback play and his offenses can always go out there and score some points. I like Ole Miss at 20. I'm fine with that."
21. North Carolina
"They are at the top of this next tier because of one player: Drake Maye. He made some throws in the [Holiday Bowl] that not many people in the country can make. Maybe only Caleb Williams is the only other guy that can make some of those plays. That's why we talk about him in generational standards. They added a couple transfer wide receivers to give him targets, and we'll see if that pays off."
22. Iowa
"Iowa could be a total fiasco this year with the whole 'Brian Ferentz has to score 25 points' deal. That's not fair to Cade McNamara, and yet, here they are, a defense that is always good.  They are going to absolutely be fantastic on defense, and they should be better on offense. This is a team that should threaten in the Big Ten, but they've got this arbitrary mark of 25 points. I think this is going to put undue pressure on Brian Ferentz and Cade McNamara and the rest of the offense. They scored 17.7 points per game, and now you put some arbitrary number out there that's not gonna help anybody. But, they've got a great defense, Kirk [Ferentz] is still there, I think this is going to be an interesting one."
23. Wisconsin
"Tanner Mordecai comes in and I think he's gonna be an upgrade at QB. But then, he threw four picks in the spring game and you've gotta be thinking to yourself, 'Oh my gosh, Graham Mertz 2.0.' This is a team that is going to get a new coordinator and a new identity on offense with Phil Longo. I like Tanner Mordecai. They've still got some talent on that side obviously with Braelon Allen. I think Luke Fickell will do a nice job.  This is a really good head coach. You saw what he did at Cincinnati. He took them to the playoff."
24. Texas Tech
"They beat OU last year in Texas and won eight games. Joey McGuire is doing good things in recruiting. When Tyler Shough was their quarterback, they were much better. When he went down, they would struggle a little bit. Talking with Joey [McGuire] at spring meetings, [he] told me he feels really good about his quarterback, and he should. They were right there, save for some injuries. They have to replace some top-end talent on the defense, and that's fine. That's a team that I think could easily be a top 25 team."
25. UCLA
"Chip Kelly is going to have to coach at UCLA for the first time without Dorian Thompson-Robinson. Do I think they're gonna be aright? Yeah. They run the ball really well, they've done a good job in development, they've done a good job in the transfer portal overall. They have not done great in recruiting high school talent, although they did get five-star Dante Moore, the QB, who I think could be an interesting option. I think Chip [Kelly] is a heck of a coach and I think he has built something that is more sustainable than past coaches."
---
COLLEGE FOOTBALL trending
---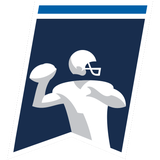 Get more from College Football Follow your favorites to get information about games, news and more
---