We're more than halfway through the 2023 college football season, and Week 9 brings another strong slate of matchups.
Earlier in the day, Big 12 powerhouse No. 6 Oklahoma was upset by Kansas, losing 38-33, on FOX's "Big Noon Kickoff." It marked the Sooners' first loss of the season and their first loss to the Jayhawks since 1997. Recap all the action here.
Elsewhere, No. 4 Florida State, also unbeaten, handled ACC foe Wake Forest in front of a sold-out crowd, and a Big Ten battle between No. 10 Penn State and Indiana ended with the Nittany Lions narrowly avoiding an upset at home.
Currently, a handful of ranked teams are in action, including No. 7 Texas, No. 8 Oregon vs. No. 13 Utah and No. 18 Louisville vs. No. 20 Duke. Later, No. 3 Ohio State and No. 23 UCLA, among others, will take the field.
Here are the top moments!
No. 8 Oregon at No. 13 Utah
Coming through!
Oregon QB Bo Nix put his team on the board first after running through the Utah defense on his way to the end zone.
Oregon QB Bo Nix bulldozes past Utah's defense for 1-yard rushing TD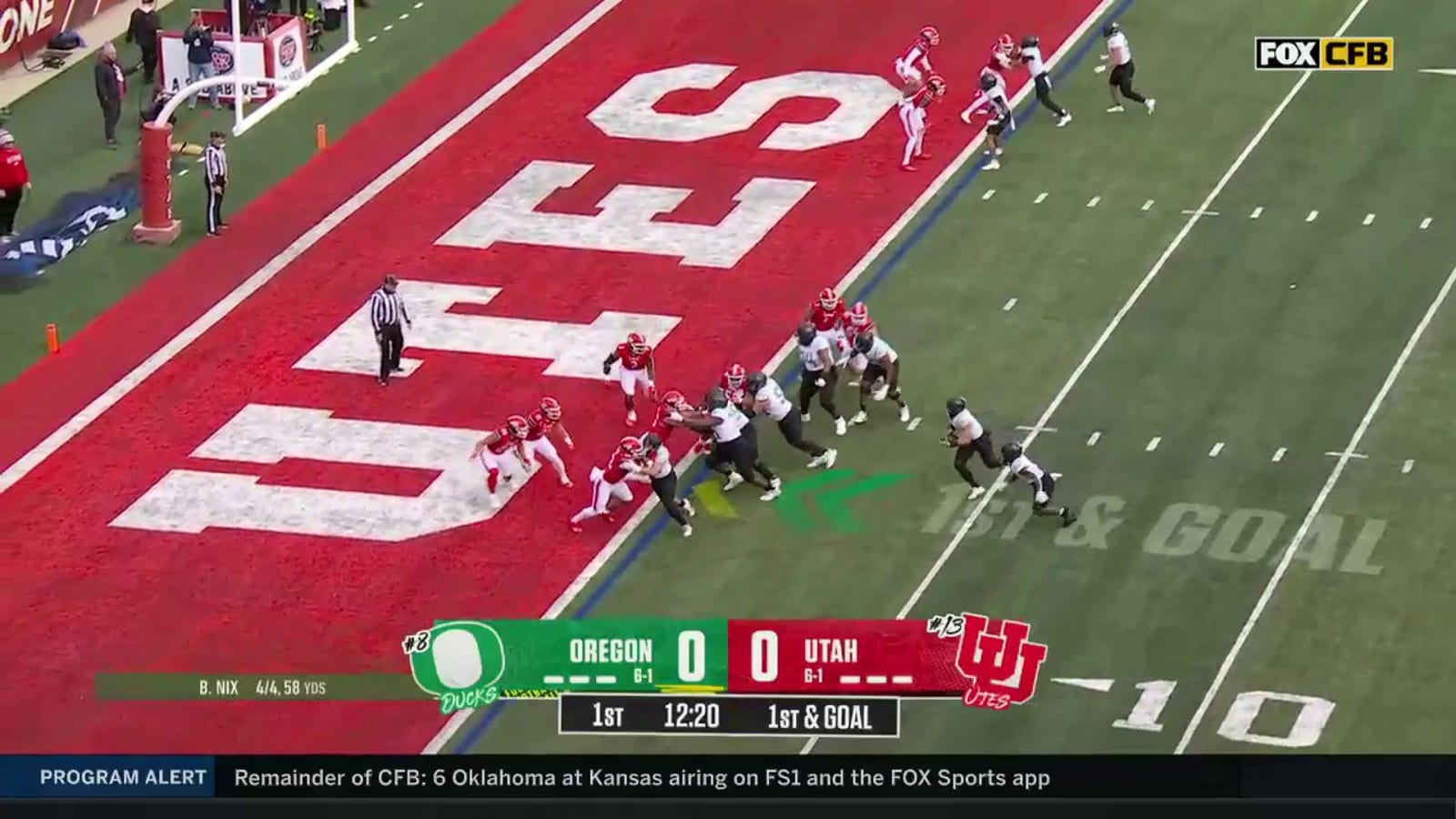 Just toss it off to Jordan
Jordan James slipped out of the backfield to get open, allowing him to make an easy grab before running down the field for an 18-yard score to put Oregon up, 14-3. 
Oregon's Bo Nix connects with Jordan James on a 18-yard passing TD to grab a 14-3 lead over Utah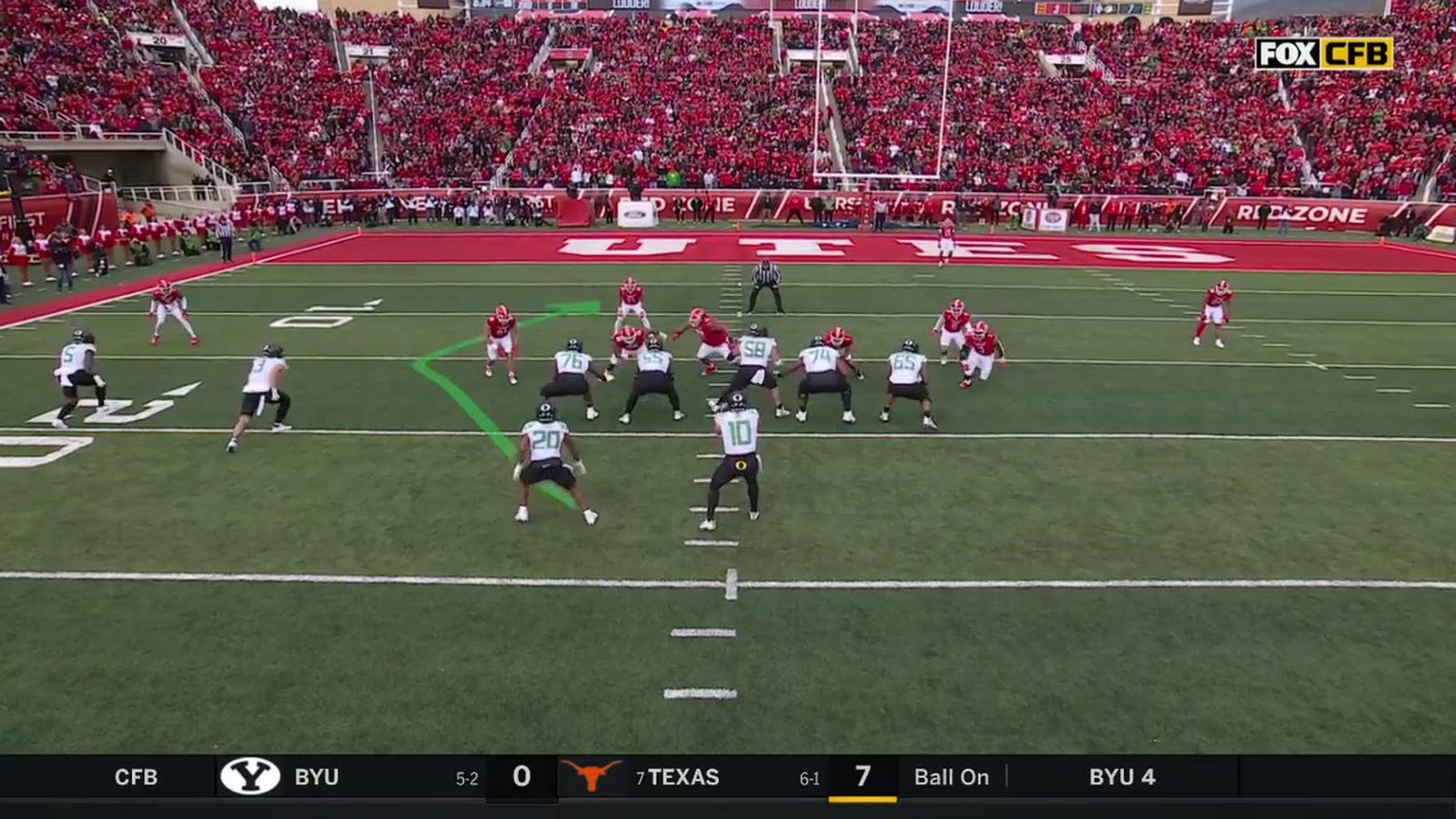 Dominant Ducks
Oregon got off blazing' start in Saturday's game, On the opening of the second quarter, it intercepted Utah quarterback Bryson Barnes at the Utes' 30-yard line.
Just a few plays later, the Ducks had the ball at the Utes' 3-yard line, where Nix completed a play-action pass to Troy Franklin in the end zone to give them a 21-3 lead. 
Tysheem Johnson's interception fuels Bo Nix's acrobatic three-yard passing TD as Oregon grabs 21-3 lead over Utah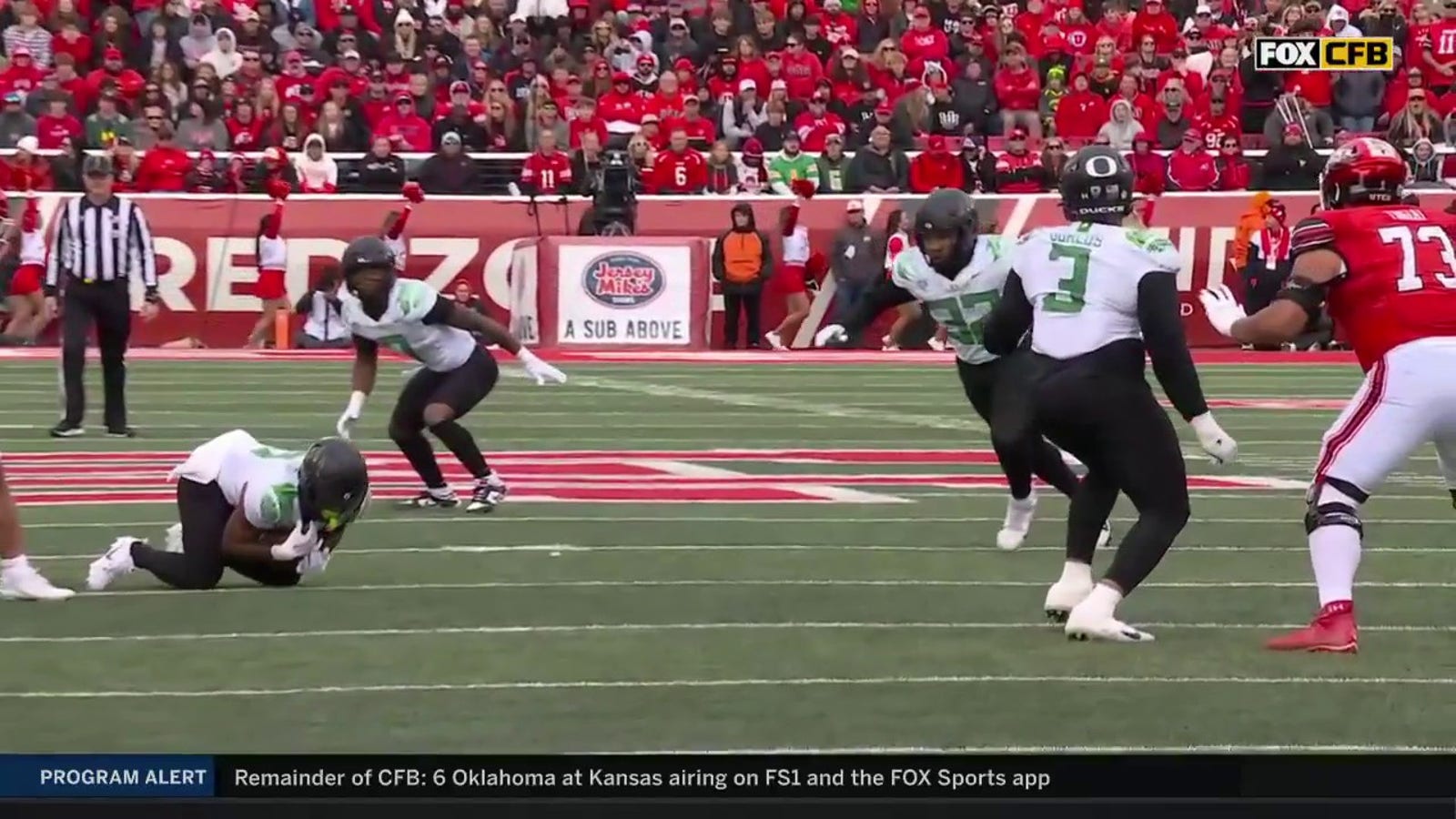 The Utes were able to get three points back before halftime, making it a two-score game to cut Oregon's lead to 21-6. 
BYU at No. 7 Texas
House call
Longhorns star WR Xavier Worthy returned BYU's punt 74 yards, blazing past defenders on his way to collect six points.
No. 20 Duke at No. 18 Louisville
Going, going, gone!
Louisville RB Jawhar Jordan battled for 14 yards and a touchdown on the Cardinals' first possession, marking the fifth time this season they have scored on their opening drive.
Jordan finds six again
Jordan found the end zone for the second time in the first quarter when he found the right hole and raced right by the last Duke defender for a 23-yard score to put Louisville up, 14-0.
Stay tuned for updates!
No. 10 Penn State 33, Indiana 24
Hot start
A perfect pass from Hoosiers QB Brendan Sorsby to DeQuece Carter resulted in a touchdown when the speedy receiver took it all the way to the house for a 90-yard score.
Fourth-down fun!
Penn State QB Drew Allar connected with a wide-open Khalil Dinkins in the end zone to give the Nittany Lions their first score of the day and tie the game 7-all late in the first quarter.
Defensive breakdown
Blown coverage by the Penn State defense proved costly and allowed a wide-open Donaven McCulley to cash in for a 69-yard touchdown and helped the Hoosiers regain the lead, 14-7, early in the second quarter.
Interception!
Penn State's Jaylen Reed picked off Sorsby just ahead of the end of the half, and Alex Felkins capitalized on the newfound possession by hitting a 50-yard field goal to put the Nittany Lions ahead, 17-14, at the break.
Ready for more!
Penn State opened the second half with a scoring drive that featured a 16-yard touchdown from tight end Theo Johnson.
Nice moves 
Hoosiers wideout Omar Cooper Jr. shook off a couple defenders on his way to the end zone for a 26-yard touchdown, which cut Penn State's lead, 24-21, early in the fourth quarter.
Shake it off
Indiana tied the game 24-all with a field goal after Allar threw his first-career interception — after 300 attempts — when the Hooisers defense brought the heat late in the final frame. However, Allar quickly shook off the turnover and made up for it on Penn State's following possession, finding KeAndre Lambert-Smith for a 57-yard score to regain the lead, 31-24.
Later, the Nittany Lions defense came up big with a sack on Sorsby that resulted in a safety to end the game.
No. 4 Florida State 41, Wake Forest 16
Finding a rhythm 
FSU QB Jordan Travis got his team on the board first, cashing in for a 13-yard score on the Seminoles' opening drive. Wake Forest was able to narrow the gap in the second quarter, but Travis had another trick up his sleeve.
He found Keon Coleman for a dazzling 29-yard touchdown — the wideout's eighth receiving touchdown this season — early in the second half to put FSU back on top, 17-7.
No stopping him now
Travis linked up with RB Trey Benson, who broke tackles left and right as he made his way downfield and into the end zone for a jaw-dropping 80-yard touchdown to give FSU a 24-7 lead. 
One-handed snag!
Then, Travis connected with Coleman once again, this time for a 14-yard score to extend the Seminoles' lead, 31-7.
Then, the Seminoles padded their lead with another touchdown from Benson late in the fourth quarter to seal the win.
Coming up:
No. 3 Ohio State at Wisconsin (7:30 p.m. ET)
3

Ohio State Buckeyes
OSU

Wisconsin Badgers
WIS
Colorado at No. 23 UCLA (7:30 p.m. ET)

Colorado Buffaloes
CU
23

UCLA Bruins
UCLA
[Do you want more great stories delivered right to you? Here's how you can create or log in to your FOX Sports account, follow your favorite leagues, teams and players and receive a personalized newsletter in your inbox daily.]
FOLLOW
Follow your favorites to personalize your FOX Sports experience
---
COLLEGE FOOTBALL trending
---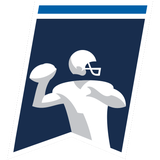 Get more from College Football Follow your favorites to get information about games, news and more
---