Ralph Vacchiano
NFC East Reporter

David Helman
Dallas Cowboys Insider
Jerry Jones has been around long enough to know which games are important. So leave it to him to nail just how big Sunday's game between his Dallas Cowboys and the Philadelphia Eagles really is.
"This," the Cowboys owner said in a radio interview on Tuesday, "is serious s—t."
Yes, it is, in every way. 
When the Eagles (7-1) face the Cowboys (5-2) at Lincoln Financial Field on Sunday (4:25 p.m. ET on FOX and the FOX Sports app), it'll be a game between two of the most serious Super Bowl contenders in the entire NFL. They've been two of the four best teams in the NFC all season long and are the last two teams standing in the NFC East. The game will feature two top-10 defenses, two top-15 offenses, MVP candidates (Eagles quarterback Jalen Hurts), Defensive Player of the Year candidates (Cowboys linebacker Micah Parsons) and Pro Bowlers all over both rosters.
A win for the Cowboys will show they're serious about reaching their first Super Bowl in 28 years, even after their crushing, blowout loss in San Francisco last month. A win for the Eagles might put them in position to run away with the division and the conference down the stretch as they make a run at their second straight Super Bowl appearance.
So yes, it is some "serious s—t." FOX Sports NFL writers David Helman and Ralph Vacchiano break it all down
Vacchiano: Dae, before we get into the game, I have another "serious" topic to ask you about. I am stunned — really stunned — that the Cowboys didn't do anything at the trading deadline. The Eagles got an all-pro safety (Kevin Byard). The 49ers added a stud pass rusher (Chase Young). The Seahawks got help for their defensive line (Leonard Williams). The Lions found another receiver (Donovan Peoples-Jones).
That's what serious contenders do, right? They strengthen their position. They use future assets to get better now. They see they're in position to make a run and they do whatever they can to seize the moment.
Do Cowboys have a Super Bowl roster after standing pat at trade deadline?
The Cowboys could have used a No. 2 receiver, a linebacker, a cornerback … and they certainly had room to get better. So why were they content to watch everyone around them get stronger while they sat  on their hands? How can they be comfortable knowing the Eagles, especially, made themselves a better team, while they did not?
Helman: My short, cynical answer is that the Cowboys only want to make deals on their terms.
You saw a hint of this last week, when Jerry insinuated that other teams would likely have to call him if they wanted to make a trade. Obviously, NFL executives lie in the media all the time, but that type of standoffish attitude doesn't exactly lend itself to doing business. Not when we know that Howie Roseman is working the phones all over the league.
In their eyes, the Cowboys don't have a ton of resources to spend. They're trying to conserve cap space to sign stars like Micah Parsons and CeeDee Lamb. They're also short a few draft picks. They traded their 2024 fourth-rounder to San Francisco for Trey Lance, they sent their 2024 fifth-rounder to Kansas City during this year's draft, and their 2024 sixth-rounder belongs to Houston as part of the Brandin Cooks trade. They're not about to use their precious top-100 picks on a mid-season trade to help a 5-2 team.
It's decent enough logic, but I still call B.S. If there is a will, there is always a way. The Detroit Lions used a 2025 draft pick to add receiver Donovan Peoples-Jones on Tuesday. Roseman threw in veteran starter Terrell Edmunds to sweeten the deal for Byard last week. And the Cowboys do own two seventh-round picks in the upcoming draft. Despite what they say, the Cowboys had enough resources to add someone — maybe not a superstar, but a useful role player, perhaps at linebacker or cornerback.
Simply put, I don't think the Cowboys like going outside their comfort zone, nor do they like taking initiative to make something happen. Time will tell if they regret it later.
As long as we're on this topic, I'm curious about your early thoughts on the Eagles upgrading their defense. Obviously, I'm not trying to single out Byard — he just got to town. But a week after shutting down Miami, the Eagles were back to their leaky ways against Washington's passing attack. What do you think is the primary reason for their struggles, how can Byard help, and how might Dallas attack it this weekend?
Do Cowboys or Eagles need the Week 9 win more?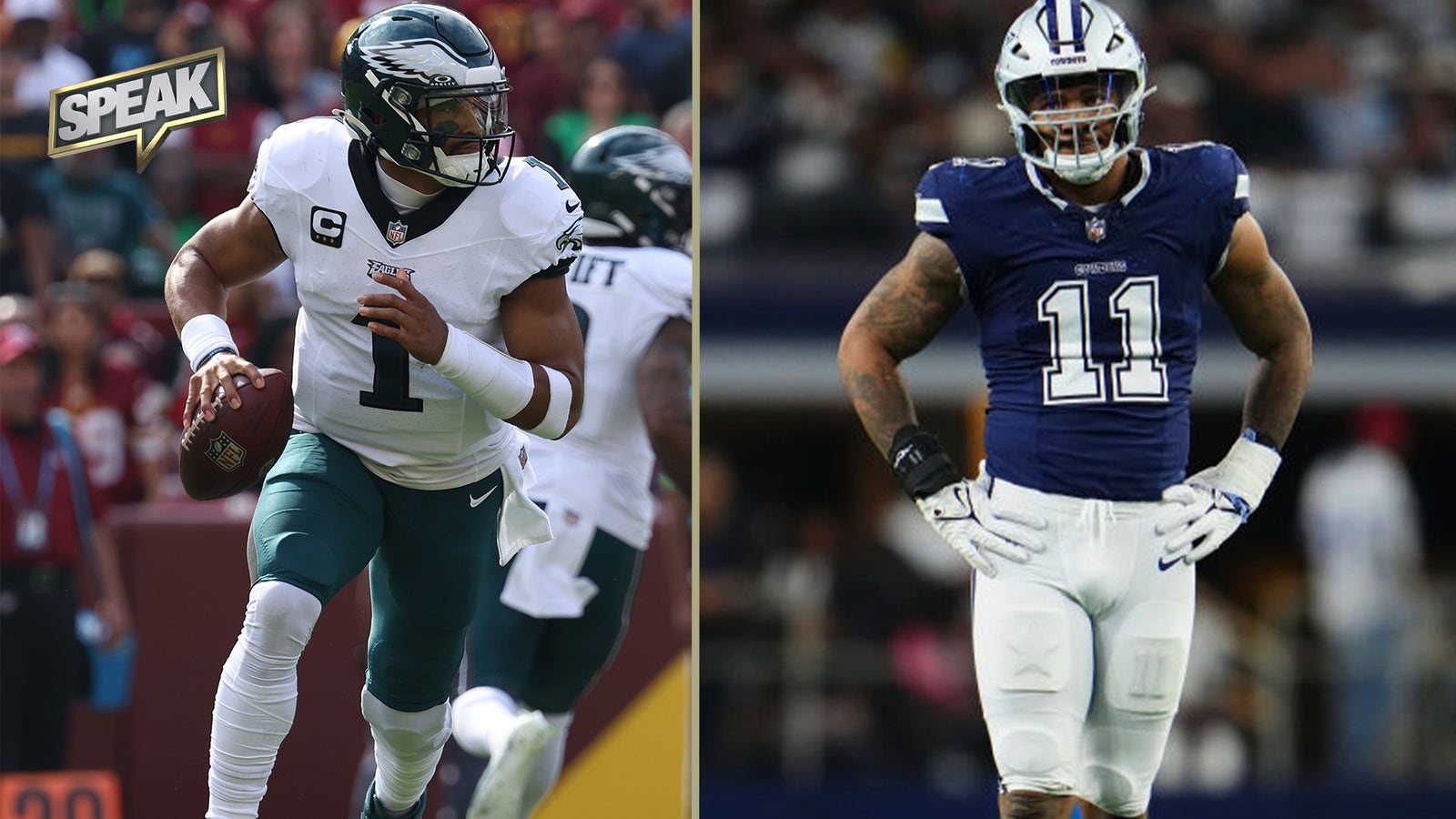 Vacchiano: Yeah, as good as the Eagles defense is – and it really is pretty good – it's also really banged up. Their secondary wasn't particularly deep to begin with, and then they lost safety Justin Evans and nickel corner Avonte Maddox. Last week, both Jalen Carter and Jordan Davis were both banged up heading into the game and each only played about 17 snaps, and weren't all that effective when they played.
Honestly, none of that is a good excuse for what happened against Washington, though. They sacked Sam Howell once. He had been sacked 40 times in the previous seven games. Even with Carter and Davis at a fraction of their capabilities, they should have dominated that terrible Commanders offensive line. If I were the Cowboys, seeing that would give me hope that Dak Prescott is going to have a lot of time to pick apart a generally average secondary.
I wouldn't necessarily count on that. But after what I saw against Washington, I wouldn't rule it out either.
Having Byard in the secondary will help, no doubt. They've got three Pro Bowl-caliber players there with corners James Bradberry and Darius Slay. There is not a lot of depth, but the starters are strong. It's the pass rush that they need to get going again. They're on pace for 53 sacks, but they had 70 last year.
If this was last year, their strategy would be to throw waves of pass-rushers at Dak Prescott and wait for the inevitable, game-changing interceptions. That worked for San Francisco, but not for any other defenses this year. Why has Prescott seemingly improved?
Cowboys vs. Eagles best bets, predictions, odds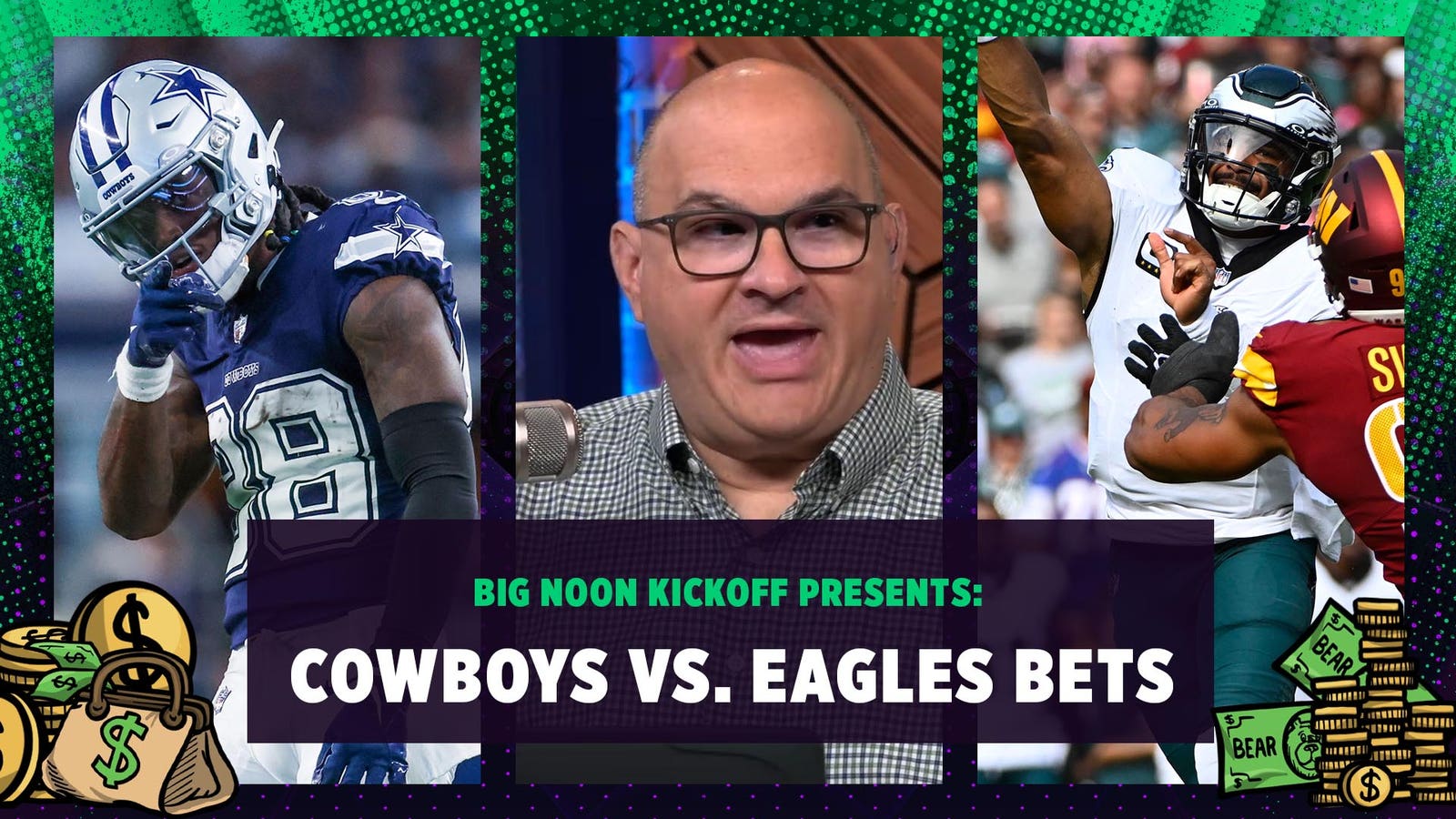 Helman: The honest truth is that, for all the grief we give him, Dak has never had a particularly bad problem with interceptions. Even with his three picks against the 49ers, his five for the year rank him in the middle of the pack among NFL starters — and better than All-Pro-caliber passers like Patrick Mahomes, Josh Allen and Jalen Hurts. Per ProFootballFocus, he's responsible for a turnover-worthy play on about 1.9% of his snaps this season, which is fourth-best among starting quarterbacks. 
But I digress. The pressing issue for Prescott and the Cowboys, in my view, is that the offense just hasn't been explosive enough this season — at least not consistently. We know Mike McCarthy is a West Coast disciple, and it has looked like it at times. The 49ers were all over these guys in Week 5 because A) they had a very good idea of what was coming and B) they did a phenomenal job of disrupting the timing of the Cowboys' short, timing-based routes. It's going to be a fun chess match to see if Philly can reproduce that type of performance. Just two weeks ago, the Eagles showcased their ability to slow down even the NFL's most high-flying offense against Miami, but the Cowboys broke out for their best passing day of the season just a few days ago against the Rams. Prescott is capable of throwing his way past the Eagles — he did it last December. But the pressure is going to be on him to limit mistakes.
Speaking of, that's my biggest question about the Eagles' offense right now. Jalen Hurts is still enjoying plenty of success in 2023, but it's hard to ignore his struggles in taking care of the ball this year. What do you attribute that to?
Tyreek-Tua, Jags, Eagles, Lamar Jackson highlight Colin's midseason superlatives
Vacchiano: Yeah, that is alarming. And it's also a bit surprising that the Eagles are 7-1 when Hurts has already thrown eight interceptions – one short of his career-high and two more than the six he threw all of last season. I guess it's a testament to how good this team is that they can overcome that many turnovers from their quarterback.
Why is it happening? I think there are three reasons — none of which the Eagles like to talk about. One is that their offensive line isn't what it used to be. It's still one of the NFL's best, but especially with the injury to guard Cam Jurgens, they've been allowing a bit more pressure than they were last season. That definitely contributed to some of the early interceptions.
Another is that they've got a new offensive coordinator, with Brian Johnson replacing the departed Shane Steichen. The Eagles and Hurts looked like they were struggling to adjust to his scheme and play calls early on and haven't really established an identity yet. Over the last few weeks, Johnson's offense has almost looked one-dimensional. It's been the Hurts-A.J. Brown show. And it's a great show, but there hasn't been much else.
And the last reason, I think, is that Hurts is hurt. He's dealing with a knee injury that has clearly affected him, especially when he gets outside the pocket. It hasn't kept him out of games or most practices, but he doesn't look right, and that has to be a factor.
So there will be opportunities for this Dallas defense. I remember watching them destroy the Giants on Opening Day and then listening to Micah Parsons declare they were "the best defense in the National Football League." Since then, of course, they lost cornerback Trevon Diggs and linebacker Leighton Vander Esch.
Are they still the best defense in the NFL — or at least contenders for that title? 
Eagles host Cowboys in Week 9: which QB do you trust more?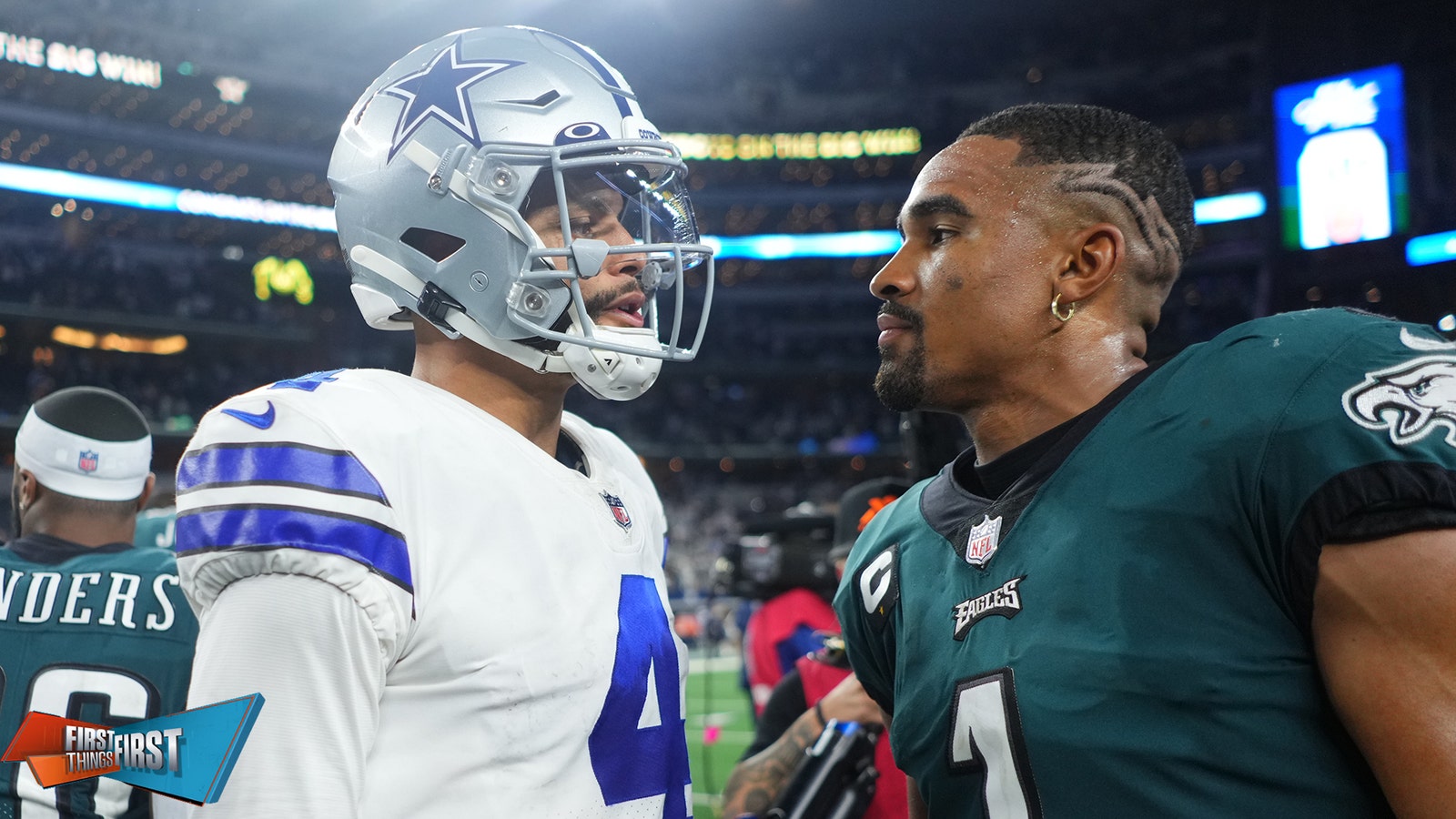 Helman: Never underestimate how a couple of weeks can change your perception. The Dallas defense got flat-out embarrassed in San Francisco. They made silly mistakes, they got lost in coverage and they eventually gave up 42 points. The news got worse when Vander Esch was placed on injured reserve.
But here we are in November, and the Cowboys seem to have regained some swagger. Markquese Bell has been fantastic filling in for Vander Esch, while DaRon Bland just continues to make game-changing plays to offset Diggs' absence. And when Parsons and the Dallas pass rush are able to play with a lead, as they were unable to do in San Francisco, they're still plenty scary. The Chargers and Rams might not be great teams, but those are both top-10 DVOA offenses that the Cowboys have flustered in these last two outings.
Personally, I'm not easily swayed. Baltimore and Cleveland have wrested away the title of "league's best defense" until further notice. But these types of games do more to form the narrative than noon kickoffs — there's no way around it. If the Cowboys show out against this good of an offense, in front of this big of an audience, they'll be back in the thick of that conversation.
Speaking of, I think this Dallas defense probably presents the best cornerback group that A.J. Brown has gone against during his amazing streak — especially when you consider that Miami was missing Xavien Howard and Jalen Ramsey, while the Jets were missing Sauce Gardner and D.J. Reed. I'm not sure it's possible to completely shut down someone as talented as Brown, but what would your game plan be?
Vacchiano: I'm with you, in that I don't think it's possible to completely shut down A.J. Brown; not the way he's going right now. I'm a little old-school, though, where I don't think you concede the yards to him. You make him earn it. So if I were the Cowboys, I'd make stopping him a focal point. Put your best cornerback on him and roll coverage his direction. Make sure there's a safety behind him so if he does catch a pass – and he will – you can minimize the damage.
Another way to describe that strategy is: Make them find another way to beat you. The problem with that is the Eagles have plenty of ways to do so. Their running game can be overpowering when it gets going, as they showed earlier in the season. Also, while they haven't used them nearly as much as they've used Brown, they can really move the football well by throwing to DeVonta Smith and tight end Dallas Goedert.
Last year, they were much better at diversifying and using a wide variety of offensive weapons. If I were the Cowboys I'd almost dare them to try to do that again. You can't shut down everything, but right now Brown is their best asset so at least try to take that away.
It seems easier to me to try to do that against the Cowboys. If I'm the Eagles, I'd focus everything on CeeDee Lamb and force the Cowboys to find something else to do well offensively. I'll be honest, though: I'm not really sure what that is. If the Eagles find some way to keep Lamb in check, where do the Cowboys turn? What's the thing they do second best?
Nick's Picks: Take Chiefs in Germany, Cowboys to upset Eagles
Helman: That's what we need to find out about this team. They've looked amazing when they've gotten Lamb involved — most of all last week, when he took over against the Rams.
Right now, though, it's hard to say who the Cowboys' second-best option is. Prescott got Brandin Cooks involved last week, but that hasn't been consistent. Michael Gallup has made some plays but has struggled at times. Jake Ferguson has shown flashes. Tony Pollard has a handful of explosive plays this season, but the run game in general has left something to be desired.
My best answer is this: maybe it's not a certain weapon, but the quarterback. It's undeniable that good things have happened when Prescott has used his feet this year. He's made some big plays as a runner, but a lot of the Cowboys' most explosive moments have happened when he's escaped the pocket and looked downfield. They've got to find a way to feed Lamb, but the second-best element of this offense might be when Prescott can make plays outside of structure.
Alright, this is starting to feel pretty long, which probably means it's prediction time.
I'm really mad at myself for believing in the Cowboys after that thumping in the Bay, but they always seem to play division games at a high level. Jalen Hurts might say he's fine, but I'm worried about that knee — not to mention the turnovers. With Parsons & Co. getting after Hurts, I think the Cowboys win the turnover battle and sneak out of town with a 27-26 win.
Vacchiano: Here's the thing I can't shake about the Eagles: They're 7-1 and every time I watch them I come away thinking "Something's wrong. That wasn't their best game." Yet they're so deep, so good, that it mostly hasn't mattered. Maybe that's about to change now that their schedule is about to get a little tougher.
But I tend to think the opposite. I think they're going to show us more with the step up in competition. Unless Hurts' knee really becomes a problem I have a feeling they're about to get on a roll. The Cowboys are very good. The Eagles won't steamroll them. But I remain concerned the Cowboys are too one-dimensional to keep up if the Eagles are near their best.
So I'm picking the Eagles, 30-24. I wouldn't be surprised if it's a little higher-scoring, despite the hype of these two defenses. But I think the higher the score, the more likely the Eagles will end up pulling away.
David Helman covers the Dallas Cowboys for FOX Sports and hosts the NFL on FOX podcast. He previously spent nine seasons covering the Cowboys for the team's official website. In 2018, he won a regional Emmy for his role in producing "Dak Prescott: A Family Reunion" about the quarterback's time at Mississippi State. Follow him on Twitter at @davidhelman_.
Ralph Vacchiano is the NFC East reporter for FOX Sports, covering the Washington Commanders, Philadelphia Eagles and New York Giants. He spent the previous six years covering the Giants and Jets for SNY TV in New York, and before that, 16 years covering the Giants and the NFL for the New York Daily News. Follow him Twitter at @RalphVacchiano.
---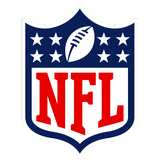 Get more from National Football League Follow your favorites to get information about games, news and more
---