Ralph Vacchiano
NFC East Reporter
Daniel Jones will be back on the field for the New York Giants on Sunday afternoon after missing the past three games with a neck injury. It's the second time he's missed a significant stretch of games with a neck injury in his career.
It probably won't be the last.
That's a harsh reality, but one the 26-year-old quarterback will have to face as he continues his fifth NFL season and returns to the lineup against the Raiders in Las Vegas (4:25 p.m. ET on FOX and the FOX Sports App). The neck injury he suffered on Oct. 8 in Miami, which he admitted was "similar" to the one he had in 2021, might never fully go away. There are medical procedures he can have done and exercises he can do that will help alleviate some of the symptoms. He can even mitigate some of the risk by changing his style of play.
But the risk of re-injury will probably always be there.
"The likelihood of reinjury, once it gets injured the first time, it's definitely more susceptible moving forward," Mickey Brueckner, Jones' former trainer, told FOX Sports. "That's essentially what's happening here. Once you lose some of that structural integrity of those vertebrae, you become way more susceptible to reinjury."
The Giants have been guarded about the exact nature of Jones' neck injury, just like they were in 2021 when he was forced to miss the final six games of the season. But Jones has privately described a feeling of discomfort on the left side of his neck, along with a pain that radiates down his left (non-throwing) shoulder and arm. A team source confirmed those symptoms along with the fact that the issue is with a "disc" in Jones' neck.
Multiple doctors and trainers have told FOX Sports those are obvious signs of a herniated disc, which is likely pinching a nerve that connects down Jones' left side. If that is the exact issue — and none of those doctors or trainers have examined Jones — there are surgeries that could help at least temporarily fix it. All of them, though, would be season-ending, and the team source stressed surgery is not being considered by Jones right now.
Nick Wright's NFL Tiers entering Week 9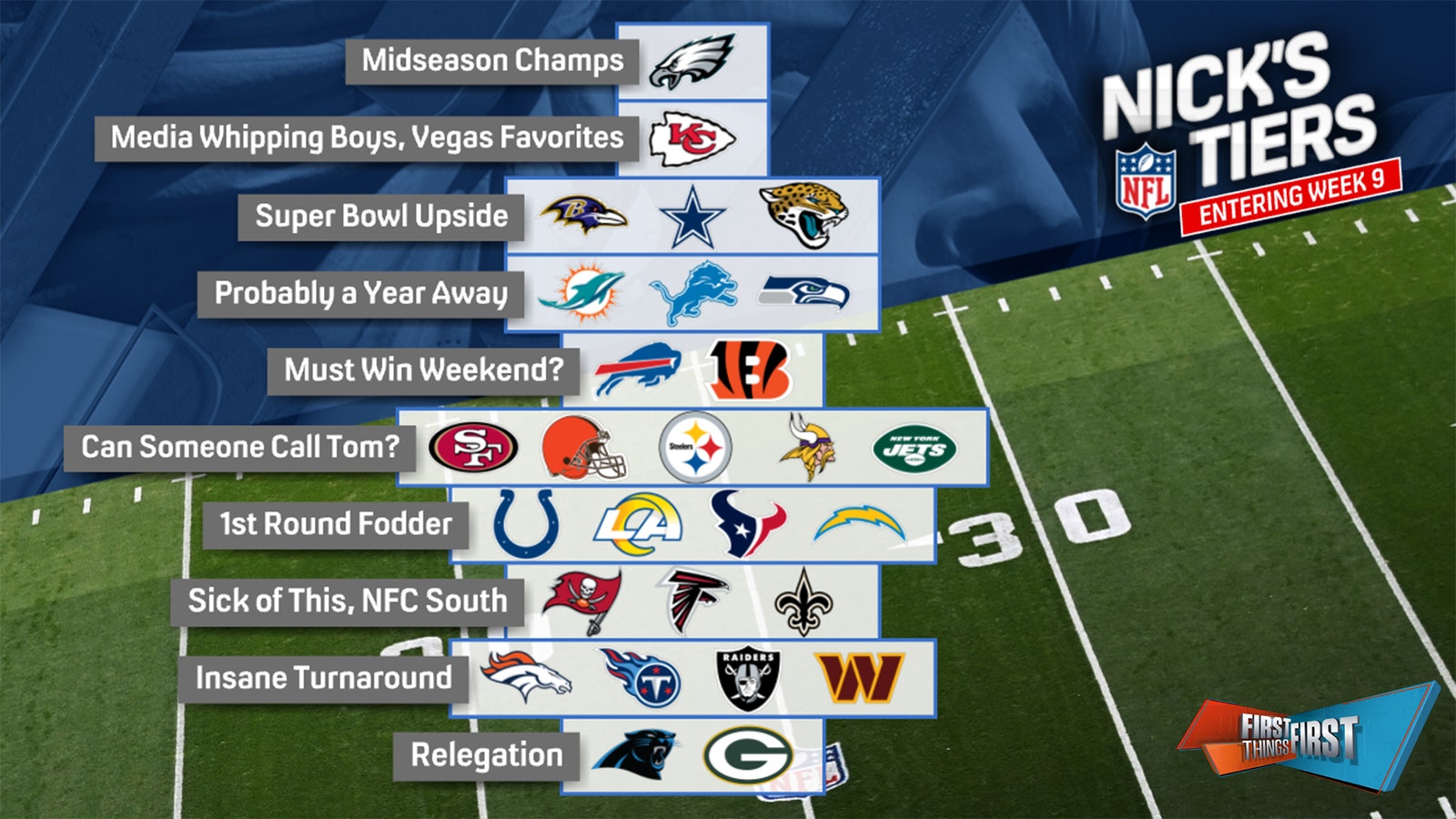 Which means that for now, even though Jones has been cleared by doctors to return to football, he is at an increased risk of suffering the same injury again. And that risk is heightened by the fact he has taken a beating behind the Giants' porous offensive line this season (Jones was sacked 28 times in the five games he played), and that Jones is a mobile quarterback who has rarely shied away from contact in his career.
That might have to change if the Giants want to protect Jones and the four-year, $160 million investment they've made in their franchise quarterback. Brueckner said one way to keep Jones from injuring his neck again is "to put him in situations where he's maybe a little bit safer on the football field."
"I know that is the toughest part," said Brueckner, the CEO of Annex Sports Performance Center in Chatham, N.J. "Is he going to be able to change the way he plays the game? Danny's a tough kid. He's a tough dude. I know for somebody who's relied on that level of grit on the football field and that toughness, to all of a sudden shy away from that …. Imagine if you asked Patrick Mahomes to not be a mobile quarterback and he had be a pocket passer all of a sudden. He wouldn't be as effective. It's just a challenge."
It also doesn't sound like a challenge Jones is eager to accept.
"I'm going to continue to be aggressive and look for opportunities to run when they're there, and then be smart, get down and protect myself also," Jones said last week. "That's something I've always tried to do and try to continue to improve at. So, yeah, that won't change."
Assuming Jones will keep running and that the Giants can't fix their offensive line quickly enough to keep him from suffering the jarring hits he's taken this season, there are still things the quarterback can do to minimize his risk of suffering another, similar neck injury. There wasn't much he could do while waiting for the injury to heal, but now that it has, he likely has to change his workouts and training.
"Once inflammation goes down and you can start restoring back movement, function, range of motion and most importantly pain-free movement, then it becomes 'Hey, let's do isometric work to restore strength in the muscles of the neck,'" Brueckner said. "'Let's make sure movements we pick from an upper body-strength standpoint are more favorable to those types of symptoms.' He might have to train a little bit differently from overall strength and performance standpoint. But I think If you can hedge a lot of your risk."
Latest NFL Power Rankings!
That sounds easy to do, but it often isn't, especially for athletes who have trained a certain way all their lives. Brueckner worked with former Giants quarterback Eli Manning late in his career too and helped him adapt his workouts to his older body. Manning was in his mid-30s then — still quite a bit older than Jones is now — but the principle is basically the same: Bodies change as injuries accumulate. When that happens, everything has to change.
"That's the big challenge when working with aging athletes," Brueckner said. "They're very different from when they're young. As an athlete ages, as they collect injuries and they have restrictions how they move, you want to make sure you're not creating more compensation with the way they move — especially with a thrower. It's just a matter of understanding training is going to have to look a little differently moving forward."
Brueckner has no doubt that Jones will adapt and will do everything he can to strengthen the muscles around his neck and diminish any risk of future injury. He's less certain that Jones will change his aggressive playing style. And there may be nothing anyone can do to protect him from the big hits. When Jones suffered the injury, it came on a blindside hit from Dolphins linebacker Andrew Van Ginkel. Jones was looking downfield and upon impact, his head and neck could be seen clearly snapping back hard.
Obviously, that could easily happen again. And with a neck that's increasingly more vulnerable to injuries, there is no amount of exercise or training that can fully protect Jones from something like that.
"There's little to not much that can really help with some of those really hard impacts," Brueckner said. "Watching the impact that reaggravated the injury, it's one thing if you're about ready to hit somebody and those muscles tense up and you create stability. In that injury I saw, he didn't see it coming. It's like being in a car accident and you didn't see it happen so all those muscles are relaxed.
"You can see what happens as a result of that. You can do a lot of stuff for sure, but at the end of the day there's always that potential of something happening again."
Ralph Vacchiano is the NFC East reporter for FOX Sports, covering the Washington Commanders, Philadelphia Eagles and New York Giants. He spent the previous six years covering the Giants and Jets for SNY TV in New York, and before that, 16 years covering the Giants and the NFL for the New York Daily News. Follow him Twitter at @RalphVacchiano.
---
NFL trending



2023 NFL Defense Rankings: Team Pass and Rush Stats


Bears, Montez Sweat agree to 4-year, $105M extension


Cowboys-Eagles preview: Analysis, predictions on the weekend's best NFL game





Jets QB Aaron Rodgers at Breeders' Cup: 'The goal for me is to come back this year'


'Bear Bets': The Group Chat's favorite bets for Cowboys-Eagles, Dolphins-Chiefs


Kansas City Chiefs vs. Miami Dolphins: Prediction, odds, picks





Chiefs' Travis Kelce: We have 'every piece' to be great


NFL Week 9 odds, predictions, best bets, including Chiefs, Bengals to win big


2023 Top 10 NFL quarterbacks: Ranking the best QBs after Patrick Mahomes

---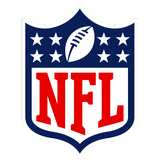 Get more from National Football League Follow your favorites to get information about games, news and more
---