Social Proof is a series chronicling how ambitious individuals intentionally craft and grow their personal brands with the goal of inspiring anyone hoping to do the same. Social Proof has a double meaning — 'to replicate the actions of others to get similar results' and 'to showcase the power of social media in growing a personal brand'. We hope to bring to light insights that can help you bring both meanings to life for your personal brand.
Welcome to the first installment of our new series Social Proof. We are kicking off with one of my favorite writers on the Internet – Fadeke Adegbuyi.
Fadeke is a prolific writer and repository of internet culture knowledge. Fadeke is currently a Lead Writer at Shopify and the mind behind Cybernaut, a personal favorite newsletter, as part of Every – a bundle of business-focused newsletters.
Fadeke has built a reputation as a content mastermind, formerly co-leading content strategy at Doist – the masterminds behind everyone's favorite to-do list –  to her current role at Shopify, where she works on editorial strategy and writes about entrepreneurs and creators. Her ability to understand and distill internet culture into engaging articles has crafted a distinct personal brand for her in that niche.
Not everyone will build their personal brand in the same way as Fadeke. Some people might choose to make YouTube videos or start a podcast. But there are lessons to be learned from every person's journey— which is why we're doing this series.
Through this interview (and more to come), we hope to bring to light insights that can help you on your journey to creating and growing a personal brand.
Let's get to the interview.
🖊️
This interview has been edited and condensed for clarity.
Q: Thanks for joining me for Social Proof, Fadeke! What do you think about personal branding in general? Have you been quite intentional about yours? Would you even call it a personal brand?
"Personal brand" is a term that was thrown around a lot, especially in the early 2010s, but now feels a little outdated. And I think there's also a bit of hesitation about describing one's online presence and presentation as a personal brand. People cringe at the word, but in reality, everyone online has a personal brand. However you present yourself online, that's how your personal brand is perceived.
Q: So what word would you use to describe it instead?
I don't mind the term personal brand! I don't use a specific term, but if I had to pick, I would say "online presence" or "social media presence."
Q: Can you define your online presence slash personal brand? In three words or terms?
I would use the words: genuine, simple, and informal.
Genuine: I try to be as genuine as possible and not post things I don't feel aligned with.
Simple: I keep it pretty simple regarding the type of content I'm posting and the language I'm using.
Friendly/informal: I think there is an impulse to make your social media presence and your personal brand very polished, which can be a good thing depending on the person, but I tried just not to make it too stuffy and professional.
Q: What do you think about growing an online presence in general? Have you been quite intentional about yours since you started your career?
I work as a marketer and a content marketer and have professionally been in charge of growing brands and caring a great deal about metrics, numbers, and growth. So I don't apply those same parameters when I'm thinking about my own personal brand or my own personal social media platforms.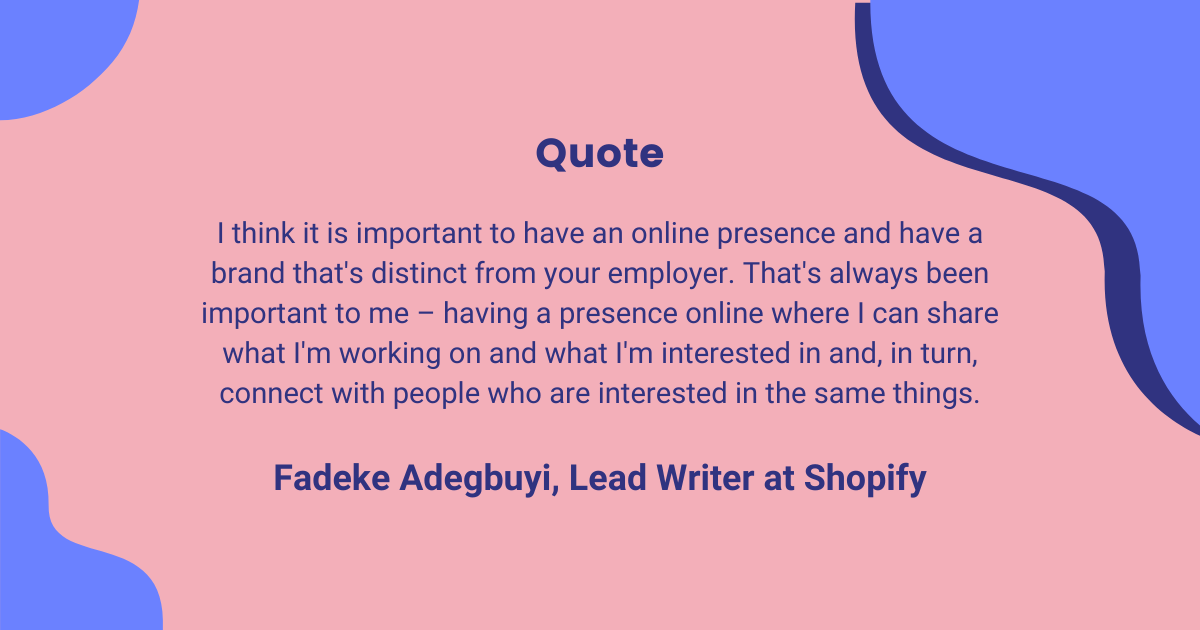 However, I think it is important to have an online presence and have a brand distinct from your employer. That's something that's always been important to me – having a presence online where I can share what I'm working on and what I'm interested in and, in turn, connect with people who are interested in the same things. And it also helps me have an inflow of hiring and collaboration opportunities.
A project I enjoyed working on was the Holloway Guide to Using Twitter, which details how to use Twitter and get the most out of it. I wouldn't say I follow all of the principles [in the guide], I'm definitely not as consistent as I could be, but I think they're good principles and ones that I've observed others using to grow a personal brand.
Q: Would you say that social media has been a big part of how you've grown your career? And can you draw a direct line between what you did on social media and the opportunities that resulted from that?
Social media has been important for sharing my work and getting feedback. Putting your work out in the world can be impactful for career growth and can help bring opportunities your way.
I've written articles, posted them on social media, and had them resonate with others and perform well. And that has led to opportunities with other publications and editors reaching out to me and saying, "I liked this piece in your newsletter, I'd love for you to pitch us and write a piece." I've also been offered opportunities for jobs, consulting, or freelancing. Those are all things that directly result from my posting on social media.
One of the things that I think is important about building a personal brand, in general, is if you do awesome work at a company, and nobody hears about it outside of your work, that can be limiting career-wise. We're at a point in the economy where we're seeing a downturn, an impending recession, and layoffs across companies. Social media can be a very impactful way to get your work out there.
Q: Which do you prefer — social media or newsletters?
I like both, and I think they both have different purposes. With my newsletter, I'm writing pieces that lean into long-form writing and are anywhere from 2000 to 5000 words. So there are a lot of nuances that can be explored and many dimensions that can be fleshed out.
But on social media, your character count is limited, so I think there is a bit of an incentive to make things more black and white, to write things that are snappier and less nuanced. So I think it's interesting to play with the two and have both platforms at your disposal.
Q: Are you ever actively thinking about growing your presence in numbers? Or are you more concerned with the quality of your engagement?
I generally don't track growth and engagement across my posts. So for social media, I'm more thinking about, "How do I describe my work in a way that it's compelling? How can I connect with interesting people?" It's less about metrics and numbers.
Q: I think it's interesting how you can balance your collected knowledge with the need to serve Every's typical business audience. How do you cultivate that knowledge, understanding internet culture so deeply? And then balance that with serving the audience that might primarily encounter your work on your newsletter Cybernaut?
When I'm thinking about writing a piece and exploring one of these online spaces, I'm not necessarily thinking about a business audience specifically.  When I'm thinking about Cybernaut, and writing about internet culture for Every, I'm also thinking about expanding our audience and pushing past our existing base of subscribers.
Across my newsletter subscribers, I have a mixed bag of people reading it across media, business, and venture capital – it would be quite challenging to appeal to all those different segments. I'm really just focused on writing the best piece possible and creating something compelling and interesting.
And I think that if you're focused on that, everyone can find a piece of that article that they might find compelling. They might be interested in the social media aspect or some of the human stories there. I aim to write the best piece possible and hope it finds an audience of people who are just as interested in internet culture as me.
Q: You're a content creator with a big emphasis on productivity — how do you balance staying productive with building your personal brand?
That is a challenge I always run up against. I love being online, but at the same time, it can be a big distraction.
I've written extensively about the power of focus and flow and the importance of moving away from context switching toward deep work. So I have a bunch of tools in my arsenal that allow me to unplug from social media. I use a site blocker, Self Control, and an app, RescueTime – they help me regulate how much time I spend online.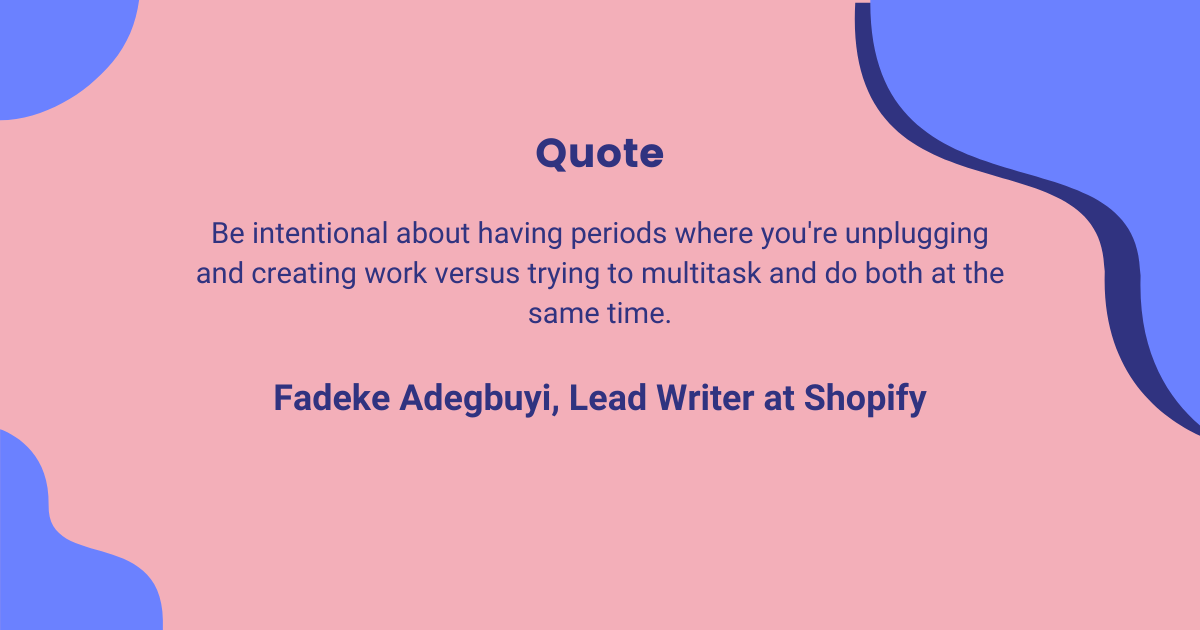 If you are very online, and have a job where you're required to maintain some level of awareness of what's happening online, be intentional about having periods where you're unplugging and creating work versus trying to multitask and do both at the same time.
Q: You've been working remotely for a long time, and there's a camp that believes career growth can be negatively impacted by remote work. Would you say remote work has helped or hurt your access to opportunities?
I wouldn't say remote work necessarily hurts or helps. But I think there is some truth to the idea that remote work can be a bit of a blocker in building professional connections and a strong work peer group if you are early in your career.
As much as I love remote work, I think there are limitations, and it's hard to beat in-person interaction. Something important for me all the years I've worked remotely is being intentional about building those connections while working remotely and living outside a big city center.
I think building a personal brand can be a big part of that. Creating content about what you do and sharing it online can be a form of inbound marketing. Building a personal brand that allows you to connect with the people you want to can be more important if you're working remotely.
Q: What advice would you give yourself if you were just building a personal brand from scratch?
"If you're not putting yourself out there in terms of going into an office and having a presence at an in-person job, you have to put yourself out there in another way."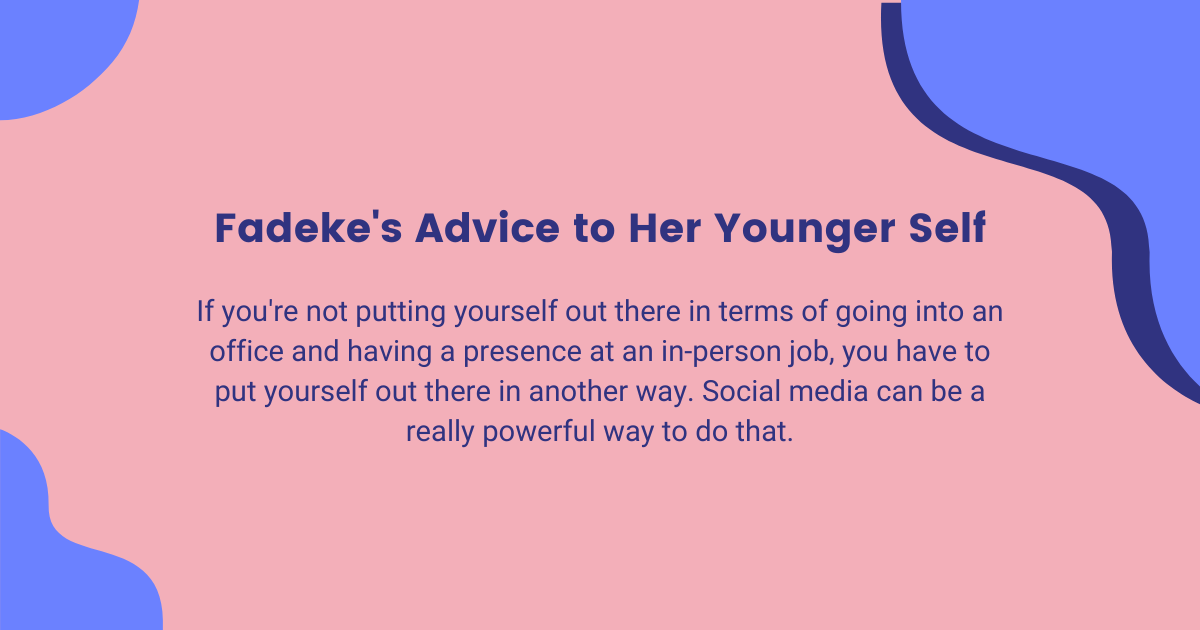 Putting yourself out there might mean building a social media presence, it might mean writing a newsletter or writing a blog, or it might mean building an online community. But to progress professionally, it's helpful to surround yourself with ambitious people, including people who are a few steps ahead of you. Social media can be a really powerful way to do that.
Q: How have you cultivated that community for yourself?
I've joined a handful of online communities over the years. The Grand is a great one for career growth, Superpath is wonderful for content marketers, and On Deck for everything from writing to entrepreneurship. And of course Every, our writer collective which includes a Discord community for paid subscribers. I also love Twitter. Those are all places online where I've been able to meet fantastic people and that I wouldn't have otherwise been able to if I wasn't intentional about seeking out community online.
Q: What would you say is the future of personal branding/growing an online presence?
I think we are in a phase where people are allergic to "professionalism" and content that doesn't feel genuine. Anyone building a personal brand should lean into authenticity while finding the balance between that and oversharing, which can be a tough balance to strike. We're also seeing this form on "influencer creep" where it's almost a prerequisite at this point to maintain some level of an online presence and bring visibility to your work. We'll see more people trying to navigate that.
Takeaways
If you're looking to create a distinct voice for yourself online like Fadeke has, here are some important things to remember.
Separate your identity from your employer's. Fadeke says, "It's important to have a brand that's distinct from your employer. That's something that's always been important to me – having a presence online where I can share what I'm working on and what I'm interested in and, in turn, connect with people who are interested in the same things."
Be vocal about your work. If you do awesome work at a company, and nobody hears about it outside of your work, that can be limiting career-wise. Want to know how to position yourself on different platforms? Check out this article.
Experiment with different platforms on your journey to building a cohesive personal brand. Whether adopting longer-form writing through a newsletter, Twitter Notes or creating video content, try out different things as you explore what format best shows off your work and personality.
📍Once you're ready to grow your distinct online presence, check out Buffer for easy automated scheduling and publishing!