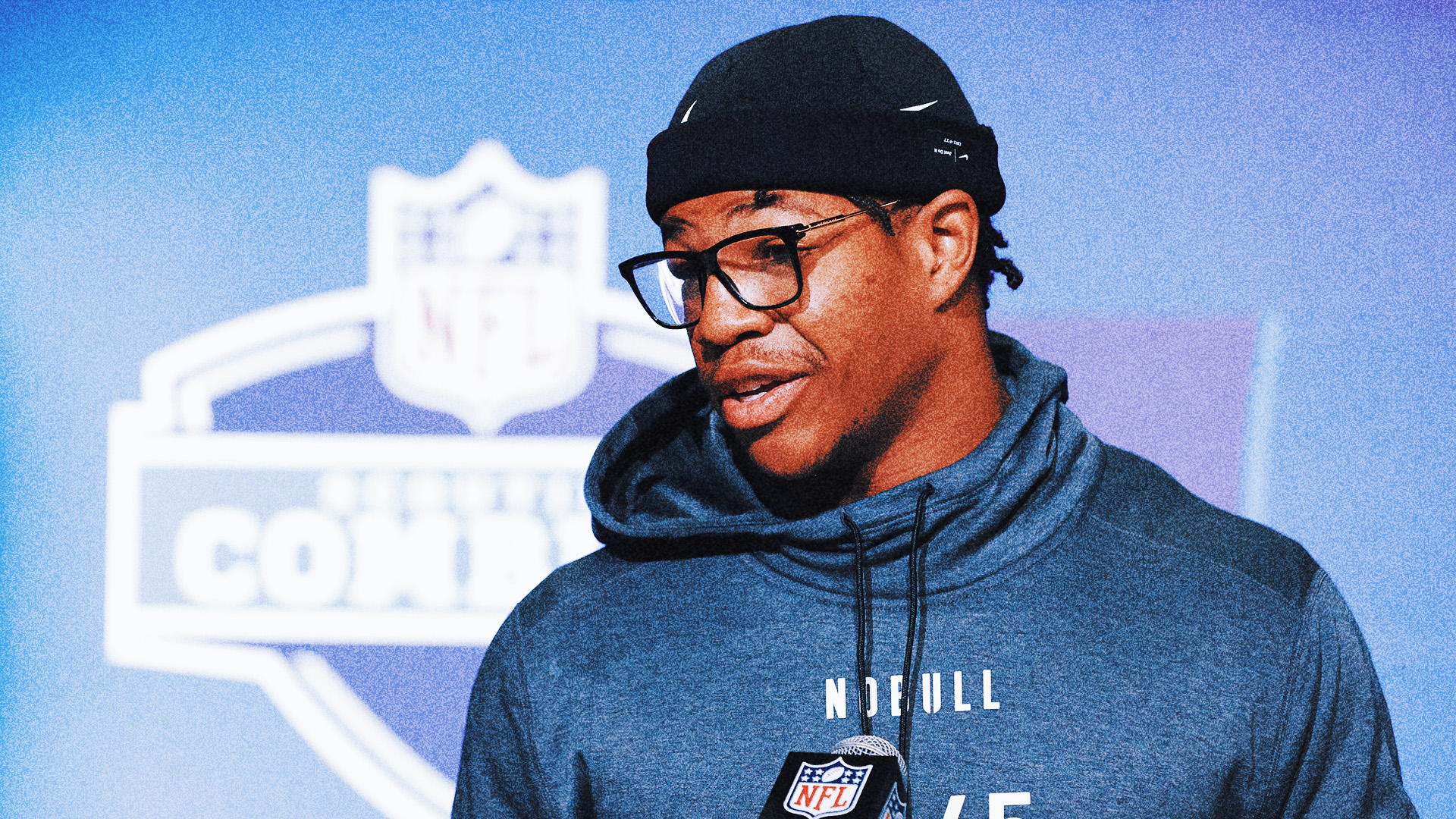 A day after cracking the podium, running back Nolan Smith turned heads on the Lucas Oil Stadium turf during the 2023 NFL Scouting Combine on Thursday.
The former Georgia standout ran the fastest 40-yard dash by a defensive lineman, clocking 4.39 seconds. He was tied for the best on the day with Auburn linebacker Owen Pappoe and was the second-fastest time by a running back since 2003. Nolan's time even surpassed that of NFL star running back Saquon Barkley and Christian McCaffrey.
Back in Georgia, video surfaced of Smith's college teammates watching his 40-yard dash at the team facility and celebrating the result, as Smith initially clocked in with an unofficial time of 4.44 seconds before the official taming came 0.05 seconds less.
Virginia Tech's Amare Barno ran a 4.36 at last year's combine. Ten players on the first day of practice posted times under 4.5.
The linebackers and defensive linemen were the only players on the field Thursday and will finish the week with Friday's bench press as the defensive backs and special teams take the field.
Smith, who checked in at 6-foot-2 and 238 pounds, was the star attraction.
He and Pappoe also shared top honors in the division (1.52 seconds), and Smith's 41 1/2-inch vertical was also the best of the day — three inches ahead of Vanderbilt defensive end Anfernee Orji and 3 1/2 inch ahead of next nearest. defensive lineman
Even when Smith wasn't the leader, he was close. His broad jump of 10 feet, 8 inches was tied for fourth on the day.
Smith's college teammate, defensive tackle Jalen Carter, returned to Indianapolis after turning himself in to law enforcement on charges related to the fatal crash that killed offensive lineman Devin Willock and a member of the recruiting staff in January.
[Jalen Carter's draft stock a topic of discussion among NFL execs]
Smith became emotional Wednesday in his first public comments since Willock died.
"I feel sensitive talking about it just because I love him," a visibly choked-up Smith said of Willock. "He never did anything wrong in his three years [at Georgia]. He was supposed to graduate. … No one should deserve to die like this."
Smith said he told his former Georgia teammates who "lost a brother" to "do it for Dev" next season as the Bulldogs aim for their third straight national championship.
A day later, Smith was initially upset with his 40-yard dash, thinking he clocked something like 4.40. "I thought I didn't run my fastest time," he told the NFL Network. "I thought I had a little more juice, and I felt like I was at 85%."
Told his official time was 4.39, Smith said: "That made my day. That got me a little excited."
The Associated Press contributed to this report.
More NFL Draft coverage:
FOX Sports Top Stories:
---