For most people, the holidays are about rest and relaxation, as it's the only time of year that most people take a break from school and work. However, for small business owners, this is not quite the case. In fact, November to December is often the busiest time for these entrepreneurs. Many depend on the sales made during these months, which leads them to work long hours during the holidays. But this can lead to serious health consequences. One study found that people who work more than 61 hours a week have a higher risk of developing high systolic blood pressure.
However, by setting some boundaries, it is possible to create a good work-life balance during the most festive time of the year. Here's how three small business owners tackle their busy schedules during the holidays so they can enjoy the season with their loved ones.
Why setting boundaries is so important
There are plenty of advantages to being your own boss, but the only downside is that your workload can often feel like it never ends. Whether it's answering emails, posting seasonal deals on your social media channels, or shipping products, work can pile up, especially during busy seasons.
By setting boundaries during the holidays, you're not only developing a healthier relationship with work, but you're also giving yourself some much-needed downtime. Simply put, people who work 24/7 are at a much higher risk of developing burnout. This can have several consequences, such as not feeling satisfied with your work, which leads to poor performance and affects the quality of your work. Other symptoms include fatigue, stress, insomnia, and in severe cases, some people even develop anxiety and depression.
This can be a tricky subject, as most business owners feel a strong obligation to work around the clock and make sure their customers and employees are taken care of. But once you take a step back, you'll often find that you're more productive and happier.
At least that's what happened when freelance writer Kat Boogard went from working four days a week to three to spend more time with her kids. While the transition required boundaries, Kat says it's been more of a mental shift than anything else.
"Someone asked me if my three-day work week was more of a mindset shift than a system-building exercise, and I think that's a good way to describe it," he told his newsletter.
Although cutting back on work means she can no longer do all the things she used to do, the writer believes it's been a fair trade. Not only has she been able to be more selective and strategic with the projects she takes on now, but she is no longer under pressure to be constantly on the move. Most importantly, this change has allowed him to spend more time with his family.
"My kids and I planted some flowers and we take care of them. We take weekly trips to the library or the playground… Will I make as much as I made last year? Nope. Probably not even close," Kat said. "But at the end of the day, it's all the other things that feel more like 'success,' even if my P&L number is smaller."
Even if you're not looking to have a three-day work week like Kat, her downsizing mentality can be helpful for entrepreneurs who want to spend more time with themselves and their families, especially during the holiday season.
How these small businesses approach work during the holidays
These three entrepreneurs approach work during the holidays differently, but each has implemented some sort of limit on their schedules to ensure they don't overwork themselves.
Implementation of a strict schedule
A single mother and team of one, Assie Khoussa is used to working 24/7 at her small business Eizzy Baby. When it's the holidays, however, set clear boundaries with work to make sure your child doesn't miss any of the festivities.
"The holiday season is one of the busiest times of the year for me. Not only are there various sales, promotions and new product launches within my business, my schedule is just as busy," said Assie .
"As a single mom, it's important that my son doesn't miss a single holiday experience, from Thanksgiving dinner to wrapping and opening presents. To make sure I'm as productive as possible, I make sure I'm completely scheduling my days," she said. "From 9 a.m. to 4 p.m., I focus on my business and work. When I pick my son up from school at 5pm, my focus shifts to family time, we laugh, play, eat and work on the things he needs."
The entrepreneur has discovered that, without this structure, she tends to gravitate towards working more.
"I try to be very strict with this schedule because it allows me to prioritize and focus on what is important. Once [my son] is in bed, then I have the flexibility to work on what I need to, whether it's self-care or opening my laptop to edit content. I'm the queen of going with the flow, but I've noticed that when things aren't scheduled or prioritized, that's when I drop the ball the most."
Assie admits that creating boundaries as an entrepreneur is difficult, but credits her discipline, especially when it comes to her son.
"Strict boundaries really come from having the discipline to turn off the computer or phone," she said. "To me, dropping the ball when it comes to my son is bullshit, so I use the time allotted to really focus on him. My advice would be to build discipline and realize what's important during [the holidays]."
Be selective with work events
Sisters Kelly and Anna opened their small business Arctic Haven Studio in 2021 and sell handmade paper art inspired by the Alaskan wilderness. Still early in their journey, the duo works during the holidays to grow their customer base.
"As a small business still trying to establish itself in the industry, we take advantage of every viable opportunity we have. During the holidays, we participate in several local holiday markets to individually reach customers and focus sales. The holiday markets themselves require a lot hands-on work by ourselves and our family members who help us create, set up and maintain the booth space, all for a two-day show, at most," they said.
Fortunately, these events are closely tied to the holiday season and are a great way for entrepreneurs to meet their customers in person, making it feel less like a job and more like a community.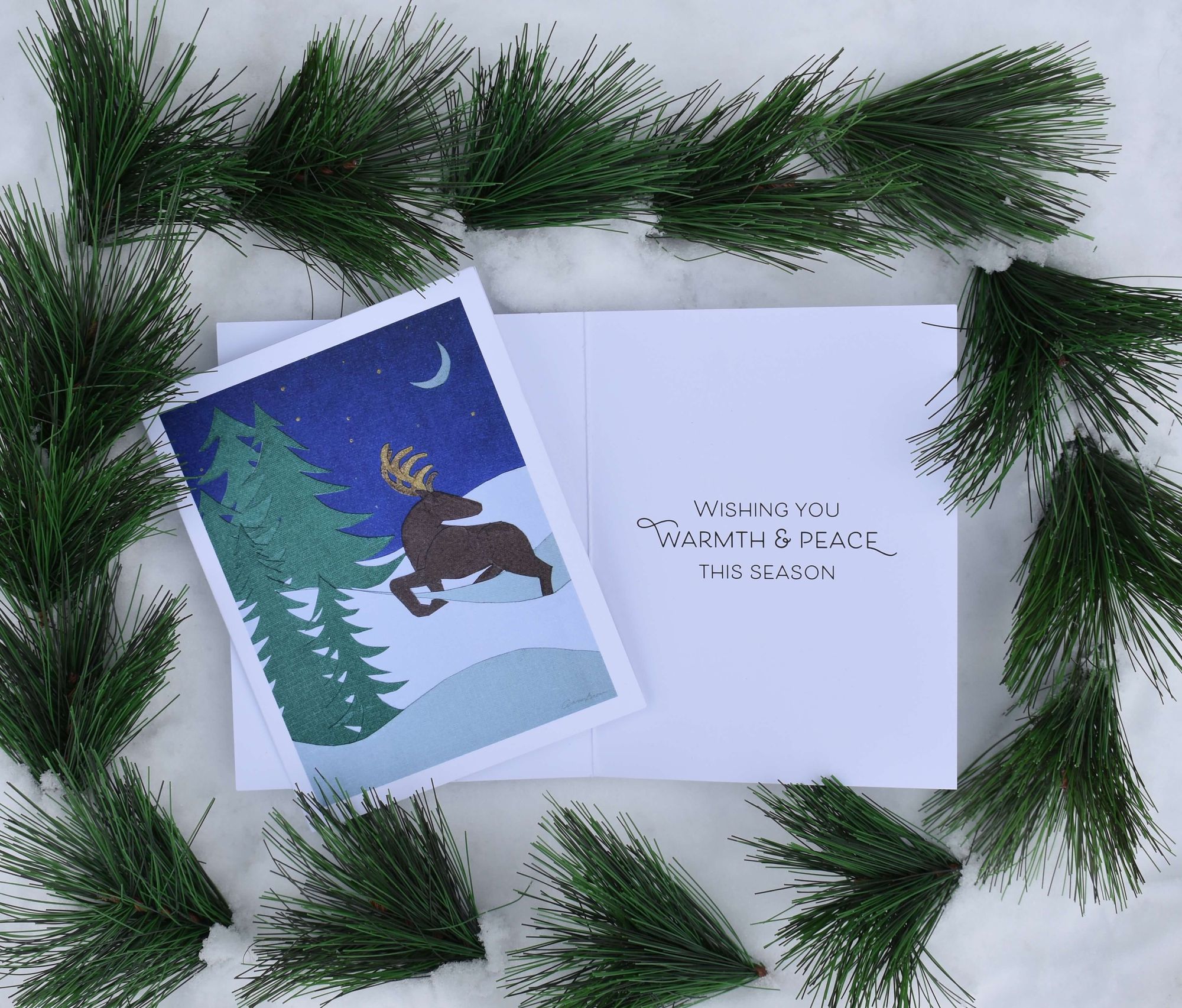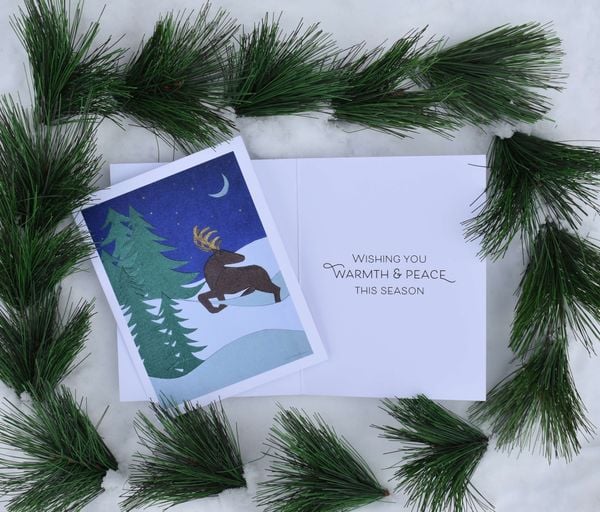 "These events require energy and preparation, but they are festive and a great way to interact with potential customers. We listened to the customer feedback we received last year and created a holiday card, as note cards are our core product line and have been well received this season."
Still, Anna and Kelly don't say yes to every opportunity during the holidays, instead choosing the events they decide to attend so they don't overwhelm themselves.
"While we don't take time off from business during the holidays, we can regulate our workload by choosing which holiday events we participate in and how much marketing we want to send before the season. Each season we learn new ways to meet customers' interests customers and ways to better prepare for the coming year."
Business closed for holidays
As a content creator who runs her tarot reading business through her Twitter account, Ashani has more flexible schedules than the typical entrepreneur. But that doesn't mean the creator hasn't had issues with exhaustion. In the past, he worked during the holidays and had no clear boundaries with his fans.
"I remember, back in the day I wouldn't like it [vacation time]I'd be like, "Oh my God. Why do people hit me at Christmas? But now, it's as simple as closing my readings to be very honest… I'm lucky to have this role and work for myself. No I have to go ask somebody if I can put the PTO or something. I can make my own schedule."
But Ashani only implemented these boundaries after learning from her first two years running her business.
"Many people have their own business because they want more flexibility. But I remember thinking like, "This isn't more flexible." I'm overwhelmed with having to do the [reading] services, running the business, and also scheduling. But, it just got a lot easier [to take time off] along the years."
Sometimes he still faces the struggle of feeling like he's not working enoughand empathy with other business owners who find it difficult to take time off.
"Sometimes [closing my readings] creates additional pressure. Because, of course, the holidays are the time when people want to spend money and buy gifts. And so you want to make more money. And I definitely had to work up to the point. Years ago, it was much more of a struggle, knowing when I should work more or less," he said.
Instead of focusing on holiday sales, Ashani now prioritizes a good work-life balance.
"Many things are requested during the holidays and people are very busy. But I try to use that time to relax and spend it with family and friends, and just do little things for myself," she said. "So vacation time isn't a priority for me like just keeping the balance between work and play. And to see the people I love, of course."
At Buffer, we also shut down the company for an entire week at the end of the year to ensure that everyone on our team gets a chance to spend some time on self-care.
We hope these examples from other small business owners have inspired you to make some time this holiday season. Remember, giving yourself a break is healthy and the end of the year is the perfect time to recharge and reflect.
If you're interested in creating more boundaries with work right now, there are plenty of productivity habits you can incorporate into your schedule to free up time. We recommend creating a content and social media calendar to keep an organized view of all your work. Batch content creation is also an efficient way to get more out of your time.
One of the best ways to make sure you're present during the holidays is to schedule your social media posts ahead of time, and we can help! Get started with Buffer for free today to schedule your content, analyze the performance of your posts, and engage with your followers!