Melissa Rohlin
FOX Sports NBA Reporter
Zion Williamson is still bothered by the words he heard about himself.
fat lazy failure
He went from being the NBA favorite to his punch line after gaining weight while recovering from a broken right foot that sidelined him all of last season.
It was devastating for Williamson, who was drafted No. 1 overall by New Orleans in the 2019 draft and was projected to become an MVP-caliber player, but instead was reduced to being a magnet for cruel weight jokes
"What people don't understand is, even writers and stuff, if they have kids, imagine if somebody talked about their kid the way they talked about me," Williamson told FOX Sports last week. "Criticizing my body, criticizing how I look. Every time they talked about me, it was about my weight, how bad I looked. I don't even think they realized the impact it can have on you."
A lot has changed for Williamson since then.
He silenced questions about whether he could cut weight by showing up to training camp with a significantly slimmer frame. And he immediately quieted those who doubted whether he could be great again with a 25-point, nine-rebound performance in his regular-season debut against the Brooklyn Nets last month.
After a recent game against the Los Angeles Lakers, LeBron James talked about Williamson.
"You've never seen a talent his size, his speed, his athleticism," James said. "Like a Giannis [Antetokounmpo]. Same as a [Charles] Barkley. Like a Shaq [O'Neal]. There's just certain talent coming into our league that you've never seen before."
For Williamson, his journey back to superstardom was tortuous and painful.
Last season, Williamson fell into a dark hole after suffering the injury during the summer and after experiencing a demoralizing setback with his foot. The injury was initially expected to sideline him for about five weeks before he could start bulking up. But in December, images showed a regression in bone healing.
He felt like a rug had been pulled out from under him. Williamson tried to hide his deep disappointment. But Pelicans assistant coach Teresa Weatherspoon could see his pain through the paper-thin veneer he tried to mask it with.
"He wore a smile that, to me, I knew wasn't a smile," he said. "He wore it to take people out of what he really felt."
Unable to play basketball or do conditioning exercises, Williamson's weight increased. It quickly became Internet fodder. Photos of him looking heavy went viral. Reddit forums were dedicated to people guessing how much he weighed and making fun of him.
"That's unpleasant because with a lower body injury, that dictates how you walk, that dictates how you run, how you do your daily activities and how you move," Williamson said. "For the world to criticize me like that and all I was trying to do was make sure my foot was straight? It was a lot. I'm not going to lie to you, it was a lot."
Williamson immersed himself in listening to music, specifically Notorious BIG's "Ready To Die" album, which he said "changed my life" because it helped him feel grateful just to be alive. And he leaned on the support of his inner circle.
Weatherspoon became a confidant and a shoulder to cry on. Pelicans coach Willie Green, who suffered a torn ACL in his third season in the league and said his weight went from 205 to 230 pounds during that time, deeply understood what Williamson was going through and knew how to relate.
"He never peppered me with questions," Williamson said of Green. "He would always say, 'Z, if you need someone to talk to, let's go to lunch or dinner.'"
Williamson's mother and stepfather were well-intentioned, but sometimes read articles that worried them and then called their son and peppered him with questions about his progress, which only stressed him out even more.
"I said, 'Relax, hearing it from you guys doesn't help me and actually makes me worse,'" Williamson said. "So when I broke it like that, they understood. Once my foot heals, I'll be back on the road."
Williamson kept his word.
He was cleared to resume basketball activities in March and joined the New Orleans cheerleading squad after a two-month rehab stint at the Nike campus in Beaverton, Oregon. In July, he agreed to a contract extension with the Pelicans worth at least $193 million, contingent on incentives, though it reportedly includes weight and body fat goals.
During the offseason, Williamson trained for two days in South Florida with Jasper Bibbs, a sports medicine and performance specialist. Williamson would wake up at 4:30 a.m. for his first practice before training again at night, alternating between track, the soccer field and the basketball court.
"It gave my mind mental discipline, a sharp discipline," Williamson said.
Williamson also hired a personal chef, Jhonas Lewis, to make his breakfast, lunch, dinner and every snack seven days a week from July to September. Lewis, a former football player at the University of South Florida, lost 120 pounds just by changing his diet after weighing up to 347 pounds after his playing career ended.
Lewis initially put Williamson on a detox followed by a carb cycling program, in which he would eat mostly protein and vegetables and only add healthy carbohydrates on certain days of the week. The goal was for Williamson to lose weight without losing muscle mass while burning what Lewis estimated was more than 2,000 calories a day through exercise.
The regime was a great success.
"I don't know if I should say the number, but I'll say this: [He lost] over 35 pounds, for sure," Lewis said. "We were dropping almost 7-9 pounds a week. By the third week, he started to see results. You couldn't pay Zion to put his shirt on."
Lewis once made Williamson a turkey bolognese, but replaced the pasta with mashed zucchini, cucumbers, spinach and arugula. After serving the dish, Lewis explained the ingredients to Williamson, as personal chefs often do for their clients.
But Williamson shuddered in disgust. From then on, a new understanding was born.
"I said, 'You know what? We're not going,'" Lewis said. "And he said, 'Yeah, you're right. Don't even tell me, chef. Just keep doing what you're doing. It tastes amazing.' So moving forward, I stopped telling him what exactly was in it [the food]."
(Turkey Bolognese became one of Williamson's favorite dishes, so much so that Lewis eventually had to cut it.)
Lewis added spirulina to Williamson's shakes. I would make it cauliflower puree instead of mashed potatoes, adding truffles and garlic to enhance the flavor. For dinner, I always served a white fish or salmon along with many other proteins. (Some of Williamson's favorites were hot honey pepper lemon wings and garlic butter tiger shrimp.)
Initially, Lewis would prepare Williamson's dish to make sure it was portion controlled. But for this to work, Williamson made it clear that she needed to feel like she wasn't on a diet. He ordered family style food so he wouldn't feel too restricted. Williamson wanted to learn how to make the right decisions himself.
Eventually, Williamson's taste buds changed. He began to enjoy healthy food and crave less sugar.
Before he met Lewis, Williamson had some bad habits he needed to shake.
"Every time he went to get food, he had to get two large Dr. Peppers with him or four large Cokes and that's before he even touched his food," Lewis said. "You know what soda does to you? I think it was the fifth week, he even stopped liking it because it was literally fruit and water every day."
Williamson has kept the weight off and is currently in the best shape of his life.
It is powerful yet agile. He can cut through defenses with the strength of a freight train, but also turn in an instant to find the open man or execute a finesse shot. It's an uncommon mix of strength and speed, a bulldozer that can spin.
So far this season, Williamson is averaging 22.7 points on 52.4 percent shooting, 6.9 rebounds and 3.7 assists in 31.9 minutes per game for the seventh-ranked Pelicans of the Western Conference with a record of 5-4. After a 17-month absence, he looks brighter than ever.
"He knows he can be even better," Green said. "That's the scary part."
In fact, Williamson believes the world has only seen a fraction of what he can do. Now his biggest challenge is not to prove others wrong. He's right.
"There's a lot of skills I have that I haven't shown," Williamson said. "There are skills I'll show when I'm practicing or playing one-on-one, [but] in a game I'll be so in my head where I want to be this perfectionist or I'll want to feel like I can make every shot I make that I'm not going to shoot in my middle. [midrange jumper] or I won't shoot my 3. I'm capable of all that and more. I just have to get out of that perfectionist mindset."
Weatherspoon sees what he's capable of all the time. He says Williamson can go any direction and shoot from anywhere on the court. "Everybody can see he's on the edge," she said, flashing a smile.
James also thinks the sky is the limit for Williamson.
"It's so funny when you hear people say, 'Just let it go left. Keep it from going left,'" James said. "It's the same thing I felt for so many years [Manu] Ginobili, just prevents him from going left. Lamar Odom, stop him from going left. When you're great, no matter what you do, they'll find a way. So, Zion is about to grow up. He's going to be great in this league for a long time."
Williamson has come this far.
He went from being the laughingstock of internet trolls to having the face of the league singing their praises. He went from being at the nadir of his life to full of hope for his future. He went from worrying about whether he would play basketball again to pinning his hopes on being one of the best to ever play the game.
But more than anything, he regained his joy. Now, when he smiles, Weatherspoon believes it.
"It's a real smile," he said.
For Williamson, last year was incredibly tough. But it also taught him a very important lesson.
Nothing can be taken for granted.
"If it's in God's plan for me not to play basketball, then it's in His plan," Williamson said. "But if it's in his plan for me to play basketball, I'll do it to the best of my ability."
Read more about the NBA:
Melissa Rohlin is an NBA writer for FOX Sports. He previously covered the league for Sports Illustrated, the Los Angeles Times, the Bay Area News Group and the San Antonio Express-News. Follow her on Twitter @melissarohlin.
---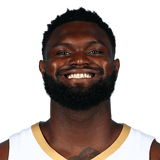 Get more from Zion Williamson Follow your favorites for information on games, news and more
---
---