Where will Georgia defensive tackle Jalen Carter land in the upcoming 2023 NFL Draft?
That is the million-dollar question heading into the draft, which is set to get underway April 27 in Kansas City.
As talented as Carter is, it's his off-the-field traits that led to FOX Sports college football analyst Joel Klatt dropping the talented defensive lineman out of the top 10 in his latest NFL Draft rankings. Klatt revealed his top 50 draft prospects on the most recent episode of his podcast, "The Joel Klatt Show."
Here is a look at Klatt's updated list.
1. Will Anderson Jr., Edge, Alabama (Previous rank: 1)
"Will Anderson's my best player in the draft. I think if you put him on any team in the NFL, he's a dynamic, game-wrecking style of player. I think he's got the potential to be a Defensive Player of the Year at some point. He's a great worker. He's a great teammate. And he's also your best player. That's everything you can ask for if you're a general manager or a head coach."
2. Bryce Young, QB, Alabama (Previous rank: 2)
"He processes information well. He throws the ball accurately. He plays his best when his best is needed. That's what great players do. … He constantly makes huge plays and throws. He manipulates the pocket a lot of the time to help keep his team in the game."
3. Bijan Robinson, RB, Texas (Previous rank: 4)
"Robinson is quite simply the most dynamic and best non-quarterback offensive player in the draft. That's the best way I could put it. Whoever drafts him is going to get a dynamic, game-changing athlete. I think he's very much in the same vein as Christian McCaffrey."
4. C.J. Stroud, QB, Ohio State (Previous rank: 5)
"This guy's accurate. I love his makeup. I think he's got room to grow, so there's potential. When you watch him, he communicates with his ball placement. He's hyper-accurate. He understands the game, it's important to him. He loves his teammates. I can't say enough positive things about C.J. Stroud."
Joel Klatt's Top 50 Players in the 2023 NFL Draft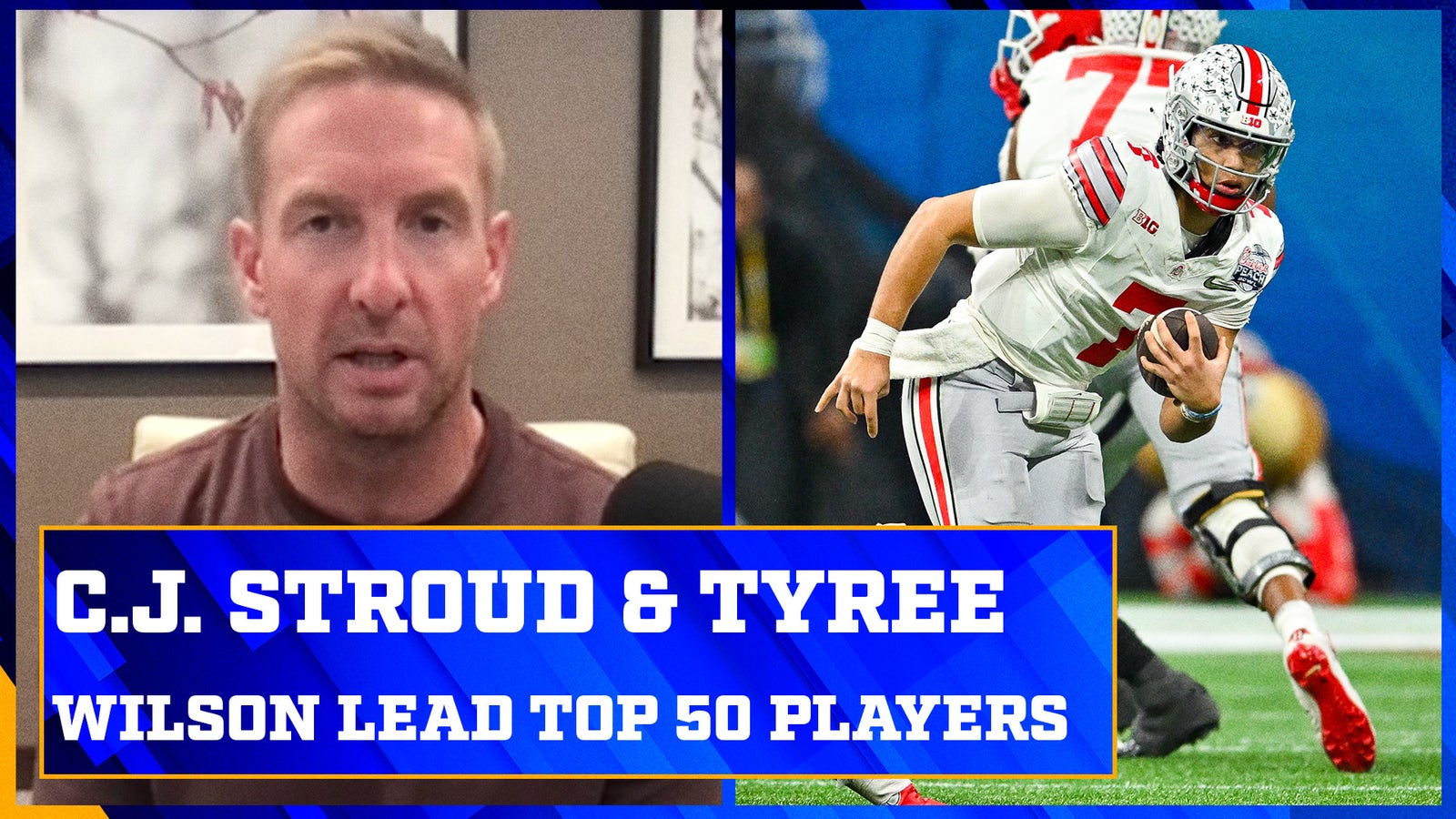 Joel Klatt reveals his top 50 players in the NFL Draft. Bijan Robinson continues to shine as Klatt compares him to RB Christian McCaffrey.
5. Tyree Wilson, Edge, Texas Tech (Previous rank: 3)
"I think he's got great length and size. I think he still has some refining to do in his nuance of rushing the passer, but he can get to the passer. He can play the run and be disruptive. He's too athletic and too strong to pass up."
6. Peter Skoronski, OT, Northwestern (Previous rank: 7)
"I'm a bit partial to him because I've been talking to Pat Fitzgerald about Peter Skornski for a long time. I remember evaluating Rashawn Slater and that evaluation quickly morphed into, 'We already know about Slater, this kid is also going to be a first-round draft pick.' I've loved watching him grow up."
7. Jaxon Smith-Njigba, WR, Ohio State (Previous rank: 8)
"I think he's the best receiver in the draft. I think he could lead the NFL in catches within his first three years. If he goes to a place with a veteran quarterback and a play-caller, designer that knows what he's doing, he could easily have 85-90 catches as a rookie. He's very fluid and great in space. The best compliment I could give is that when he was around all of those great players at Ohio State … everyone talked about Jaxon Smith-Njigba."
8. Anthony Richardson, QB, Florida (Previous rank: 9)
"He's physically gifted. But he's a Rubik's cube: If you can figure him out, he's one of the best players in the NFL. That's why he's so interesting."
9. Christian Gonzalez, CB, Oregon (Previous rank: 13)
"He really blossomed at Oregon. … He's tall, long and rangy. He can run – he ran a 4.38 in the 40-yard dash. He had four interceptions last season. He comes from a family of athletes and he's a fluid guy. He's not afraid."
10. Devon Witherspoon, CB, Illinois (Previous rank: 12)
"They use a lot of man coverage at Illinois, so he understands what it's like to play on an island. I just like his skill lset."
11. Jalen Carter, DT, Georgia (Previous rank: 6)
"Carter could easily be No. 2 and some might have him No. 1. But there's just too many red flags right now and he's fallen outside of my top 10. He has every on-field trait you could want. But I'm looking at his effort snap-in and snap-out and his judgment off the field. You've got one chance at a Pro Day in your entire life and he showed up nine pounds overweight. That's a huge red flag. It suggests that he doesn't care. Whether that's true or not, only he can answer."
12. Myles Murphy, Edge, Clemson (Previous rank: 10)
"He played immediately for Clemson and was productive in each of his three seasons. You look at the stat sheet: 37 tackles for loss and 17.5 sacks. He works really hard in the weight room. Coaches rave about his willingness to work hard and please. He's a team-first guy. I think this is an easy, no-brainer pick for a team picking high in the draft."
13. Joey Porter Jr., CB, Penn State (Previous rank: 11)
"He's got great length. He's not afraid to cover the best player on the field and constantly had to do that at Penn State. … He's going to have to work on his handsiness. He can grab a lot and get away with that in college, but at the NFL level he could get called for illegal contact."
14. Jordan Addison, WR, USC (Previous rank: 14)
"He had a great year for USC. He's a very quiet guy. A quiet worker, doesn't say a lot. But he works on his weaknesses tirelessly. Earlier in his career, he suffered from his drops. By the end of his career, you didn't see those. So, he clearly targeted those and worked on it to become a strength."
15. Michael Mayer, TE, Notre Dame (Previous rank: 15)
"Notre Dame had some real offensive issues because of quarterback injuries. But Mayer was the focal point of what the defense was trying to stop, and he still produced. He's a great leader and he's the kind of guy you want in your locker room. He catches the ball really well and he's a fluid player. He's a good blocker at the point of attack and he can flex out and run routes."
16. Dalton Kincaid, TE, Utah (Previous rank: 22)
"I love Dalton Kincaid and his ability. … He led all tight ends with 890 receiving yards last season. He jumped up the board because he got some good medical information where they said his back was going to be fine and he'll be a full go."
17. Quentin Johnston, WR, TCU (Previous rank: 16)
"Because there are so many slot receivers, Johnston's value might increase. He specializes on the outside. One of the things he has to do better is to make the routine play. There's an old adage for quarterbacks that I think should apply to receivers: It's better to be consistently good than occasionally great. … Johnston can suffer from some focus drops and a lack of focus. He needs to be able to make those layups."
18. Nolan Smith, Edge, Georgia (Previous rank: 17)
"It wouldn't surprise me if he goes higher than this ranking in the draft. When I do my final mock, there's a good chance Smith creeps up into the top 10. People are falling in love with him in this draft process and rightly so. When you get over the pec injury that forced him to miss half this last season, you look at a guy that was highly recruited out of high school and one of the backbone players of the back-to-back national champions. He has explosive traits and great leadership."
19. Jahmyr Gibbs, RB, Alabama (Previous rank: 18)
"I love him and his versatility. His ability to catch out of the backfield makes him so dangerous. He can line up as a slot receiver. You can throw it to him in the backfield. You can throw a screen pass to him. He's got some home run ability that some other running backs in this class don't have. He makes people miss in space."
Why Jahmyr Gibbs to the Kansas City Chiefs is a no-brainer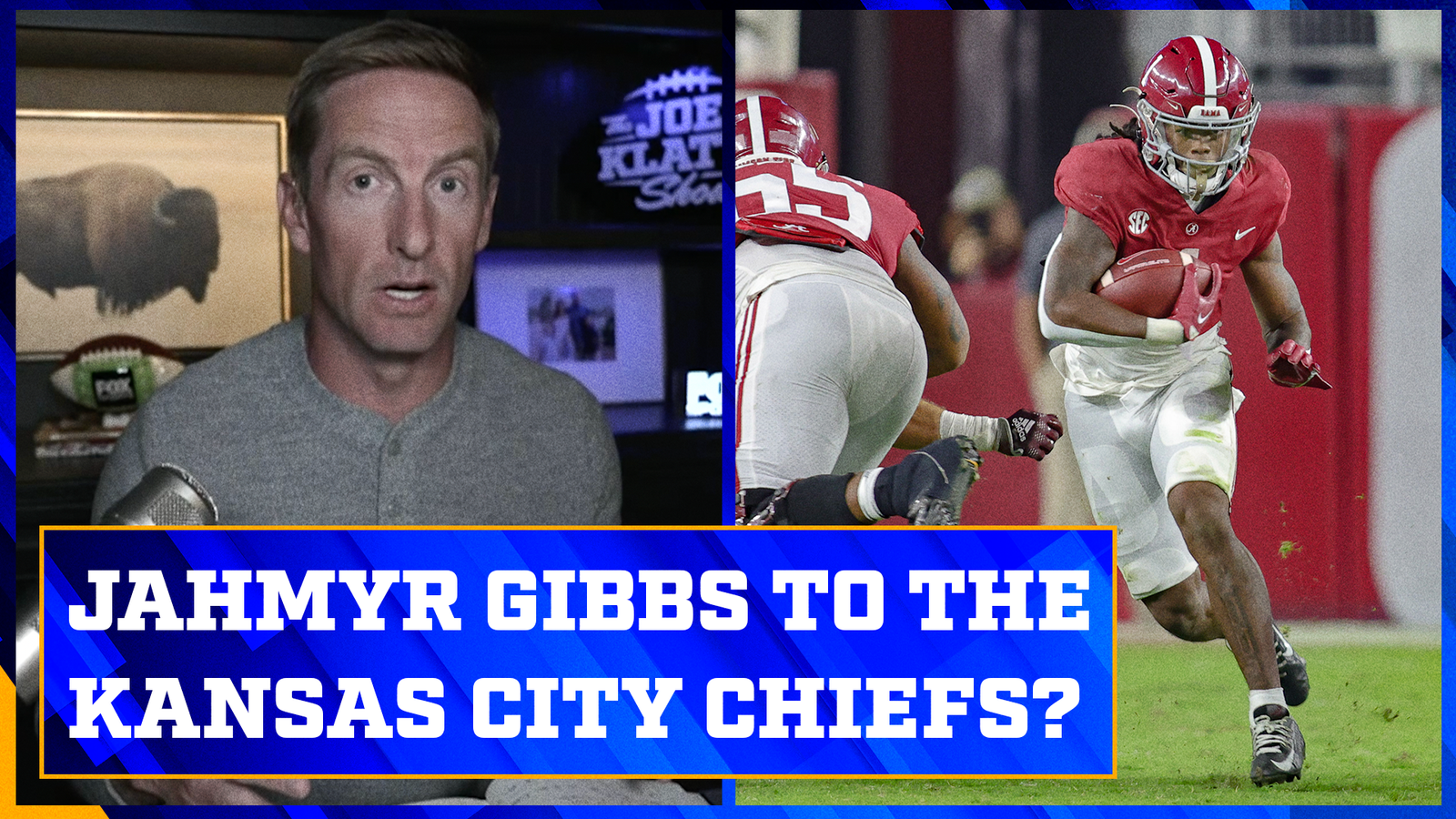 Joel Klatt explains why Jahmyr Gibbs is the second best running back in the draft.
20. Paris Johnson, OT, Ohio State (Previous rank: 19)
"He's excellent in pass protection. When you're thinking about a passing league, needing a tackle and a guy that can play left tackle, Johnson is easily one of those guys."
21. Lukas Van Ness, Edge, Iowa (Previous rank: 22)
"Van Ness, even though he didn't start, and I know that's weird, this guy can produce on the edge. You look at what that team is … they're predicated on doing your job really well and winning 1-on-1 matchups, in particular upfront to get to the quarterback and produce pressure. Van Ness did that really well. He had 13.5 sacks over the last couple of years."
22. Broderick Jones, OT, Georgia (Previous rank: 21)
"He started last year after being a backup for much of 2021. They recruited so well that so many of these guys have a hard time getting on the field. He did start in the national championship game against Alabama. One of the things I've noticed while watching and evaluating Broderick Jones is that he had zero holding penalties. That says something."
23. Brian Branch, CB, Alabama (Previous rank: 23)
"He was a hybrid player for Alabama. He played that star position that Minkah Fitzpatrick played. He was their smartest defensive back. He was their best defensive back. He was their most versatile defensive back. That's not easy. Remember, this guy played as a true freshman. He reminds me a lot of Jordan Fuller from Ohio State that wasn't the best player on his defense but you thought 'Of course he's a starter in the NFL.'"
24. Darnell Wright, OT, Tennessee (Previous rank: 24)
"He started 42 games in college, 34 of which were consecutive games. The move to right tackle this past season helped him immensely because he was falling short of expectations for virtually his entire career at left tackle. I mean, you can say that about the entire Tennessee program. But everything popped right this last season."
25. Bryan Bresee, DT, Clemson (Previous rank: 25)
"I think he's actually undervalued. I'm toying around with ranking him a little bit higher, but keeping him here for now. He was the No. 1 recruit in the country in 2020. His first year, I remember having a conversation with the guys around Clemson and they said he was the best player on the team as a true freshman. In subsequent years, he's had to deal with a ton of adversity."
26. Zay Flowers, WR, Boston College (Previous rank: 26)
"If you watched his tape, you realized he's a route-running machine. He's going to be one of these guys that flourishes primarily in the slot."
27. Darnell Washington, TE, Georgia (Previous rank: 28)
"He was a five-star recruit and the No. 23 overall prospect coming out of high school and yet was overshadowed a little bit at Georgia. The reason was that he played with Brock Bowers. They complemented each other very well though. Washington is more of an in-line tight end. He blocks really well. At times, it felt like Georgia was playing with six offensive linemen because of how well Washington blocked."
28. Deonte Banks, CB, Maryland (Previous rank: 29)
"He can run, man. A 4.38 in the 40-yard dash. He ran a 10.9 in the 100-meter in high school. One of the issues he'll have to overcome was that in 2021, he had some shoulder issues. He had surgery. I feel like his tape last year was better as the season went along and as he gained more confidence following the shoulder injury. Nine pass breakups last season."
29. O'Cyrus Torrence, OG, Florida (Previous rank: 30)
"He just started 47 games over his college football career. First at Louisiana and then at Florida. At 330 pounds, he moves well laterally. He didn't give up a sack in his close to 1,500 snaps in college football."
30. Calijah Kancey, DT, Pitt (Previous rank: 33)
"The reason why I have Kancey ranked above Mazi Smith is because of his production. Kancey produced well in the interior. He had 14 tackles for loss and became the first unanimous All-American player at Pitt since Aaron Donald. He also ran a 4.67 in the 40-yard dash at 280 pounds. He's fast, he's explosive. I can see this guy being a dominant player at the next level."
31. Will McDonald IV, Edge, Iowa State (Previous rank: 32)
"Will was having a phenomenal career, and every year his production kept on going up. In 2021, he had 11.5 sacks. I thought that was a good year for him to come out and that's probably still the case. I think people still like him, but there's a worry that his production fell off a bit this last year. He still had 34 career sacks though, which is one of the best career marks in Big 12 history."
32. Mazi Smith, DT, Michigan (Previous rank: 31)
"Mazi doesn't have the same production, sacks and tackles for loss, that some other players have. But that's primarily because of the scheme fit at Michigan. … What they ask to do is build a run wall and he was that run wall. He wasn't asked to rush the quarterback. He was asked to build the run wall to provide the frontend of the pocket so the rushers can get to the quarterback. So, I'm not worried about the production numbers."
33. Will Levis, QB, Kentucky (Previous rank: 34)
"This is my least favorite part of the draft process: I have a quarterback in the top 33 spots overall and I think he could get drafted in the first round … wouldn't have a huge problem with that. He's uber-talented and I love his game. But because I have him at 33, and that's, call it 20 spots lower from the other three quarterbacks, everyone's going to be like, 'Why do you hate Will Levis?'
"I don't hate Will Levis! He's my 33rd-ranked player in the draft. But the reason he's further from those other three quarterbacks is very simple: He turns the ball over too much and he doesn't have the top-end projection that Anthony Richardson has."
34. BJ Ojulari, Edge, LSU (Previous rank: 35)
"Those players at LSU had to deal with a lot. There was a lot of change schematically, leadership wise over the last couple of years and that turmoil would be hard to produce in. But when you look at what Ojulari was able to do, he was able to produce four more sacks in all three seasons. So, he can play. Another feather in his cap is his character."
BJ Ojulari, Jordan Battle & Ji'Ayir Brown on 2023 NFL Draft steal watch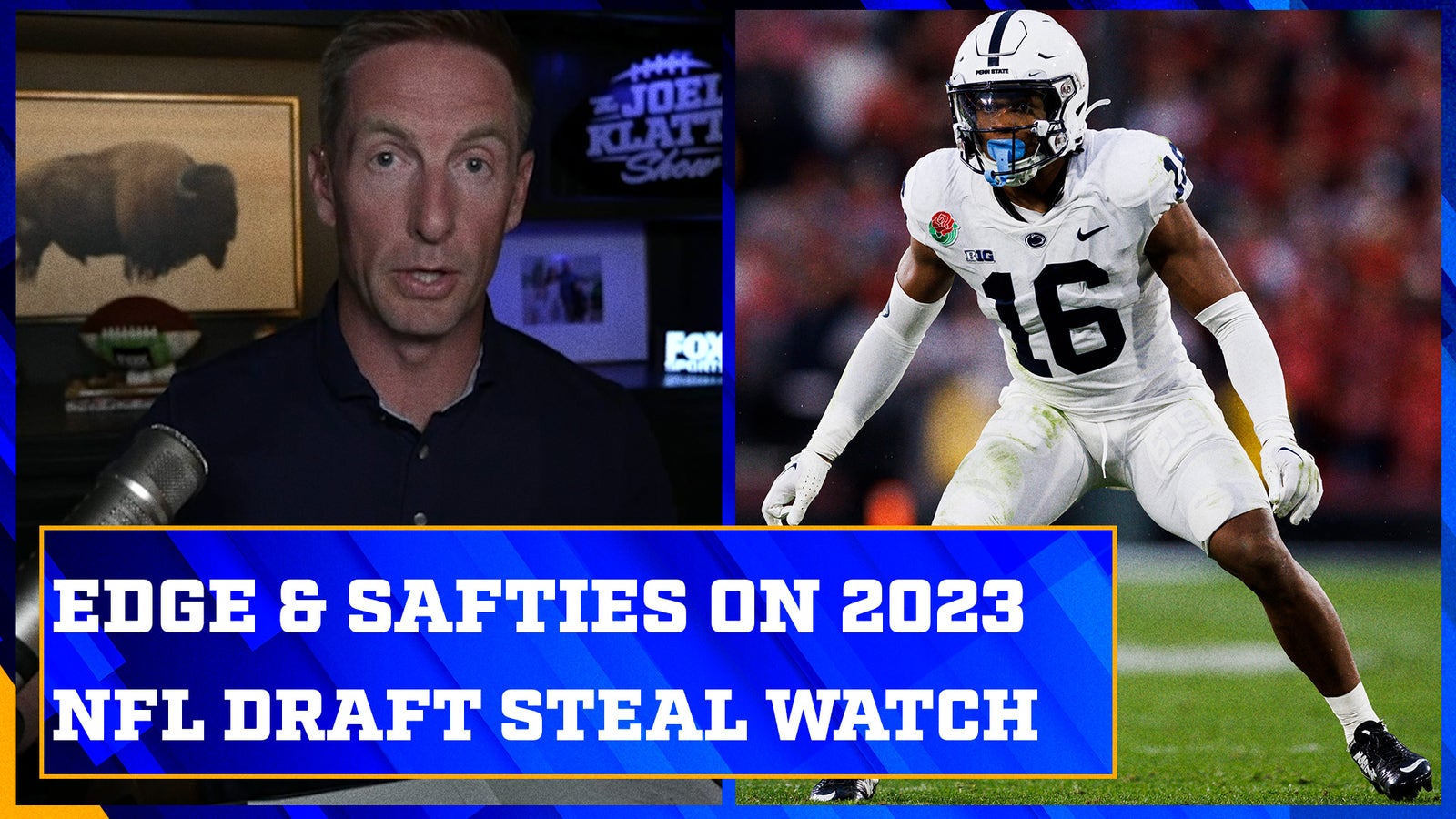 Joel Klatt explains why former LSU edge BJ Ojulari can be valuable and disruptive in a passing league.
35. Felix Anudike-Uzomah, Edge, Kansas State (Previous rank: 36)
"I loved his production and he transformed himself as a prospect. He came into Kansas State under-recruited, weighing 215 pounds coming into college. So, they had to "blue shirt" him, and he eventually transformed himself into someone that became the Defensive Player of the Year in the Big 12 this past season. He basically had 20 sacks over the last couple of years."
36. Jalin Hyatt, WR, Tennessee (Previous rank: 38)
"Tennessee's entire offense, and really the entire season, was predicated on finding wide receivers like Hyatt who could run the vertical read route out of the slot and out on the outside. Hyatt was tremendous, and he offers the legit outside, downfield threat that some NFL teams are going to need. There are some receivers in this draft, particularly at the top, that are more slot specialists."
37. Emmanuel Forbes, CB, Mississippi State (Previous rank: 42)
"He had a really good career at Mississippi State. He had really good production with the ball – 35 pass breakups and 14 interceptions. Six of those interceptions he took back for touchdowns. … For a cornerback, you can't ignore ball production. And this guy gets it. He's obviously a very good cover player."
38. Cody Mauch, OT, North Dakota State (Previous rank: 43)
"This guy is like a legit farmer. He grew up on a 5,000-acre farm. But he's rising up my board because he was the best offensive lineman at his level of football (FCS). I think he's going to make someone better right away. I love his toughness and leadership."
39. John Michael Schmitz, C, Minnesota (Previous rank: 44)
"Love his game, really love his game. Another older player … but had a really good career."
40. DJ Turner, CB, Michigan (Previous rank: Unranked)
"His speed, it shows up on tape, but really showed up during the testing. He played on a Michigan defense that relied on man coverage on the outside and it builds a run wall on the inside. They've got to have good cover corners on the outside covering their secondary. One of the reasons why I didn't have him in my initial top 50 was that I overlooked him a little bit after the season. That was because Michigan had a younger corner that was frankly the better player. I thought, 'Am I really going to take the No. 2 corner from Michigan and make him a top 50 player?' Well, you know what, after watching more film and seeing him test, that's exactly what I'm going to do."
41. Hendon Hooker, QB, Tennessee (Previous rank: 45)
"You guys know how I feel about Hendon Hooker. He's continuing to rise. I love this guy's accuracy down the field and his efficiency throwing the ball. The fact that he's staying so quiet and poised in the pocket. Remember, this is a wide receiver-led offense, that's not a knock against him. It just means he's got to be on the same page, diagnose defenses in real-time post-snap for those downfield reads from the wide receiver, then he's got to be efficient into vertical zones and seams. He does that really well. He's the type of guy that I'm a little bit nervous about the system translating into the NFL. But as far as the game, the efficiency, the calm, the poise, I think Hooker's a guy at 25 years old that will have a really positive impact on whichever quarterback room he goes to."
42. Keion White, Edge, Georgia Tech (Previous rank: Unranked)
"He's very raw. He actually started his career as a tight end at Old Dominion. He switched to defensive end there in 2019 but Old Dominion lost its season in 2020 due to COVID. So, he transferred to Georgia Tech but got banged up in his first year there in 2021. So, he didn't really do much until this past year when it was like, boom! You see the production and all the traits you want to see. You can very easily project him to be much better in the next couple of years. He could be underrated here at No. 42."
43. Drew Sanders, LB, Arkansas (Previous rank: Unranked)
"He started at Alabama and it just wasn't clicking for him there for whatever reason. He transferred to Arkansas and moved to middle linebacker and it just kind of clicked. I thought he had a really good year."
44. Zach Charbonnet, RB, UCLA (Previous rank: 50)
"I love his versatility. Charbonet's really good between the tackles. I love his patience and his vision. He's got a bit of a burst on the outside. He's not necessarily a huge home run hitter like some of the explosive running backs at the top. But he understands the game – he understands pass protection, he catches it out of the backfield, he's tough and balanced through contact. He's the type of pick in the second round that somebody's going to get much better because they drafted him."
45. Kelee Ringo, CB, Georgia (Previous rank: 27)
"He's down 18 spots from my original top 50. That's a bit of a false flag because you'd think somebody's gone wrong with Kelee Ringo. It's less about that and more about the slotting of the cornerback for me have changed. When you're changing the slotting of the cornerbacks, and some guys jumped up in the next few slots, it's like all of a sudden he's got to be a little bit lower on the board. It's nothing that Ringo did wrong or that my evaluation has drastically turned on him as much as it is there's been some corners, mainly DJ Turner from Michigan and Emmanuel Forbes from Mississippi State, that to me have just risen. My evaluation of them changed after their testing. So, that's why Ringo is down 18 spots."
46. Trenton Simpson, LB, Clemson (Previous rank: 37)
"I like Simpson's game a lot. He's a fast player that plays really well at linebacker."
47. Luke Musgrave, TE, Oregon State (Previous rank: 47)
48. Steve Avila, C, TCU (Previous rank: Unranked)
"He was a transfer from SMU that went with their coaching staff over to TCU. He was really good for them in the middle of their offensive line. Obviously led them to a national championship game appearance."
49. Jack Campbell, LB, Iowa (Previous rank: 49)
"Iowa quietly had the second-best defense in college football over the couple of years. Everybody talks about Georgia, and rightfully so, but this defense under Phil Parker and Jack Campbell was a big reason why."
50. Sam LaPorta, TE, Iowa (Previous rank: 46)
"I'm a big of Sam LaPorta. There's a lot of good tight ends in this draft, by the way. But LaPorta is probably a lot better than what you see when you first see him. He's smooth. He understands space. He's really good with his hands. And in an offense that wasn't very good at all, he was the focal point of opposing defenses and he still produced."
Top stories from FOX Sports:  
---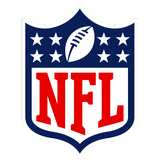 Get more from National Football League Follow your favorites to get information about games, news and more
---