While Philadelphia 76ers big man Joel Embiid appears to be on his way to winning his first MVP, one thing that is almost set in stone is that he will win his second scoring title.
Embiid — who did not play in Friday's overtime win against Atlanta and is not expected to in the 76ers' regular-season finale on Sunday — will finish the season averaging a league-leading 33.1 points. a day for the regular season.
The only player who had a realistic chance entering Friday to catch Embiid was Dallas' Luka Doncic. But he played low-key Friday, changing into street clothes at halftime in the Mavericks' loss to Chicago, one that eliminated Dallas from postseason contention and clinched Oklahoma City's No. 10 berth in the Tournament Play – In. Mavs coach Jason Kidd said Doncic will not play in Sunday's final against San Antonio, so his season is over.
Doncic played only the first quarter and the first 35 seconds of the second quarter on Friday. He scored 13 points, and his average dropped to 32.4.
Barring something mathematically improbable in the final two days of the season, Embiid will become the 13th player to win consecutive scoring crowns, with the most recent name on that list being 76ers teammate James Harden, who did with Houston. Embiid won it last year by holding Milwaukee's Giannis Antetokounmpo by 0.7 points per game and is now poised to surpass Doncic this year by the same margin.
Portland's Damian Lillard will finish averaging 32.2 points per game; Oklahoma City's Shai Gilgeous-Alexander is currently fourth at 31.4 per game. In order for him to catch Embiid, assuming Embiid doesn't play Sunday against Brooklyn, Gilgeous-Alexander would have to play and score 148 points in the Thunder's regular season finale against Memphis, so it's probably safe to start carving the trophy.
Before Embiid won last year's scoring title, the last center to lead the league in scoring was Shaquille O'Neal, who averaged 29.7 points for the Lakers in 1999-00.
The Associated Press contributed to this report.
---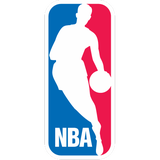 Get more from the National Basketball Association Follow your favorites for information on games, news and more
---