The start of a new NFL league year is upon us, which means free agency deals have come fast and furious since the legal tampering window opened Monday.
Jimmy Garoppolo traded red and gold for silver and black, reuniting with former Patriots offensive coordinator Josh McDaniels on the Raiders. Garoppolo's former team, the 49ers, made a splash by luring star defensive tackle Javon Hargrave from the Eagles. Meanwhile, the Chiefs' offensive line will look different following its heroic performance in Kansas City's Super Bowl LVII victory as Andrew Wylie has departed for the Commanders and Orlando Brown is expected to leave. Andy Reid & Co. have brought in former Jaguars offensive lineman Jawaan Taylor to help fill the void. 
[2023 NFL free-agency tracker: Signings, best players available]
As the dust starts to settle and a reshaped league turns its attention to the April 27 NFL Draft, the FOX Sports NFL crew takes a look at the biggest signings of 2023 free agency and grades the moves. Players are listed according to their rank in FOX Sports' top 50 free agent list.
Javon Hargrave, DT, 49ers
2022 stats: 60 combined tackles, 11 sacks, one forced fumble
Reported terms: Four years, $84 million ($40 million guaranteed)
Previous team: Eagles
The 49ers were surprising big spenders in addressing one of the team's most obvious needs. San Francisco snapped up one of the best interior pass rushers in the game, agreeing to terms with the former Eagles defensive tackle on a reported four-year, $84 million deal that includes $40 million in guaranteed money at signing. Hargrave, who finished with a career-high 11 sacks last season, joins Nick Bosa and Arik Armstead to give San Francisco one of the most imposing defensive lines in the NFL. —Eric Williams 
Grade: A-
DT Javon Hargrave signs with 49ers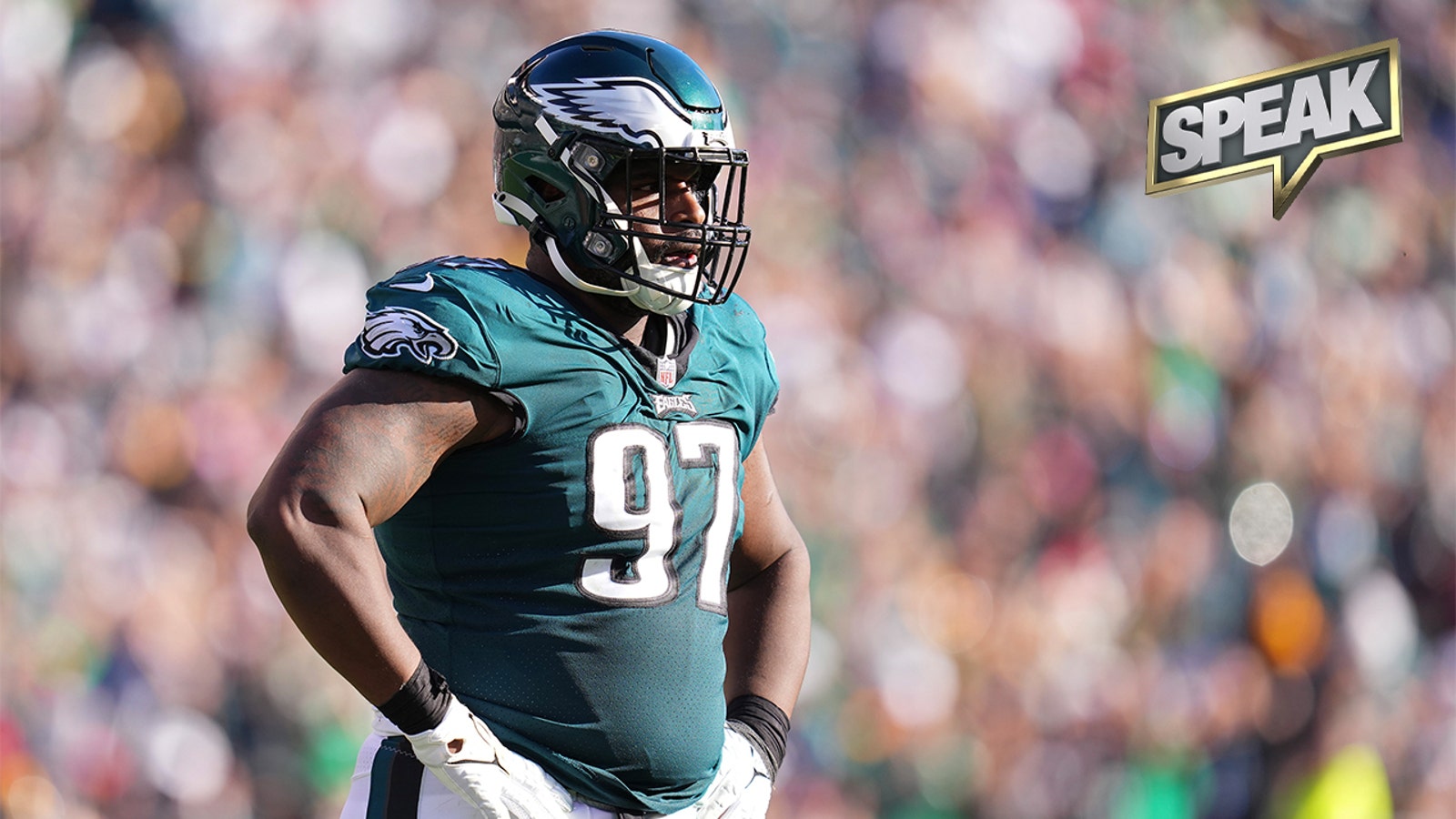 Javon Hargrave will join Nick Bosa and Arik Armstead on the Niners' defensive line. Emmanuel Acho, LeSean McCoy, Will Blackmon and Ric Bucher grade each of the big free-agent moves.
Geno Smith, QB, Seahawks
2022 stats: 4,282 yards, 69.8 completion percentage, 30 touchdowns, 11 interceptions
Reported terms: Three years, $75 million (maxes out at $105 million)
Previous team: Seahawks
Seattle brought back the team's starting quarterback after a career year for the West Virginia product in 2022. Starting in place of the traded Russell Wilson, Smith led the NFL in completion percentage (69.8) and finished with a franchise-record 4,282 passing yards, earning Pro Bowl and Comeback Player of the Year honors. Smith's three-year, $75 million deal gives the Seahawks stability at quarterback while still allowing them the flexibility to draft a QB of the future with one of the team's two first-round selections. —Eric Williams
Grade: B+ 
Derek Carr, QB, Saints
2022 stats: 3,522 yards, 60.8 completion percentage, 24 touchdowns, 14 interceptions
Reported terms: Four years, $150 million contract ($60 million guaranteed)
Previous team: Raiders
After nine years with the Raiders, Carr gets a fresh start in New Orleans, signing a four-year deal worth $150 million (more likely three and $100 million) to try to bring the Saints back to the playoffs in the post-Drew Brees era. Making the playoffs would give Carr a chance to improve that area on his résumé, as he has thrown 217 career touchdowns but has made only one postseason appearance, a loss to the Bengals in the 2021 season. —Greg Auman
Grade: B
Will Saints regret paying Derek Carr?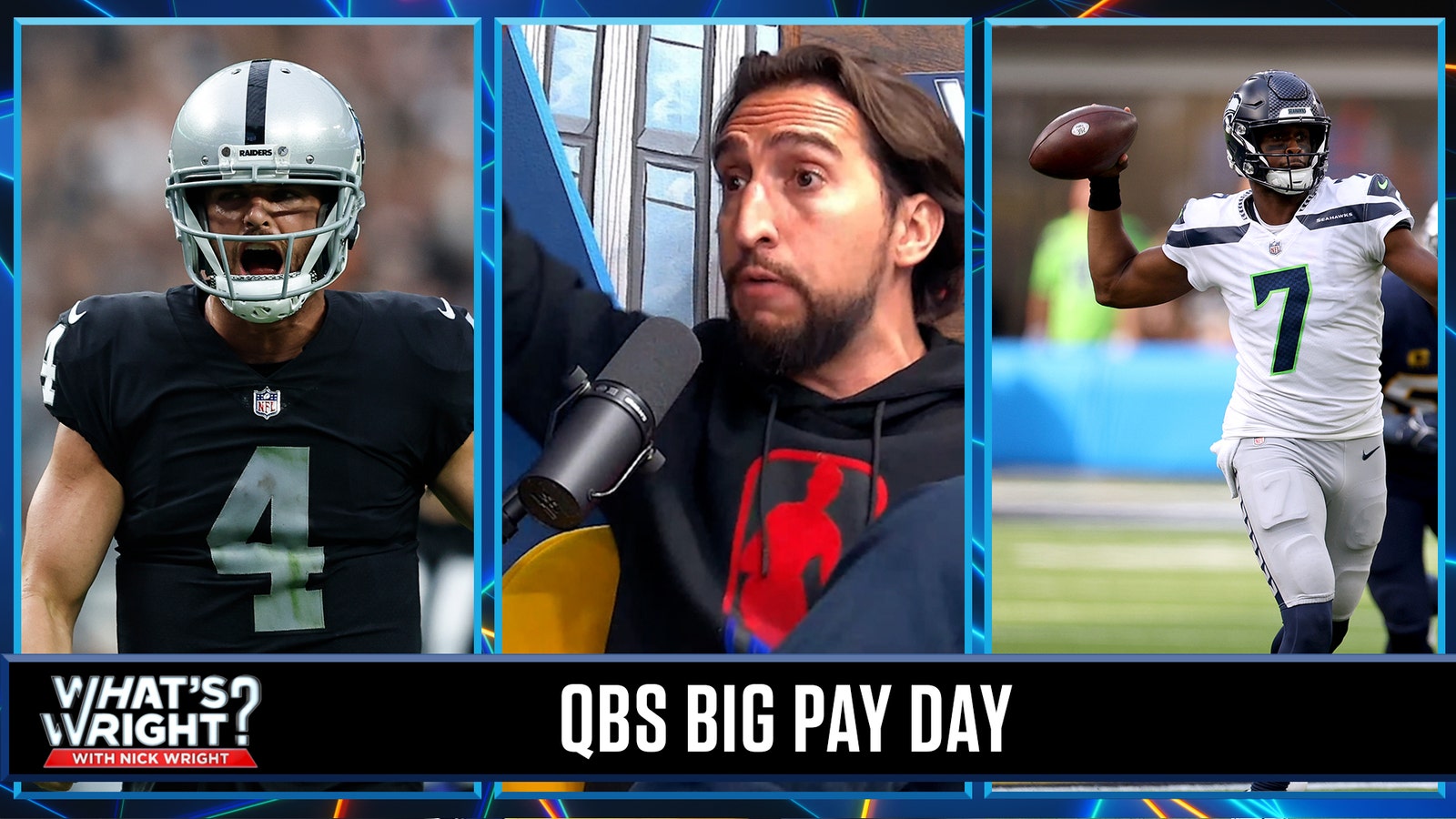 Nick Wright argues that the Saints did not make the best move paying Derek Carr lots of guaranteed money with the team well over the cap. He then explains why he does not mind Geno Smith's deal with Seattle.
Jessie Bates III, S, Falcons
2022 stats: 71 combined tackles, four interceptions, one forced fumble, eight passes defended
Reported terms: Four years, $64 million
Previous team: Bengals
Both of Cincinnati's starting safeties were raided by the NFC South on Monday, with Vonn Bell going to the Panthers. Atlanta finally had the salary-cap space to be major players in free agency, and Bates might be the biggest piece of their spending spree on the first day. Four picks last year, and arguably the best safety available, are now part of an upgraded defense that will likely get another boost with the No. 8 pick in the draft. —Greg Auman
GRADE: A- 
Josh Jacobs, RB, Raiders
2022 stats: 1,653 yards, 12 touchdowns
Reported terms: $10.091 million guaranteed (franchise tag)
Previous team: Raiders
The Raiders applied the non-exclusive franchise tag to the talented running back. Jacobs led the NFL in rushing (1,653) and scrimmage yards (2,053) last season. And at 25 years old, Jacob still has gas left in the tank. With the Raiders adding Jimmy Garoppolo in free agency, Las Vegas has a quarterback who can serve as a distributor, leaning on Jacobs to carry a lion's share of the team's offense. The Raiders have until July 17 to negotiate a long-term deal with Jacobs. —Eric Williams
Grade: B
Mike McGlinchey, OT, Broncos
2022 stats: 17 starts, six sacks allowed
Reported terms: Five years, $87.5 million ($50 million guaranteed)
Previous team: 49ers
New Denver head coach Sean Payton took a step in improving the pass protection for quarterback Russell Wilson by signing former 49er Mike McGlinchey to a five-year, $87.5 million deal. McGlinchey started every game as San Francisco's right tackle last season. He allowed six sacks, according to Pro Football Focus, but he also helped anchor one of the best run games in the NFL. Denver also signed Ravens guard Ben Powers to a lucrative free-agent deal, as Payton looks to put together an offensive line that can be more effective running the football in 2023. —Eric Williams
Grade: B-
Jamel Dean, CB, Buccaneers
2022 stats: 57 combined tackles, two interceptions, eight passes defended
Reported terms: Four years, $52 million
Previous team: Buccaneers
The Bucs' biggest free agent was feared gone with the team's limited salary-cap flexibility, but they were able to keep him — and at slightly less than they signed Carlton Davis for last year. Those are two bookend corners who were key parts of the Super Bowl team in 2020. They are now locked up as key leaders on a fairly young defense the team will lean on more in 2023. Dean has a rare combination of size and speed and is still improving as a corner. —Greg Auman
Grade: A-
Dalvin Tomlinson, DT, Browns
2022 stats: 13 games, 42 combined tackles, 2.5 sacks
Reported terms: Four years, $57 million
Previous team: Vikings
Cleveland adds bulk to its defensive front with Tomlinson, who is 6-foot-3, 325 pounds, and has started all but five games in his six-year NFL career. For the money they're paying him — $57 million over four years — they'll have to hope he has the production he had his last two years with the Giants (15 tackles for loss in 2019-20) vs. what he had in Minnesota (five tackles for loss in the past two years). —Greg Auman
Grade: C+  
Jimmy Garoppolo, QB, Raiders
2022 stats: 2,437 passing yards, 16 passing touchdowns, four interceptions, 103.0 passer rating
Reported terms: Three years, $67.5 million ($34 million guaranteed)
Previous team: 49ers
After Las Vegas head coach Josh McDaniels moved on from Derek Carr this offseason, he's turning to a familiar face in Garoppolo, signing him to a three-year, $67.5 million deal that includes $34 million in guaranteed money. A second-round selection by the Patriots in 2014, Garoppolo played three seasons for McDaniels when he served as New England's offensive coordinator. Garoppolo is intimately familiar with McDaniels' system and has a 37-18 record as a starter. However, staying healthy will be the key for Garoppolo, who has finished on the injured reserved list in three of the past five seasons. —Eric Williams
Grade: A-
Is Jimmy Garoppolo an upgrade for Raiders?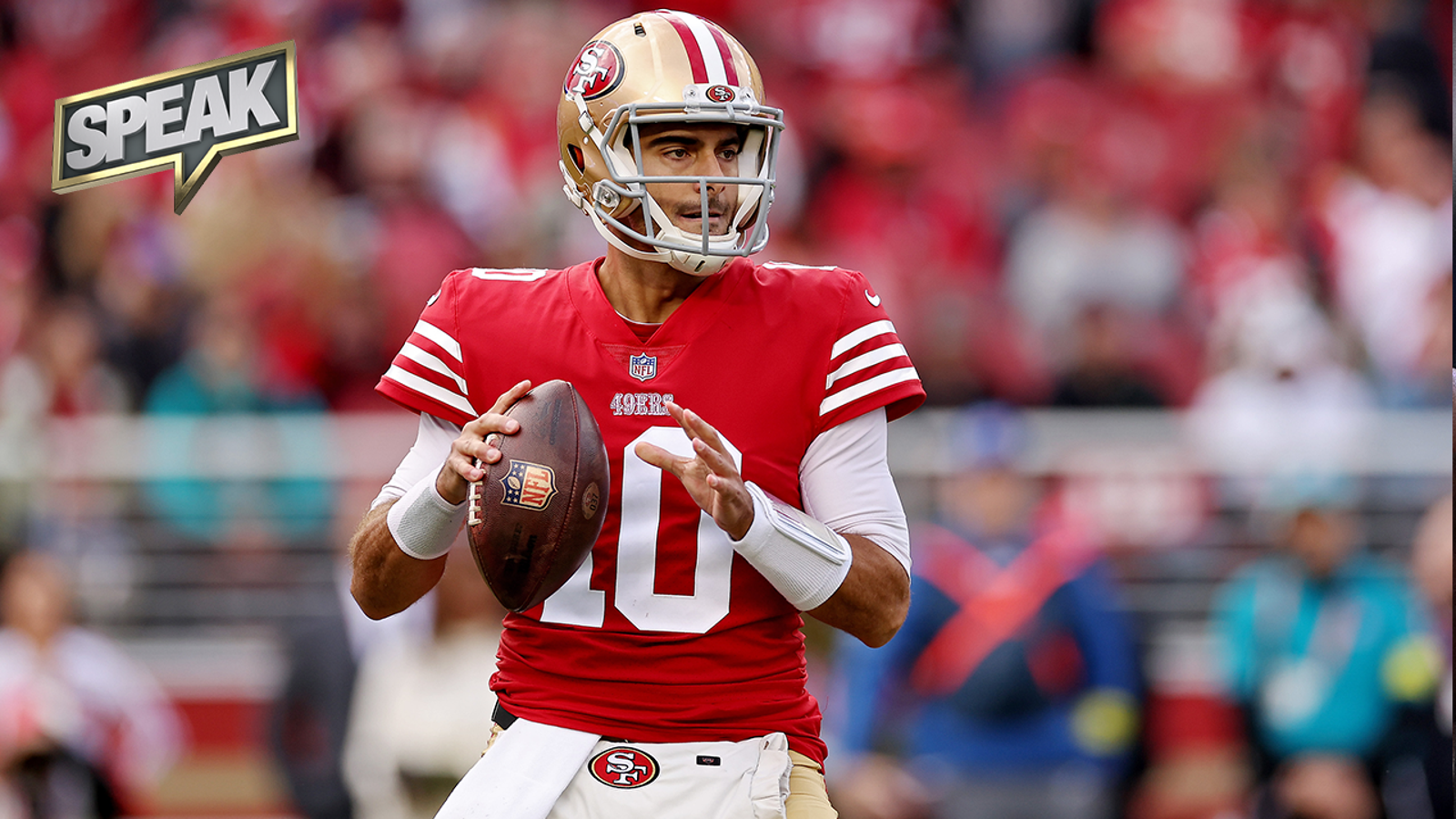 Will Blackmon joins Emmanuel Acho, LeSean McCoy and Ric Bucher on Speak to discuss the Raiders reportedly signing Jimmy Garoppolo to a three-year, $67.5 M deal.
Marcus Davenport, DE, Vikings
2022 stats: 29 total tackles, 8 QB hits. 0.5 sacks
Reported terms: One year, $13 million 
Previous team: Saints
The Saints pass-rusher didn't have much of a market, even with limited edge options available, and signed a one-year, $13 million deal with the Vikings. They're counting on him to return to his 2021 levels — nine sacks — and not a disappointing 2022 in which he finished with 0.5 sacks and had just two tackles for loss in 490 defensive snaps. The Saints had a top-10 defense and cap issues, so it's smart to try to find help there. —Greg Auman
Grade: C+
Patrick Peterson, CB, Steelers
2022 stats: 66 combined tackles, five interceptions, 15 passes defended
Reported terms: Two years, $14 million ($5.85 million guaranteed)
Previous team: Vikings
Peterson turns 33 in July, so the question is how much he has left in the tank for the Steelers. His 2022 was a solid comeback season with five interceptions — his most in a decade — and a career-high 66 tackles. He made eight straight Pro Bowls to open his career in Arizona but hasn't made it the past four years. Pittsburgh lost out on Cam Sutton but didn't have to pay Peterson too much at $14 million over two years. —Greg Auman
Grade: B-
Vonn Bell, S, Panthers
2022 stats: 77 combined tackles, four interceptions, one fumble recovery
Reported terms: Three years, $22.5 million ($13 million guaranteed)
Previous team: Bengals 
Bell got his start in the NFC South with the Saints, and he took a big step forward in 2023. After two interceptions total in his first six NFL seasons, he broke out with four last fall, an important part of Cincinnati's return to the AFC Championship Game. Panthers DC Ejiro Evero gets a nice veteran piece as part of an upgraded defense, which also gives him more flexibility to use Jeremy Chinn creatively as well. —Greg Auman
Grade: B-
David Long Jr., LB, Dolphins
2022 stats: 12 games, 86 combined tackles, 7 TFLs
Reported terms: Two years, $11 million
Previous team: Titans 
Long is undersized (5-foot-11, 227 pounds), but he's a dynamic inside linebacker who can get downhill or sideline to sideline in a hurry. A force in the run game, he's not afraid to throw his body around. He's a Pro Bowl-caliber talent, but health has been an issue. That explains his relatively modest deal with the Dolphins (a reported two-year contract worth $11 million; guarantees are unclear). He battled a nagging hamstring issue last season, playing just 12 games. And in fact, in four NFL seasons, he has never made it through a full year. If Long stays healthy, his contract will look like a bargain for Miami down the line. If he doesn't, the financial commitment isn't so large that it would be a major disappointment. —Ben Arthur
Grade: B
Tremaine Edmunds, LB, Bears
2022 stats: 102 combined tackles, one interception, one sack
Reported terms: Four years, $72 million ($50 million guaranteed)
Previous team: Bills
The Bears are getting a good one — and a young one. Edmunds is just 24 years old, but he has at least 100 tackles in all five of his NFL seasons. It's not often that a premier player is available at that age. That's why he makes so much sense for a team like Chicago, which is far more likely to be competitive in 2024 than in 2023. Edmunds is already a three-down linebacker, though he doesn't yet make the jaw-dropping big plays. He's more of a consistent and accountable centerpiece. But the Bears — given the fact that they've signed him for four years and $72 million — clearly expect him to develop into a game-changing player. He certainly has that potential. I do think, at $18 million per year, the Bears are taking a risk if Edmunds can't take a step up in generating more turnovers (5 INTs, 2 forced fumbles in his career) and more sacks (6.5 in career). —Henry McKenna
Grade: B+
Zach Allen, DL, Broncos
2022 stats: 47 total tackles, 10 tackles for loss, 20 QB hits
Reported terms: Three years, $45.75 million ($32.5 million guaranteed)
Previous team: Cardinals
Allen had a career-high 5.5 sacks last season and was rewarded in free agency with a three-year deal that includes $32.5 million in guaranteed money. According to Next Gen Stats, Allen tackled opposing ball carriers for a loss or no gain on 5.5% of his run defense snaps last season, trailing only Aaron Donald (5.8%) in the league. Allen joins former Cardinals defensive coordinator Vance Joseph in Denver. —Eric Williams
Grade: B-
Jawaan Taylor, OT, Chiefs
2022 stats: 17 starts, five sacks allowed
Reported terms: Four years, $80 million ($60 million guaranteed)
Previous team: Jaguars
The Chiefs reportedly plan to play Taylor — the Jaguars' right tackle the past four seasons — at left tackle, replacing Orlando Brown Jr., who is expected to walk as an unrestricted free agent. It will mark the second time in three offseasons that Kansas City plans to use a career right tackle as Patrick Mahomes' blindside protector (the other was Brown, whom the Chiefs acquired via trade in April 2021). If it works with the 25-year-old Taylor, it will look like a stroke of genius by GM Brett Veach. Taylor's contract is reportedly worth $20 million per year in average annual value, which would be good value for an elite tackle. Three left tackles make more than $20 million per year under their current deals, according to SpoTrac: the 49ers' Trent Williams, Packers' David Bakhtiari and Texans' Laremy Tunsil. If it doesn't work … Taylor could move back to right tackle, right? —Ben Arthur
Grade: A-
Ben Powers, OG, Broncos
2022 stats: 17 starts, zero sacks allowed
Reported terms: Four years, $52 million ($28.5 million guaranteed)
Previous team: Ravens
Denver is making a splash with new coach Sean Payton, adding Powers and 49ers tackle Mike McGlinchey. Powers is only 26, a fourth-round pick who worked his way up to become a starter, but Pro Football Focus had him as the No. 38 guard in football, so four years and $52 million feels a little high. Makes sense to want solid protection for Russell Wilson. —Greg Auman
Grade: C+
Jakobi Meyers, WR, Raiders
2022 stats: 67 catches, 804 yards, 6 TDs
Reported terms: Three years, $33 million ($21 million guaranteed)
Previous team: Patriots
This is an outstanding deal for the Raiders. It's one thing for the Bears and 49ers to do what they did: Sign the top player at a position to a market-changing deal. It's another thing to do what Las Vegas did: Sign (arguably) the top player at a position to a moderate deal. Meyers is set to make $33 million over three years with $21 million guaranteed. It pales in comparison to what I might have projected — in the range of $13 million or $14 million. Meyers will likely to fall in as WR2 alongside Davante Adams and Hunter Renfrow and tight end Darren Waller. Vegas also franchise tagged RB Josh Jacobs for 2023, which could make for a potent combination of skill players. But it all hinges around whether new QB Jimmy Garoppolo proves an upgrade over Derek Carr. Meyers will be one of the players tasked with elevating Garoppolo, an above-average (but not outstanding) starter. —Henry McKenna
Grade: A-
Jonathan Jones, CB, Patriots
2022 stats: 69 combines tackles, four interceptions, 11 passes defended
Reported terms: Two years, $20 million ($13 million guaranteed)
Previous team: Patriots
The Patriots clearly valued him more than the open market, because as soon as the tampering period opened, Jones agreed to a deal that brought him back to Bill Belichick's defense. Jones and the Patriots agreed to a two-year deal worth $20 million (with $13 million guaranteed). It's not so different than the two-year, $20 million deal that the Colts signed with former Patriots cornerback Stephon Gilmore. But Jones, 29, is a distinctly different player than Gilmore, 32. Jones spent the 2022 season playing on the boundary, an interesting development considering he'd played the slot for most of his career. When he wasn't playing in the slot, he was playing safety and special teams. Given that versatility, it makes sense that the Patriots valued him higher than other teams. Safety Devin McCourty also retired this offseason, which increased Jones value as a leader on the defense. On the whole, New England deemed Jones too valuable to lose. It's not the kind of deal that fans get excited about — but it's the kind of deal that Belichick gets excited about. —Henry McKenna
Grade: B
Nate Davis, G, Bears
2022 stats: 12 starts, three sacks allowed
Reported terms: Three years, $30 million ($19.25 million guaranteed)
Previous team: Titans
The Bears need to fortify their offensive line for quarterback Justin Fields, and adding Davis — a plug-and-play starter — is a step in the right direction. The Titans' starting right guard the past four seasons, Davis is a strong run blocker with room to grow as a pass blocker. On paper, he should be a key cog in Chicago's run game built around Fields, who had 160 carries for 1,143 yards and eight touchdowns last season. A potential concern with the 26-year-old Davis is his health. The 2019 third-round pick has missed a combined eight games the past two seasons, including five in 2022. He's played a full season just once in his career, in 2020. A reported $10 million per year in average annual value and $19.25 million in guarantees in the contract for Davis, though, represents strong value for the Bears for an above-average starting guard. —Ben Arthur
Grade: B+
Top stories from FOX Sports:
---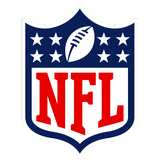 Get more from National Football League Follow your favorites to get information about games, news and more
---