Carmen Vitali
NFC North Reporter

David Helman
Dallas Cowboys Insider
In our third mock draft together, we've decided to introduce trades. It made things infinitely more interesting and took substantially more time, sifting through team needs and motivations to figure out how each wants to navigate the board.
We didn't go too crazy. In all, we made four total trades. Two of those four came within the top three picks, though. It means, in our hypothetical scenario, picks one through six in this draft are not being made by their original owners. Three of those weren't our doing, of course. The Panthers got their No. 1 overall pick from the Bears, the Seahawks got No. 5 from the Broncos and the Lions wound up with No. 6 from the Rams (yes, still).
It was enough of a shakeup that it got quarterbacks off the board early … except one. Take a look and see if you agree with the order we have them going off the board, along with some other surprise picks throughout our third edition.
1. Carolina Panthers: Bryce Young, QB, Alabama 
We've spent a lot of time trying to come up with reasons why Bryce Young won't be the first name called. That's a byproduct of a four-month draft cycle. With crunch time upon us, Young is the surest bet in this class and looks likely to be the first overall pick.
Will Bryce Young end up being the best QB in 2023 NFL Draft?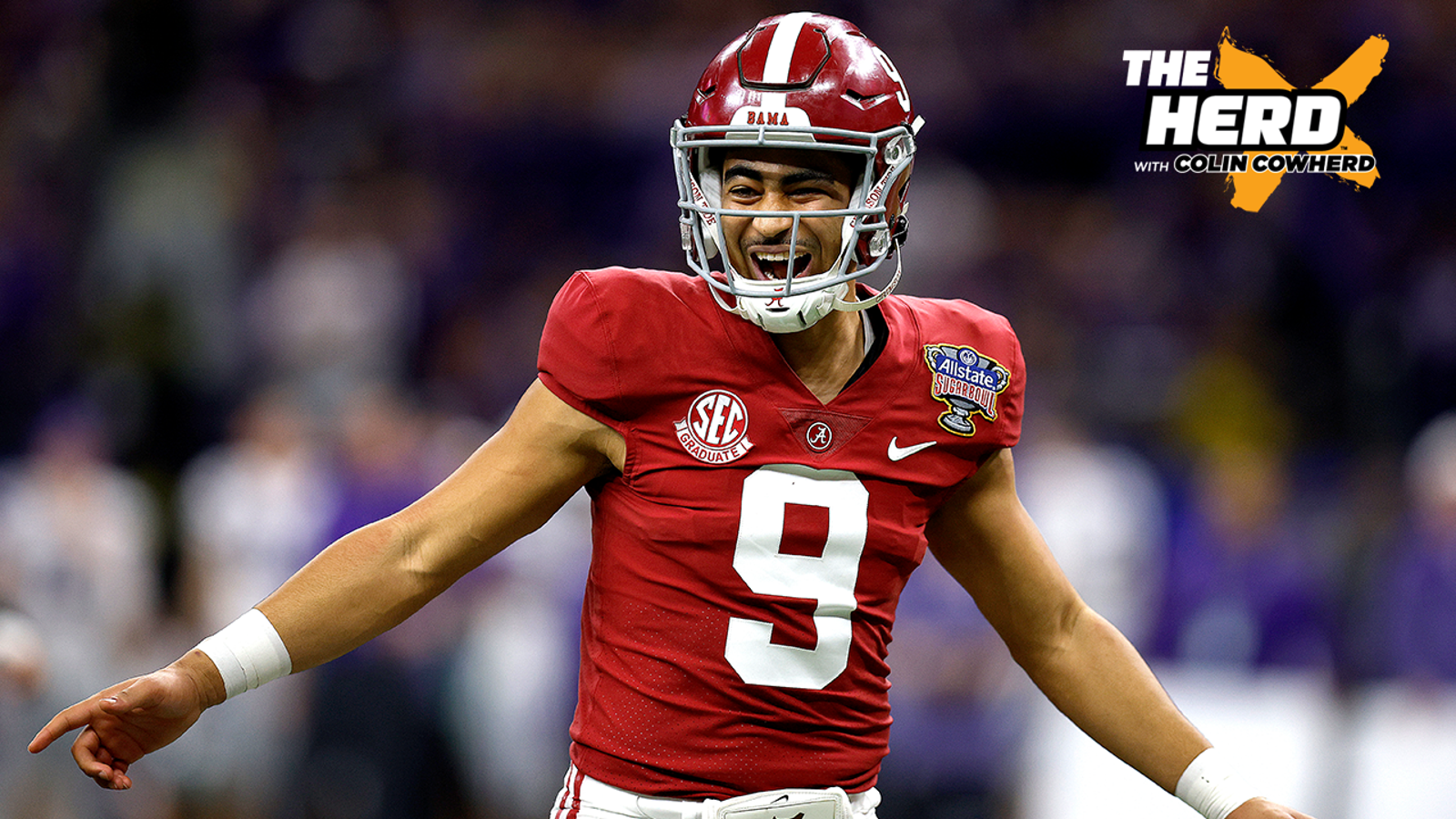 Albert Breer joins Colin Cowherd to share his thoughts on Bryce Young ahead of the NFL Draft and explain why he thinks the QB has Steph Curry qualities.
Colts trade pick No. 4, No. 79 and a 2024 first-round pick to move up to No. 2
2. Indianapolis Colts: Anthony Richardson, QB, Florida 
Falling in love with Richardson and then jumping whoever thinks they're trading with the Cardinals for the No. 3 spot seems exactly the type of thing the Colts would do. Look at owner Jim Irsay's tweet from the other day and tell me we're wrong.
As for the Texans? They aren't a quarterback away from being competitive, and new head coach DeMeco Ryans comes from an organization that builds up the entire team before addressing the quarterback spot. The 49ers are quarterback-proof. The roster is so built up that it doesn't matter as much who is under center and maybe Ryans takes that same approach as the Texans are rebuilding here. It gets them even more capital now and in the future to shorten the process.
Falcons trade picks No. 8, 75 and a 2024 first-round pick to move up to No. 3
3. Atlanta Falcons: C.J. Stroud, QB, Ohio State 
The conventional wisdom all spring was that Stroud would be off the board with the second pick, but will the calculus change if he's not? If Richardson really does go ahead of him, might we see a mad dash for a quarterback who most thought wouldn't be here? The Cardinals undoubtedly want to trade out of this pick, and Desmond Ridder's presence on the roster shouldn't stop the Falcons from jumping up for a guy they can build around. 
Where Bryce Young, C.J. Stroud, Jalen Carter land on Colin Cowherd's 2023 mock draft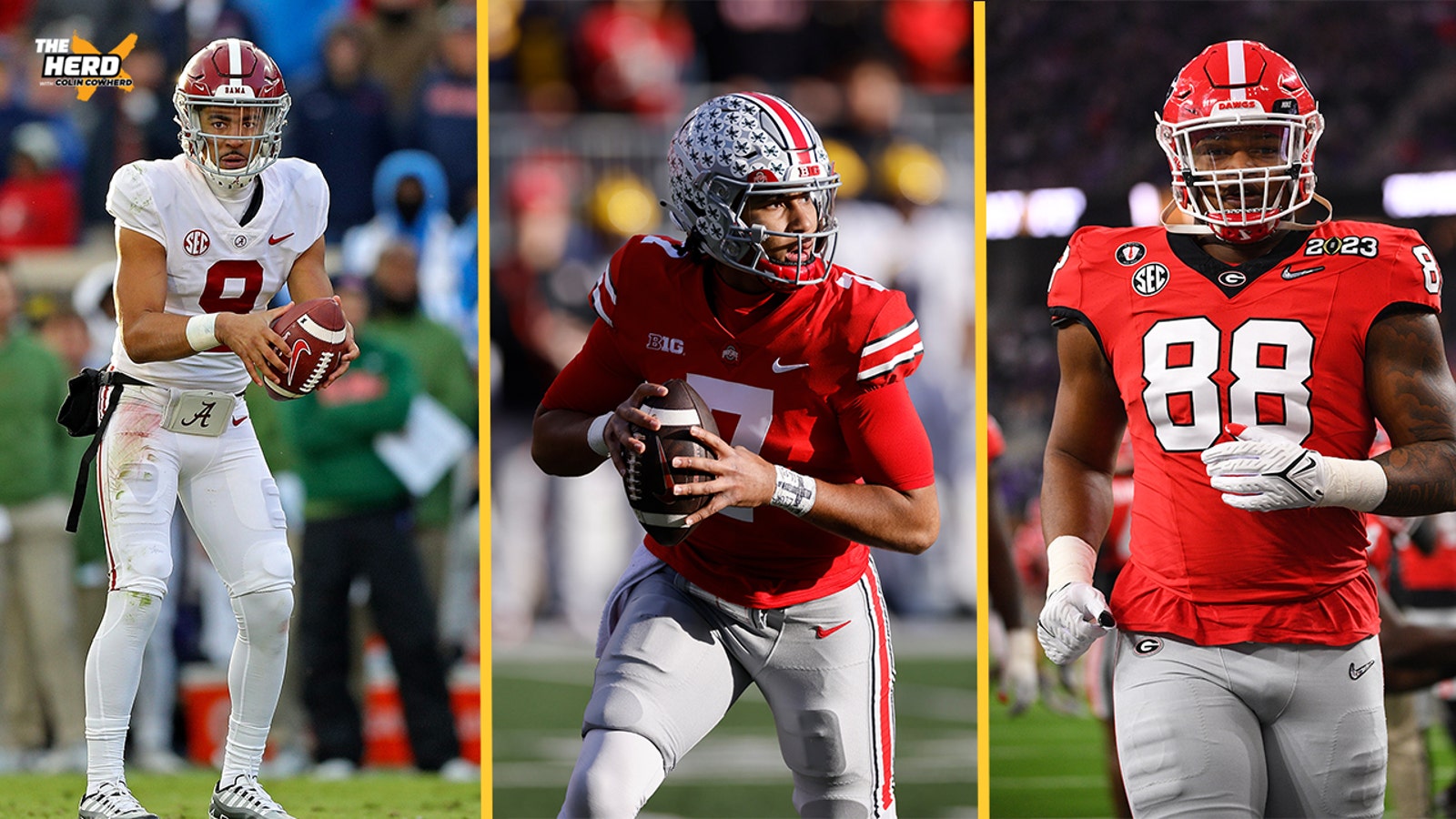 4. Houston Texans: Will Anderson, Edge, Alabama
Ryans is a defensive guy, so after adding capital and knowing Stroud would likely go at No. 3, he now gets the best defensive prospect in the draft at No. 4. As a result, both he and general manager Nick Caserio start to look like they have a plan. 
5. Seattle Seahawks: Tyree Wilson, Edge, Texas Tech
Most view Georgia's Jalen Carter as the best pure prospect in this class, but continued concerns about his maturity might be enough to scare teams away. Seattle needs help all over the defensive front, and league decision-makers continue to rave about Wilson's pro potential.
6. Detroit Lions: Jalen Carter, DT, Georgia
Carter may have the most talent, but he needs to go to the right situation to be successful. There are off-the-field issues with Carter, some of which have nothing to do with the tragic incident a couple months ago in Athens, Georgia. Carter showed up to his pro day overweight and out of shape — so much so that he couldn't finish his workout. There are more red flags there than we are collectively talking about, but winding up with the Lions, where a majority of the coaching staff has high-level playing experience, could be what Carter needs to make the transition to NFL life. We already know he has the talent.
7. Las Vegas Raiders: Devon Witherspoon, CB, Illinois
The Raiders would assuredly be in on a bidding war for the No. 3 overall pick, but they lost out in this scenario. If that's the case, and they don't have a shot at a top-tier quarterback, it's easy to make the case that corner is the most glaring problem on their depth chart. 
8. Arizona Cardinals: Christian Gonzalez, CB, Oregon 
There's no perfect place to start for a team that needs so much, but that's why it was important to trade down. Jonathan Gannon is coming from Philadelphia, where he had an elite cornerback tandem, so grabbing a top-tier prospect at a thin position is a strong starting point.
9. Chicago Bears: Calijah Kancey, DT, Pittsburgh  
The Bears are between a rock and a hard place with their interior defensive line rotation. They've addressed some of the outside rotation, recently signing Rasheem Green, but Chicago still lacks a blue-chip three-tech. Kancey could potentially turn into that and open up opportunities for the outside guys with the way he collapses the pocket. 
10. Philadelphia Eagles: Jaxon Smith-Njigba, WR, Ohio State 
I was really tempted to put Bijan Robinson in this spot, but given the fact that Philadelphia hasn't drafted a running back in the first round since 1986, I don't know that they start now. They just gave quarterback Jalen Hurts a huge payday — now make sure he continues to have multiple options to throw to and take that next step you think he can take. 
Jaxon Smith-Njigba & Bijan Robinson: Top 10 picks in the 2023 NFL Draft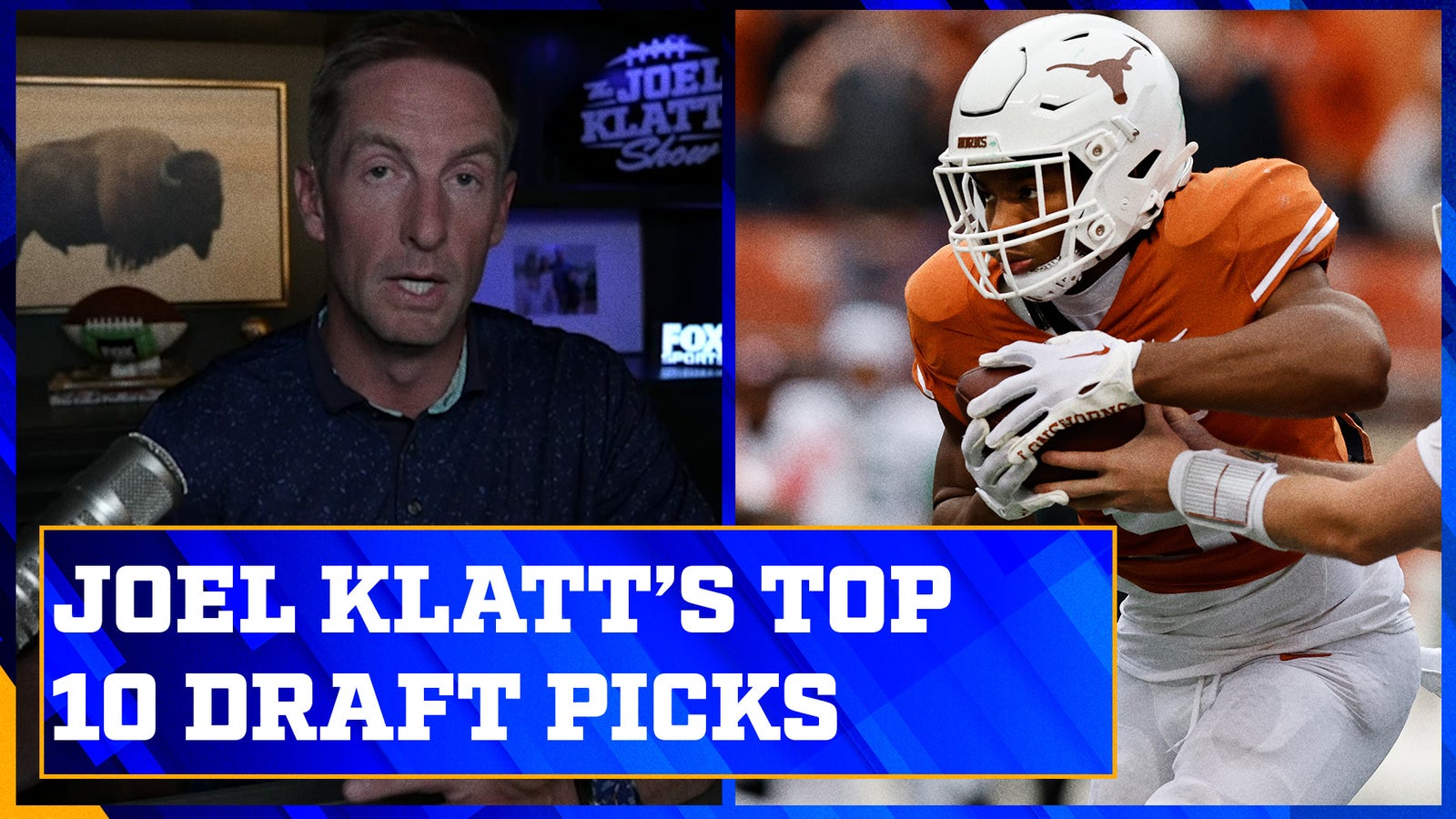 Joel Klatt analyzes Ohio State WR Jaxon Smith-Njigba, Texas Tech edge Tyree Wilson and Texas RB Bijan Robinson.
11. Tennessee Titans: Peter Skoronski, OL, Northwestern 
Ran Carthon gets to sit tight in his first draft as Titans general manager and let this year's best offensive lineman fall to him just outside the top 10. There's debate around the NFL about whether Skoronski is a guard or a tackle at the next level. No problem for Tennessee, as they need help at both spots. 
12. Houston Texans: Zay Flowers, WR, Boston College
The value here remains at wide receiver before Flowers is off the board. The Texans may have Davis Mills under center for now, but they can build a nice supporting cast for whichever quarterback they inevitably draft next year, when the class is even richer. 
Commanders trade picks No. 16 and 97 to New York Jets
13. Washington Commanders: Will Levis, QB, Kentucky 
It's easy for the Commanders to talk up their duo of Jacoby Brissett and Sam Howell now, when it doesn't look likely they'll have a shot at a quarterback. If Levis falls into this range, where a trade up would be more palatable, who knows? Washington needs help on the offensive line, but the roster is honestly in good enough shape that the Commanders can afford to take a swing like this. 
14. New England Patriots: Paris Johnson Jr., OT, Ohio State 
Perhaps the Patriots foolishly thought they could sit pat and let Levis fall to them. It doesn't happen and he gets sniped by the Commanders, who move up. Chalk it up to something Bill Belichick & Co. didn't see coming. Instead, they try to protect who they do have at quarterback, Mac Jones, by getting great value for one of the draft's best tackles. 
15. Green Bay Packers: Dalton Kincaid, TE, Utah 
Does this count as taking a receiver in the first round? I just wanted Green Bay to be petty and address pass-catching needs in the first round for the first time since 2002, when they drafted wide receiver Javon Walker. Admittedly, this pick deviates from the regime's M.O. General manager Brian Gutekunst likes young, very athletic players. Kincaid is coming off injury, but he's the best tight end prospect we've seen since Kyle Pitts. And he fills a big-time need for the Packers.
Bryson Barnes finds Dalton Kincaid on a five-yard TD to put Utah up 21-7 on Washington State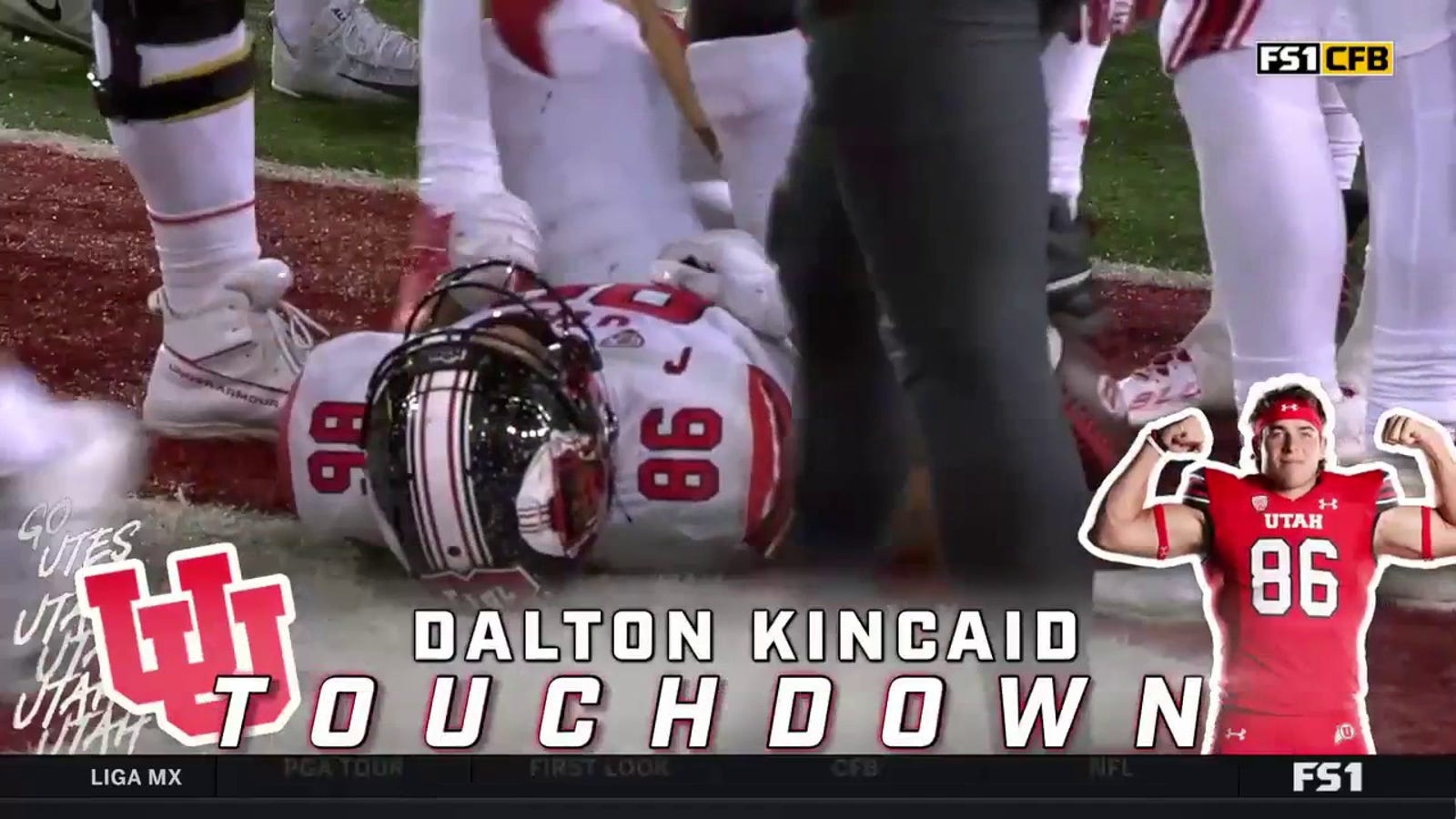 16. New York Jets: Darnell Wright, OT, Tennessee
Joe Douglas had his pick of offensive tackles back at No. 13, but here he managed to add a Day 2 pick while still grabbing a quality prospect in Wright. Maybe you could accuse the Jets of getting too cute in this scenario. But in a world where the Aaron Rodgers trade hasn't gotten over the finish line, every bit of added draft capital helps. 
17. Pittsburgh Steelers: Joey Porter Jr., CB, Penn State
Sorry about the cliché pick, but it just makes too much sense. The Steelers' cornerback depth chart is in obvious need of a boost. Porter Jr. has impressive size and athleticism, and honestly his tape says he should have a shot to go even higher than this. Throw in the part where his dad is Steeler royalty, and it's just too fun to ignore. 
18. Detroit Lions: Quentin Johnston, WR, TCU
This is wonderful value for the Lions, as they get a big-bodied receiver to win on the outside, as well as inside the red zone. Johnston is 6-foot-3 and weighs over 200 pounds so he can grab the 50-50 balls that Amon-Ra St. Brown may not get to. Speaking of St. Brown, Johnston would allow him to own the slot and take some attention off of him. 
19. Tampa Bay Buccaneers: Brian Branch, DB, Alabama 
A versatile safety with nickel corner capabilities? This feels like a Todd Bowles pick to me. The Bucs also need more offensive-line help, but the value on tackles right now didn't seem right. Besides, general manager Jason Licht has found studs on Day 2. Better to use this first pick on a player who can transform the back level of the defense. 
20. Seattle Seahawks: Nolan Smith, Edge, Georgia 
Last year, the Seahawks selected Charles Cross and Abraham Lucas and settled their starting offensive-tackle spots in one draft class. Having already secured Tyree Wilson in the top five, imagine what it'd do for their pass rush to add a superfreak like Smith just 15 spots later. Sure, they need another receiver, but they have two second-round picks to help with that. 
21. Los Angeles Chargers: Bijan Robinson, RB, Texas
Someone is going to draft the Texas superstar in the first round, and the smart money says plenty of people will be critical of the pick. For all the talk about the value of the running back position, this is a perfectly reasonable spot for Robinson to land. And if Austin Ekeler's future lies elsewhere, Justin Herbert would be getting a top-notch weapon who can pay dividends in both the running and passing game.
Joel Klatt's Top 50 Players in the 2023 NFL Draft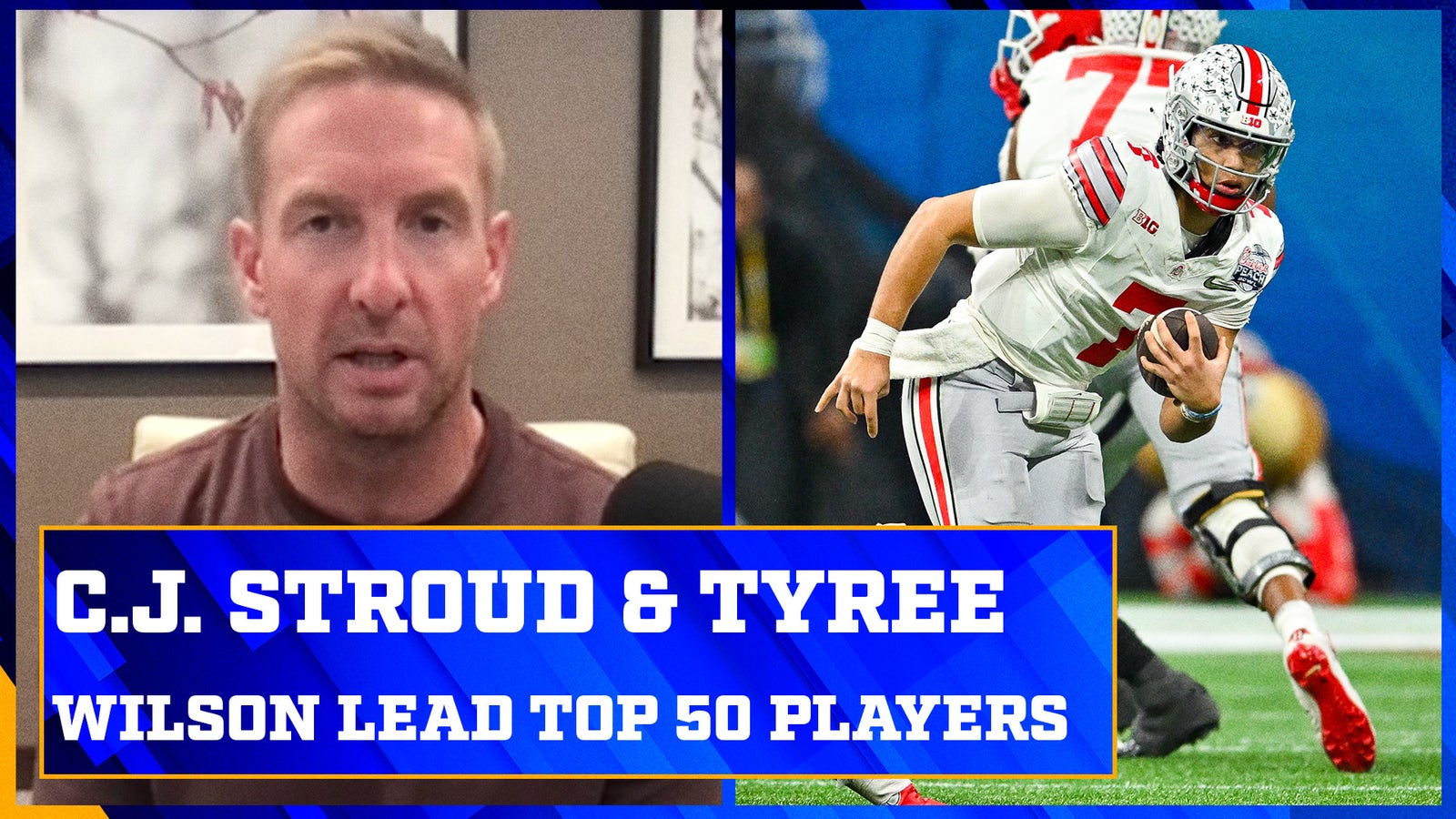 Joel Klatt reveals his top 50 players for the 2023 NFL Draft. Bijan Robinson continues to shine as Joel compares him to 49ers Pro Bowl running back Christian McCaffrey.
22. Baltimore Ravens: Emmanuel Forbes, CB, Mississippi State 
The Ravens seem to be looking for ways to make Lamar Jackson happy, so it was tempting to draft a receiver here. But this organization has a well-won reputation for simply taking the best player on its board. Forbes is shockingly undersized for an NFL corner, but the Ravens are the type to trust the tape.
23. Minnesota Vikings: Myles Murphy, Edge, Clemson
I'm not convinced Za'Darius Smith is actually sticking around, and while defensive tackle is the bigger need, you can always use more edge rushers. Murphy has some experience rotating inside but overall should fit well in new defensive coordinator Brian Flores' aggressive system. 
24. Jacksonville Jaguars: Lukas Van Ness, Edge, Iowa 
At some point the value forces your hand, and that's what happens when Van Ness falls to the Jaguars. They could still use some (young) pass rush help, and Van Ness has something that's intriguing to NFL teams. He'll be a great role player just as he was in college, and that's exactly what the Jaguars could use on defense.  
25. New York Giants: Jordan Addison, WR, USC 
The Giants needed pass-catchers before they re-signed Daniel Jones, and that massive contract only emphasizes the need to put talent around him. Addison gives them a plug-and-play starter who has experience lining up everywhere.
USC's Caleb Williams finds Jordan Addison for a 35-yard touchdown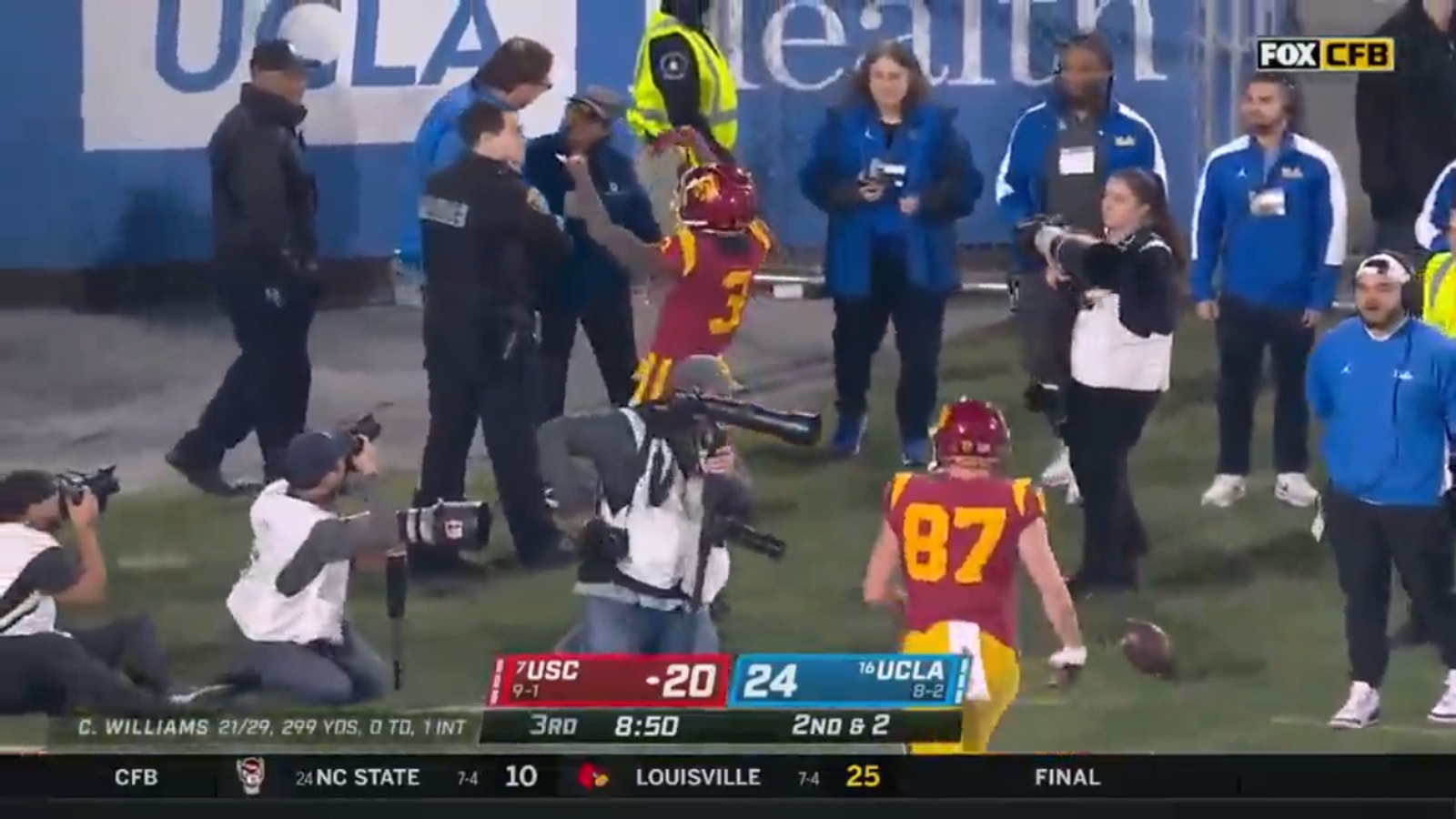 26. Dallas Cowboys: Michael Mayer, TE, Notre Dame
Prior selections make this pick fairly easy. Mayer is the most complete tight end in the class. Dallas could use more pass-catchers, not to mention blocking help. If Bijan Robinson and most of the top receivers are gone, this is a safe and steady way forward.
27. Buffalo Bills: Deonte Banks, CB, Maryland 
The Bills need a better rotation on the outside to guard against injuries and their secondary core is aging. Banks is the best corner left on the board and I didn't see value picks at any of the Bills' other needs — like receiver and offensive tackle — left.
28. Cincinnati Bengals: Dawand Jones, OT, Ohio State 
Just keep building that line until Joe Burrow feels safe. Yes, it's an absurd amount of resources to spend on one position group — but it's arguably the most important position group for Cincinnati's long-term success. Not to mention, if Jones is the pick, it becomes more palatable to trade Jonah Williams for picks or players that can help another part of the roster. 
29. New Orleans Saints: O'Cyrus Torrence, OG, Florida
The Saints need help all along the interior of their offensive line. Who better than this Louisiana native? During the entirety of his collegiate career, both at Louisiana-Lafayette and Florida, Torrence never allowed a sack, according to NFL.com. In his last collegiate season at Florida, he earned All-America honors and an All-SEC nod.
Steelers trade picks No. 32 and 120 to Philadelphia for pick No. 30
30. Pittsburgh Steelers: Broderick Jones, OT, Georgia
The options weren't great at offensive tackle when the Steelers picked at No. 17, and they didn't want to risk losing their guy to Kansas City. A minor trade gets them back into the first round and bolsters their line. The Eagles don't have a fourth-, fifth- or sixth-round pick heading into this draft, so even a small move makes sense to help them add Day 3 draft capital.
31. Kansas City Chiefs: Bryan Bresee, DT, Clemson 
How do things just work out this well for the Chiefs? One of their biggest needs is defensive tackle and they end up with one of the three best at the position at pick No. 31. 
Carmen Vitali covers the NFC North for FOX Sports. Carmen had previous stops with The Draft Network and the Tampa Bay Buccaneers. She spent six seasons with the Bucs, including 2020, which added the title of Super Bowl Champion (and boat-parade participant) to her résumé. You can follow Carmen on Twitter at @CarmieV.
David Helman covers the Dallas Cowboys for FOX Sports. He previously spent nine seasons covering the Cowboys for the team's official website. In 2018, he won a regional Emmy for his role in producing "Dak Prescott: A Family Reunion" about the quarterback's time at Mississippi State. Follow him on Twitter at @davidhelman_.
Top stories from FOX Sports:  
FOLLOW
Follow your favorites to personalize your FOX Sports experience
---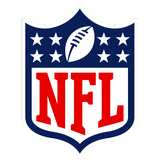 Get more from National Football League Follow your favorites to get information about games, news and more
---