The NFL roster crunch is on. The deadline for every team to cut down to a 53-man roster is Aug. 29 at 4 p.m. ET. Heading into the final weekend of preseason play, there are still many underdogs fighting to make teams. Check out our All-Hype Team, featuring players who are turning heads in training camps and preseason games.
But in the waning days before the regular season starts on Sept. 7, final rosters will also be determined by trades, some of which could involve former first-round draft picks, Pro Bowlers and franchise stalwarts. Here are nine potential trade candidates to keep an eye on as the roster clock ticks down.
RB Jonathan Taylor, Indianapolis Colts
Taylor requested a trade last month amid his contract dispute with the Colts, who initially had no intention of dealing him. Now that stance has reportedly changed, with Indianapolis giving the star running back permission to seek a trade, according to a report Monday. While not impossible, reconciliation between Taylor and Colts seems unlikely. 
[Related: If Jonathan Taylor is traded, nobody loses more than Colts QB Anthony Richardson]
When healthy, Taylor is one of the best tailbacks in the NFL. He was a first-team All-Pro in 2021 as the league's rushing triple crown champion (332 carries for 1,811 yards and 18 touchdowns). But even at 24 years old and one of the best offensive weapons in the NFL, Taylor's trade value is complicated by the position he plays and his health. He missed six games last season with a high-ankle sprain. He had the ankle surgically repaired in January, which kept him out of the offseason program and has kept him on the Physically Unable to Perform list at training camp. His timetable for return is unclear. 
Possible destination: The Miami Dolphins, who with a healthy Tua Tagovailoa are one of the best teams in the AFC. But their run game is underwhelming. They tied for 25th in the NFL last season with 99.2 rushing yards per game, and De'Von Achane — a rookie third-round pick — could be out for a while with a shoulder injury suffered in a preseason game against the Texans on Aug. 19.
Colts RB Jonathan Taylor generating trade interest, per reports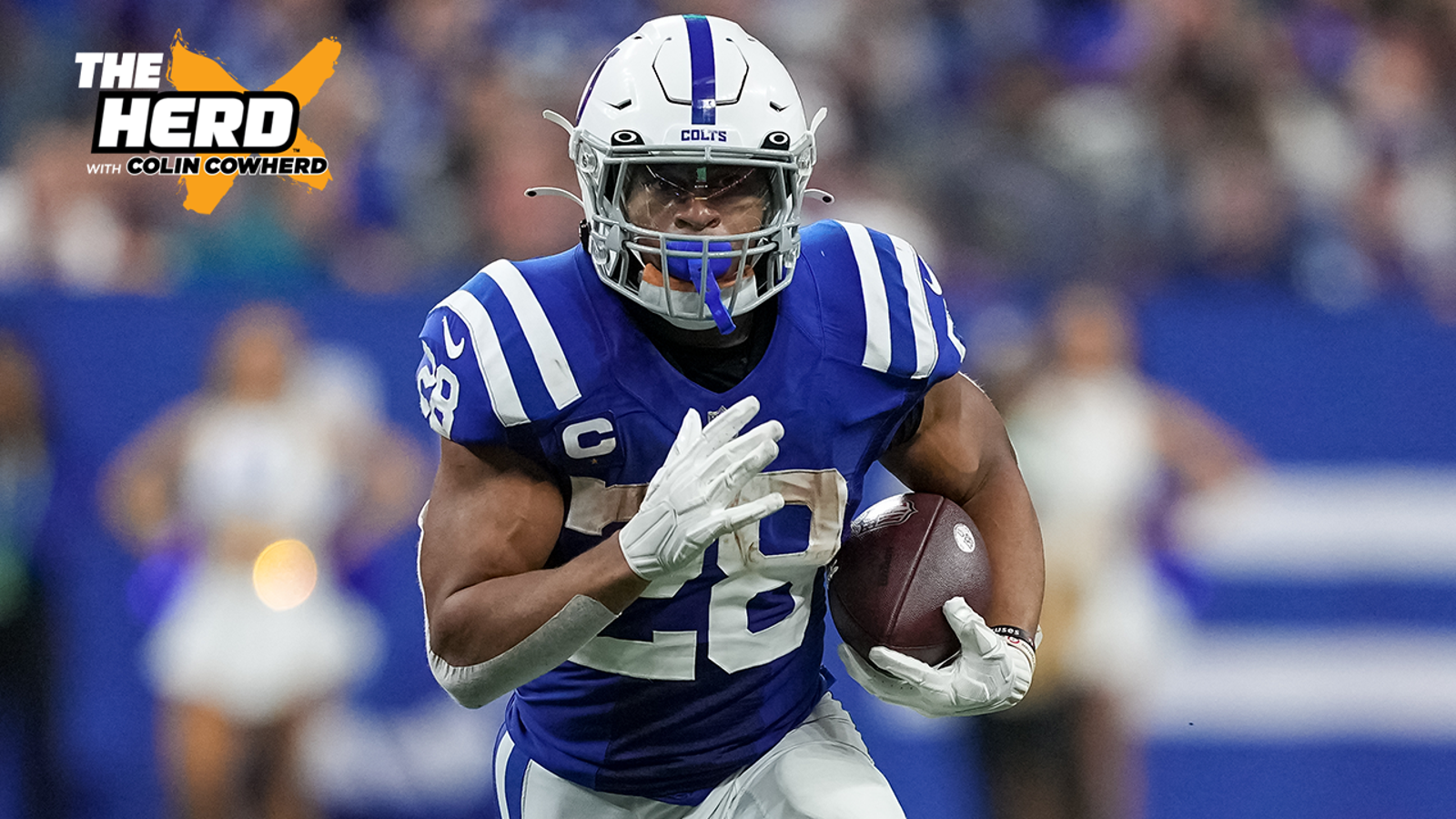 DE Derek Barnett, Philadelphia Eagles 
Eagles GM Howie Roseman rarely gives up on talent, but he's also not opposed to dealing excess talent to get future picks. And Barnett is definitely excess talent on a loaded Eagles defensive line. They'd be happy to keep him, since Barnett was once talented enough to be a first-round pick (2017). They also believed in him enough to sign him to a two-year, $14 million contract before last season. 
But while Barnett has been a good pass rusher — with 21.5 sacks in 65 career games — he has never quite lived up to his potential. Maybe there's some team in need of pass-rushing help that would be willing to take a shot that he can make it all the way back from the torn ACL he suffered in last season's opener. He's still only 27, so he might not be done yet. 
Possible destination: The Jacksonville Jaguars, and the head coach — Doug Pederson — who led Philly when the Eagles drafted Barnett.
RB Antonio Gibson, Washington Commanders 
In a must-win season for Ron Rivera, with a 22-year-old quarterback at the helm, don't count on the Commanders trading away offensive weapons. It's also possible that new offensive coordinator Eric Bieniemy has bigger plans for Gibson than former offensive coordinator Scott Turner did last season, especially since Gibson is a capable receiver out of the backfield. But the Chiefs offense that Bieniemy is bringing with him isn't running back-heavy. Plus, Brian Robinson Jr. is the lead back in D.C., and Bieniemy has seemed enamored with Chris Rodriguez, the Commanders' sixth-round pick. 
Washington would be better off keeping its depth, but if any team loses a running back and needs an inexpensive option in the final year of a contract, maybe it could make an offer that would at least be tempting to the Commanders. 
Possible destination: The Denver Broncos. Sean Payton could use Gibson the way he used Alvin Kamara in New Orleans, and it would hedge their bets against Javonte Williams' recovery from his ACL tear.
TE Daniel Bellinger, New York Giants 
They probably won't deal him because of Darren Waller's injury issues the past two seasons, but Bellinger was really impressive at times as a fourth-round pick last year. Now he's in a very reduced role with Waller expected to be featured heavily in the Giants' new-look offense. 
Not only that, but the Giants signed Tommy Sweeney — an ex-Buffalo Bill, which is something Brian Daboll and GM Joe Schoen love — and the coaches really like converted receiver Lawrence Cager. With Bellinger's potential as a receiver — 30 catches for 268 yards and two touchdowns in 12 games last year — maybe the Giants can recoup the fourth-round pick they used on him. 
Possible destination: The Washington Commanders. Who needs a tight end more? Bellinger isn't exactly Travis Kelce, but Washington needs a better receiving tight end than they have to run Eric Bieniemy's Chiefs-like offense. Plus, they'd have to pay a premium for an intra-division trade.
QB Trey Lance, San Francisco 49ers
San Francisco gave up three first-round selections and a third-rounder to select the North Dakota State project No. 3 overall in the 2021 draft, and now there's a possibility he could be the third quarterback on the depth chart when the season begins in September. 
Lance has two years remaining on his rookie deal. And with the injury issues the 49ers had at quarterback last season, along with Lance's low trade value, San Francisco seems more likely to keep the 23-year-old on the roster rather than move him. However, Brock Purdy remains the unquestioned starter and there are two quarterbacks (Sam Darnold and Brandon Allen) who could serve as able backups, so perhaps San Francisco would entertain a trade for the right price?
Former NFL scout says 49ers QB Trey Lance is "fool's gold"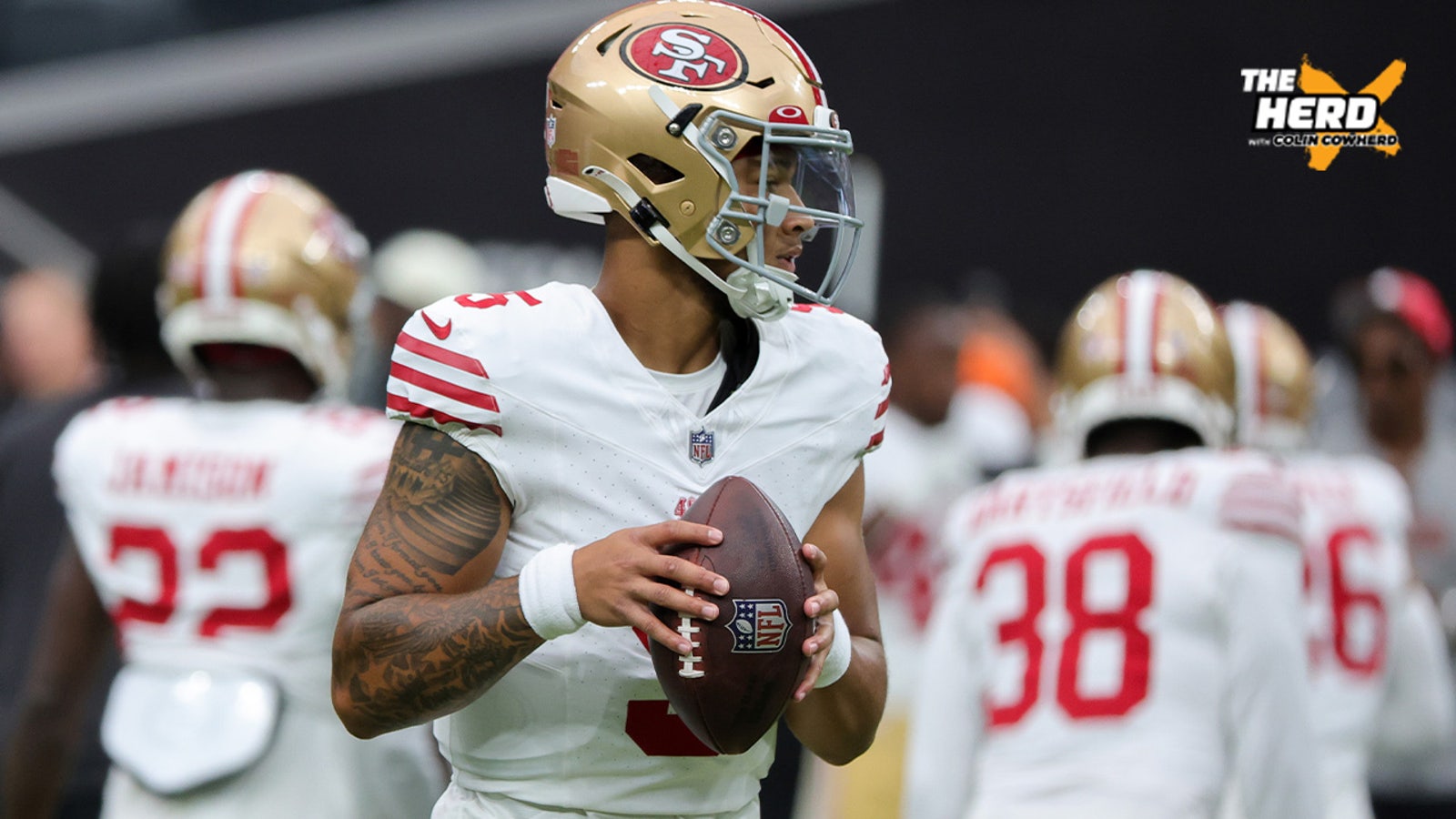 Possible destination: The Tennessee Titans, where former San Francisco personnel executive Ran Carthon is now the general manager. His team could use a backup behind Ryan Tannehill, with Will Levis and Malik Willis struggling during exhibition play. Adding a third young QB doesn't seem likely, but there aren't many clean fits for Lance.
WR Kendrick Bourne, New England Patriots 
New England has been much higher on Bourne this offseason than last year. But that's not saying much, given that Bourne practically worked his way off the depth chart under the leadership of offensive playcaller Matt Patricia. With Bill O'Brien now serving as the Patriots' offensive coordinator, Bourne looks to be in good standing. But that's also what makes him a solid trade chip. 
He has solid value, given his potential and modest contract ($5.5 million against the cap for his next team). The Patriots seem to like the two rookies they've brought into the building, Demario Douglas and Kayshon Boutte. They have another young developmental receiver in second-rounder Tyquan Thornton. And they have two veterans who just got new contracts: DeVante Parker and JuJu Smith-Schuster. New England can afford to wave goodbye to Bourne.
Possible destination: The Houston Texans, where C.J. Stroud is going to need help. Former Patriots executive and current Texans GM Nick Caserio might see Bourne as a one-year stopgap to bring veteran experience to a group that's comprised mostly of first and second-year players. 
CB Noah Igbinoghene, Miami Dolphins 
Miami is in a tricky spot with Igbinoghene, who is completely bought-in on defensive coordinator Vic Fangio's system. The team spent a first-rounder on Igbo in 2020, but he has yet to develop into a usable piece in the defense. He has served as a backup cornerback but whenever he sees the field, he also sees a high volume of targets.
In preseason, he has been OK, with 27 coverage snaps, three targets and three catches allowed for 27 yards. Now that he's starting to show promise, it might actually be the best time to get value in return for him. Miami drafted cornerback Cam Smith, who is likely to start alongside Xavien Howard. Ibinoghene could help the Dolphins recoup some draft value before he takes off in the coming offseason.
Possible destination: The Detroit Lions, who had one of the worst passing defenses in the NFL in 2022 and worked toward an overhaul at the cornerback position through free agency. Igbo can help them with depth behind their acquisitions.
RB Michael Carter, New York Jets 
The Jets added Dalvin Cook, and Carter quickly began to suggest his standing with the team was no longer solid. "Coach told me this won't change anything for me, but it might," Carter said. "All I can do is grind and let the chips fall where they may." And while some saw the team's decision not to play Carter in Week 2 of the preseason as a sign he was a roster lock, it could also be a precursor to a potential trade. 
It's pretty simple: The Jets don't need Cook, Breece Hall, Carter, Israel Abanikanda and Bam Knight. Carter is the most valuable player who is also somewhat expendable.
Possible destination: The Las Vegas Raiders. Josh Jacobs is expected to report for Week 1, but he won't be physically prepared for the NFL season. It doesn't matter how strong he is — football shape is just different. The Raiders would benefit from Carter in their offense. (And they can ill afford a slow start, which could put coach Josh McDaniels on the hot seat.) Carter also has two more years on his rookie deal. 
LT David Bakhtiari, Green Bay Packers
Just kidding. Green Bay can shave more than $20 million off their cap next year. This year's savings would be minimal and to what? Leave first-year starter Jordan Love without a left tackle? Plus, GM Brian Gutekunst came out and explicitly said the words, "We're not trading David." 
So that's that.
Compiled by:
AFC South reporter Ben Arthur (@benyarthur)
NFC South reporter Greg Auman (@gregauman)
Dallas Cowboys reporter David Helman (@davidhelman_)
AFC East reporter Henry McKenna (@McKennAnalysis)
NFC West reporter Eric D. Williams (@eric_d_williams)
NFC East reporter Ralph Vacchiano (@RalphVacchiano)
NFC North reporter Carmen Vitali (@CarmieV)
---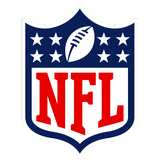 Get more from National Football League Follow your favorites to get information about games, news and more
---