Michael Cohen
College Football and College Basketball Writer
On Oct. 9, 2021, an undefeated Michigan team traveled to Nebraska for a primetime showdown with the Cornhuskers. The Wolverines were 6-0, ranked No. 9 nationally and would later defy the odds by toppling Ohio State to reach the College Football Playoff for the first time in school history. 
But nothing about that night at Memorial Stadium was easy. Michigan entered the fourth quarter trailing by a field goal and needed 13 points in the final 11:21 to escape with a 32-29 win. The Cornhuskers had pushed head coach Jim Harbaugh's group to the brink.
There were some who believed Saturday's return to Lincoln could prove similarly difficult, with winds gusting north of 30 miles per hour and Nebraska having won back-to-back games after a sluggish start. But nothing about what ended as a 45-7 win looked challenging for the most talented team Harbaugh has ever coached. The offense cruised, the defense hardly broke a sweat and the Wolverines showed that they are ranked second in the nation for a reason. It's hard to imagine Michigan's first road game playing out any smoother. 
Here are some quick takeaways from the game: 
Player of the game
There's little about the final stat line from Michigan quarterback J.J. McCarthy that will catch the eyes of anyone perusing box scores from Saturday's slate of games. He completed 12 of 16 passes for 156 yards and two touchdowns with a long gain of just 29 yards. A far cry from the expansive output of USC's Caleb Williams and Colorado's Shedeur Sanders in a high-flying shootout on "Big Noon Kickoff" earlier in the day.
But everything McCarthy did oozed the kind of poise and control that have Michigan fans believing in this team's potential to compete for a national title. He completed exactly 75% of his passes while only misfiring on back-to-back throws once, in the second quarter, a drive that finished as the Wolverines' only punt with McCarthy under center. He chipped in a 21-yard rushing touchdown and produced five scoring drives on six total possessions.
Overall, the Wolverines converted more than 70% of the time on third and fourth down before McCarthy was pulled with more than 18 minutes remaining and a 35-point lead. 
Play of the game
Though it happened on just the 11th play from scrimmage, there was little question that the touchdown catch by Michigan wideout Roman Wilson would be remembered as the standout moment from a contest that quickly got out of hand. 
Facing second-and-2 from the Nebraska 29-yard line, McCarthy dropped back to pass against a timid Nebraska rush. He held the ball, assessed his options and held the ball some more before rolling right and uncorking a laser into double coverage toward Wilson in the back of the end zone. The pass whizzed beyond the outstretched arm of defender Omar Brown, who was converging from the left, and came to a halt against the back of Isaac Gifford's helmet as Wilson leaped into the air and pinned it there for one of the most incredible catches this season. 
Wilson maintained his grip on the ball and, subsequently, Gifford's helmet as he tapped both feet on the ground and fell to the turf for the game's opening score. It was Wilson's seventh touchdown of the season to bring him within a whisper of his total from the previous three years combined (one in 2020, three in 2021, four in 2022). 
Roman Wilson makes an unreal touchdown catch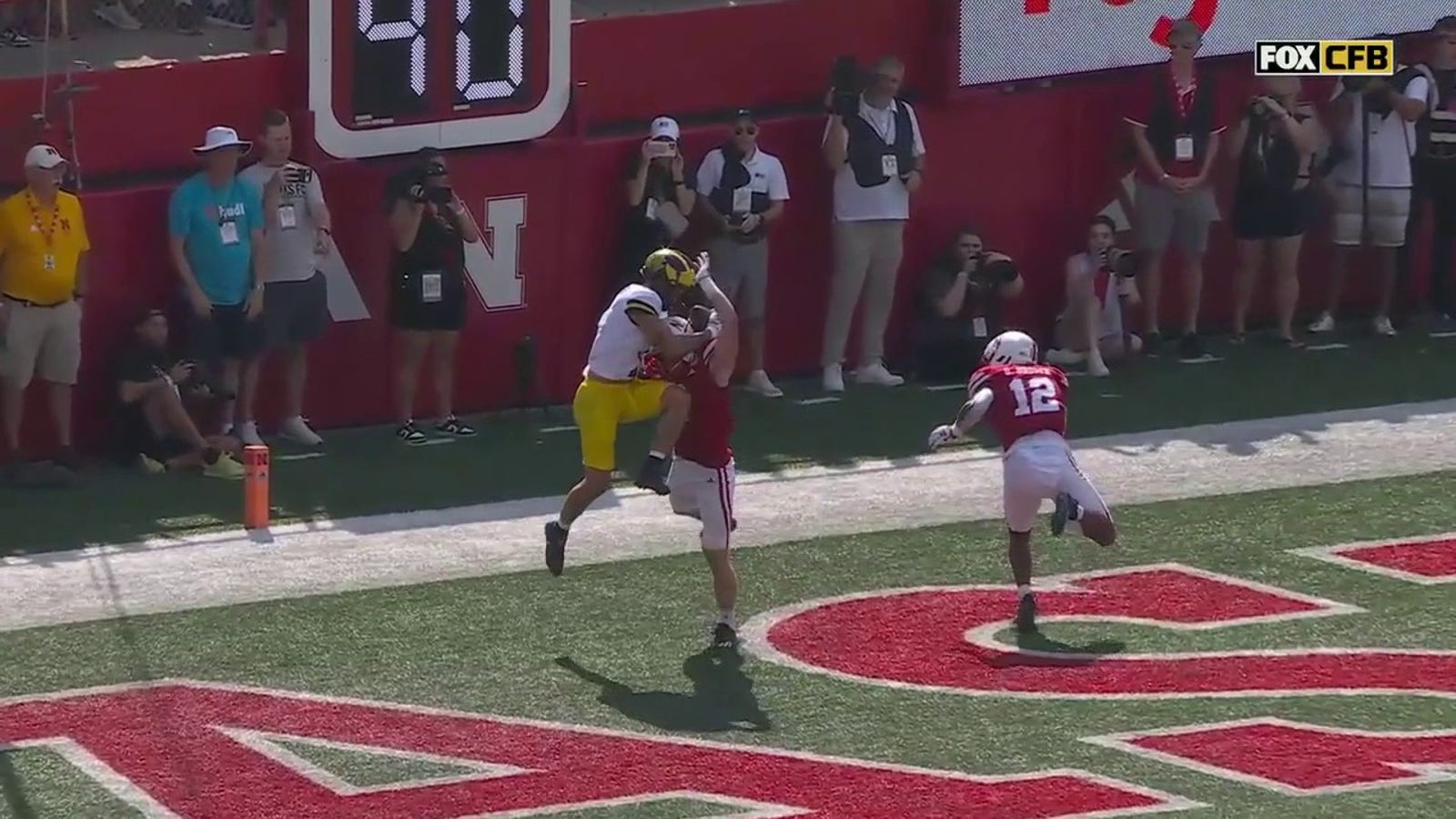 Turning point of the game
The explanation from Nebraska head coach Matt Rhule to FOX Sports' sideline reporter Allison Williams said it all between the first and second quarter of Saturday's game. Williams asked Rhule, who is in his first year with the Cornhuskers, why he kept his offense on the field for a fourth-down attempt from the Michigan 12-yard line instead of kicking a high-percentage field goal. Rhule's answer dripped with honesty: Nebraska, he said, was trying to win the game. 
What Rhule meant was that field goals were never going to be enough to topple the opposition when the second-ranked Wolverines already led by 14 points before the end of the first quarter. Rhule knew the Cornhuskers needed touchdowns, so he rolled the dice from the Michigan 12-yard line with a designed run for quarterback Heinrich Haarberg. 
Initially, the play appeared to have a chance as Haarberg readied himself for a running jump through the middle. But Michigan edge rusher Braiden McGregor collapsed the protection by shoving tight end Luke Lindenmeyer into Haarberg's launch zone. The brushing contact was enough to disrupt Haarberg, who was stopped short for a turnover on downs. 
Nine plays later, McCarthy breezed into the end zone on a 21-yard run that extended Michigan's lead to three insurmountable touchdowns. 
Key stat
Nebraska entered the weekend with the second-best rushing defense in the country having surrendered just 46.3 yards per game through the opening month of the season. Even when narrowing the focus to Power 5 opposition, the Cornhuskers had only allowed 55 yards on 25 carries to Minnesota and 58 yards on 33 carries to Colorado.
None of that stoutness was evident during Saturday's bruising loss to Michigan in which Nebraska was bullied off the ball by back-to-back winners of the Joe Moore Award. It hardly mattered that offensive coordinator Sherrone Moore, who doubles as the Wolverines' offensive line coach, swapped the personnel at both tackle positions to insert Arizona State transfer LaDarius Henderson on the left and move Karsen Barnhart to the right. Nor did it particularly matter who ran the ball, be it McCarthy or tailback Blake Corum or converted linebacker Kalel Mullings. Together they averaged 5.5 yards per carry.
Time and again, Michigan converted effortlessly on third and fourth down by displacing the Cornhuskers at the line of scrimmage, and many of those successes were bludgeoning carries in short-yardage situations. After allowing 249 rushing yards, it's back to the drawing board for Nebraska's defense. 
What's next for Michigan?
After making sure his team passed its first road test by dismantling Nebraska, head coach Jim Harbaugh will bring the Wolverines to Minnesota next weekend for a second consecutive challenge away from home. Michigan should open as significant favorites over the Gophers, who struggled through a 35-24 win over Louisiana on Saturday, in what continues to be a weakened midsection of the Big Ten schedule. The Wolverines aren't expected to face a ranked opponent until traveling to Penn State on Nov. 11, which is part of a difficult closing stretch that features additional games against Maryland and Ohio State, both of which are undefeated. 
What's next for Nebraska?
For those keeping track of Nebraska's season, the ledger looks something like this: zero wins in three attempts against Power 5 opponents (Minnesota, Colorado, Michigan); two wins in two attempts against non-Power 5 opponents (Northern Illinois and Louisiana Tech). Such is the state of the Cornhuskers rebuild under Rhule, who understood the magnitude of the task at hand when he expected the job last fall. Nebraska travels to Illinois next weekend before hosting Northwestern and Purdue in consecutive home games that might represent Rhule's best chance at building some momentum before a challenging month of November. 
Michael Cohen covers college football and basketball for FOX Sports with an emphasis on the Big Ten. Follow him on Twitter at @Michael_Cohen13.
---
COLLEGE FOOTBALL trending
---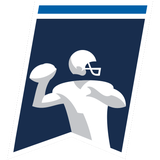 Get more from College Football Follow your favorites to get information about games, news and more
---