Litman Lake
Football and college football analyst
There is a lot of pressure on Oklahoma this year, more than the program has felt in a while. That's because the Sooners finished 6-7 in head coach Brent Venables' first season, the program's worst loss since 1998, the year before Bob Stoops was hired.
It's also Oklahoma's last season playing in the Big 12 before moving to the SEC with Texas in 2024, and it certainly doesn't want to leave the league it's been in for more than 20 years on a sour note. It's a strange feeling to see OU in this position. Stoops created a juggernaut and Lincoln Riley kept things going without going down. But when he left for USC, Riley took Heisman Trophy-winning quarterback Caleb Williams and wide receiver Mario Williams with him, leaving the following staff in a lurch.
Venables took it and made it through Year 1. Heading into 2023, he has taken advantage of the transfer window, especially on defense, which finished 122nd out of 131 teams last season. It was an uncomfortable spot for a defensive guru like Venables, as his unit gave up 461 yards and 30 points per game.
While OU has lost some of the top talent it had, including leading receiver Marvin Mims Jr., leading rusher Eric Gray and tight end Brayden Willis, it returns veteran quarterback Dillon Gabriel. Even with Oklahoma's poor season, Gabriel was the second-most productive quarterback in the Big 12 (behind Spencer Sanders, who transferred from Oklahoma State to Ole Miss) and his experience will be critical for the OU success in 2023.
With all that in mind, here are some stories surrounding the Sooners as they begin spring ball.
Is Brent Venables the right man for the job?
For years, Venables was annually the most popular name on the coaching carousel. He was happy in his defensive coordinator position at Clemson, where he and Dabo Swinney led the Tigers to two national championship victories against Alabama in 2016 and '18. It was always going to take the perfect job for him to leave.
Texas and Oklahoma exit the Big 12 early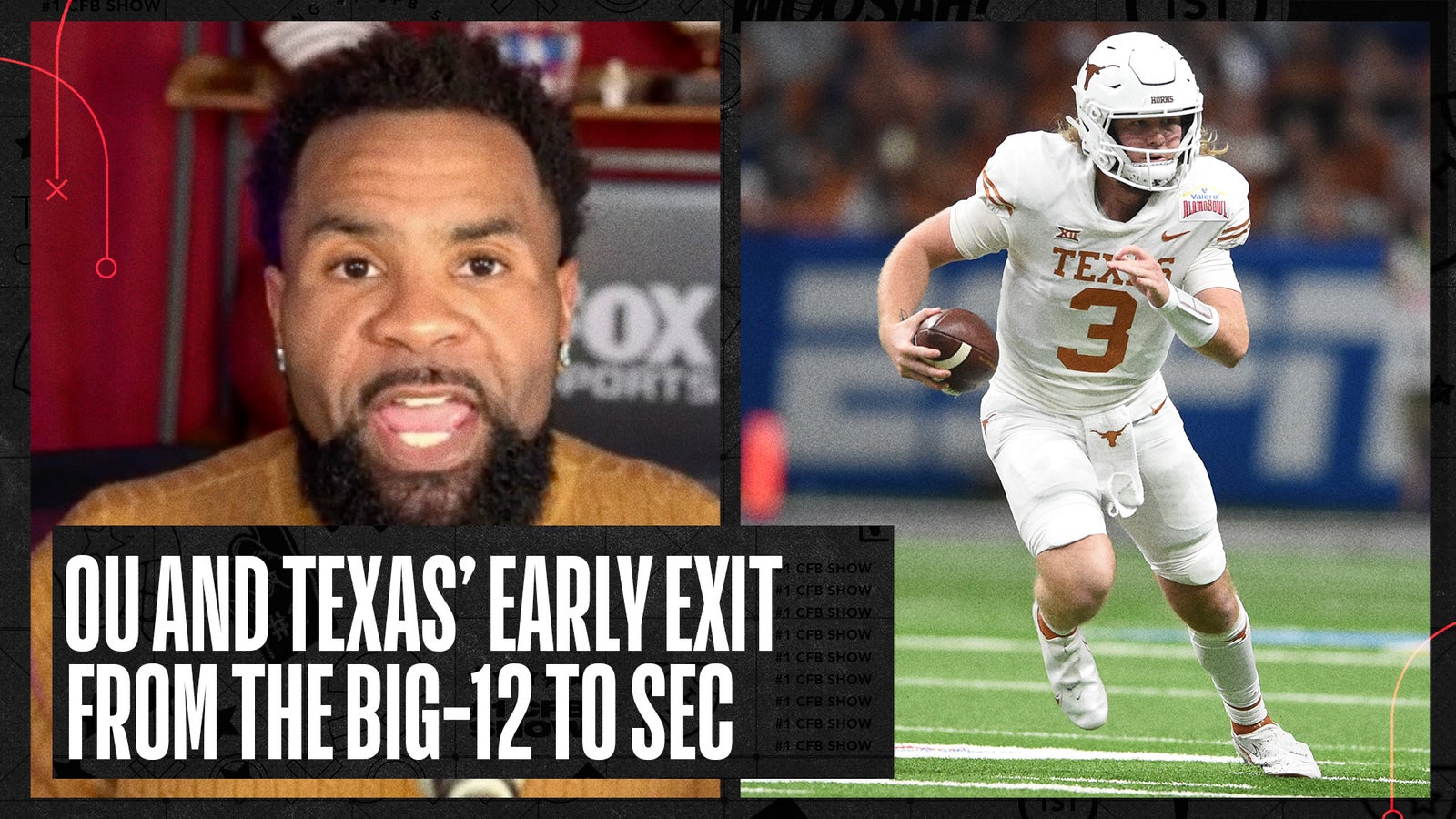 RJ Young shares his thoughts on Oklahoma and Texas leaving the Big 12, and reflects on what it means for the CFB.
Oklahoma was—is—that job. Venables' career began in the Big 12. He played linebacker at Kansas State before coaching at his alma mater for six seasons and later being hired at OU as defensive coordinator and associate head coach under Stoops. OU was the dream setting for the nation's most prized coordinator.
But then his first season in 2022 was a disaster. That included a 31-point loss to TCU the week before a historic 49-0 rout by Texas in the Red River Showdown. It was the program's worst loss in rivalry history. To cap things off, the Sooners ended the season with a narrow 35-32 loss to Florida State in the Cheez-It Bowl.
It's silly to think that Venables' head could be about to come off after a bad year. Even Stoops had some bad seasons in Norman, including his first two. But there is significant pressure on Venables in Year 2 to turn things around, especially before the Sooners join the SEC.
With a top-five recruiting class for 2023 and the Big 12's most productive returning quarterback, are things looking up for Venables and the Sooners this year?
Dillon Gabriel integral to OU's success
As unpleasant as Oklahoma's 2022 season was, Gabriel was the bright spot. The rising senior completed more than 60 percent of his passes for 3,168 yards with 25 touchdowns and just six interceptions. He missed one game, the painful loss against Texas, with an injury. But he's the best quarterback in the Big 12 for 2023, and no one would be surprised if he somehow wants the Sooners to a conference title.
Gabriel has experience now after one season working with offensive coordinator Jeff Lebby, with whom he maintains a close relationship. Gabriel understands the offense, can bring in younger players and will provide that leadership and stability for an offensive line that lost three starters to the NFL, including potential first-round pick Anton Harrison.
OU's offense wasn't the problem last year: Gabriel led a unit that ranked 13th nationally in total offense and scored 32.8 PPG. Compare that to a defense that gave up 30 PPG. While Gabriel isn't the same caliber as some of Oklahoma's recent star quarterbacks like Baker Mayfield, Kyler Murray, Jalen Hurts and Williams, he's still a veteran guy who can help set the program up for success and take l of his current funk.
Waiting in the wings is five-star QB Jackson Arnold, who enrolled early and is expected to be the next big thing in Norman. Rated as the nation's top quarterback, Arnold was also the Gatorade National Player of the Year and celebrated the Sooners' 2023 class together after Riley left for LA.
Dillon Gabriel to Jalil Farooq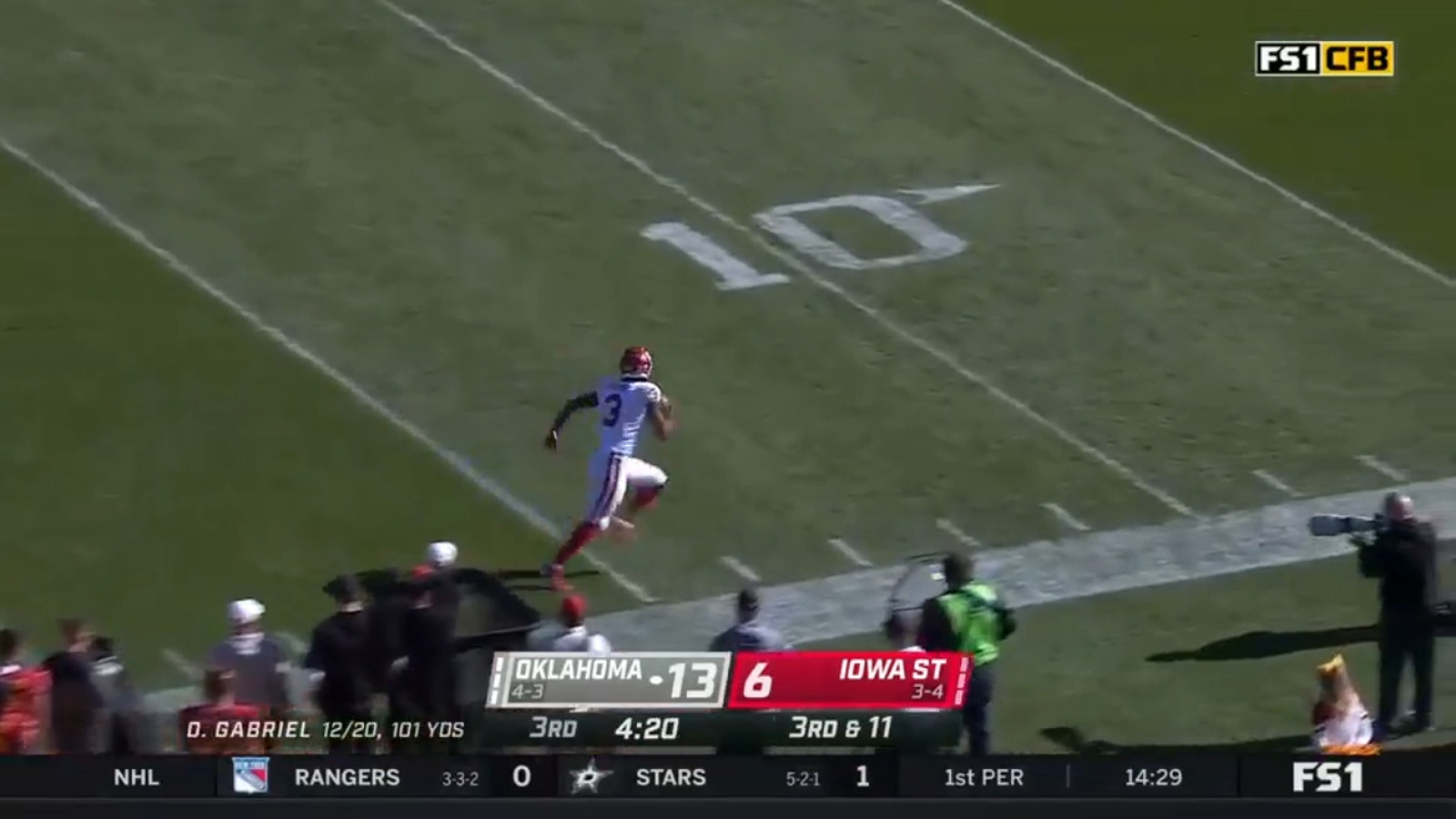 The Oklahoma Sooners may have seen a glimpse of their future on this play against Iowa State last season.
But who will Gabriel give the ball to?
All of this speaks of Gabriel, but what we don't really know is who will catch his passes. Their best players left for the NFL, so it will take overtime with younger, less experienced guys to get this offense clicking and scoring a lot of points.
Guys to watch include Jalil Farooq, a rising junior wide receiver who finished fourth on the team last season behind Mims, Willis and Drake Stoops with 37 catches for 466 yards and five touchdowns. The former four-star recruit is 6-foot-1, 203 and started nine games last year. The Sooners also got some help from the transfer portal, snagging Michigan wide receiver Andrel Anthony, who could make an immediate impact.
Fans should also be excited about running back Jovantae Barnes. His name might be more familiar, as the sophomore was the No. 2 rusher behind Gray last season with 519 yards and five touchdowns. When Gray opted to sit out the Cheez-It Bowl, Barnes, who is a bit bigger than his predecessor, stepped up and ran for 108 yards and a touchdown in the loss to FSU.
Regardless of who shines this spring, the most important thing here is that the Sooners have Gabriel to lead the way.
Laken Litman covers college football, college basketball and soccer for FOX Sports. He previously wrote for Sports Illustrated, USA Today and The Indianapolis Star. She is the author of "Strong Like a Woman," published in the spring of 2022 to commemorate the 50th anniversary of Title IX. Follow her on Twitter @LakenLitman.
FOX Sports Top Stories:
---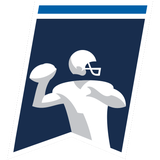 Get more from college football Follow your favorites for information on games, news and more
---