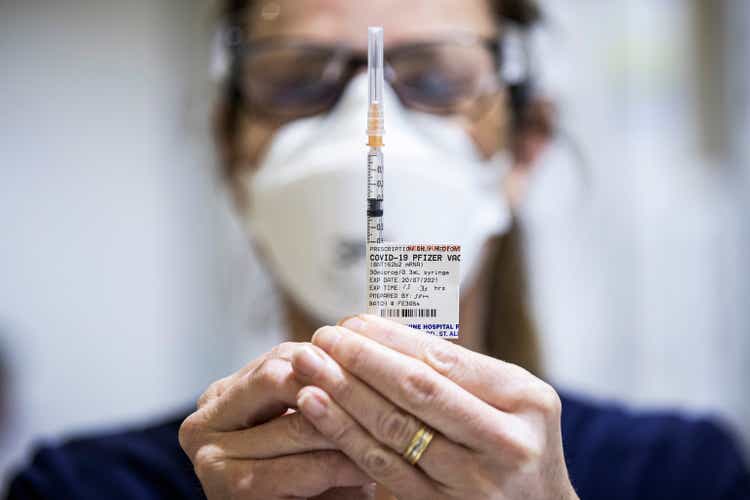 Pfizer (NYSE:PFE) is one of the largest and most famous pharmaceutical companies that specializes in the development and commercialization of vaccines and medicines to combat viral, oncological, and immune-inflammatory diseases. Thanks to an effective business management system, Pfizer's portfolio has many blockbuster drugs such as Prevnar, Ibrance, Eliquis, Vyndaqel, and Comirnaty, which became the best-selling pharmaceutical product in 2021. The company's aggressive M&A policy contributes to obtaining the most promising developments in the market, which strengthen Pfizer's leadership position in many therapeutic areas and thereby improve the company's financial position. A high dividend yield of 3.02%, quarter-on-quarter growth in cash flow and revenue, and an extensive portfolio of product candidates and medicines make Pfizer a candidate for investors with a long-term investment strategy.
Company's Financial Position
Under the leadership of Albert Bourla, the company earned $25,661 million in Q1 2022, up 76.8% from the previous year.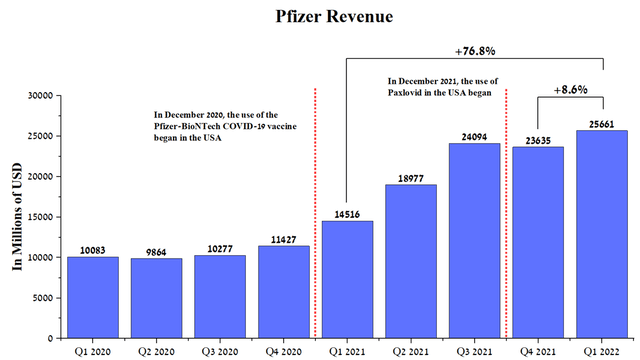 According to the financial guidance of Pfizer management, the company's revenue will be $98-102 billion in 2022, which is 22.7% more than a year earlier. The record values ​​are mainly due to the ongoing Covid-19 pandemic and Pfizer's leading position in the prevention and treatment of this virus. Despite the growth in sales of Comirnaty, Paxlovid and some of the company's other medicines, the Price/Sales ratio continues to decline and stands at 2.94 at the end of Q1 2022, which is 33.8% lower than the average for the pharmaceutical industry, which indicates underestimation of Pfizer by Wall Street.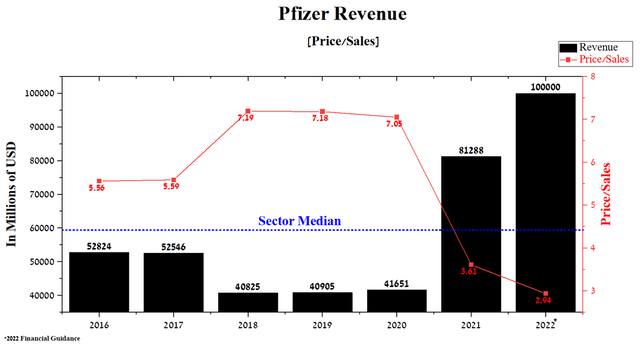 However, not everything is as perfect with sales of products related to therapeutic areas, which generate the most revenue for the company, as it might seem at first glance. Excluding COVID-19 portfolio sales, there is a year-on-year revenue decline trend across three of the five key biopharmaceutical groups, namely Internal Medicine, Hospital, and Inflammation & Immunology.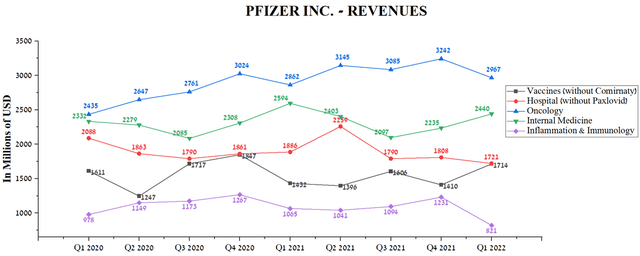 Pfizer's Vaccine and Oncology division, which has fully recovered from the negative impact of COVID-19-related restrictive measures between 2020 and 2021, has shown the best revenue growth.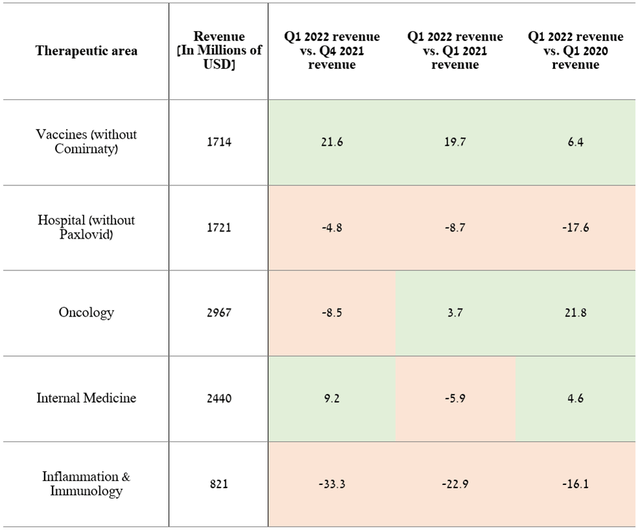 As a result of a significant increase in revenue in the last two years, the company began to pursue a more aggressive M&A policy to make up for lost sales of some divisions and level the damage from the loss of exclusivity of key drugs in the next five years. On May 10, 2022, Pfizer acquired Biohaven Pharmaceuticals for $11.6 billion, which has an extensive pipeline of product candidates and a fast-growing migraine drug. Additionally, on March 11, 2022, Pfizer announced the completion of the acquisition of Arena Pharmaceuticals, which is developing next-generation product candidates for the treatment of immune-inflammatory diseases that collectively affect tens of millions of people worldwide. In my estimation, the company has entered into two ideal deals that will allow it to diversify and rejuvenate its portfolio of current medicines, which will ultimately have a positive impact on revenue growth in the next three years. EBITDA was $11,530 million in Q1 2022, up 42.2% QoQ. This indicator continues to improve quarter on quarter, mainly due to the expansion of the age range for the use of the COVID-19 vaccine and the commercialization of Paxlovid in Q4 2021. In addition, Pfizer's EBITDA margin remains one of the highest in the pharmaceutical industry, at 44.93% in Q1 2022, up 10.63% QoQ.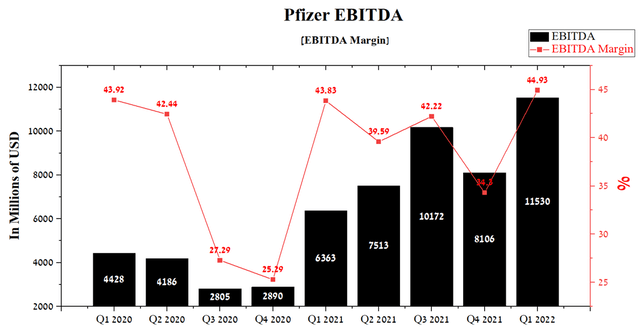 Pfizer debt
After acquiring Array BioPharma for $11.4 billion in 2019, which caused debt to rise to a record high in decades, Pfizer began to pursue a more proactive policy to reduce it. Total debt was $36,441 million in Q1 2022, up 12% from the previous quarter. In addition, Pfizer's Total Debt/EBITDA ratio continues to decline year on year and stood at 0.98 at the end of March 2022, indicating no exposure to the company's debt.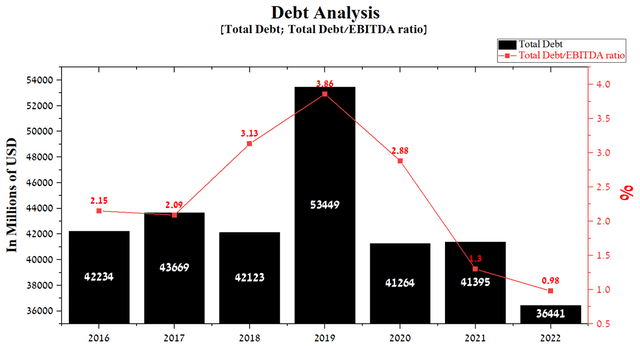 Maintaining a stable net income allows Pfizer management to increase dividends in the last 12 years. In 2022, investors should receive $1.6 per share, up 2.6% from a year earlier.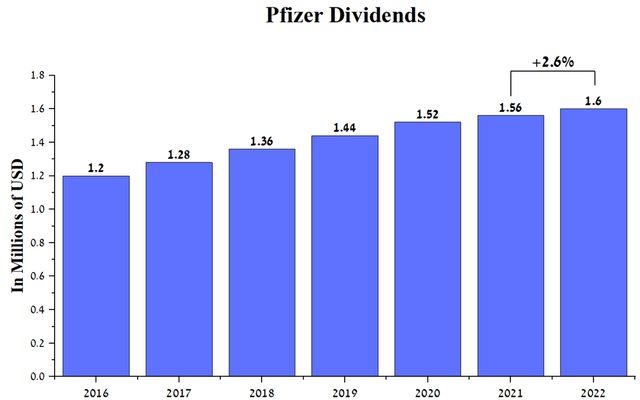 The company's dividend yield of 3.02% is well above the pharmaceutical industry average and places Pfizer in the top 10 pharmaceutical companies in terms of dividend yield. As a result, this has a positive effect on the growth of interest from pension funds and institutional investors, which contributes to an increase in the price of the company's shares.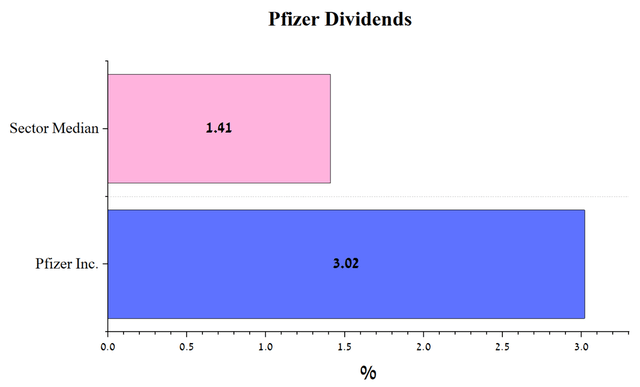 The company has resumed the share buyback policy, which was not carried out in 2020-2021. In Q1 2022, Pfizer bought back $2 billion of shares, and the remaining amount of the company's share repurchase authorization is $3.3 billion through the end of 2022. Thus, Pfizer's management has leverage to maintain the price of the company's shares during a period of increased volatility in the markets.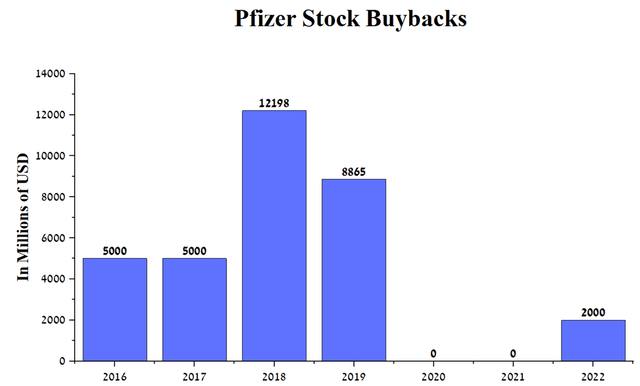 Covid-19 Portfolio
Since the start of the COVID-19 pandemic, Pfizer has maintained a leading position in the fight against the virus, earning billions of dollars every quarter.
Comirnaty is the leader among COVID-19 vaccines
Comirnaty is an mRNA-based vaccine being developed and commercialized by Pfizer and BioNTech for the prevention of COVID-19. Comirnaty's revenue was $13,227 million in Q1 2022, up 282% year-on-year.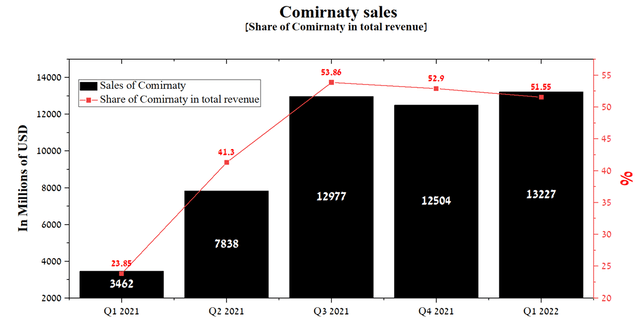 Sales of this vaccine account for more than 50% of Pfizer's total revenue, which creates certain risks, since the company's financial position is largely dependent on sales of one product. In my estimation, the peak of sales and government orders for Comirnaty will be reached in 2022, and we will see a decrease in subsequent years. One of the main reasons for this is the mass vaccination of the population, which was actively carried out in 2021 and contributed to the achievement of a level at which 89.6% of Americans over the age of 18 are vaccinated with a single dose of the vaccine. In addition, the decrease in COVID-19 vaccination rates is associated with the lifting of restrictive measures and the removal of the mandate to vaccinate employees of large employers by the US Supreme Court in January 2022. Also, new waves of COVID-19 do not contribute to a significant increase in the interest of the population to be vaccinated with boosters. For example, the spread of BA.4 and BA.5 variants of COVID-19, which caused an increase in new cases in recent weeks, has, contrary to expectations, led to a decrease in demand for vaccines against this virus.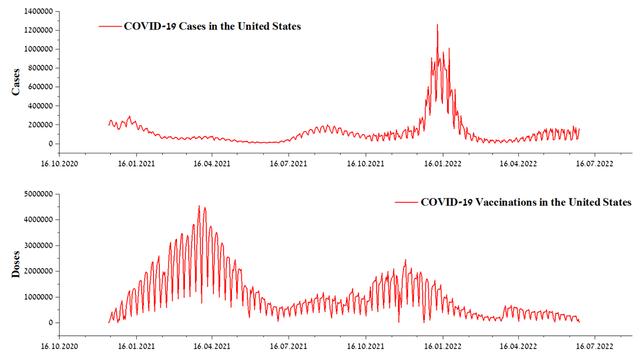 In Q2 2022, 20.9 million doses of Pfizer vaccine were administered, down 40.8% from Q1 2022.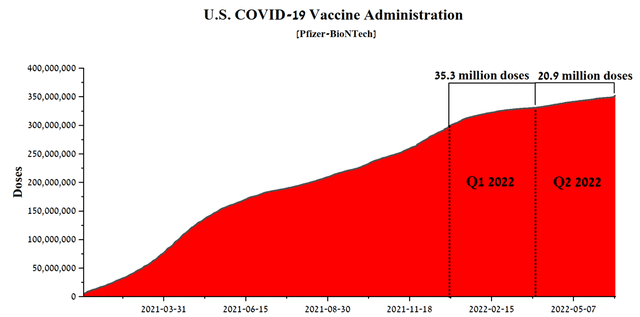 Despite declining interest from the public, Pfizer is not resting on the progress made and continues to develop vaccine candidates that will be more effective against new variants of COVID-19. On June 25, 2022, the company announced the results of a phase 2/3 clinical trial showing that a booster dose of Pfizer product candidates elicited a significantly higher immune response against the BA.1 variant of COVID-19 compared to the currently approved vaccine. However, when analyzing the neutralization of the SARS-CoV-2 virus using participants' sera, more modest results were shown. Despite the fact that candidate vaccines adapted to Omicron neutralized BA.4 and BA.5 variants, the titers were approximately 3 times lower than when exposed to BA.1. In my estimation, the decline in the effectiveness of vaccines over time should not lead to a significant drop in vaccination against coronavirus. For example, influenza vaccines have been shown to be effective in the range of 18% to 60% depending on the season, but since 2011 the number of doses distributed for this virus has continued to increase.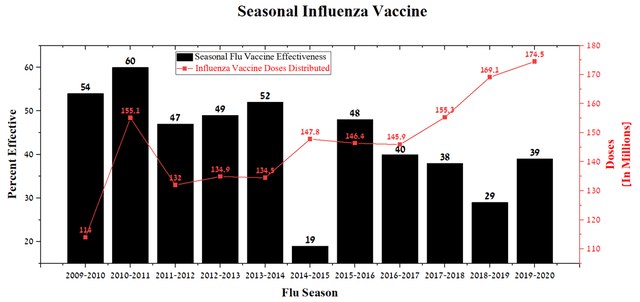 As a result of the boosters' proven effectiveness and the Biden-⁠Harris administration's eagerness to prepare for a new wave of cases, Pfizer won a new agreement to supply doses of a COVID-19 vaccine. Under the agreement, the US government will pay $3.2 billion upon receipt of 105 million doses and also has an option to purchase another 195 million doses, bringing the total to 300 million. Despite the fact that Pfizer has the production capacity to produce 105 million doses of the vaccine, and as a result, the company is highly likely to receive $3.2 billion. However, in my estimation, it is unlikely that the US government will need to purchase a significant portion of the additional 195 million doses.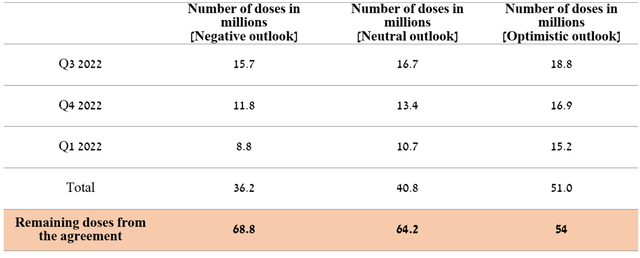 So, given Comirnaty's historical sales trends, approvals of new vaccines from other pharmaceutical companies, and the percentage of the population vaccinated, I expect Comirnaty's next sales to be in 2026.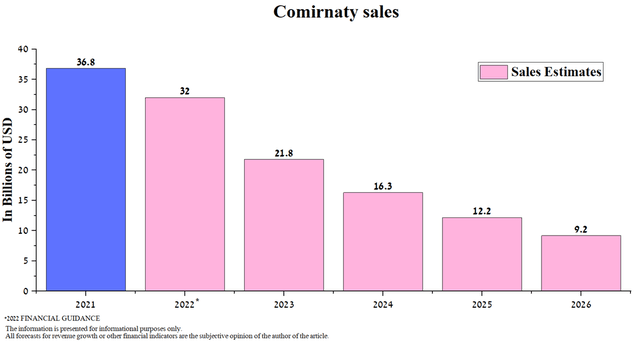 Paxlovid is a leader in the treatment of COVID-19
Paxlovid (nirmatrelvir/ritonavir) is Pfizer's drug to make up for lost sales of the vaccine. This medicine is used to treat mild to moderate COVID-19 in certain patients over 12 years of age who have tested positive for the virus. Currently, several medicines have been approved for marketing in most regions of the world, and the top sellers are Pfizer's Paxlovid, Merck's Lagevrio (NYSE:MRK), Eli Lilly's Bebtelovimab (NYSE:LLY), and AstraZeneca's Evusheld (NASDAQ:AZN) . The first three medicines are used to treat mild to moderate COVID-19, while Evusheld is approved to prevent COVID-19 in some high-risk adults and children. In my estimation, Pfizer's and Merck's medicines will become widespread due to their proven efficacy, more convenient method of administration, and relatively low price.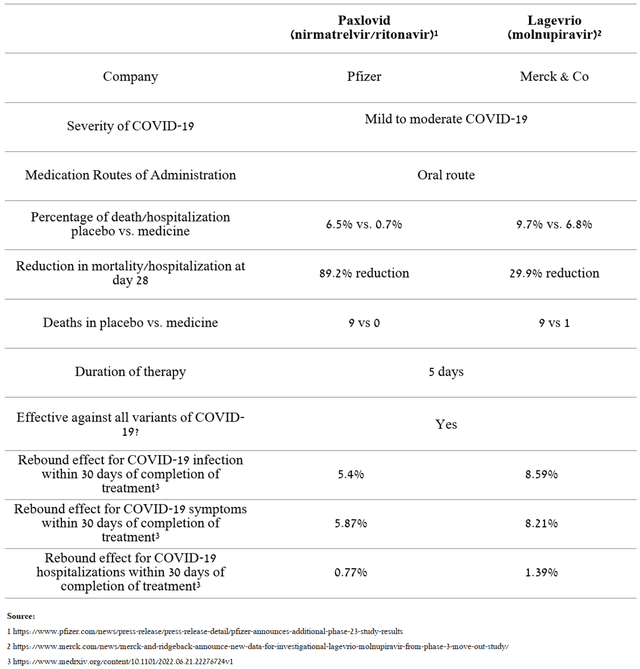 Comparing both drugs, Paxlovid showed the best efficacy in reducing hospitalization and mortality, namely, the reduction was 89.2% relative to the placebo group. While in a clinical study evaluating the effectiveness of Lagevrio, the relative reduction in hospitalization and mortality was only 29.9%. However, unlike Merck's drug, Paxlovid has a large number of negative interactions with other medicines. For example, some drugs cause a decrease in the effectiveness of the Pfizer medicine, while others can lead to serious side effects. However, even given this, Paxlovid will continue to dominate this market in the future. Global sales of this medicinal product were $1,470 million in Q1 2022, an increase of 1834% from Q4 2021.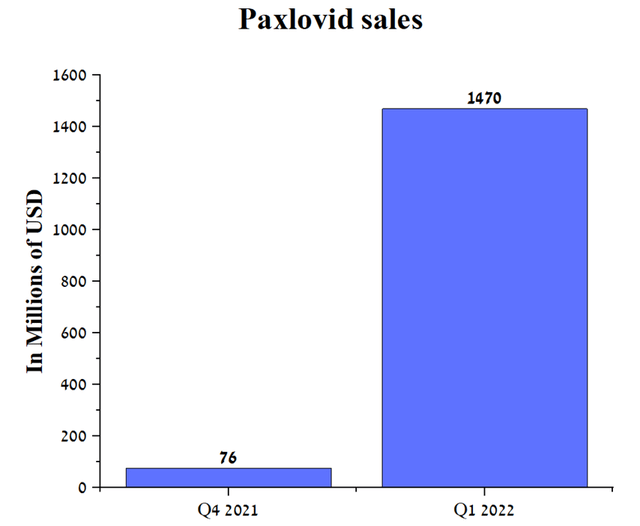 The retention of efficacy against the BA.2, BA.4, and BA.5 variants, unlike many other monoclonal antibodies, led to an increase in the proportion of Paxlovid courses that were distributed in the United States.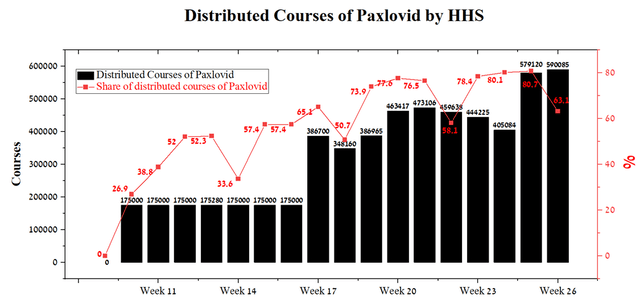 So in the 2nd quarter of 2022, HHS distributed 4,886,500 courses, which is 597.8% more than in the previous quarter. As a result, Pfizer expects Paxlovid sales to be around $22 billion, or 22% of total 2022 revenue.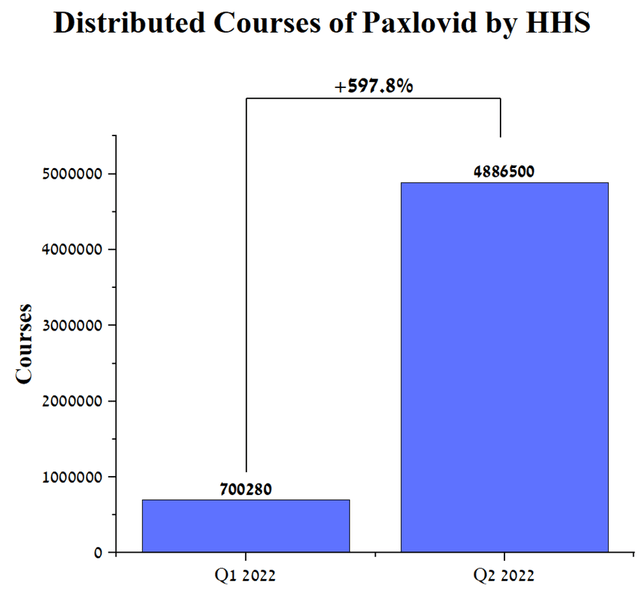 Therefore, the rise in new cases caused by BA.4 and BA.5 variants of COVID-19, and the lack of more effective medicines or product candidates under development in phase 3 with the oral route will help maintain the revenue of Pfizer's COVID-19 portfolio in the coming quarters.
Technical Analysis of Pfizer
On the monthly timeframe, you can see the continuation of the long-term bullish trend in Pfizer shares, which is also confirmed by the Elliott wave theory. The cycles predict that it should maintain its upward movement in the impulse wave (III), which began in March 2009 and has been going on for more than 12 years. On a shorter time range and, as a result, a lower degree of Elliott waves, we are in corrective wave IV, which is a triangle that began its formation after reaching a multi-year high in December 2021. According to my estimate, the completion of the correction should take place in the 3rd quarter of 2022, and after that, the impulse wave V, indicated in blue, will begin, which will complete the wave (III). The calculations took into account a conservative assumption, namely, that wave V will be 127.2% of the length of corrective wave IV. Thus, from a technical point of view, the end zone of impulse wave (III) is in the range of $65-66 per share. After that, according to the Elliott wave theory, the beginning of a global correction of Pfizer shares to $43-45 per share is predicted, which long-term investors should pay attention to.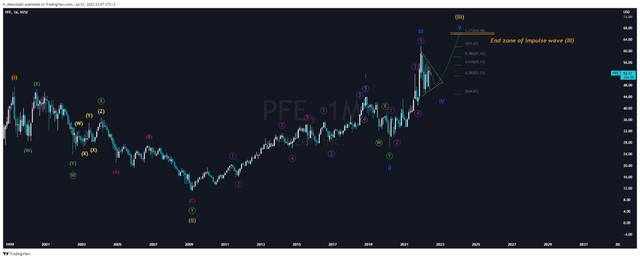 Risks
In my opinion, there is a major risk that could lead to a decline in Pfizer's share price in the coming years.
Expiration of patents for Pfizer's key medicines
Patent protection for drugs is critical to maintaining Pfizer's revenue, because after losing their exclusivity, other pharmaceutical companies will be able to start producing generic versions of these drugs. Patents for six medicines expire in the next five years, which threatens the company's financial position.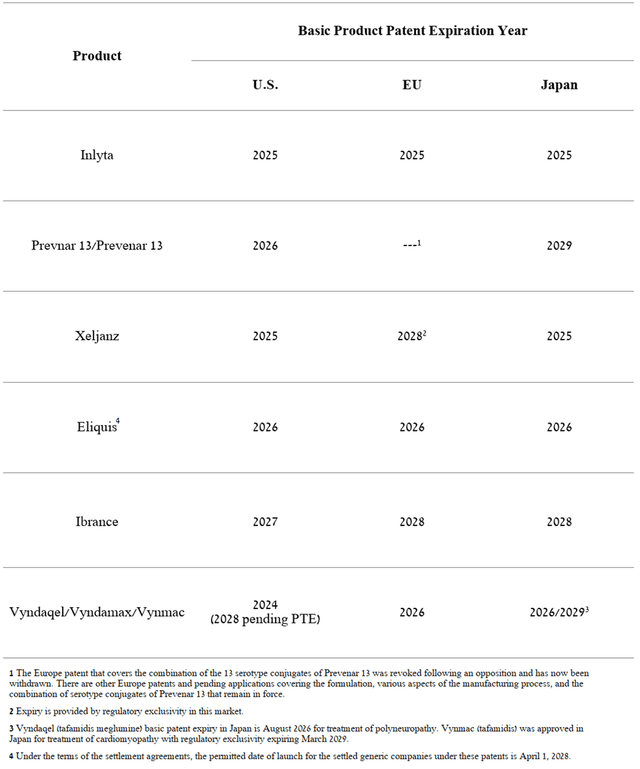 Sales of these vaccines/medicines accounted for 22.7% of Pfizer's total revenue in 1Q 2022. For example, one of the best-selling ones is Prevnar 13, which is a vaccine against 13 types of pneumococcal bacteria and whose patent expires in 2026 in the US. Prevnar 13 sales were $1,565 million for 2021, representing 6.1% of all Pfizer revenue, or 14.3% excluding COVID-19 portfolio sales.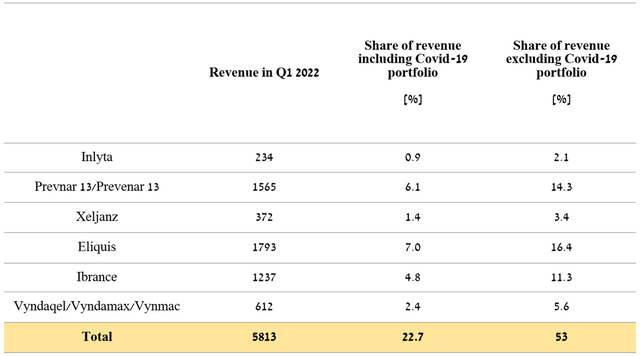 As a result, the company is under some pressure from institutional investors who are closely monitoring sales of these medicines and progress in expanding Pfizer's portfolio.
Conclusion
Pfizer is one of the largest and most well-known pharmaceutical companies, with an extensive portfolio of approved medicines and vaccines that generated approximately $27 billion in operating income for the company in 2021, up 178.2% from a year earlier. With cash flow growth in recent quarters, the company has embarked on an active M&A and R&D policy aimed at expanding the Pfizer pipeline, which could restore the company's leadership position in numerous therapeutic areas. On the other hand, the loss of exclusivity of Pfizer's key blockbusters over the next five years is creating pressure from Wall Street, leading to increased volatility in the company's stock in recent years. However, thanks to the growth in dividend yield, growth in gross margin, and net income, Pfizer is an excellent candidate for long-term investors. Based on the catalysts and risks described in the article, I set a price target for Pfizer at $64 per share by 2024.