Bob Pockrass
FOX NASCAR Insider
AVONDALE, Ariz. — Ryan Blaney's championship-winning race mimicked much of his season.
There were times when he couldn't get a grip on things. There were times when he sounded like — and appeared — to have lost his frickin' mind.
And there were times of triumph.
The Team Penske driver finished second — his fourth runner-up finish of the year — and that proved good enough Sunday as he finished ahead of the other three finalists. 
[Ryan Blaney's title adds to family legacy, Team Penske's championship pedigree]
It seemed like he had to pass Kyle Larson and William Byron several times, pulling away near the end with Larson third and Byron fourth. Christopher Bell's championship hopes ended early with an exploded brake rotor.
Early in the race, Blaney didn't appear to have the car to make such passes as he complained of a lack of grip. It would be easy to say that his car came to life as the track got cooler and gained rubber, but that would be too simple an explanation and overlook the impact of crew chief Jonathan Hassler. 
"The changes we made were bigger than the track changing personally," Blaney said. "Jonathan did an awesome job at understanding what we needed and applying it to where we can get competitive and compete with the other Hendrick cars."
Then throughout the battles, Blaney certainly appeared frustrated. Ross Chastain, who eventually won the race, blocked him and blocked him and blocked him.
Blaney finally responded by running into the back of Chastain.
"F—in' right I hit him on purpose," Blaney said. "He blocked me on purpose 10 times. So, yeah, I hit him on purpose.
"What do you expect me to do? He's backing me up to the other championship guy, and I got to go."
Ryan Blaney accepts the Bill France Cup Championship Trophy
Chastain understood Blaney's frustration, but he was trying to do exactly what Blaney said. He felt he owed that to manufacturer Chevrolet to help keep Larson and Byron within striking distance.
"Dirty air and trying to stay ahead and keep track position, that's the best thing I can do for GM and Chevrolet is just keep him as close to the 5 [of Larson] and 24 [of Byron]," Chastain said. "That's my job."
Blaney feels it is good for him to vent. It is just strange to hear considering his normally pleasant demeanor.
"I did get revved up a little bit, but it's kind of my personality," Blaney said. "I just have to kind of get it out, and it almost motivates me even more if I kind of do get a little revved up.
"It lets me kind of really focus on the task. … It fires me up a little bit and I hope it fires everybody else up to do their job."
Why Ryan Blaney deserves the 2023 Cup Championship
In past years, Blaney seemed to crack under the pressure amid the frustration. Last year, he made two mistakes in the semifinal round that cost him a shot at the title.
A shot at the title this year didn't look in the cards. He went more than four months between top-5 finishes, wins at the 600-mile race at Charlotte in May and the playoff race at Talladega in early October.
Both victories proved pivotal in Blaney's path to the championship. The win at Charlotte snapped a 59-race winless streak and was the first for Hassler in working with Blaney.
"We could have won six or seven races last year if we executed, but we didn't," Hassler said. "We really went to work in the offseason finishing [from] the two-thirds point of the race both on my and his end."
The Talladega win served as the boost Blaney and the team needed to give it confidence that they could challenge for the title despite not just their struggles, but struggles for the entire Penske organization.
"The big shot in the arm was winning Talladega in the playoffs," Blaney said. "Our team, we struggled through the summer months after the 600. We worked really hard to get better and better. Our team was like teetering on needing a little something good to happen, then we're going to be full-on dangerous. 
"We won Talladega and it was like green light: Let's go."
After the victory at Talladega, Blaney finished 12th at the Charlotte road course, sixth at Las Vegas, second at Homestead, first at Martinsville and then second at Phoenix.
Kyle Larson on finishing second in the standings and on Ryan Blaney's title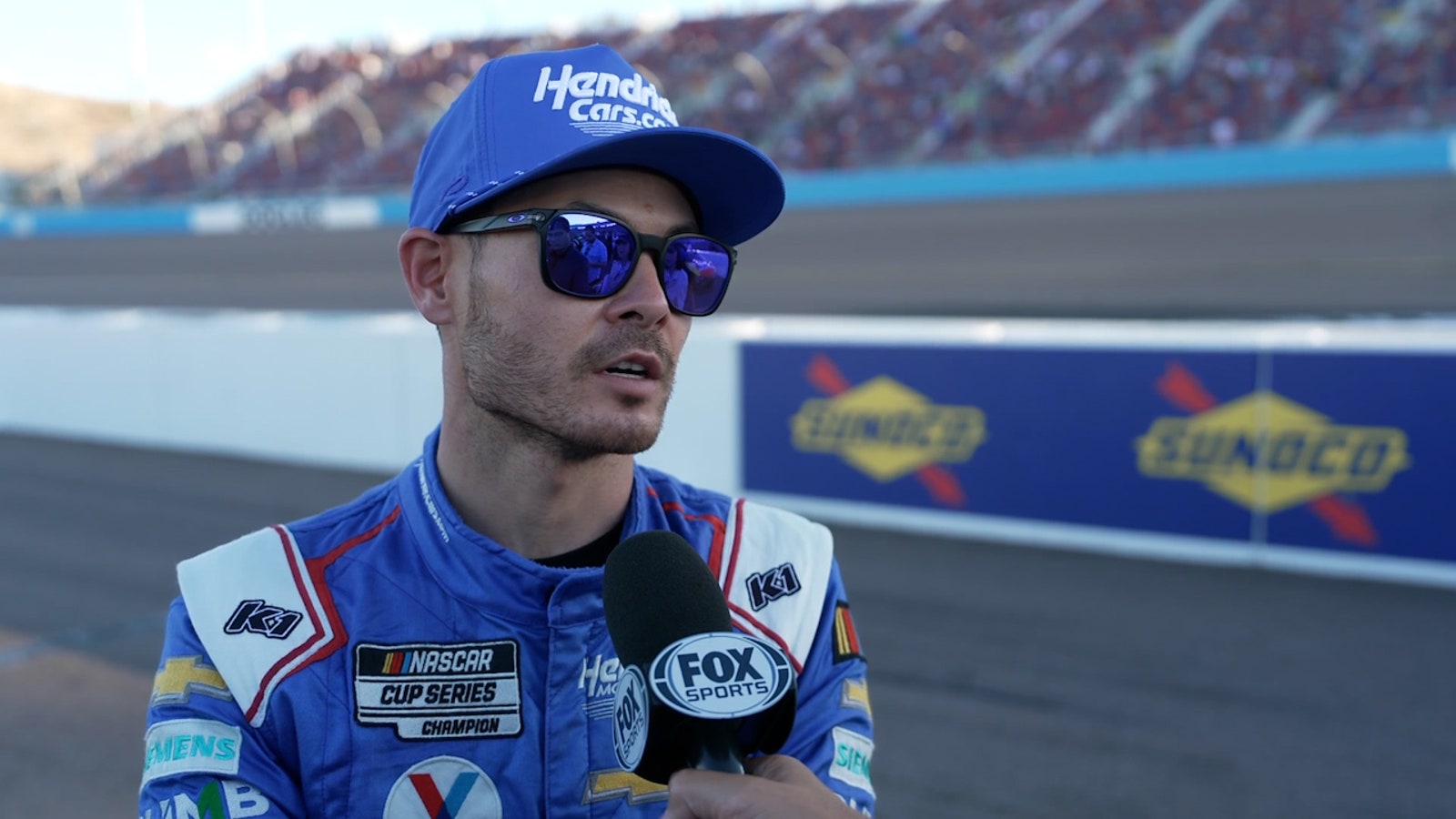 The competition noticed. Larson called Blaney the championship favorite after Martinsville.
"He's a really good driver and their cars have gotten a lot faster here," Larson said. "When you're on the track with them, you can see it even when they don't finish or win or whatever, you can see speed.
"He's had a lot of speed and long-run speed as well."
Larson had won the 2021 Cup title in his first championship race appearance. Blaney did the same.
"Hassler and Blaney, what a combination," Blaney team owner Roger Penske said. "Can you believe it? To think about them getting together last year, building the speed in this car, and you saw the response to the efforts and also the performance, the last couple of races.
"He's a true champion."
Ryan Blaney secures the Cup Series championship at Phoenix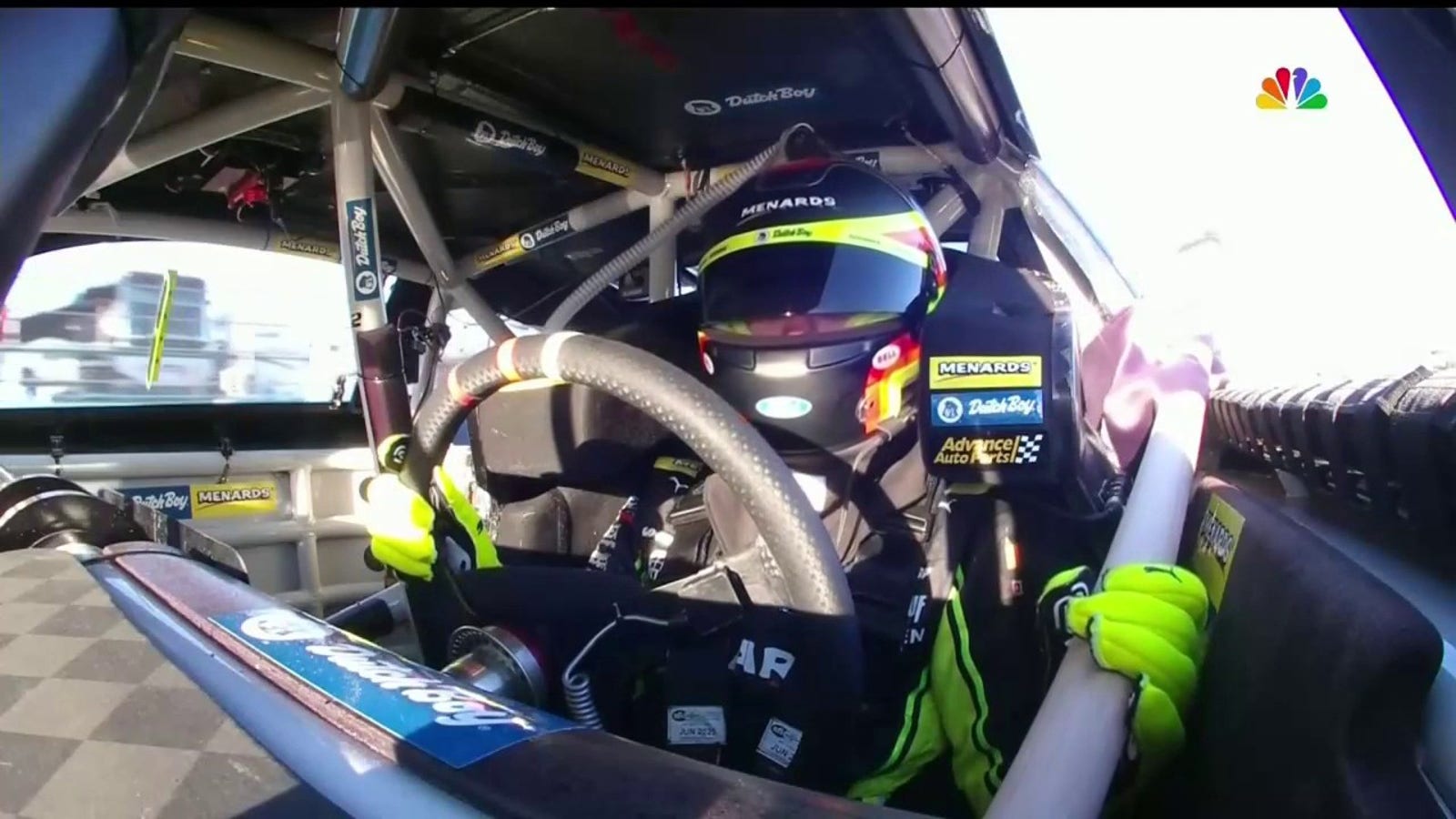 Thinking Out Loud
The truck series championship race turned into chaos with retaliation and four overtime restarts. It wasn't the greatest moment for the series.
Some will point to the Xfinity Series the next day and how drivers raced hard but without the carnage as the way a championship race should develop.
Maybe the difference was that three of the four Xfinity finalists had Cup experience.
Craftsman Truck Series: Craftsman 150 Highlights
With the one-race championship format and young drivers trying to prove themselves either as great racers or to send a message that they won't get pushed around for spots, a race filled with cringe-worthy chaotic moments shouldn't be surprising in the trucks.
Denny Hamlin has said that NASCAR needs to start sending drivers to the rear for what appears to be intentional contact. But what's better: the debate on a NASCAR judgment call or a debate on the judgment of the drivers?
Neither one seems all that tasteful. But NASCAR might be forced to act if more races, especially finales, are so sour.
In The News
–NASCAR President Steve Phelps said that NASCAR still plans to convert California Speedway into a short track, most likely a half-mile oval, but the exact configuration plans, construction timeline and budgets are still to be determined. NASCAR won't race at the Fontana track in 2024.
–Cole Custer, who won the NASCAR Xfinity Series title Saturday, will remain in the Xfinity Series next year driving for Stewart-Haas Racing.
–Jordan Anderson Racing announced that Parker Retzlaff and Jeb Burton would return next season in the Xfinity Series.
Social Spotlight
Stat of the Day
Since the elimination format started in 2014, the race winner was a Championship 4 driver until Sunday when Ross Chastain captured the win.
They Said It
"What I love about this group is they don't ever get down on themselves. They just do the work. They just figure it out. That's what we did." —Ryan Blaney after winning his first Cup title
Bob Pockrass covers NASCAR for FOX Sports. He has spent decades covering motorsports, including the past 30 Daytona 500s, with stints at ESPN, Sporting News, NASCAR Scene magazine and The (Daytona Beach) News-Journal. Follow him on Twitter @bobpockrass, and sign up for the FOX Sports NASCAR Newsletter with Bob Pockrass.
---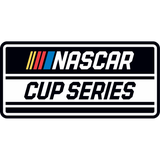 Get more from NASCAR Cup Series Follow your favorites to get information about games, news and more
---