Henry McKenna
AFC East Reporter
If Bill Belichick gave you five minutes of his time in his office, what would you do with it? 
Ruminate on this question for a second.
You're alone in a room with possibly the greatest football mind in the history of the sport. He's staring at you — waiting for you to say something.
What do you talk about?
It's the question I asked New England Patriots past and present over the course of this season. Because Bill Belichick's door doesn't always seem open. Heck, Bill Belichick doesn't seem open. But he is. And his door is always open to his players and his coaches. He has made that clear over the past two decades.
Actually, more than two decades. On Sunday, Belichick concluded his 23rd season as New England's head coach. On Monday, the 70-year-old told reporters that he plans to return for a 24th season. And while some of his assistant coaches and players may change, Belichick's open-door policy will not.
During the season, the Patriots coach holds weekly meetings in his office, including Tuesdays for the starting quarterback and Fridays for the team's captains. Those sessions are blocked out and planned to maximize the conversation for teaching and collaboration. But Belichick doesn't want players to feel like they can't access him outside those meetings. As intimidating as Belichick might seem on the field or in press conferences, players have found that they can walk in and chat with him almost anytime.
About anything.
So I was curious about which players have approached Belichick — and why. Because Belichick really is there for his guys. Obviously, he's always ready to talk football. But he's also there for players who need to discuss marriage, fatherhood, brotherhood, systemic racism, kneeling during the national anthem and the George Floyd protests.
Before we get into the unstructured meetings — in which Belichick levels with his players — let's lay out the format of the structured meetings.
Every Tuesday, the starting quarterback steps into Belichick's office to prepare the game plan for the following Sunday. For the most part, that quarterback has been Tom Brady. But of course, Drew Bledsoe, Matt Cassel, Jimmy Garoppolo, Cam Newton, Mac Jones and others have been in that meeting.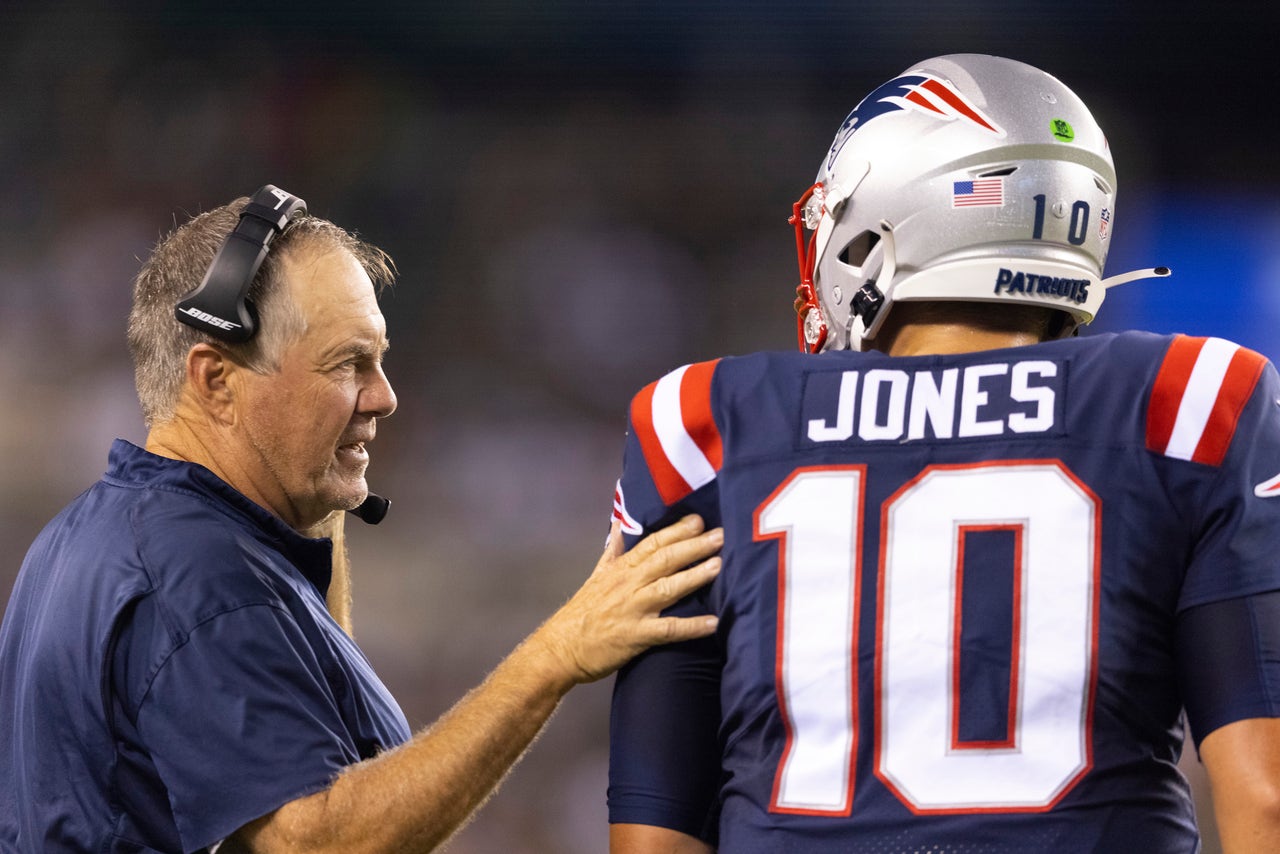 Despite the Patriots' offensive struggles this season, QB Mac Jones can talk it out with Bill Belichick. (Photo by Mitchell Leff/Getty Images)
Cassel told me how the sessions went for him. They'd start with the big picture about New England's upcoming opponent: strengths and weaknesses. And it wasn't just the defense. Belichick and Cassel would dissect the opposing quarterbacks, too. Once they focused on defense, however, they'd cover every position from top to bottom. And they would highlight potential matchup advantages for the Patriots. Maybe they'd find a receiver who can beat a cornerback or a tight end who can beat a safety.
"It was an incredible opportunity," Cassel said. "[It was about] understanding how to prepare for a game."
And the level of detail was, as you can imagine with Belichick, exhaustive. Belichick comes to meetings prepared. How else can he expect his players to do the same?
"You're looking for certain body types, certain abilities and how to attack a certain defensive scheme," Cassel said.
But then Belichick also made sure to check in with Cassel outside those meetings and outside the office. Belichick doesn't always wait for players to come to him. He has a sense, like good coaches do, of when players need clear communication. 
Cassel went 1-1 in his first two starts in 2008 after replacing Brady in the wake of his Week 1 season-ending ACL injury. The Patriots lost in a blowout to the Miami Dolphins going into an early bye week. So Belichick sought out the backup quarterback thrust into the starting spot for a team that was coming off an undefeated regular season and a Super Bowl defeat. The 2008 season carried a strange blend of elevated expectations and intense frustration. Cassel remembers getting questions from the media indicating their skepticism about whether he could handle the job with Brady out for the year.
"I'll never forget," Cassel said. "[Belichick] came up to me — I was in the mess hall getting some lunch — and we just had a great conversation. It's like, 'Hey, look, you're our guy. You just keep doing what you're doing. You're getting better each and every week.'"
Cassel did just that. The Patriots went 10-6 and missed the playoffs by a stroke of bad luck at the end of the season. Cassel then went on to take over the starting QB job for the Kansas City Chiefs in 2009 when Brady returned. And Belichick's encouragement — short and sweet — served as a catalyst for Cassel's evolution as a quarterback.
But the road to that winning record in 2008 was particularly turbulent for Cassel. He was dealing with the stress of filling in for Brady. And those stressors compounded when Cassel lost his father just four games before the end of the season. The then-26-year-old quarterback went to Belichick's office, where the coach was meeting with offensive coordinator Josh McDaniels.
Cassel opened the door, stepped inside — and broke down crying.
"They gave me a hug, and their first thing was like, 'Whatever you need us to do, whatever we can do to help you in this moment. And look, I know that you probably need to go to California and get with your family,'" Cassel remembered.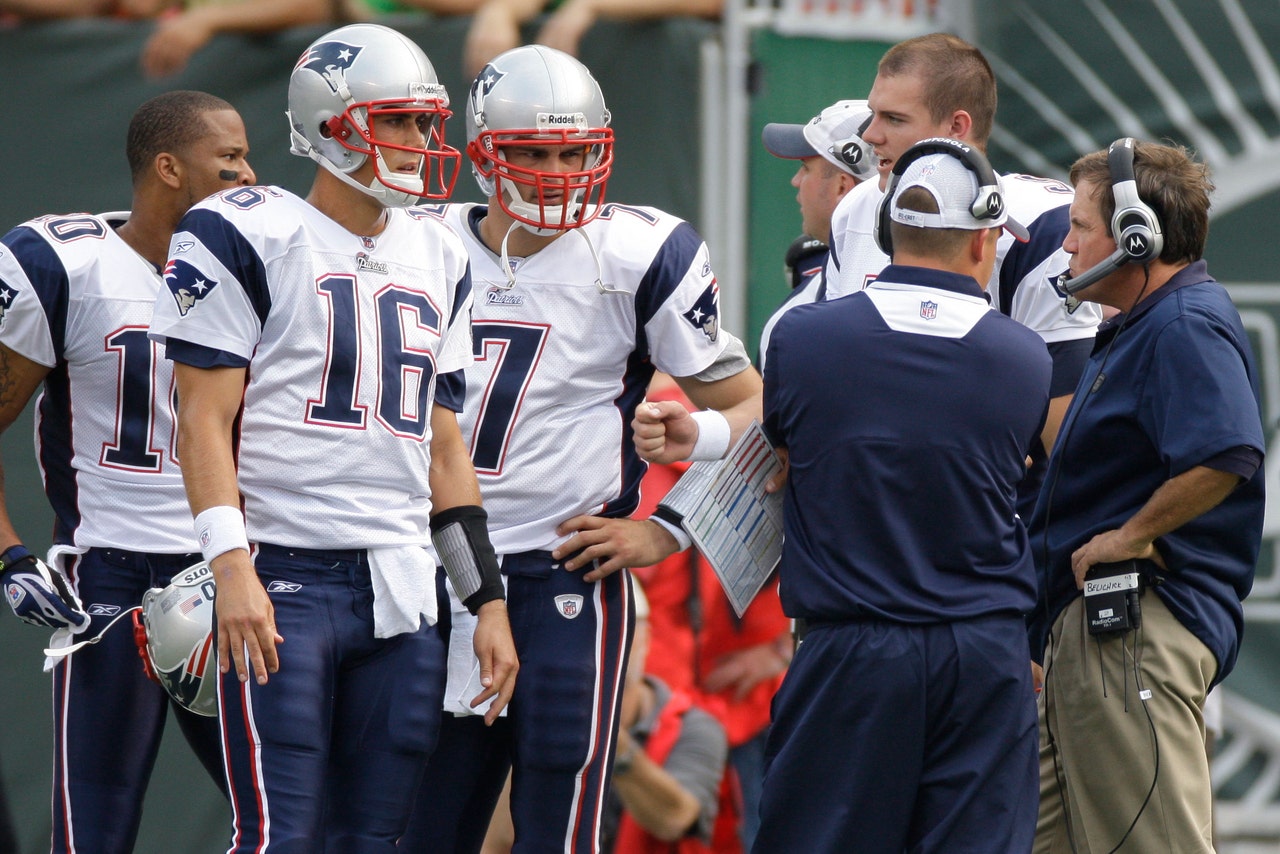 During Matt Cassel's season as the Patriots' starting quarterback, Belichick and then-offensive coordinator Josh McDaniels helped him deal with the death of his father. (Photo by Getty Images)
The Patriots flew out Cassel's wife and allowed him to miss a few days of practice to see his family in California. Belichick was happy to help and to put football aside. Family was more important. 
"It's the side of sports that I wish more people understood," said McDaniels, now head coach of the Las Vegas Raiders.
Maybe Belichick snarks his way through press conferences. But not through team film study. Not through game-plan preparations. And absolutely not through private meetings with his players and coaches. 
McDaniels said he had a few emotional moments in Belichick's office similar to what Cassel experienced, and he shared one from January 2009. That's when McDaniels walked into his boss' office to tell him he was leaving to become head coach of the Denver Broncos. Belichick was losing one heck of an offensive coordinator, but he was only concerned about helping in the transition.
"He was incredible," McDaniels told FOX Sports. "All he did was make sure that everything was good on our end and if there's anything else I needed from him. 'Let me know what it is.' And, 'Hey, if there's anything the kids need, let me know what that is.' And he wasn't just bulls***ting. That was all real."
When McDaniels' stint in Denver ended 12 games into the 2010 season, Belichick was one of the first people to call. And though the coach couldn't pull McDaniels into his office, he still extended emotional support and advice.
"'Make sure you go and see your parents.' And he told me that because he knew that they would actually take it harder than most everybody else," McDaniels said. 
Family seems to be the first consideration for Belichick's one-on-one conversations with players. The football team is like a family. But family — real family — is what's most important.
Outside linebacker Matthew Judon remembers stepping into Belichick's office during the 2021 season.
"Last year when we were having a baby, my wife was having complications in the final trimester and he was very understanding," Judon said. "He was like, 'Bro, if you ever need' — well, he didn't say bro. He was like, 'If you ever gotta like just leave out of a meeting — you can have your phone on you and if you ever got to leave.' Because he had multiple kids — three kids — and [he understood] that uncertainty that you have while you're in this building with your family going through it.
"So he kind of empathized with me and he understood. Like, 'If you got to just run out of the door, we understand and we just catch you up on the stuff that you missed.'"
This is the same guy who kicked former first-round pick Randy Katzenmoyer out of a meeting for showing up late; the same guy who sent home Randy Moss, Adalius Thomas, Gary Guyton and Derrick Burgess after they were late to work during a snowstorm. Belichick won't tolerate a lack of professionalism. He seems to respect vulnerability.
And for those who uphold The Patriot Way, Belichick seems willing to make exceptions. 
"We always talk about him like an authoritative dictator, but he listens, he takes input, and then he does what's best for the team," special-teams Pro Bowler Matthew Slater said. "He's willing to learn, and he's willing to evolve his coaching style. And it's good for our football team."
Belichick's essential characteristic is that he's curious. He's constantly absorbing information. That's how he has kept his job for 23 years in an industry in which roughly 20% of his peers get fired every year. Coaches come and go. Schemes change constantly. And players evolve over time, too — the wave of 20-somethings in the 2020s are different from the ones Belichick was coaching in the early 2000s. Belichick knows, more than anything, that players control the outcomes of games. So he remains inquisitive with them, always looking for ways to get the most out of them.
"He's a very intelligent man, and most people that are very intelligent, they listen," Patriots receiver Nelson Agholor said.
Belichick's conversations with players don't have to be serious. Not all the time. Sometimes, jokesters like linebacker Mack Wilson find their way into Belichick's office.
"Just go on in the head coach's office and just talk ball and maybe just go in and just mess with him — crack a joke or whatever," Wilson said. "He's open and he's willing to talk, because his door is always open. It's never closed."
But then there are the serious conversations — the difficult and important conversations.
In 2020, the Patriots locker room was full of discussion about Black Lives Matter, the George Floyd protests, systemic racism and police brutality. And even before that, in 2017, many players took a knee during the national anthem, a gesture that came after former President Donald Trump criticized Colin Kaepernick and other players for doing the same thing.
Safety Devin McCourty has been on the New England roster since 2010 and has been a captain since 2011. And throughout those years, he and Belichick have discussed issues of race and politics — with the coach looking to gain perspective.
"We've had a lot of conversations with all of the social justice stuff," McCourty said. "Things that we've been able to now do as a team started with a good amount of conversations of just like, 'Hey, this is what I see. This is my thought, here's my opinion.' And he was very open. And I think it was pretty cool. Because he was honest about some things like, 'Hey, like, I just never thought of this.' 
"I will say [that because of] the trust and respect that we both have for each other, we've been able to communicate on so many different topics."
Belichick began supporting Boston Uncornered, a social-justice initiative that according to its website "redirects the entrepreneurial, networking and leadership skills of gang-involved youth from violence and incarceration." The organization honored McCourty in 2020, and Belichick spoke at a virtual fundraiser to praise McCourty's efforts in fighting generational poverty.
"Conversations across our country and within our team will help lead to paving the way for a better future," Belichick said. "Following your lead, and the example of other incredible men on our team, I look forward to increasing my role in this process. Healthy discussion leads to actions. And actions that you have brought to the forefront have resulted in progress."
In that case, a player kept Belichick abreast of cultural shifts. In other cases, Belichick takes the time to make his players aware of potential professional shifts.
Patriots receiver Kendrick Bourne, who has been the subject of trade rumors and speculation about his lack of usage in 2022, said he feels like Belichick shoots him straight. 
"He's open and honest about everything. Great coach. In Bill we trust," Bourne said.
At times, players might not like what Belichick has to say. He's not going to lie — and that transparency might put some players off. Those types of players often end up playing for different franchises. Adalius Thomas, a linebacker who played for the Patriots from 2007 to 2009, once said Belichick treated players like kindergartners. Linebacker Kyle Van Noy, who had two stints in New England and has played for four teams, said in December that he felt like Belichick wasn't able to reach his entire roster of players in the same way as other NFL coaches.
But, for now, Bourne seems like he wants to stick it out. Because while teams were calling about the receiver at the trade deadline, Belichick didn't seem interested in dealing him, even with Bourne seeing a reduced role this season.
Bourne wouldn't say if he and Belichick ever sat down in the coach's office and worked through the situation. But Bourne indicated to me that he felt content with how they have handled it.
"He's always keeping me in the loop," Bourne said. "Trade rumors — that's just part of the game. … Bill communicates well, and I appreciate everything he's done for me and my career, honestly, because I had my best year here so far [in 2021]. This ain't been my best year, but I love this team and I love what we're doing."
The Patriots aren't an easy team to play for. Belichick is afforded an unusual amount of latitude to make decisions that basically no other NFL coach enjoys — and that's because he has six Super Bowl wins in New England. So, of course, there's an element of authority. Belichick is the leader. But he's also looking out for the men who work for him.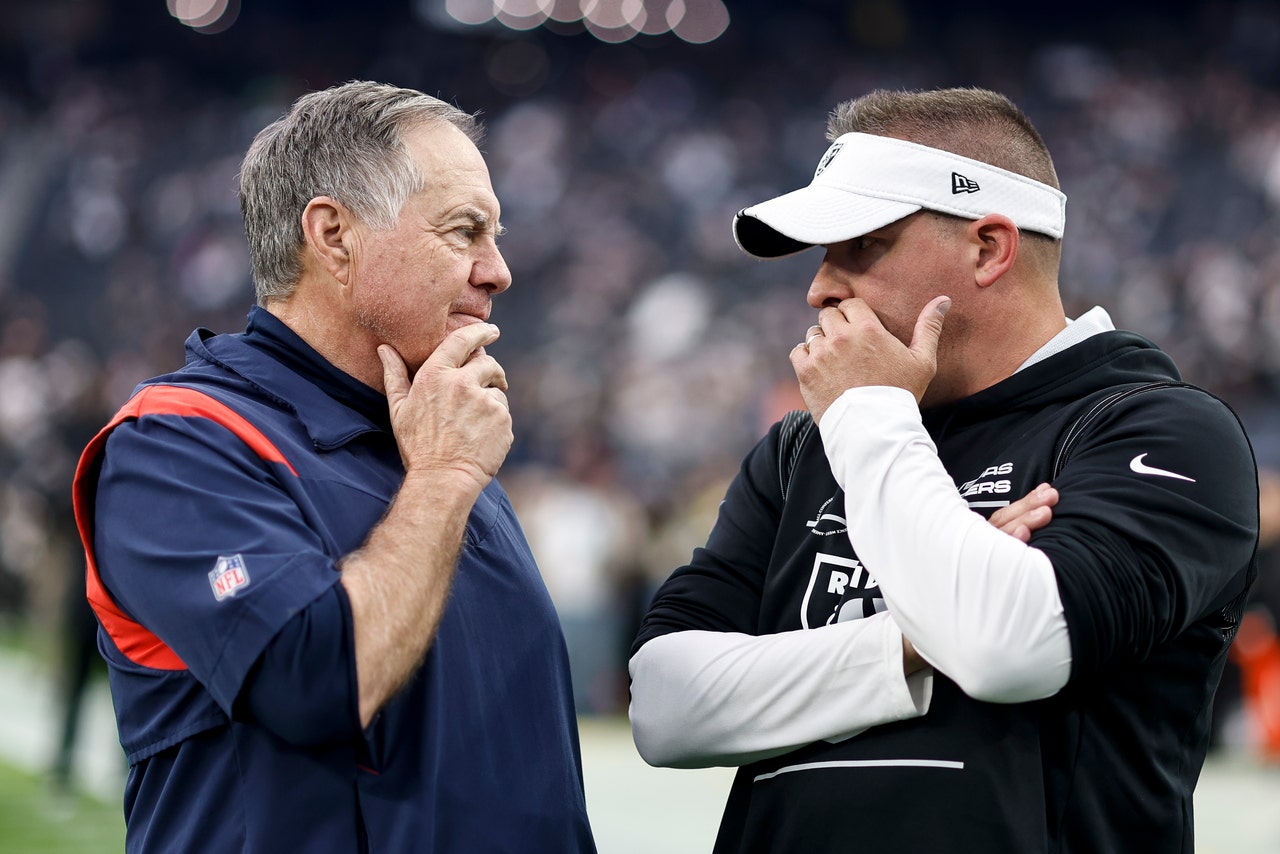 McDaniels, now head coach of the Raiders, spent 18 seasons as an assistant to Belichick in New England. (Photo by Michael Owens/Getty Images)
Like so many current and former players emphasized, Belichick is human — another member of the group who has lived through the joys and stressors that the players are experiencing. That's why he has an open-door policy. It's not just about listening to Mack Wilson's jokes. It's not just about preparing his quarterbacks and captains for that week's opponent. Belichick opens his door so players feel they can access him — without hesitation — when they need support.
"He taught me at such an early age that part of the responsibility of the head coach is to make sure that every person that walks in your office feels like they're the most important person at that moment," McDaniels said. "And you can't ever let them know that you might have 110 other things you have to try to accomplish that day. When they walk in your office, you have to make sure that you give them your undivided attention."
It's not surprising that McDaniels now has an open-door policy in Las Vegas.
Belichick's appreciation for and attentiveness to his players has surely contributed to his 297 regular-season wins and his 31 postseason victories. But, clearly, that's not the only reason he leaves the door open. 
Bill Belichick really cares.
Prior to joining FOX Sports as the AFC East reporter, Henry McKenna spent seven years covering the Patriots for USA TODAY Sports Media Group and Boston Globe Media. Follow him on Twitter at @McKennAnalysis.
Top stories from FOX Sports:
FOLLOW
Follow your favorites to personalize your FOX Sports experience
---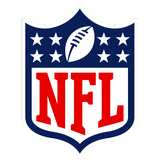 Get more from National Football League Follow your favorites to get information about games, news and more
---
---