Bryan Fischer
College Football Writer
BOULDER, Colo. — A few minutes after No. 8 USC finally put away Colorado, 48-41, in their highly anticipated Big Noon Saturday matchup between two of the off-season's most debated programs, Lincoln Riley used his postgame press conference to send a message that was meant for those outside his program as much as his own.
Whether it was a subconscious nod to his Hall of Fame opposite number on Saturday afternoon or not, only he would know.
"It's coming," the Trojans head coach said, his West Texas accent squeezing the final word short before repeating the phrase. "It's coming."
What he was referring to was not some larger statement regarding his program proving doubters wrong — as Deion Sanders had done after beating TCU to turn it into a marketing bonanza for the Buffs earlier in the month. But in the wake of the victory at Folsom Field, Riley Was going out of his way to refer to the waves of adversity that his team was about to face in the coming weeks.
With at least four top-25 foes on the docket, and plenty more trap games standing in the way of a run toward the college football playoff, it's no wonder that he would note such a thing. The Trojans experienced plenty of that adversity their coach was speaking of last season, blowing leads to Utah twice to cost them a conference title and trip to the playoff. They compounded those shortcomings by letting a double-digit fourth quarter slip away in an inexplicable loss in the Cotton Bowl, too.
The question remains, however, whether the cardinal and gold have still yet to learn how to handle it. 
After nearly blowing a game in which they led the Buffs 48-21 late in the third quarter but needed an onside kick recovery to finally put away, that's an inquiry the college football world is very much leaving open at the moment.
USC's Lincoln Riley discusses beating Deion Sanders' Buffaloes
"We're going to own the win. We're going to own the mistakes. We're going to own the good," added Riley. "We had opportunities to finish plays offensively, we had opportunities to get the quarterback down. We had opportunities to tackle hitches for 5-yard gains just like we did in the first half. When you stop doing that, especially on the road against a team that has some talent like they do, they're going to make a run — and they did. It's self-inflicted errors, but give them credit."
Colorado certainly deserves a measure of credit, bouncing back from a potentially demoralizing drubbing at the hands of Oregon last week to keep fighting and make things interesting. Before a capacity crowd of 54,032 that included a lengthy list of dignitaries from the music and sports world — where else can Da Baby snap selfies feet away from CC Sabathia while Kevin Garnett strides down to eventually join in the action? — the Buffs never showed an ounce of quit despite an early threat of getting run out of their own building.
Quarterback Shedeur Sanders at times even outplayed his highly touted counterpart Caleb Williams, completing 67% of his passes for 371 yards and four scores through the air. He also scored Colorado's first touchdown nearly untouched on a scramble up the middle and threw a laser in a window just inches wide to breakout star Omarion Miller (who finished the afternoon with seven catches for 196 yards).
USC's Caleb Williams has a monster six-TD game!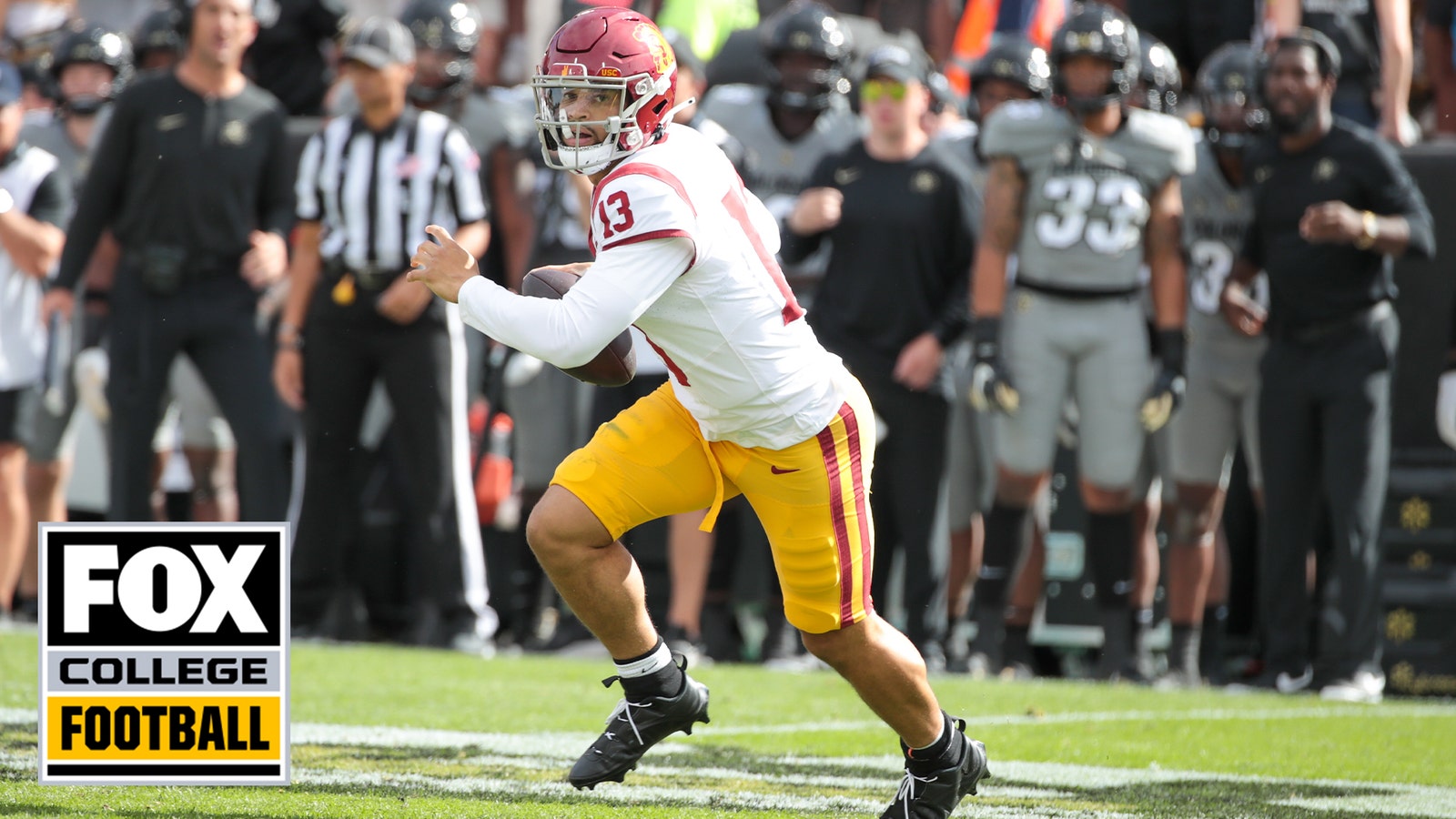 "I don't know what that means," said the younger Sanders when asked if the seven-point loss against a top-10 team was at least a moral victory for the Buffs. "A loss is a loss."
"Some of you wonderful and brilliant writers know that if we would have gotten that ball last, we were going to go down and score," his father chimed in later after the offense scored four times in five drives in the final 20 minutes. "We knew that, everybody in here knows that, the team knew that. That's just what (Shedeur) brings to the table."
As missed tackles, out-of-place defenders and continued questioning of the Trojans defense were again a theme with this team, it's fair to wonder just how much more USC can continue to pile upon the shoulders of Williams — even if he keeps asking for the load.
On the backs of a morning wakeup call that came shortly after 3 a.m. Pacific Time for the team ahead of the body clock special kickoff, Williams did all he could to put an end to the day early. Throwing for a career-high six touchdowns and 403 yards, Williams underscored why he's the favorite to be the first player since Ohio State's Archie Griffin to win back-to-back Heismans — spending much of the game with more scores than incompletions and leading the team to the end zone on five of their first seven drives.
"[Williams] always plays that way. I haven't seen him play badly. He had some throws that I'm sure he would want back, but that kid is a flat-out baller man. He is a difference maker," Sanders said, arguably the greatest cornerback to play the game firmly giving his seal of approval. "Even just directing traffic and putting them in the right play calls and the right situation, he does a wonderful job of checking off, changing things and getting the ball out of his hands.
"It was a pleasure for me to play against them and their head coach. I mean that was fun for me, it really was. Probably didn't look like it, but that was fun."
Deion Sanders on Colorado's near comeback vs. USC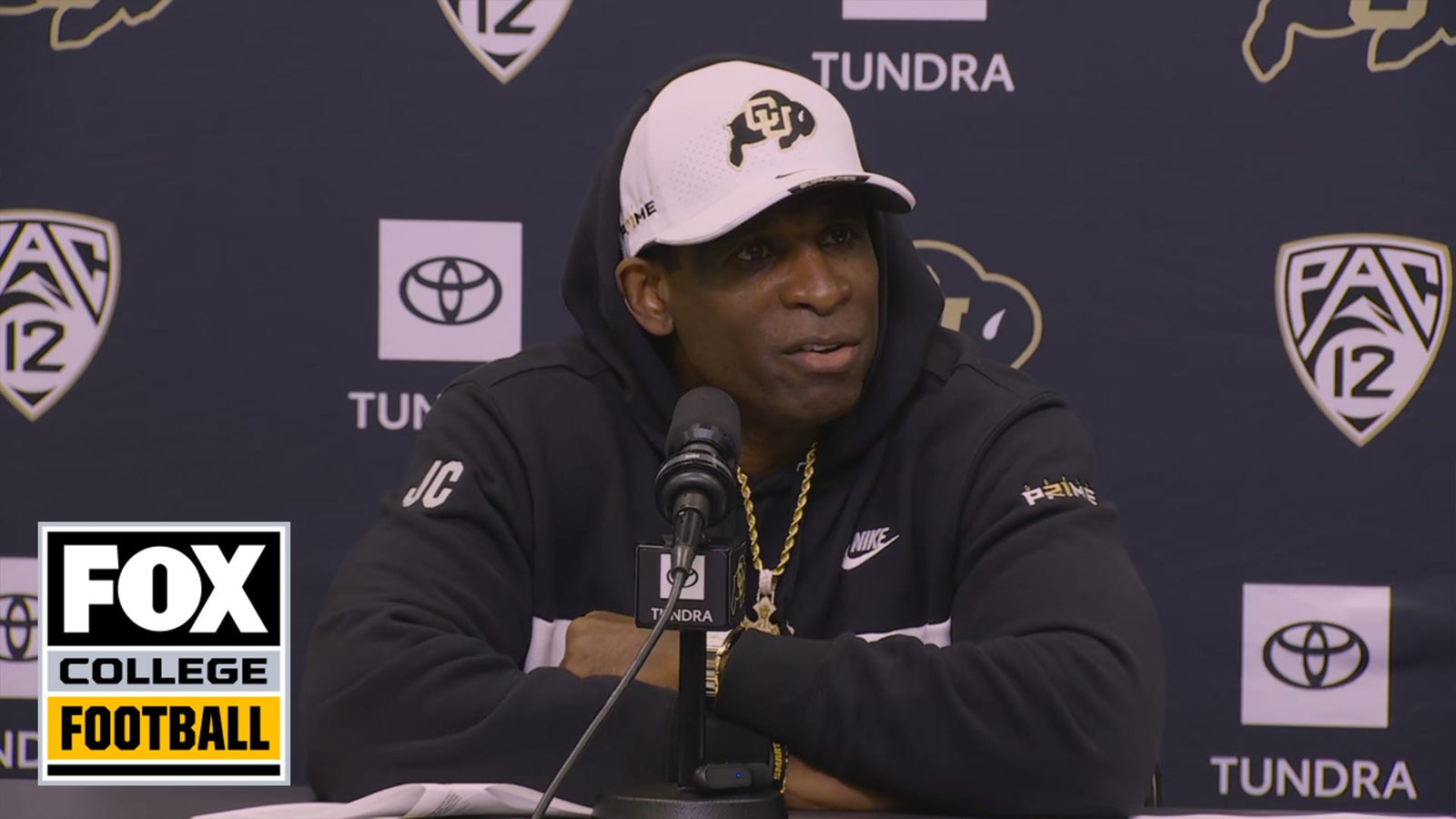 It may have been fun for Riley during that stretch early on too, with Williams dancing for nearly seven seconds before hitting Tajh Washington for a 71-yard touchdown in the first quarter that drew 'ahhs' from even the home crowd. 
At several points, it felt like the Trojans could name their own score as the nation's highest-scoring offense looked the part. Instead, the runaway train toward the end zone began to derail right at the moment the team's defensive woes reared their ugly head again.
USC's line rotated heavily in the final two quarters as the altitude appeared to start taking its hold on the big bodies in the middle and the normal pressure they had been applying against Shedeur Sanders started to evaporate the more time kept ticking off the clock. Busted assignments led to several quick scoring drives, including three after halftime that went at least 75 yards.
If it wasn't Miller making an absurd catch along the sidelines for the Buffs, it was likely Jimmy Horn Jr. (84 yards, two touchdowns) breezing past defensive backs with ease on his way to pay dirt or Xavier Weaver recording any of his seven catches underneath.
To make matters worse, Williams threw his first interception of the season on a pass he just floated that Colorado's Jaylen Ellis easily pulled down for a memorable souvenir to take to the sideline. 
"We're five games in and taking that litmus test right now," said Riley, defiantly trying to quash the narrative. "When something doesn't go our way, it doesn't look like last year. Not to the trained eye, not to the coach. We still have plenty to correct."
Highlights from USC's win over Colorado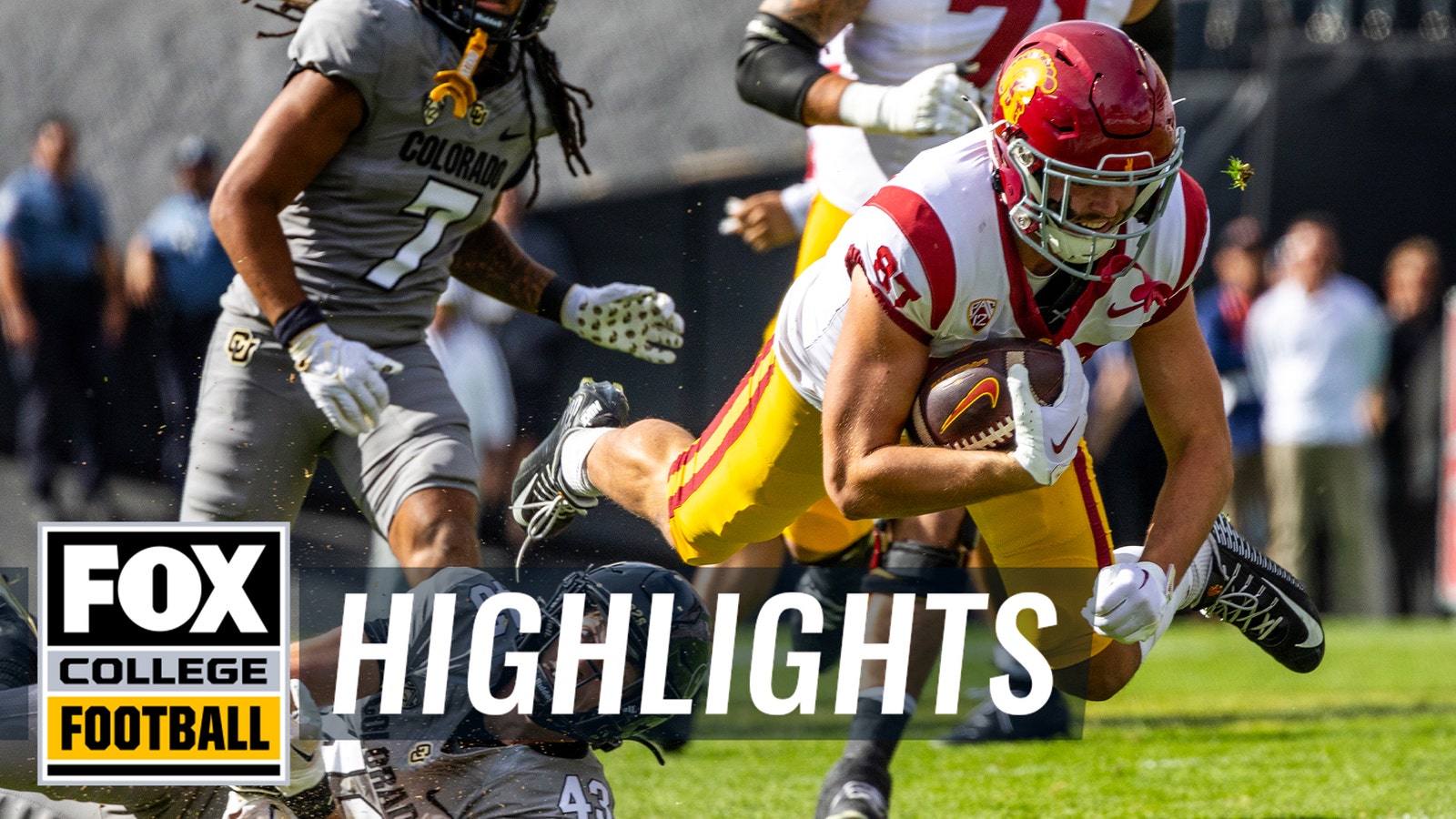 Yet Riley, who succinctly expressed his confidence in embattled defensive coordinator Alex Grinch, knows that for the preseason Pac-12 favorites will have to be better to overcome the hurdles they stumbled on in 2022.
"It's always important to finish strong in whatever endeavor you want to do," remarked Sanders, imparting the wisdom of a man whose bust shines in Canton. "Why would you start it if you don't want to finish it?" 
The adversity is surely coming for USC, just as their head coach predicted. Will the Trojans be able to finish and overcome it as they've expressed? 
The lackluster way in which they survived against the Buffs suggests that Riley's message will need to be barked a little louder if his team is going to wake up and receive it. 
[Do you want more great stories delivered right to you? Here's how you can create or log in to your FOX Sports account, follow your favorite leagues, teams and players and receive a personalized newsletter in your inbox daily.]
Bryan Fischer is a college football writer for FOX Sports. He has been covering college athletics for nearly two decades at outlets such as NBC Sports, CBS Sports, Yahoo! Sports and NFL.com among others. Follow him on Twitter at @BryanDFischer.
---
COLLEGE FOOTBALL trending
---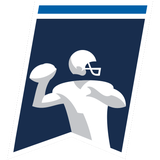 Get more from College Football Follow your favorites to get information about games, news and more
---