Whether you're a seasoned social media professional or just starting to harness the power of LinkedIn, it can be easy to fall prey to some of the most common misconceptions about this powerful social network. Knowing what's true and what's not when it comes to LinkedIn marketing can make all the difference in creating a successful strategy.
What Kind of Content Should You Post on LinkedIn? What is the best time of day to post it? How many hashtags should you use? And how does all this affect LinkedIn's algorithm?
To help answer our questions, we spoke with Hien Mai from LinkedIn's Product Marketing team. Hien is focused on growing creators and conversations on LinkedIn by helping to make content creation accessible, pushing and nurturing creators along their path to being a consistent creator.
In this post, we'll take a look at seven popular assumptions about how LinkedIn works and share answers and tips straight from their team.
What should I post on LinkedIn? What kind of conversations make the most sense for the platform?
We welcome all kinds of professional conversations on LinkedIn and want people to share content that feels authentic to them so they can have meaningful conversations. LinkedIn should reflect real-life conversations in the workplace.
These could be:
Parents looking for and sharing advice on how to balance work, childcare and life in general
Members looking for advice or tips on topics or industries that interest them
Comments and opinions on news topics or industry news
We see LinkedIn as a place to have these conversations and a place where professionals come together to share information, ideas and knowledge with their connections.
What does it mean to be professional when it comes to content on LinkedIn?
The best thing you can do is be authentic and talk about what's important to you. This could mean seeking advice on carving out a different career path, shedding your impostor syndrome, recognizing important milestones, making time for your mental health, or reflecting on what work-life balance means to you. familiar Professional growth and personal growth are closely intertwined, and conversations on LinkedIn should address both. LinkedIn is a place to have authentic conversations, not limited to one topic or another because many of these things go hand in hand.
Being professional on LinkedIn means being respectful to everyone in the LinkedIn community. All kinds of people come to LinkedIn looking for both professional and personal growth. It is important to provide an environment where everyone feels safe and comfortable enough to share their experiences and knowledge in a genuine way. You can inspire others who may be facing a similar situation.
What appears in my feed on LinkedIn and why?
When you go to your homepage feed on LinkedIn, you'll see content relevant to your professional interests, such as conversations in your network and people you follow. There are also companies you follow, sponsored content and other posts we think you might be interested in.
Our feed uses algorithms to learn about your interests, and together with our human editorial team, they help you add engaging content to your feed. Our technology and teams also help filter out low-quality and unsafe content to ensure that what you see in your feed adds value to your career journey.
To influence what you see in your feed, we recommend following people and companies you want to hear from and engaging with their content when it's interesting to you. You can also subscribe to newsletters and the best voices in your industry to help you discover professionally relevant content.
Tell us what you want to see less of by clicking the ellipsis (…) on a post. This opens a toolbox of available options, such as unfollowing or removing a connection with another member, reporting the post, or letting us know you're not interested in the author or topic by clicking " I don't want to see this."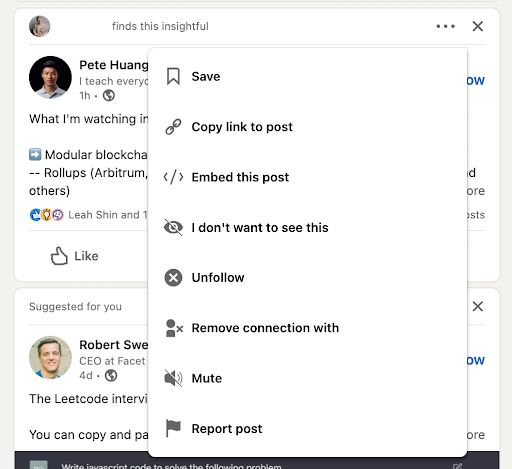 Some of the most read and distributed content are publications that provide ideas, knowledge and inspiration, discovering a world of knowledge, opportunities and collaboration.
We continue to work on ways to improve the content you experience on LinkedIn, generating authentic, relevant, and substantive conversations to help you grow as a professional.
What is the best time of day to post on LinkedIn?
It depends on your audience. More people flock to Linkedin on weekdays than weekends, but it's more important to consider when your audience is connecting. It may make sense to optimize evening posts for those who return to the platform after work or follow weekdays rather than weekends. Think more about how you can add a unique perspective on current topics such as hot topics and industry trends that your audience would be interested in.
How often should I post on LinkedIn?

Posting daily is optimal for maintaining constant engagement with your audience, but make sure you don't overdo it and avoid overwhelming your audience.
While some in your network will want to hear from you often, others may feel overwhelmed when people post more than once a day. It's important to understand how your audience interacts with your content and how often to report your posting frequency. If your comments and engagement on a post remain consistent, this is a good sign that your content is engaging.
While hashtags help viewers identify what a post is about and find other relevant posts about it, they're not the only tool to help distribute your posts more widely. Hashtags work best when they are closely related to what the post is about.
LinkedIn Etiquette Best Practices:
LinkedIn recommends 1-3 hashtags per post for optimization.
LinkedIn's algorithm can block or drastically reduce the visibility of low-quality content, marked by excessive use of tags.
Hashtags that are trending on other platforms aren't always right for LinkedIn. Search for the tag before adding it to your content.
Use hashtags with relevant context by spacing them throughout the copy, sparingly.
Don't add unnecessary hashtags at the end of posts as it can affect your potential reach.
What type of content works best on LinkedIn?

It's best to diversify the types of content you post to see what generates the most engagement with your audience. Experiment with different types of content and find out what your audience engages with the most.
Want to learn more about how LinkedIn works and how to grow your following? Check out our exclusive webinar with LinkedIn expert Zander Van Gogh: Watch the webinar.