Jordan Shusterman
FOX Sports MLB Analyst
Every Thursday, Jordan Shusterman examines one thing from each MLB division that we've learned from the past week of action. 
AL East: Next year starts now for Rodón, Yankees
Dreams of October went out the window a while ago for the Yankees amid the franchise's worst season in decades, but this final stretch could still go a long way toward convincing the fan base that there's reason for optimism in 2024. For as bad as this year has been — the Bombers' recent nine-game losing streak was their longest since 1982 — no one is expecting a full-scale teardown or even the kind of gap-year rebuild seemingly taking place nearby in Queens, so it's crucial for the players expected to be an integral part of next year's group to show well down the stretch. 
The obvious first place to look is at the performances of youngsters like infielders Anthony Volpe and Oswald Peraza and recently promoted outfield prospect Everson Pereira. Signs of growth and success at the highest level from 22- and 23-year-olds are always a good way to get excited about a team's future. But the fate of the 2024 Yankees likely still lies in how high-profile veterans bounce back from ugly campaigns. There's no shortage of those to choose from, but I'm especially eager to see how Carlos Rodón pitches in his last handful of starts this year, especially after his most recent outing. 
Though Rodón allowed just one run in six innings against Washington on Tuesday, he also garnered only three total swings and misses, and none on his fastball. The Nationals have been playing excellent baseball as of late, and they do possess the second-lowest strikeout rate in MLB behind only Cleveland. Yet, it was strange to see Rodón, who led all starting pitchers in K/9 last year, collect only one punchout across six frames. It was just the fourth start of his career with just one strikeout, and the first since 2020. 
I don't want to make too much of a single outing, and it's not like Rodón's raw stuff hasn't generally looked as expected, with the heater still sitting at 95 mph and his trademark slider slinging in around 86 mph with the same wicked movement as ever. The results haven't been there thus far, but it's not especially shocking that it would take some time for the lefty to shake off the rust. The season might be lost on the whole, but there's enough time for Rodón to rediscover his ace self in September and remind Yankees fans what they thought they were getting when he arrived last winter — even if it won't matter until next year and beyond. 
AL Central: The Tigers' youth movement is in full effect
Not many baseball players can claim to have broken a home run record held by Barry Bonds. Spencer Torkelson, who broke Bonds' record for most dingers by an Arizona State freshman in 2018, is one of them.
Breaking such a record is obviously going to come with a lot of hype and ample expectations for a whole bunch more homers in the coming years. Torkelson didn't experience the smoothest introduction to the big leagues last season, just two years removed from being the first overall pick, but now we're finally starting to see that sweet uppercut swing start to deliver some jaw-dropping homers. With eight bombs in his past 14 contests — the same number he hit over 110 games in 2022 — Torkelson has boldly reminded everyone what all the hype was about. It's not like he's hitting wall-scrapers either; Tork is pummeling the ball with authority, and the underlying batted ball data backs that up, with the soon-to-be 24-year-old ranking in the 94th and 91st percentile in hard-hit rate and barrel rate, respectively. He's a beast, and he's only going to get better. 
Much of the focus on Torkelson as a foundational piece of the Tigers' future has been in tandem with outfielder Riley Greene, a fellow first-round pick and highly-touted prospect in his own right. Greene was better as a rookie than Tork was, and has done little to disappoint this year as a 22-year-old, hitting .295 with an .819 OPS and impressive batted ball data (90th percentile hard-hit%, 91st percentile xwOBA) that suggests he's even gotten a bit unlucky in terms of results. Yet, an unlikely third player who arrived in Detroit last year with hardly a fraction of the hype of his aforementioned teammates has forced himself into the conversation as a potential franchise cornerstone, as well. 
A 19th-round pick out of Virginia Tech back in 2019, outfielder Kerry Carpenter burst on the prospect scene a year ago when he hit 30 homers across Double-A and Triple-A before earning a late-season call-up to the big leagues where he continued to produce. He's done more than produce as a sophomore, and is enjoying a monster August that now includes a dramatic, game-tying grand slam from Wednesday. It was his ninth homer of the month, tied with Pete Alonso for the most in the majors. His 146 wRC+ isn't just tops on the Tigers but 11th in MLB among players with at least 300 plate appearances. He's been legitimately great over a sizable sample. 
Tigers' Kerry Carpenter belts grand slam to tie game against Cubs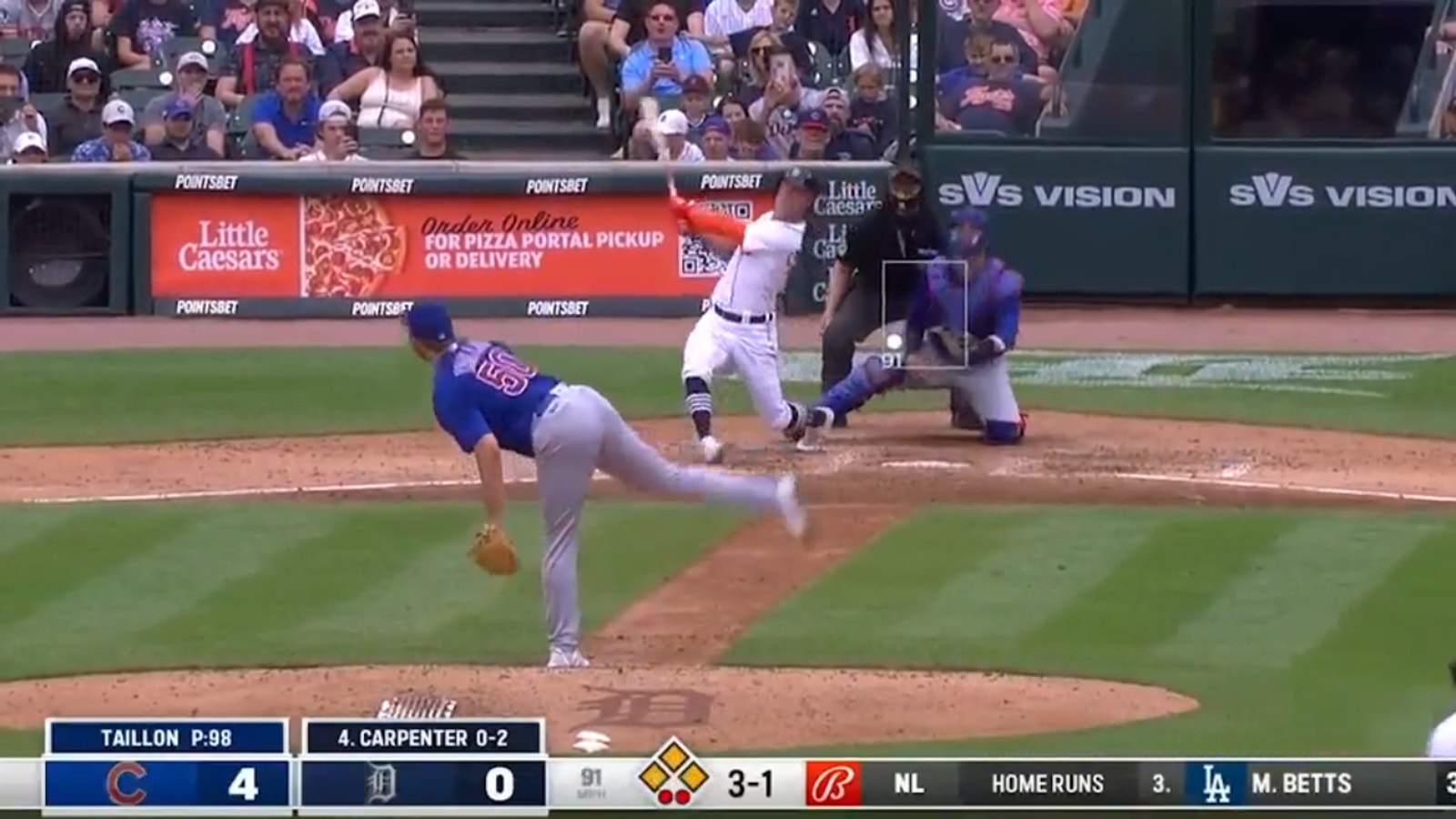 There's still ample work to be done to get this Tigers roster in position to contend, but the returns on these three young hitters have been tremendously encouraging as of late — not to mention, simply fun to watch. 
AL West: The Rangers might have two MVP finalists
Last year, we saw two teammates in Paul Goldschmidt and Nolan Arenado finish as NL MVP finalists, with Goldschmidt winning the award and Arenado slotting in third behind Manny Machado. It's quite rare to have two players on the same team excel to the point where each is worthy of an argument for the league's best player, but we might be heading toward a similar dynamic in this year's MVP race — and not just in one league. 
In the National League, Mookie Betts and Freddie Freeman are performing like finalists, although Ronald Acuña Jr.'s historic power-speed feats might ultimately be too much for either of the Dodgers superstars to win the award. Still, a scenario exists where Acuña cools off and Betts or Freeman prevails. 
It's much harder to squint and see someone other than Shohei Ohtani win AL MVP, even with news of his arm injury. But the two finalists behind him might come from the same team. Even with Rangers' recent skid and loosening of its grip on first place in the AL West, the magnificent middle infield of Corey Seager and Marcus Semien are two of the stronger candidates for the league's top individual honor. Seager's case is a bit more complicated since he's missed more than 40 games, but he's been so ridiculous at the plate — his 186 wRC+ leads all hitters with at least 300 plate appearances — that it's difficult to write him off. Many were optimistic the shift ban would help lefty hitters like Seager unlock further offensive production, but this has just been a preposterous level of performance for the 29-year-old shortstop. Semien, meanwhile, has continued his ironman ways, manning second base in every single game for Texas this year, helping to offset Seager's absence with continued excellence at the plate and in the field.
This was exactly what Texas envisioned when they spent a combined $500 million to bring these two stars into the fold two winters ago. It might have taken one disappointing year before they truly got what they paid for, but that front office has to be feeling great about these two faces of the franchise delivering on the massive expectations that come with such substantial contracts. Neither Semien nor Seager probably care much about their MVP finish compared to Texas' run at its first World Series title, but their sensational play is worthy of individual acclaim, as well. 
NL East: Fried could complete Braves' championship puzzle
When a team is as loaded as the Braves have proven to be this season, the return of players like Max Fried following multiple months on the injured list tend to elicit a collective throwing up of the hands across the league. It's as if to say, "Do they really need that guy, too?" That sentiment was only magnified when Fried delivered four perfect frames to begin his first outing back on Aug. 4th before settling for six scoreless innings with eight strikeouts and zero walks versus the Cubs. 
Phew, good thing the Braves got one of the best lefties in baseball back in the rotation, so they can win the NL East by 20 games instead of just 16! How fortunate! 
The rich got richer. Hooray. 
Still, even if it makes the best team in baseball even better, I've quite enjoyed having Fried back on the mound every five days, especially after an uncharacteristically long absence for one of baseball's most durable starters over the past four seasons. Stylistically, Fried is a fantastic contrast to his co-ace Spencer Strider atop the Braves' rotation. The muscle-bound, stocky, right-handed Strider is up there trying to strike out the world with fastballs at the letters (and succeeding), while the lean and lanky southpaw Fried deploys a tremendously deep arsenal in every part of the strike zone in search of grounders and weak contact.
While Atlanta's pitching has been collectively excellent this season, it's the overwhelming offense — currently flirting with the same pace as the 2019 Twins for most homers in a season — that continues to grab the headlines. Still, the Braves' chances at another World Series run may depend more on Fried's ability to restore the rotation to a position of certified strength in a year when the depth behind the top few guys has actually been somewhat shaky. You don't need six or seven good starting pitchers to win in October, but you probably need at least three. The Bryce Elder breakout has been incredible to watch, though it's hard to know for sure what you'd be getting from him in the playoffs. But alongside Strider and playoff veteran Charlie Morton, Fried ensures that manager Brian Snitker can feel awfully confident handing the ball to his starting pitcher when the stakes are the highest. 
NL Central: Ashcraft an enigma and X-factor for the Reds
Few pitchers fascinated me more heading into 2023 right-hander Graham Ashcraft, whose high-octane arsenal featuring 100 mph cutters and high-90s sinkers looked to be just a few tweaks away from unlocking legitimate frontline starter potential. Though teammates and former top prospects Hunter Greene and Nick Lodolo garnered the bulk of the attention atop Cincinnati's rotation, Ashcraft was a sneaky candidate to help form a foundational trio for years to come. 
After an excellent spring training begat a fantastic first six starts of the season, Ashcraft's campaign went totally off the rails in May and June. He posted a 12.82 ERA over his next eight starts, yielding relentless hard contact and struggling to put away batters in the rare times he found himself in favorable counts. Yet, amid injuries to Greene and Lodolo, the Reds had no choice but to let the healthy Ashcraft try to work through his struggles every fifth day and rediscover what was working for him back in April. 
Their patience has been rewarded. Nine of Ashcraft's past 10 outings have been quality starts, amounting to a 2.35 ERA that ranks ninth-lowest in MLB since June 30. While his 17.3% strikeout rate remains comfortably below average, Ashcraft just racked up a career-high 10 punchouts against the Angels on Tuesday, including two on Ohtani.
His cutter/sinker-heavy approach might never yield the amount of whiffs commonly associated with top-of-the-rotation arms across the league, but the best version of Ashcraft can be a tremendously effective and valuable pitcher. With Greene struggling in his return from the IL and Lodolo reportedly suffering a setback in his rehab, the pressure remains on Ashcraft to continue delivering quality innings — and a lot of them — down the stretch if Cincinnati is going to earn a wild-card spot. 
NL West: The Diamondbacks finally have a new franchise first baseman
Credit to the D-backs for getting back on track after a stunning tailspin that saw them plummet from first place in the NL West at 50-34 on July 1 to 12.5 games behind the Dodgers and 57-59 on Aug. 11. It's often hard for teams to reverse course amid negative momentum this late in the season, but Arizona has executed an extremely encouraging U-turn in recent weeks, winning nine of their past 11 games. A massive four-game series at home against fellow wild-card contender Cincinnati begins Thursday night at Chase Field. 
Zac Gallen and Corbin Carroll are the undisputed and deserved faces of this era of Snakes baseball, but they're not alone. I gave some love to Ketel Marte back in June when he started looking more like his All-Star self. It's time to spotlight another one of the longest-tenured members of the team in Christian Walker, who has quietly emerged as one of the best first basemen in the NL. 
If you think calling Walker an elite first baseman is hyperbole, consider this: only Goldschmidt and Freeman have been worth more fWAR or bWAR over the past two seasons than Walker among all MLB first basemen. Not Matt Olson (though he's awfully close). Not Pete Alonso. Not Vladimir Guerrero Jr. Nope. None of 'em. 
And sure, Walker's uncommonly excellent defensive metrics help him edge out a guy like Olson by a slim margin in an all-encompassing measure like WAR. But Walker's no slouch in the box, either. His 36 dingers probably flew under the radar for a bad Arizona team a year ago, but he's been an even better overall hitter for this year's playoff contender. Walker has raised his OPS from .804 to .876 while maintaining a 30-plus HR/100-plus RBI pace traditionally associated with the game's best first basemen. Most importantly, he's turned it on in August when the D-backs' season appeared to be teetering, thus far hitting .329/.388/.603 with six homers in 20 games.
Trading away Goldschmidt was difficult enough to stomach at the time, and it hasn't gotten much better considering three of the four players acquired from the Cardinals (Carson Kelly, Luke Weaver, Andrew Young) are no longer with the organization. Perhaps, Dominic Fletcher (the last remaining piece from the trade) becomes an All-Star. Either way, Walker's breakout has made it more palatable to watch a likely future Hall of Famer continue to excel elsewhere. Walker is legit.
Jordan Shusterman is half of @CespedesBBQ and a baseball writer for FOX Sports. He has covered baseball for his entire adult life, most notably for MLB.com, DAZN and The Ringer. He's a Mariners fan living in the Eastern Time Zone, which means he loves a good 10 p.m. first pitch. You can follow him on Twitter @j_shusterman_. 
---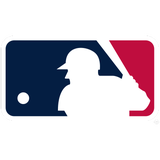 Get more from Major League Baseball Follow your favorites to get information about games, news and more
---