Bryan Fischer
College Football Writer
SALT LAKE CITY — A few minutes after No. 8 Oregon's 35-6 rout of No. 13 Utah became official, Ducks head coach Dan Lanning was casually jogging toward his locker room when he was stopped by Utes athletic director Mark Harlan.
The two exchanged platitudes before sharing a warm embrace and a few more words before parting ways with smiles on each of their faces.
While the chants of "Go Ducks!" from visiting fans were ringing out too loudly to decipher what was said, Lanning didn't need to say much to Harlan, who happens to be the Pac-12's newly installed representative to the College Football Playoff Selection Committee.
All the young head coach needed to do — though he didn't — was point up at the scoreboard, which told the tale of his team winning every 15-minute segment against the reigning back-to-back conference champions while barely breaking a sweat on a chilly day on the Wasatch Front.
"We played a four-quarter game from start to finish. We faced moments of adversity, but our guys never flinched. It was really complementary football from offense, defense, special teams and field position," said Lanning. "I thought we played our most complete game since I've been head coach here against a really good team."
Few would argue with Lanning, whose team won nearly every major statistical category and sent many of the 53,586 in attendance home before the fourth quarter was underway. The Ducks averaged 6.7 yards per play despite taking the foot off the gas down the stretch, and they didn't allow a sack to a group, led by defensive end Jonah Elliss, which had given opposing quarterbacks trouble all season.
On top of being the most complete victory of Lanning's two-year tenure, it was also the 700th win in program history, and it came at a place that has been a house of horrors for opponents. In fact, Utes fans had not witnessed a home loss in person since September of 2016, and that was to a Washington team that was the last from out West to reach the Playoff.
Bo Nix, Oregon dominate Utah: We break it down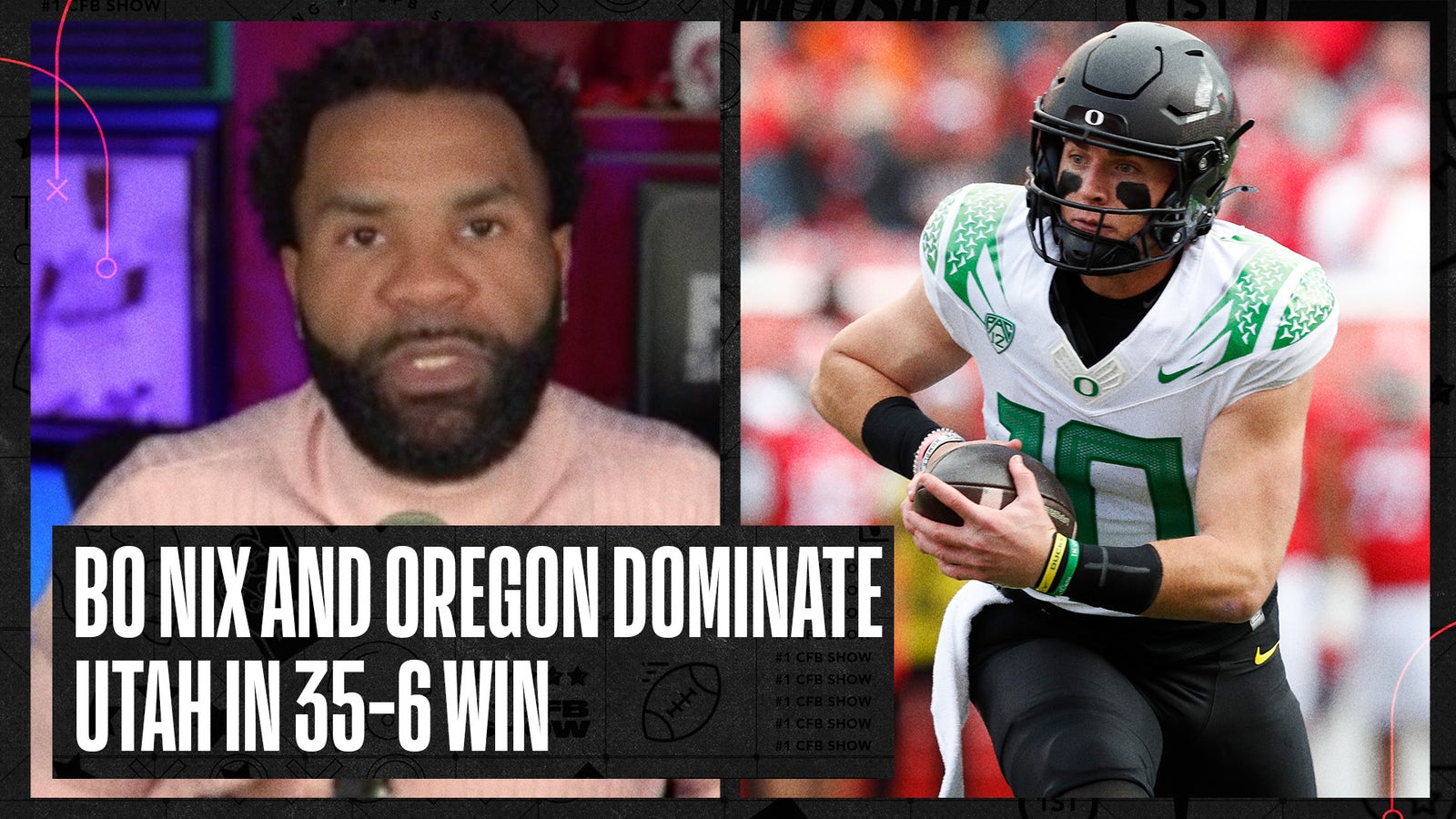 Given how things transpired on Saturday afternoon, it's not a stretch to think that the Ducks could follow a similar path and wind up in the final four if they keep playing like that.
"We have a winning team in that locker room. We have a special team in that locker room," said Lanning. "But we have to continue to perform and that's what's great about college football: any given Saturday."
It helps when you have a quarterback like Bo Nix, who has seen more Saturdays than anybody in his position, setting an FBS record with his 55th start across five combined seasons in Eugene and at Auburn. Against the second-best defense in the league and one of the top 10 in the country, the senior wound up 24-of-31 for 248 yards with three total touchdowns.  
"Bo Nix is the best quarterback in the nation to be really clear — there's no doubt about it," remarked Lanning. "I mean, you have a good team like we have and a quarterback like we have, that's a special recipe for success."
Highlights: Oregon breezes past Utah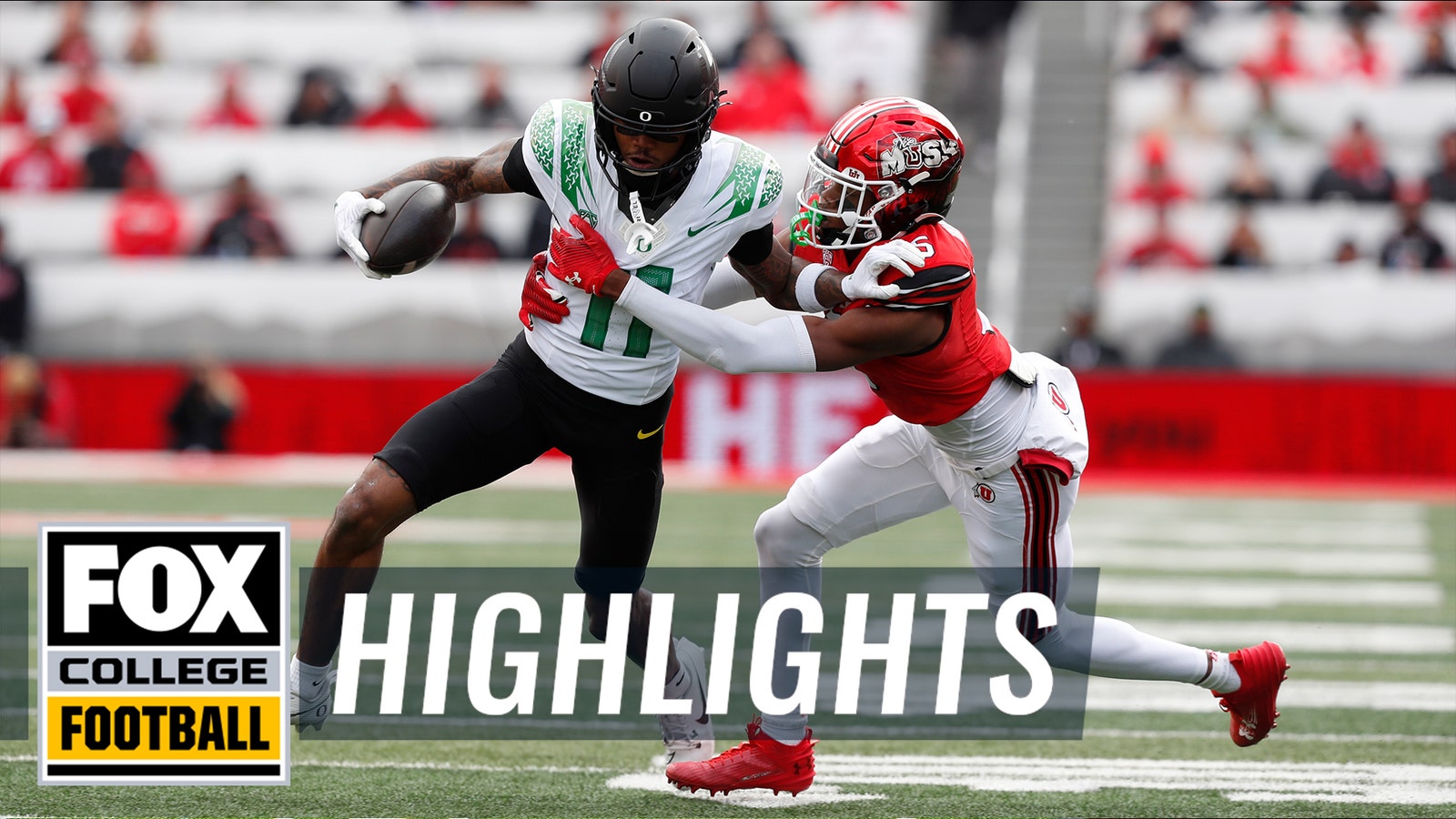 Indeed, that's a recipe many coaches would love to cook up, but it's particularly notable for Nix, who has reached a point where a trip to New York for the ceremony in December isn't just likely, but expected.
The former five-star arrived at the Plains with a lofty billing and plenty of expectations as the son of an ex-Tigers quarterback, but he never quite could get everything to align before his eventual departure to the far greener pastures of the Pacific Northwest. For far too many games at Auburn, particularly in the SEC West battles where a name is made or broken, there were enough head-scratching plays to cause fans to shout: Bo, no!
Now Oregon is putting his face on billboards in Times Square with 'Bodacious' — as they did preseason — and Ducks fans are bringing signs to games en masse using the old Nike catchphrase that is appropriate in so many ways, with 'Bo Knows!' emblazoned on them.
"I think that's something that comes with playing really good team football," Nix said of the Heisman talk, quickly defecting any questions about his rise on the national stage. "My ultimate goal is to do whatever I can to win games. The guys in the locker know that I want to win a championship."
'We got a special team' — Dan Lanning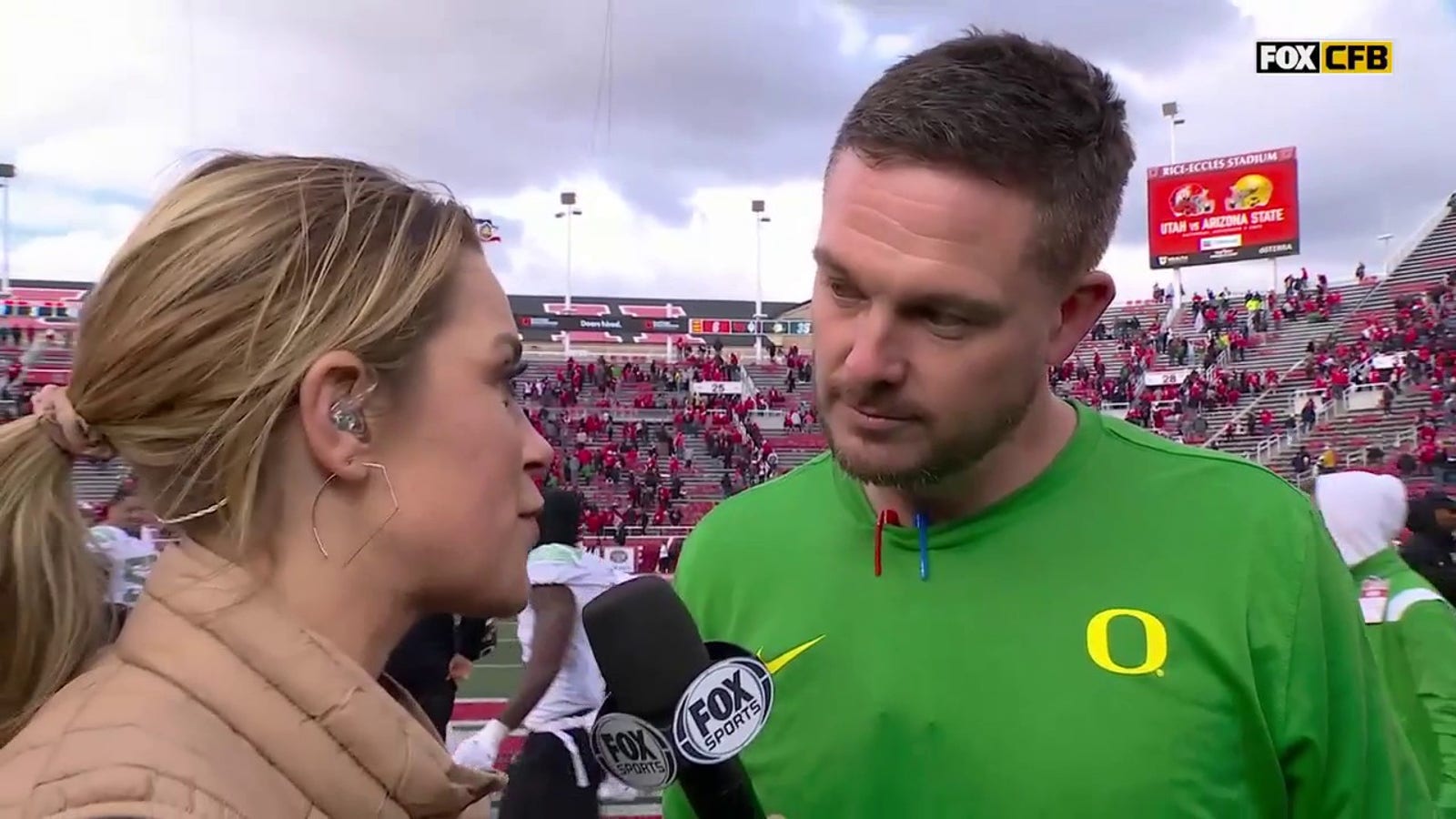 To be fair, that's a goal every quarterback at a major program will put up on their wall, but with Nix, it's increasingly looking like a potential reality. The signal-caller led the country in completion percentage coming into the day, and he talked afterward about the seven passes that got away as something he must improve upon. 
Those marginal gains are perhaps what has led to such a big jump on the field with his play. After beating up on the Utes, Nix detailed one touchdown pass where he played mind games with opposing head coach Kyle Whittingham and defensive coordinator Morgan Scalley, checking into and out two plays before finally seeing his team wind up in the end zone following a dazzling tight window throw. 
"To me? That's the best quarterback in the country," said wide receiver Traeshon Holden, who caught the game's final score midway through the third quarter to seal the result. "That would be three Heisman Trophies with me."
The Alabama transfer certainly knows what he's talking about. He lined up alongside 2020 Heisman winner DeVonta Smith to help win the national title, and he caught passes from 2021's stiff arm recipient Bryce Young.
Will Nix be able to make it three for Holden and give Oregon another Heisman after Marcus Mariota's served as the high-water mark for the Nike-fueled upstart back in 2014?
Oregon's Bo Nix connects with Jordan James on 18-yard TD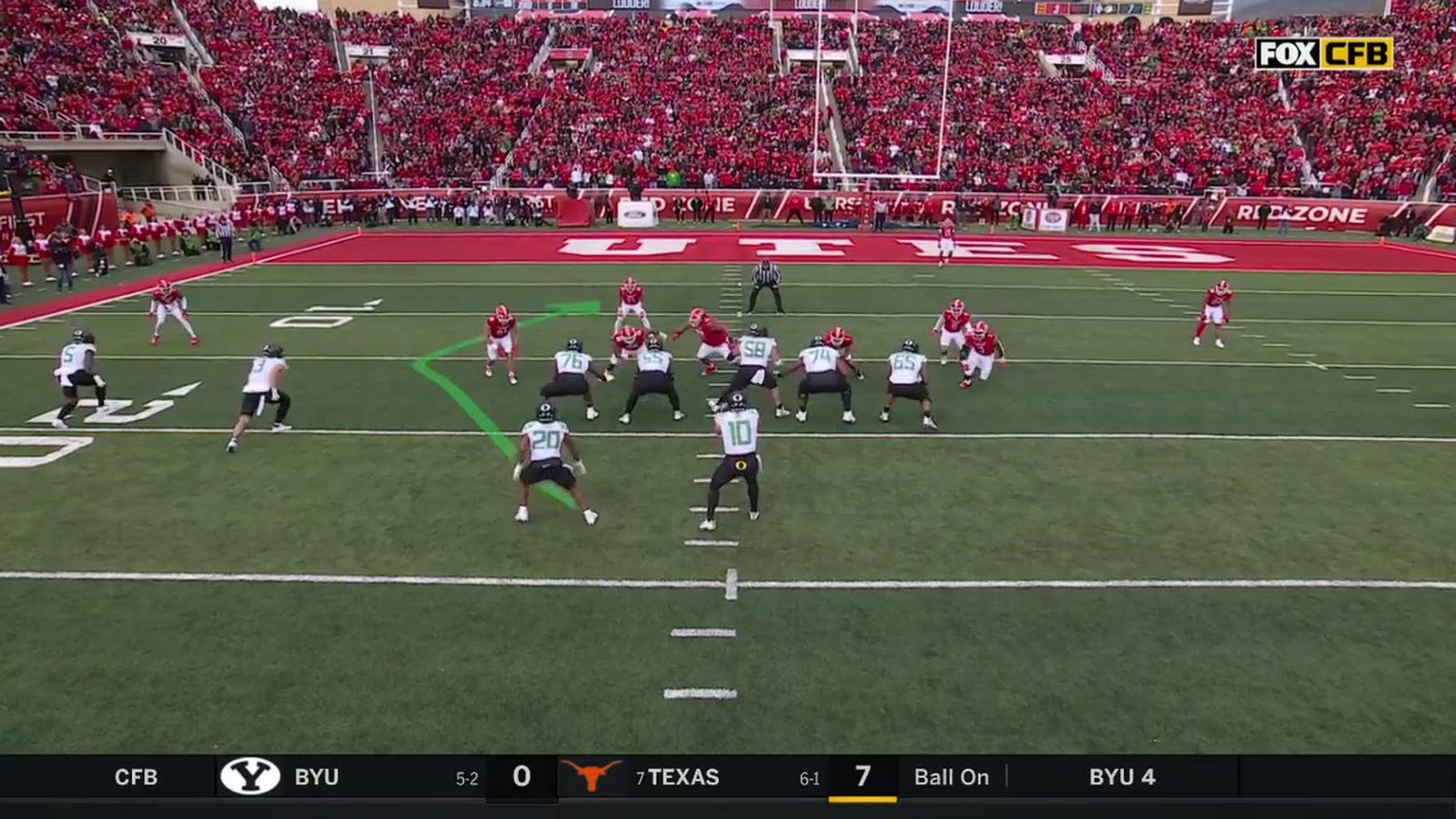 As much talk of that potential that there is within a fan base about the most famous trophy in the sport, those within the locker room are aiming a little higher as they exit the final Saturday before this year's College Football Playoff rankings are released Tuesday.
"We're going to do everything we can to go back to work on Monday to (win championships), because we got it right in front of us," added Nix. "You can really feel it."
Bo knows. 
Perhaps the rest of the country is starting to come around to the idea as well. 
Bryan Fischer is a college football writer for FOX Sports. He has been covering college athletics for nearly two decades at outlets such as NBC Sports, CBS Sports, Yahoo! Sports and NFL.com among others. Follow him on Twitter at @BryanDFischer.
FOLLOW
Follow your favorites to personalize your FOX Sports experience
[Do you want more great stories delivered right to you? Here's how you can create or log in to your FOX Sports account, follow your favorite leagues, teams and players and receive a personalized newsletter in your inbox daily.]
---
COLLEGE FOOTBALL trending
---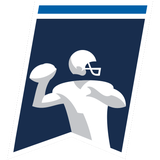 Get more from College Football Follow your favorites to get information about games, news and more
---