World Cup: 101 most memorable tournament moments
Over the span of 92 years and 21 tournaments, the World Cup has had so many memorable moments.
So every day until Qatar 2022, which will air exclusively on FOX networks starting Nov. 20, Jenny Taft and Doug McIntyre are counting down the 101 most memorable moments in World Cup history. Find out where your favorite moment ended up on our countdown.
101: Messi magic vs. Nigeria
Lionel Messi showed Nigeria goalkeeper Francis Uzoho that his right foot is just as lethal as his left, and reminded the world why he's considered by many as the greatest of all time.
Lionel Messi's miracle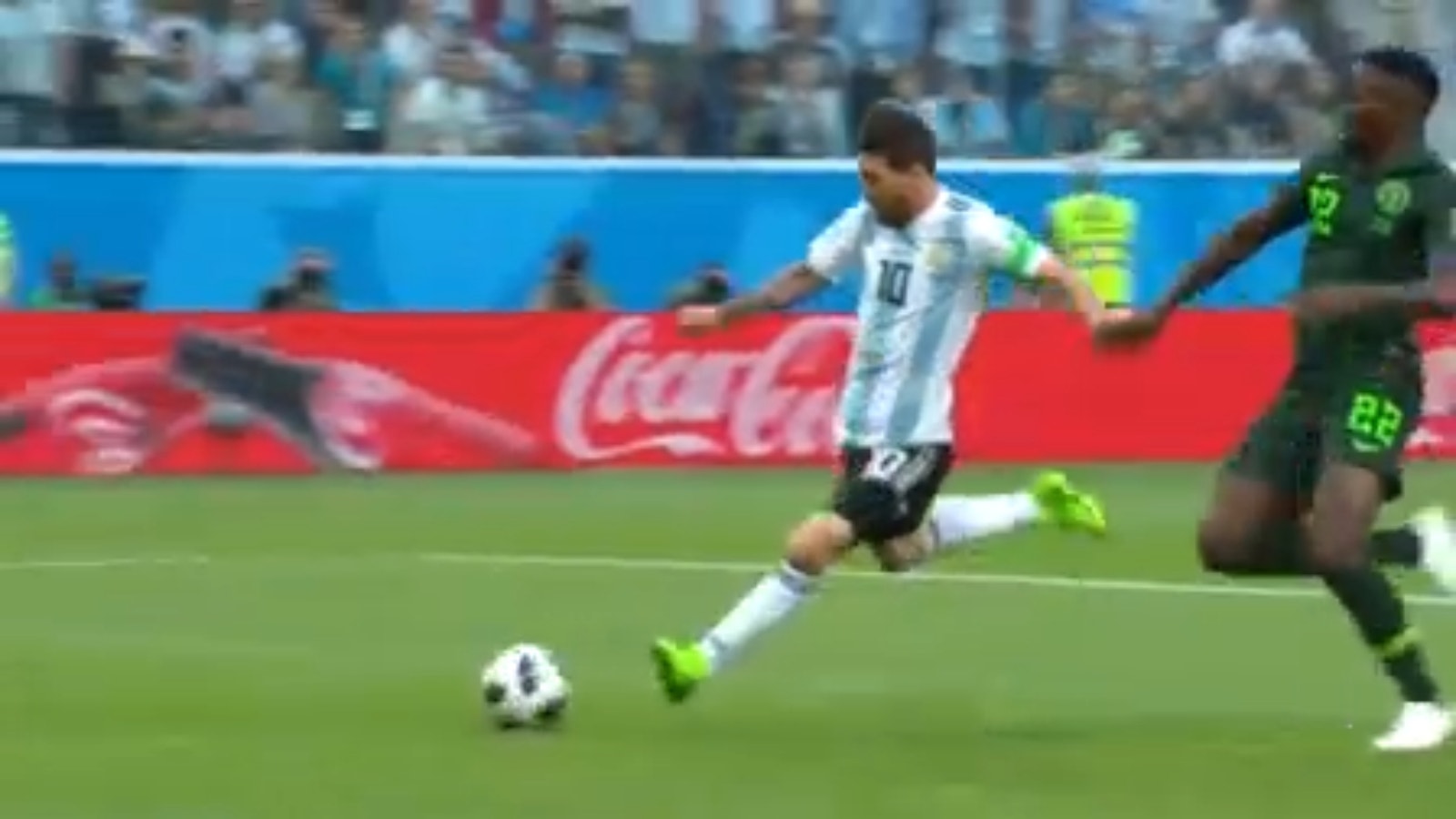 Messi led Argentina back from a disappointing start to the 2018 World Cup.
100: Wynalda's colossal curler
It would have been hard for Eric Wynalda to place his free kick more perfectly than he did; it helped that it came at the perfect time, too.
Eric Wynalda's free kick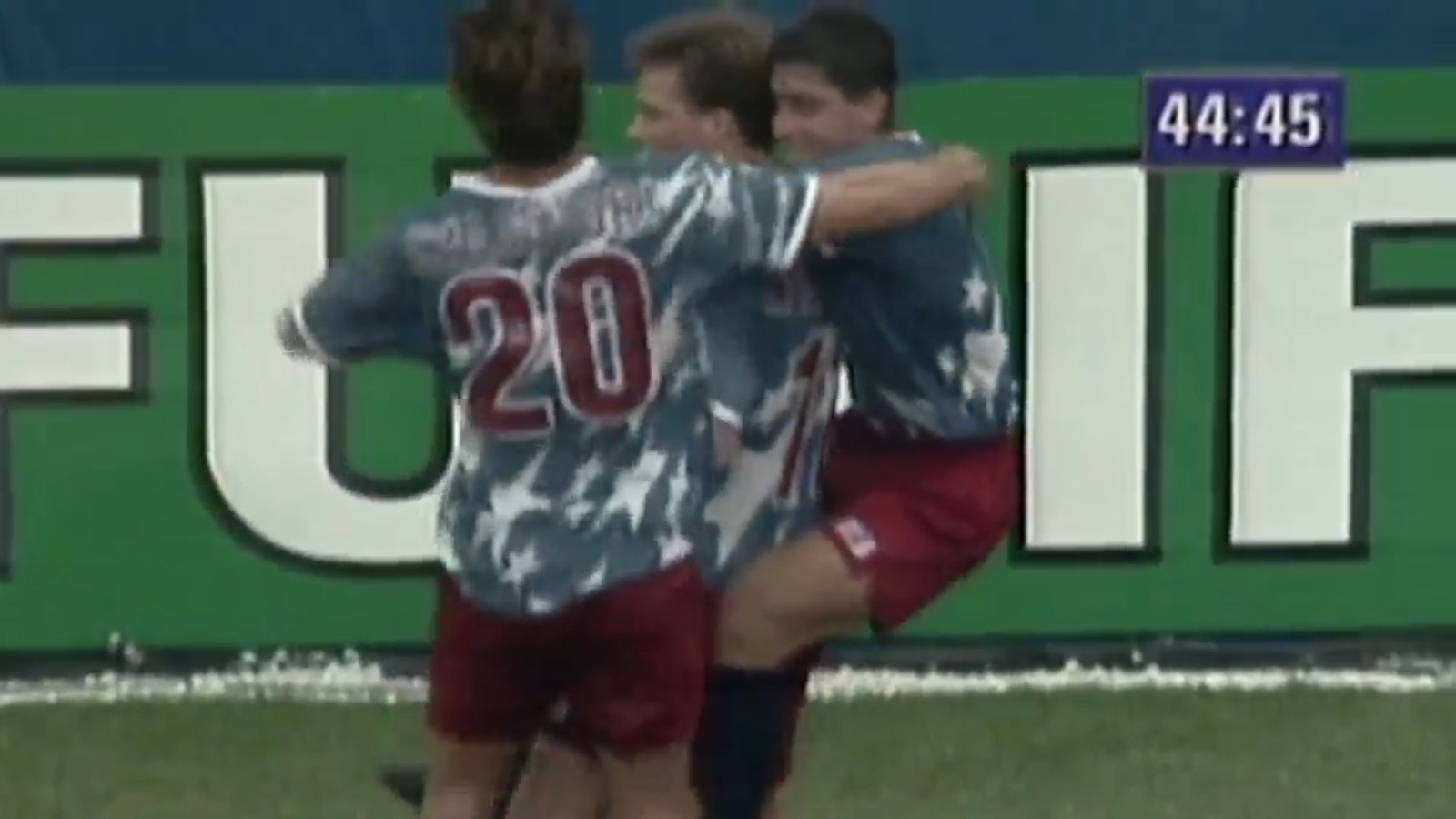 The USMNT's deepest World Cup run was made by possible by Wyndala's wonder strike.
99: Jürgen's famous flick
Long before he coached the United States men's national team at the 2014 World Cup, Jürgen Klinsmann scored a ton of goals for Germany, including this stunner against South Korea.
Jürgen spins and scores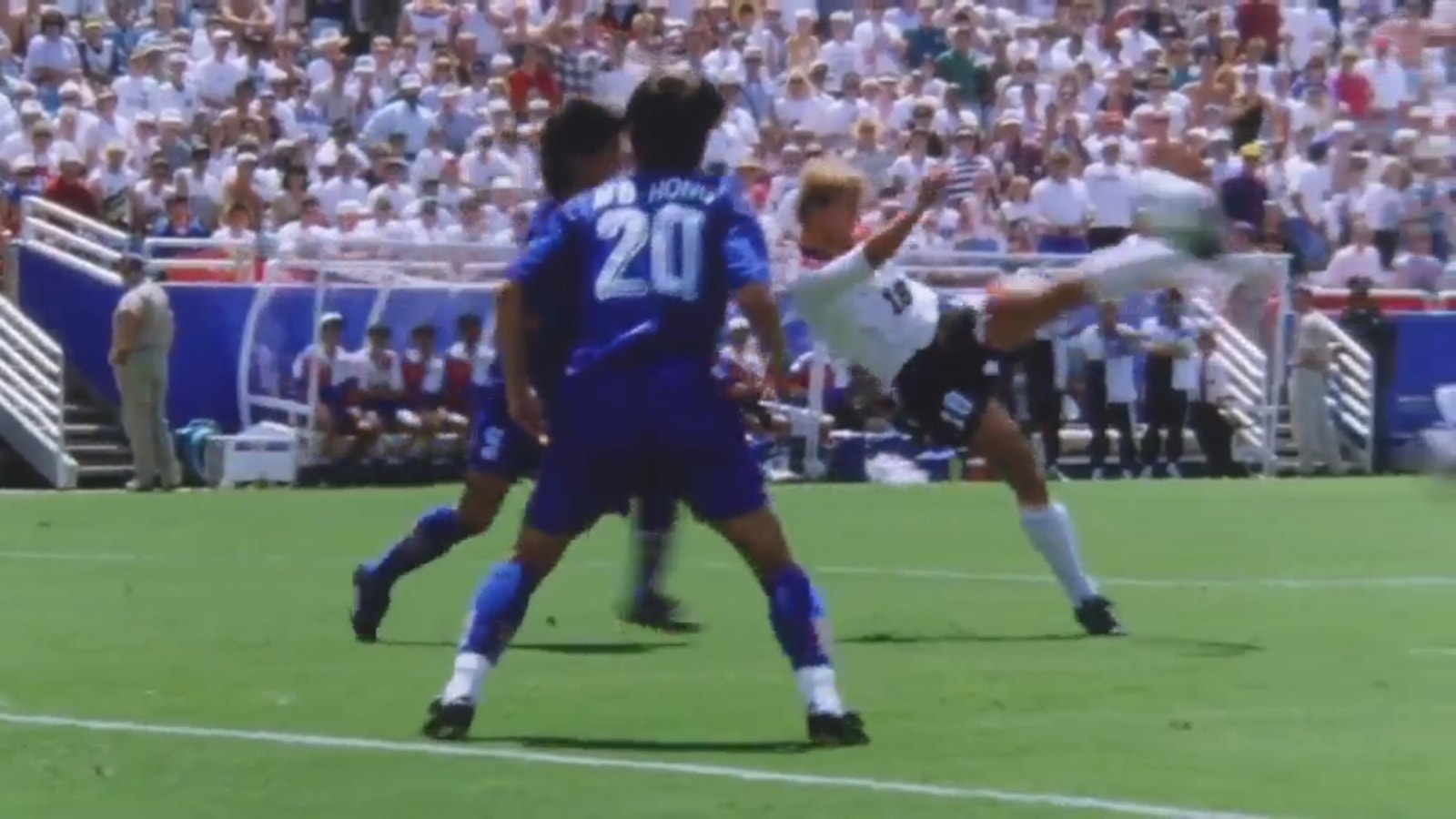 Jürgen Klinsmann set himself up for a perfect goal.
98: Cuauhtémoc's arrival
South Korea's defenders didn't know what to do when Cuauhtémoc Blanco broke out the Cuauhtemiña at the 1998 World Cup. 
The Cuauhtemiña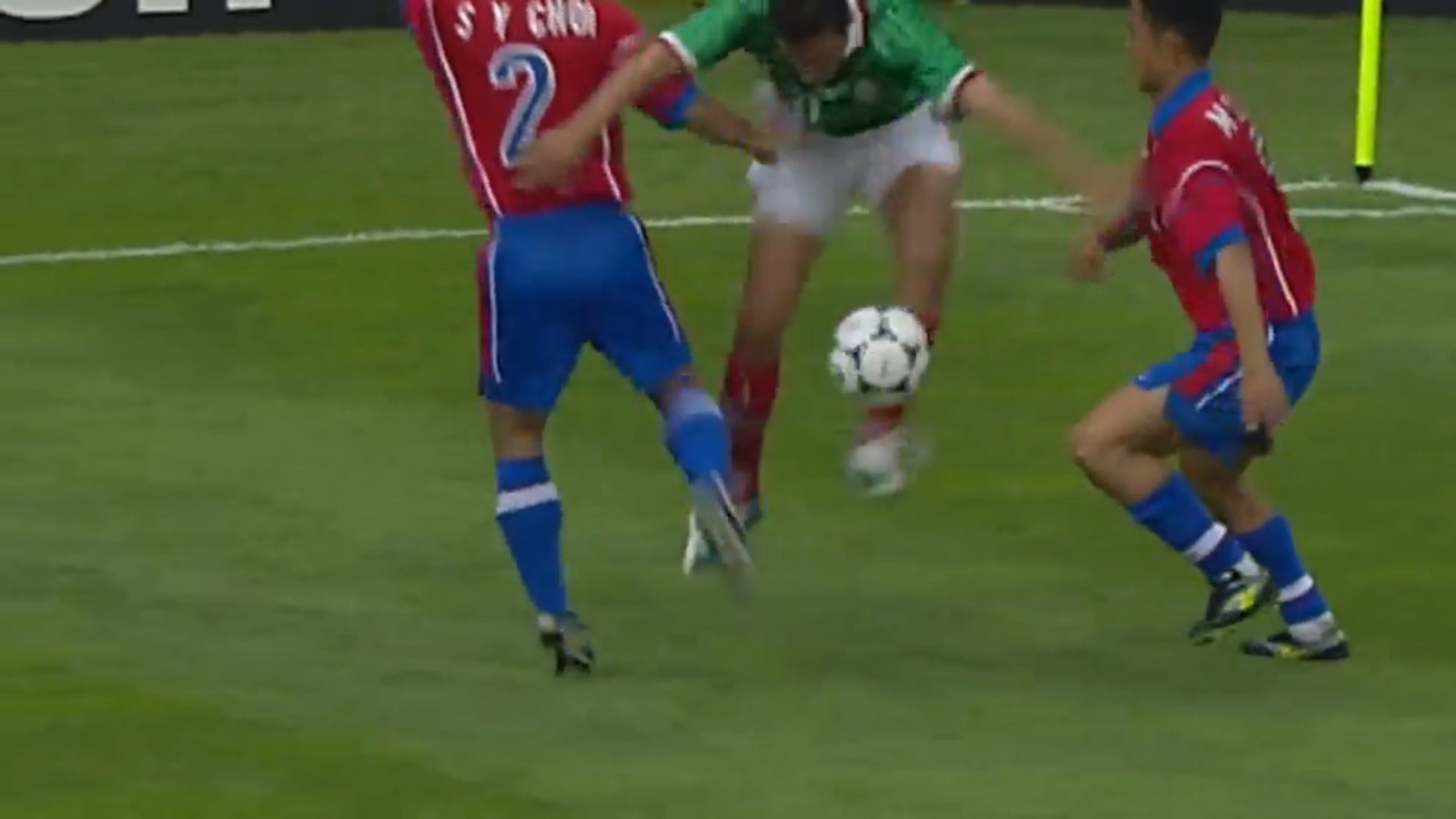 South Korea didn't do their homework on Blanco.
97: Laudrup's sneaky scoop
A no-look scoop pass over the top of the defense with the outside of the boot? Michael Laudrup didn't play fair.
Michael Laudrup's assist
Ebbe Sand was on the receiving end of one of the greatest assists in World Cup history.
96: Chilavert makes history
José Luis Chilavert didn't convert his free kick against Bulgaria at the 1998 World Cup, but he came as close as any keeper has since.
Chilavert's historic free kick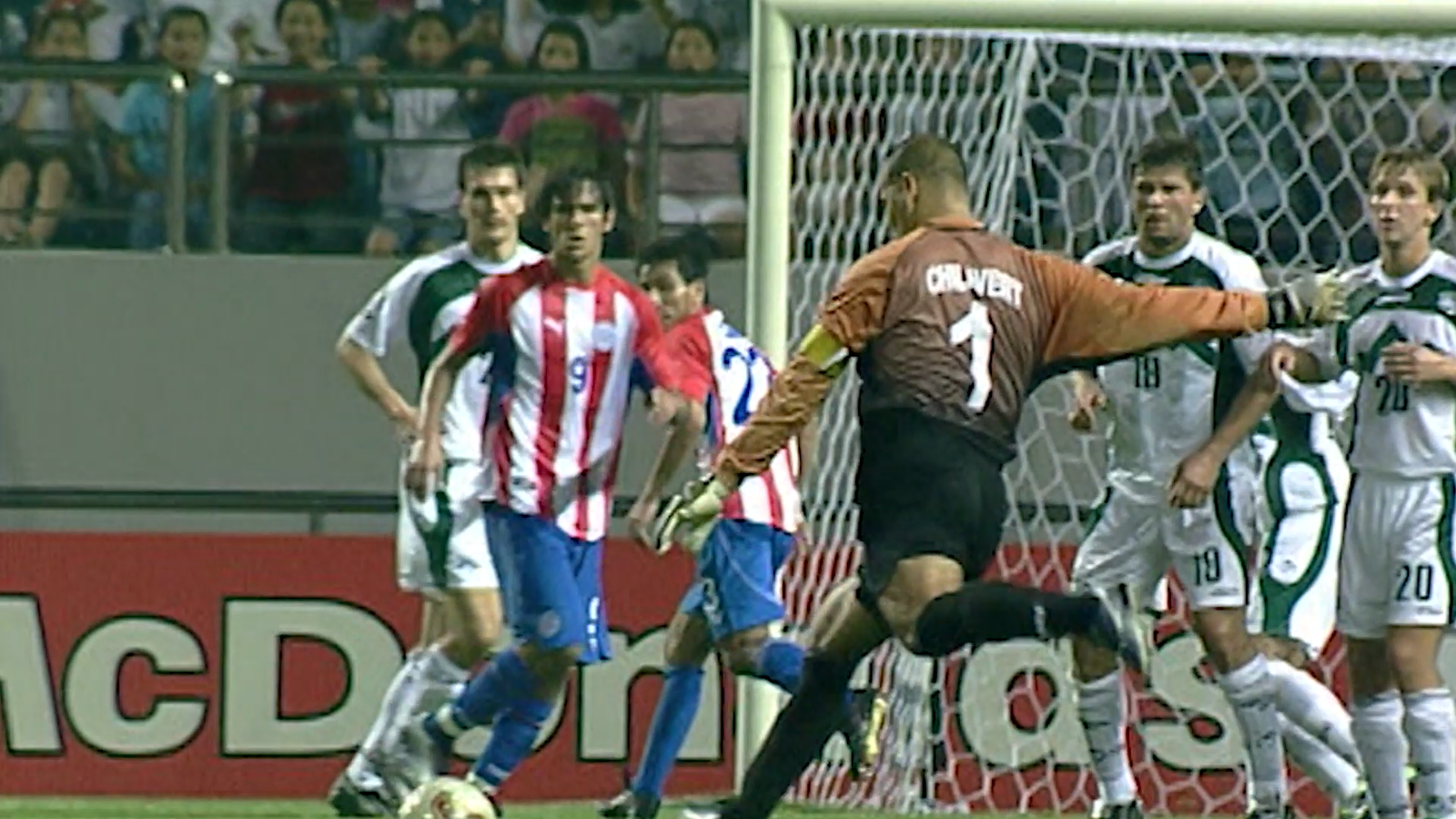 Make or miss, Chilavert made goalkeeper history.
95: Japan's thoughtful fans
Who do you think appreciated the support of Japan's fans more in 2018: Japan's men's national team or the stadium staff in Russia?
Japanese fans take fandom to the next level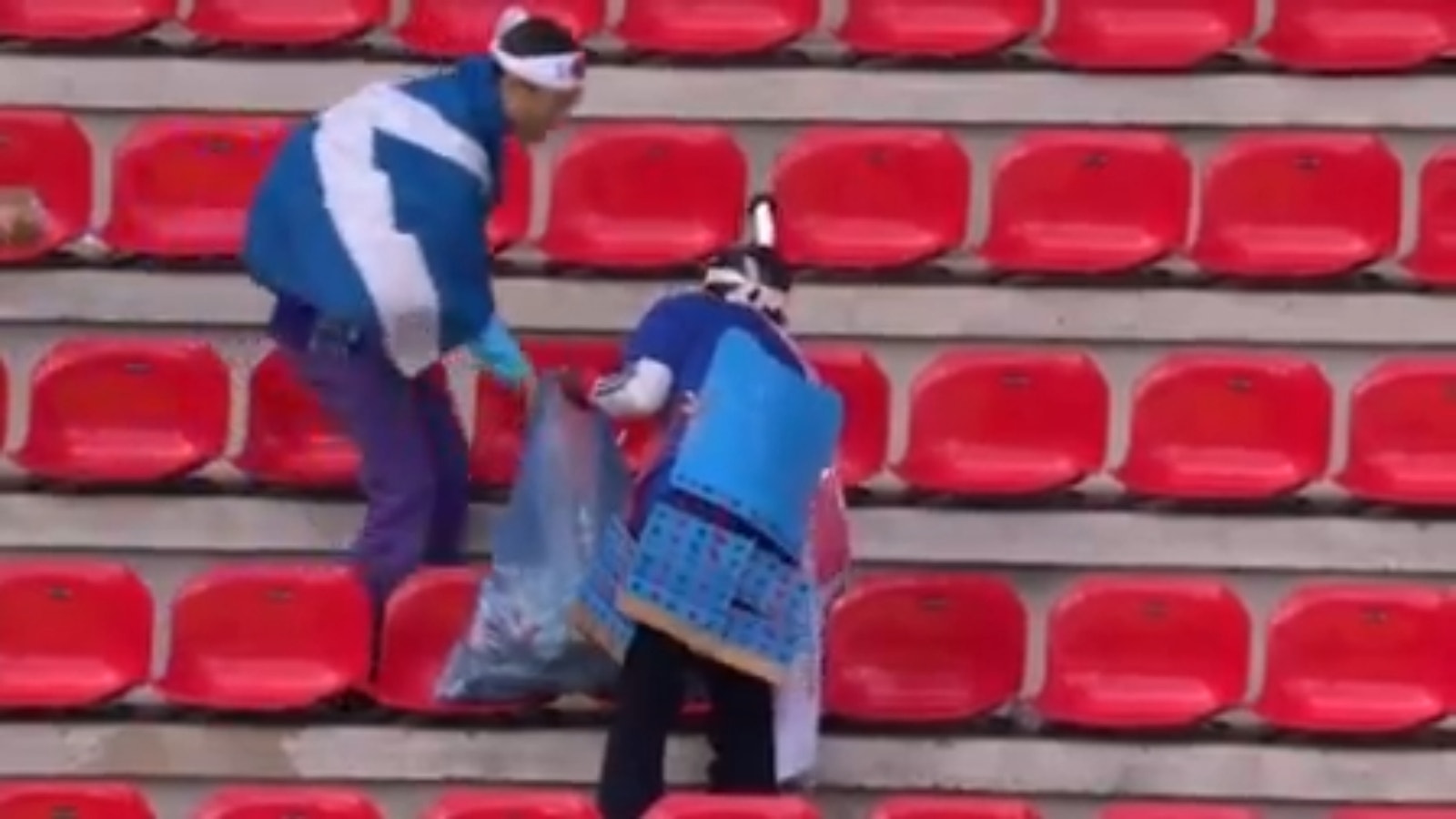 These Japanese fans did their part to keep the stadium clean.
94: Oh my, Oliseh
The power and precision of Sunday Oliseh's shot stunned the Spanish giants of 1998. I mean, how do you stop that?
Oliseh's screamer vs. Spain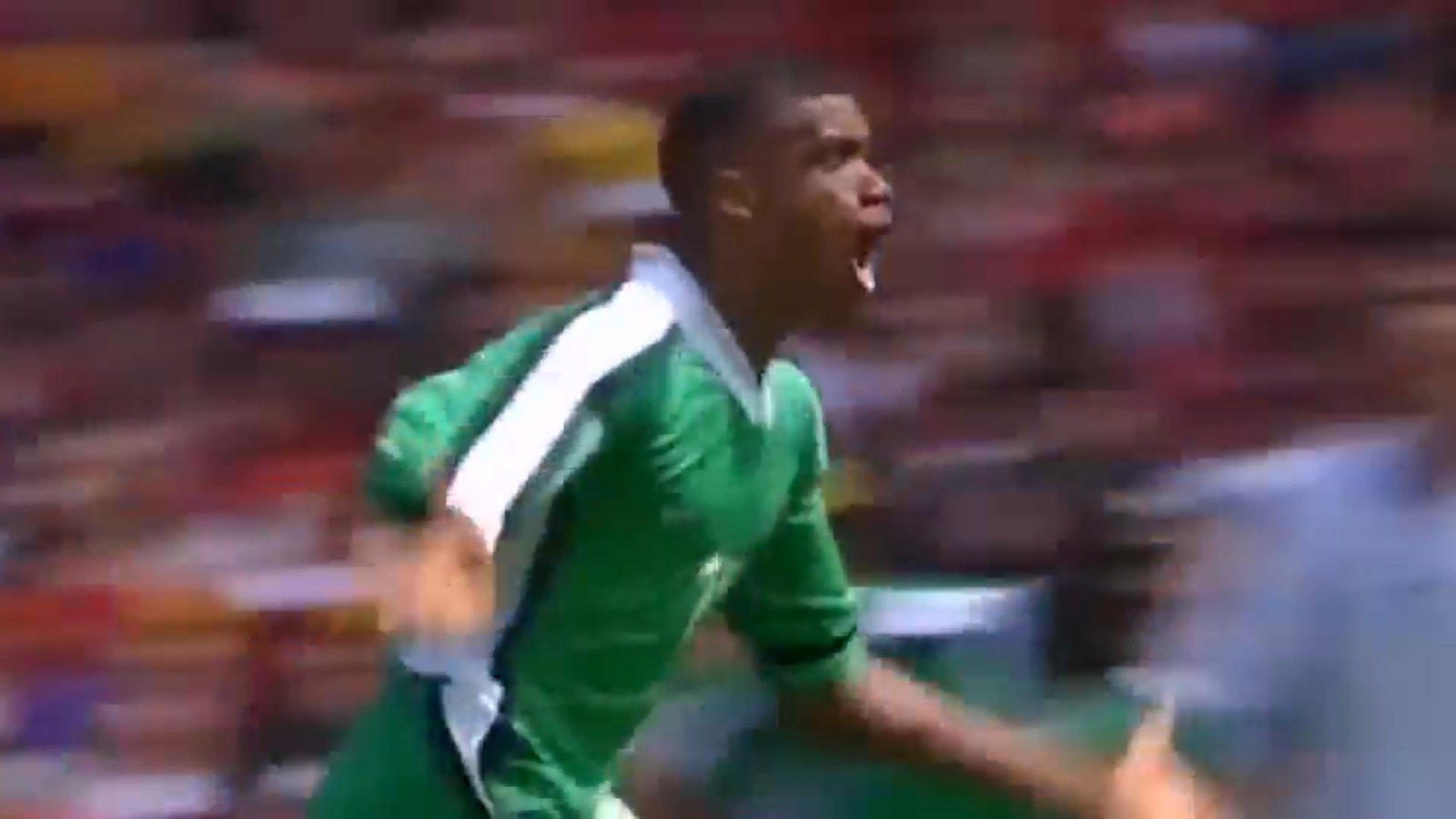 Nigeria upset Spain 3-2 at the 1998 World Cup.
93: Matthäus' individual brilliance
Yugoslavia paid the price of giving Lothar Matthäus ample space to operate in the midfield, and his German teammates watched him collect.
Matthäus' run and rocket
Matthäus' long-range effort was one of his two impressive goals in Germany's 4-1 victory.
92: El Tri tops Die Mannschaft
Mexico's fans were hoping for a draw against Germany; what they got was arguably El Tri's most surprising result on the World Cup stage.
Mexico upsets Germany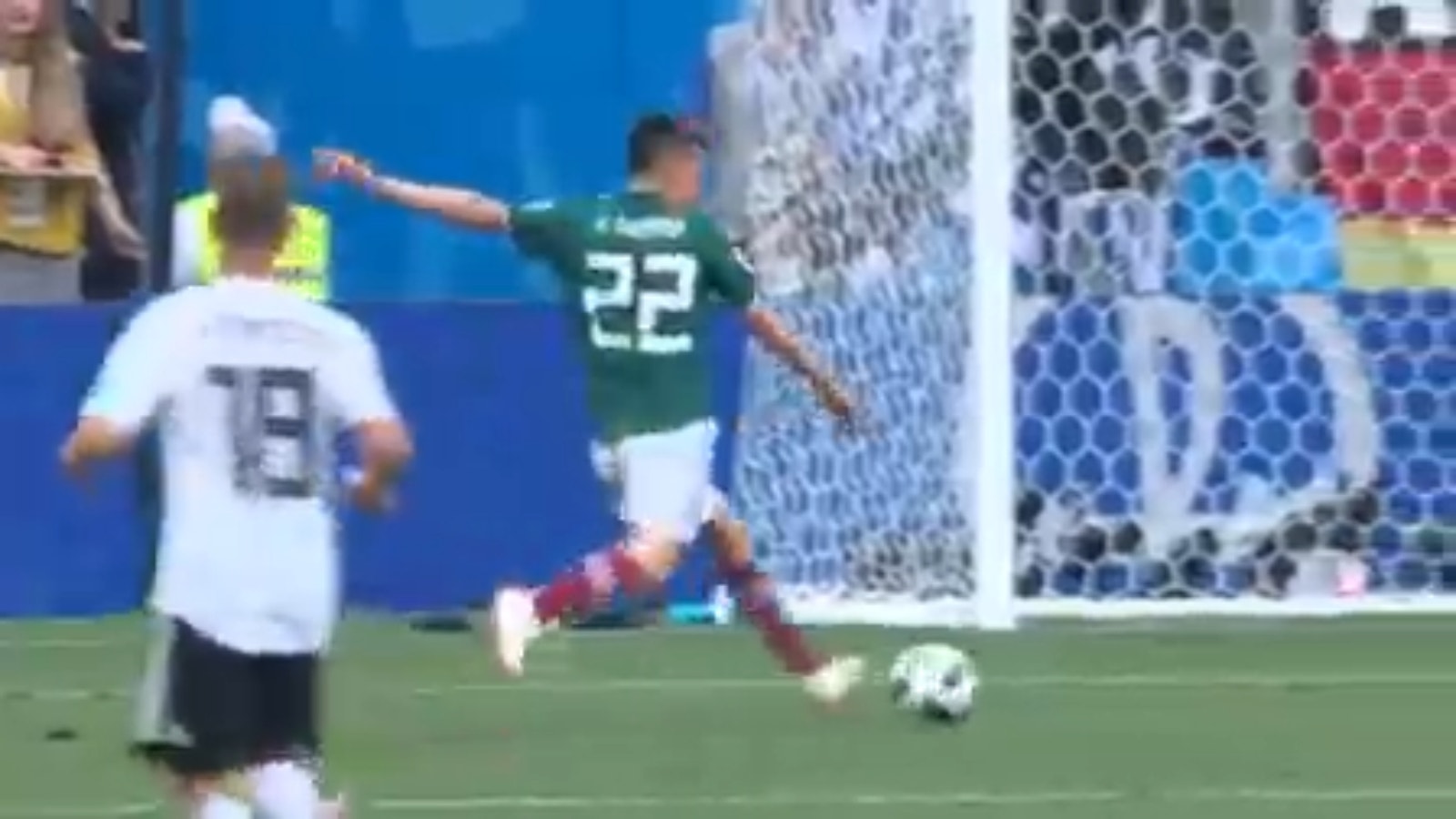 Chucky Lozano was the hero in Mexico's 1-0 win over Germany.
91: Pelé's magical miss
It's safe to say this would have landed higher on our countdown had Pelé stuck the landing.
Pelé's runaround
Even Pelé's are highlight worthy.
 90: Letchkov's heroic header
West Germany were the favorites to repeat as world champions in 1994 … until Yordan Letchkov decided they weren't.
Letchkov's header stuns Germany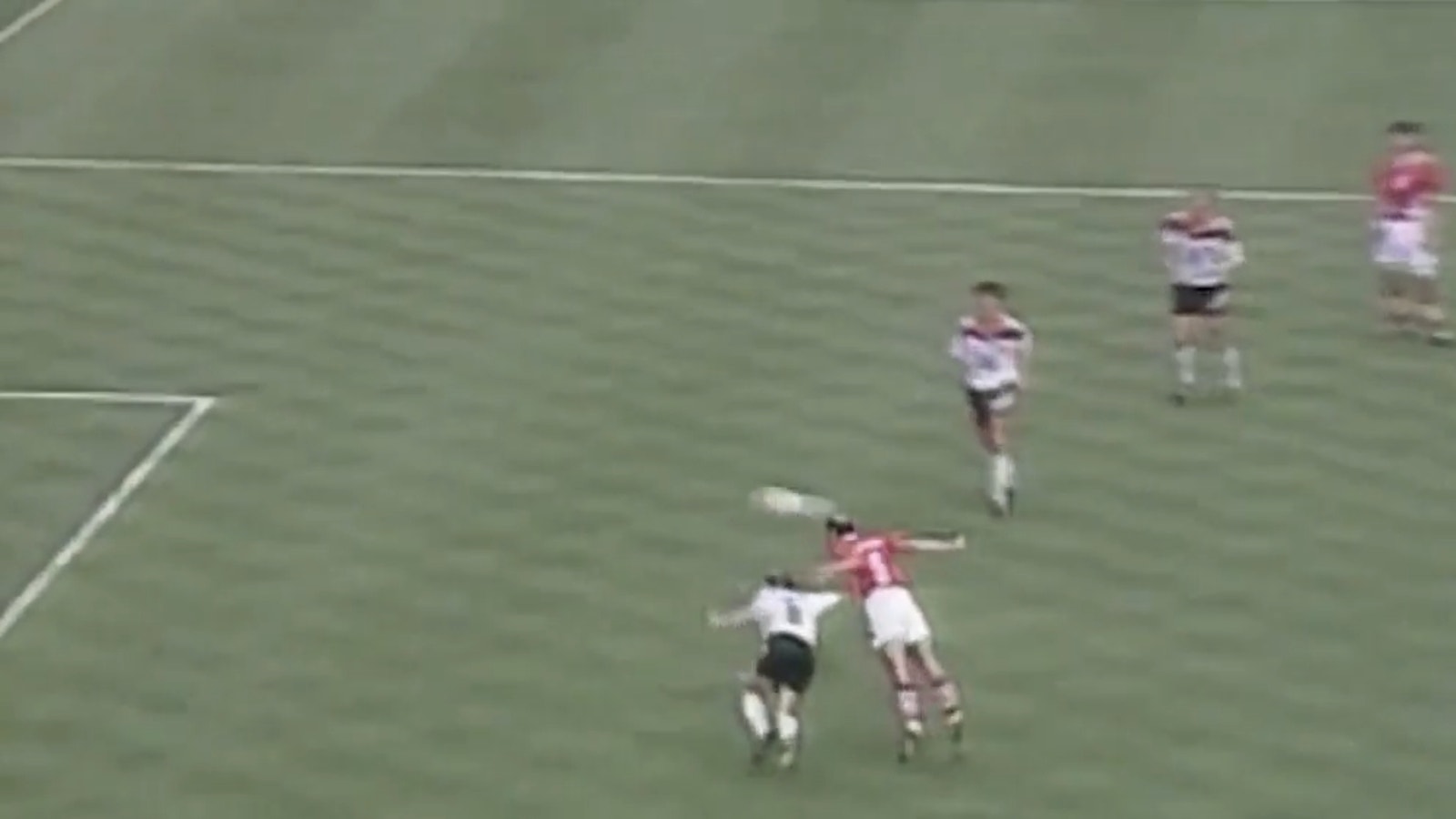 Yordan Letchkov's goal completed Bulgaria's unlikely win against Germany.
89: No era penal
This one's pretty self-explanatory for Mexico fans: It wasn't a penalty.
Mexico's battle cry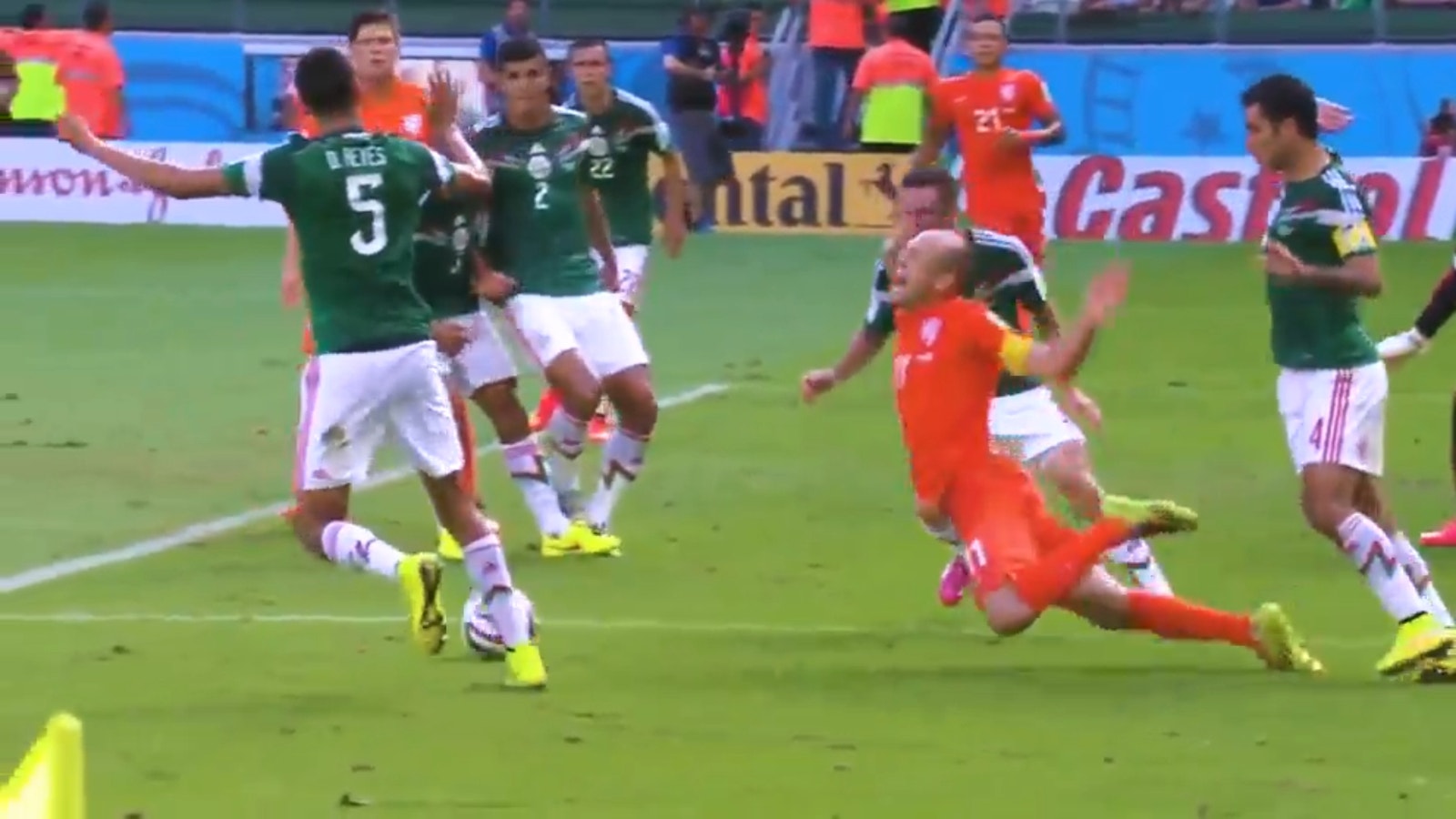 Arjen Robben drew a controversial foul call in the box and then the Netherlands scored on a penalty kick.
88: Bebeto rocks the baby
In 1994, Brazil's Bebeto gave his newborn son the best birthday present ever: a celebration at the World Cup.
Bebeto's birthday gift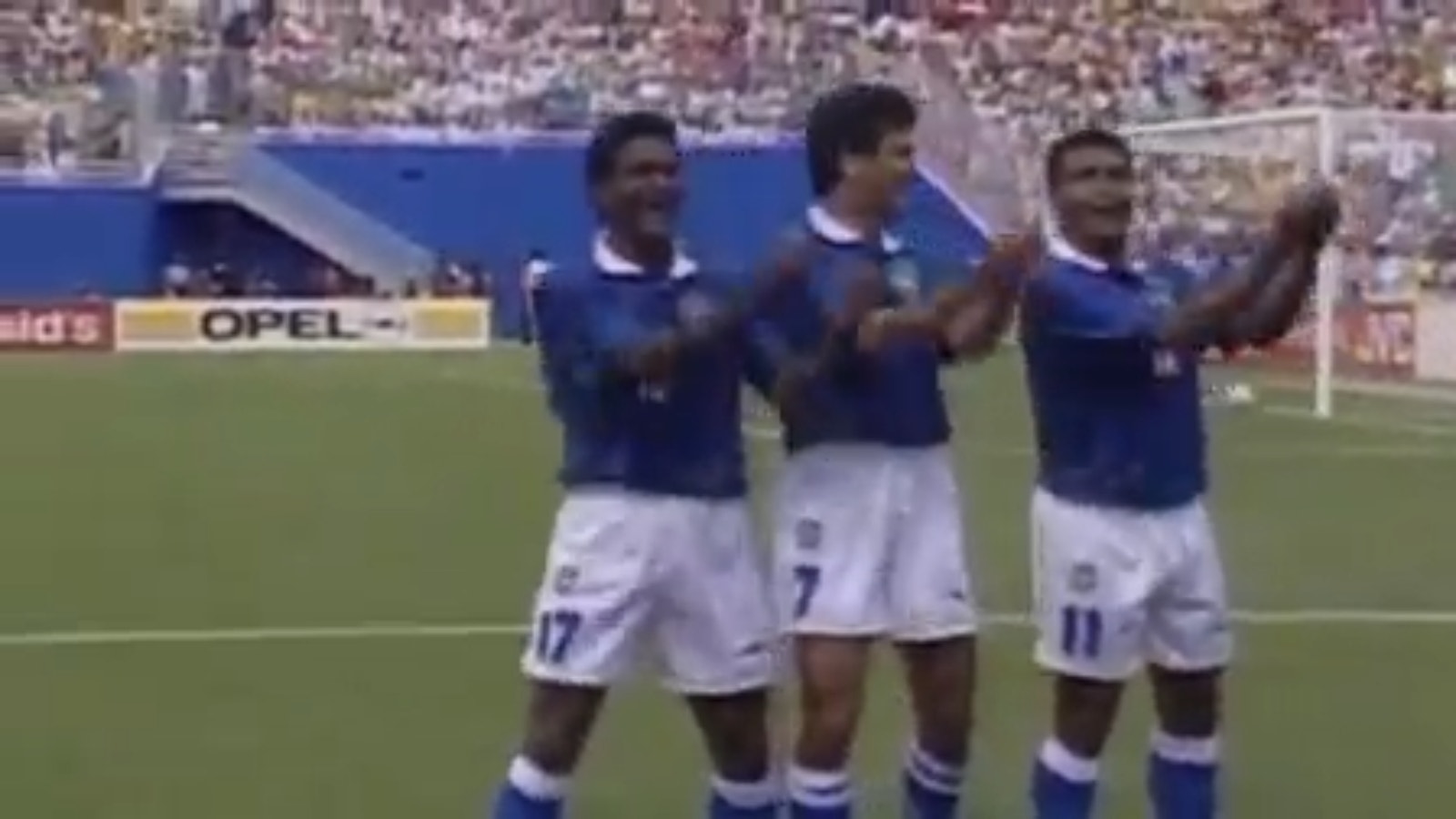 Brazil's Bebeto scores against the Netherlands and celebrates by rocking the baby for the birth of this newborn child.
87. First goal wins
There have been two golden goals in World Cup history; Laurent Blanc's sent his team to the quarterfinals, where they'd win en route to their first-ever World Cup trophy.
First golden goal
French defender Laurent Blanc scored the first golden goal to eliminate Paraguay in the 1998 FIFA World Cup.
86. Italy goes back-to-back
Pelé's Brazil teams are the most famous to win back-to-back World Cups, but they weren't the first.
Italy becomes first back-to-back winner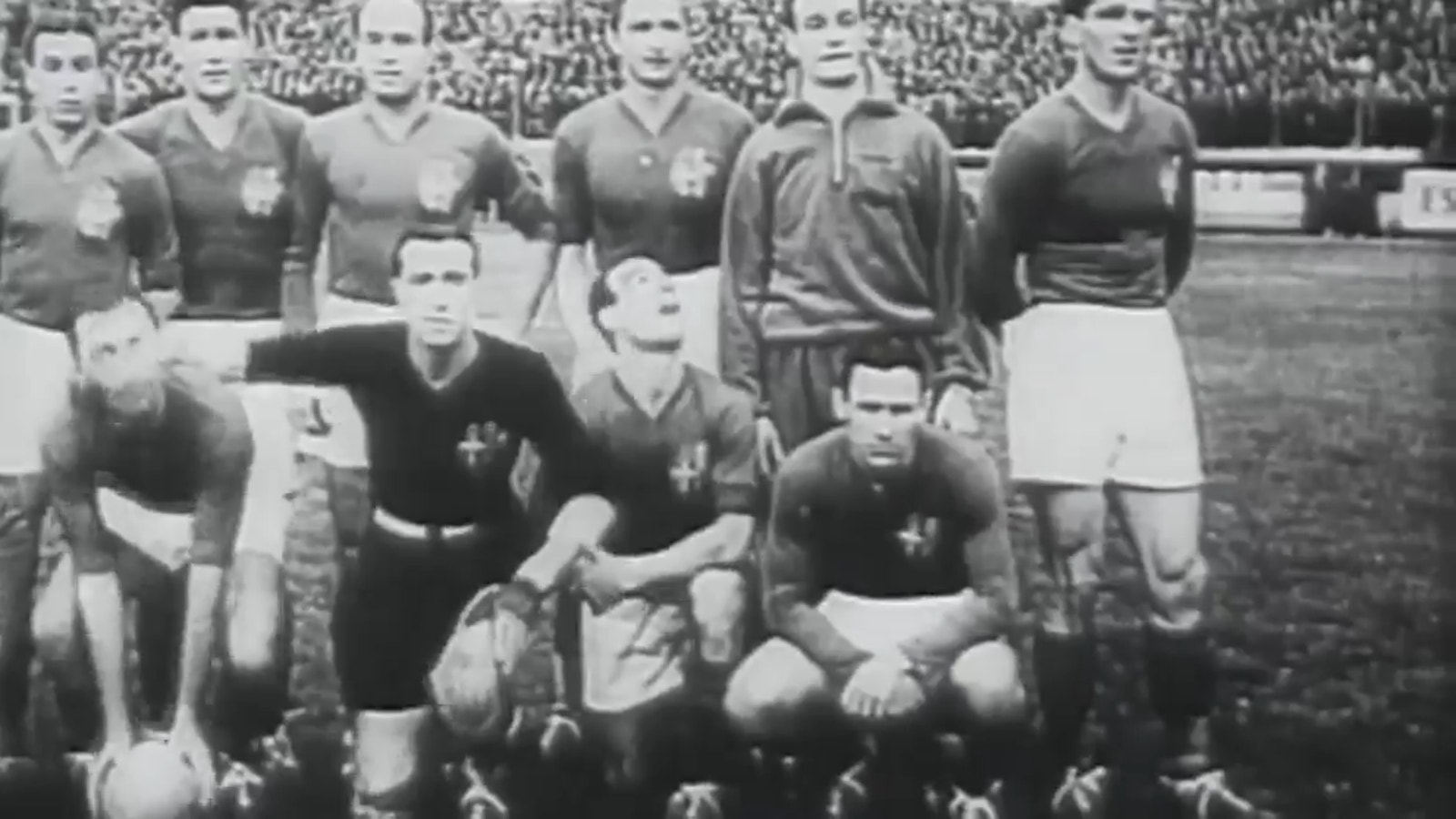 Italy won the World Cup in 1934 and 1938.
85. Salenko's five-goal frenzy
Oleg Salenko already had the golden boot secured when Russia were eliminated in the group stage of the 1994 World Cup.
Salenko bags five goals
Russia's Salenko scores five goals against Cameroon in the 1994 FIFA World Cup.
84. The Secretary of Defense
Tim Howard did everything he could to save the United States from elimination at the 2014 World Cup, and his record-setting performance in the USMNT's loss to Belgium earned him the nickname "Secretary of Defense."
Tim Howard sets saves record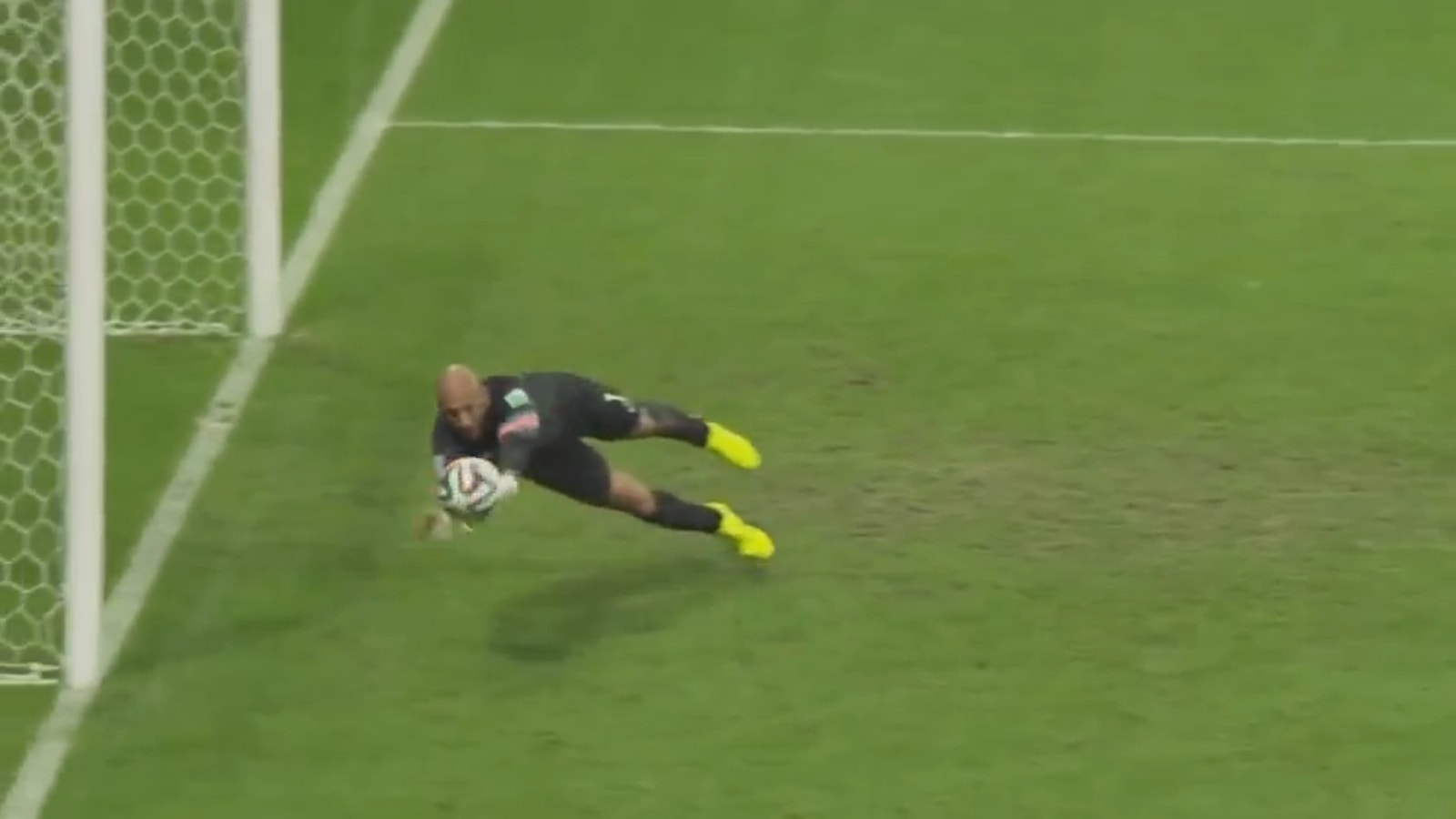 Tim Howard set the WC saves record for the USA against Belgium.
83. Record scoreline set
Hungary showed no mercy for El Salvador in their record-setting 10-1 win at the 1982 World Cup. 
Hungary embarrass El Salvador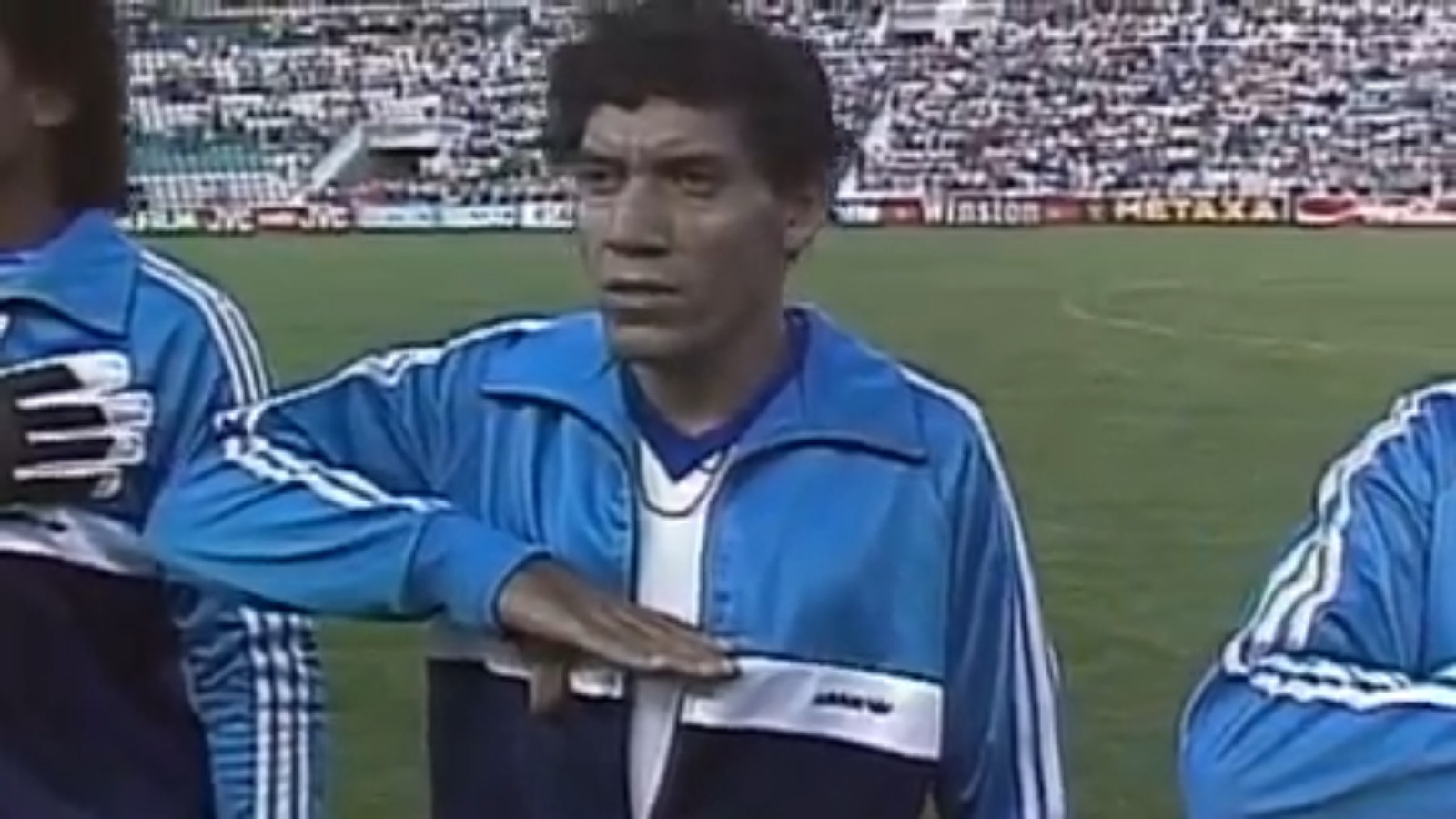 Hungary scored 10 goals against El Salvador, making it the most lopsided result in World Cup History.
82. USMNT robbed of semifinals
The United States men's team would have had a fair chance of making their first World Cup semifinal appearance since 1930 had it not been for a missed call.
Germany get away with handball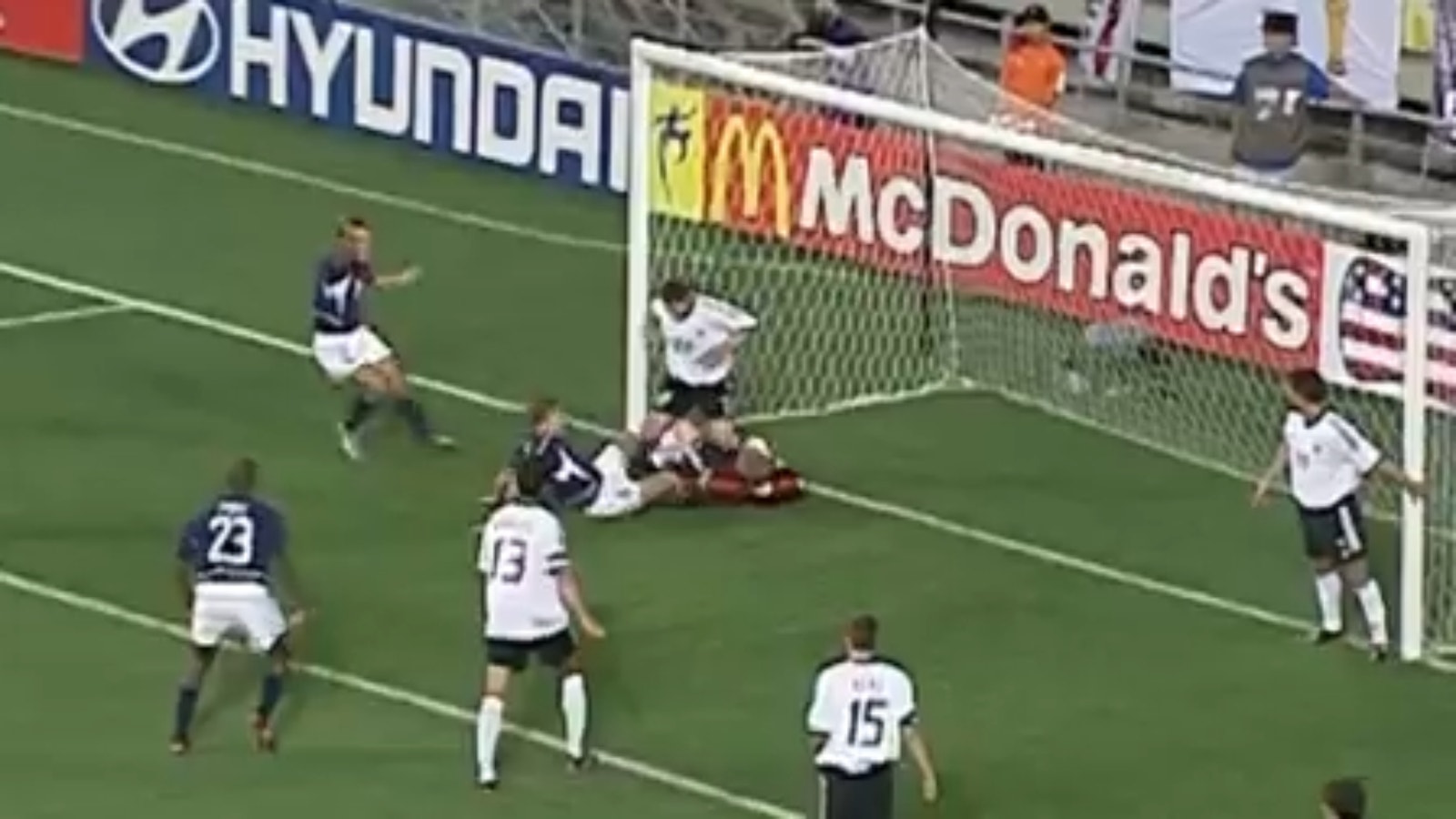 The USMNT could have evened the score with a converted penalty.
81. England come back in extra time
Cameroon nearly became the first African men's team to advance to a World Cup semifinal, but they couldn't stop England's comeback.
Lions vs. Lions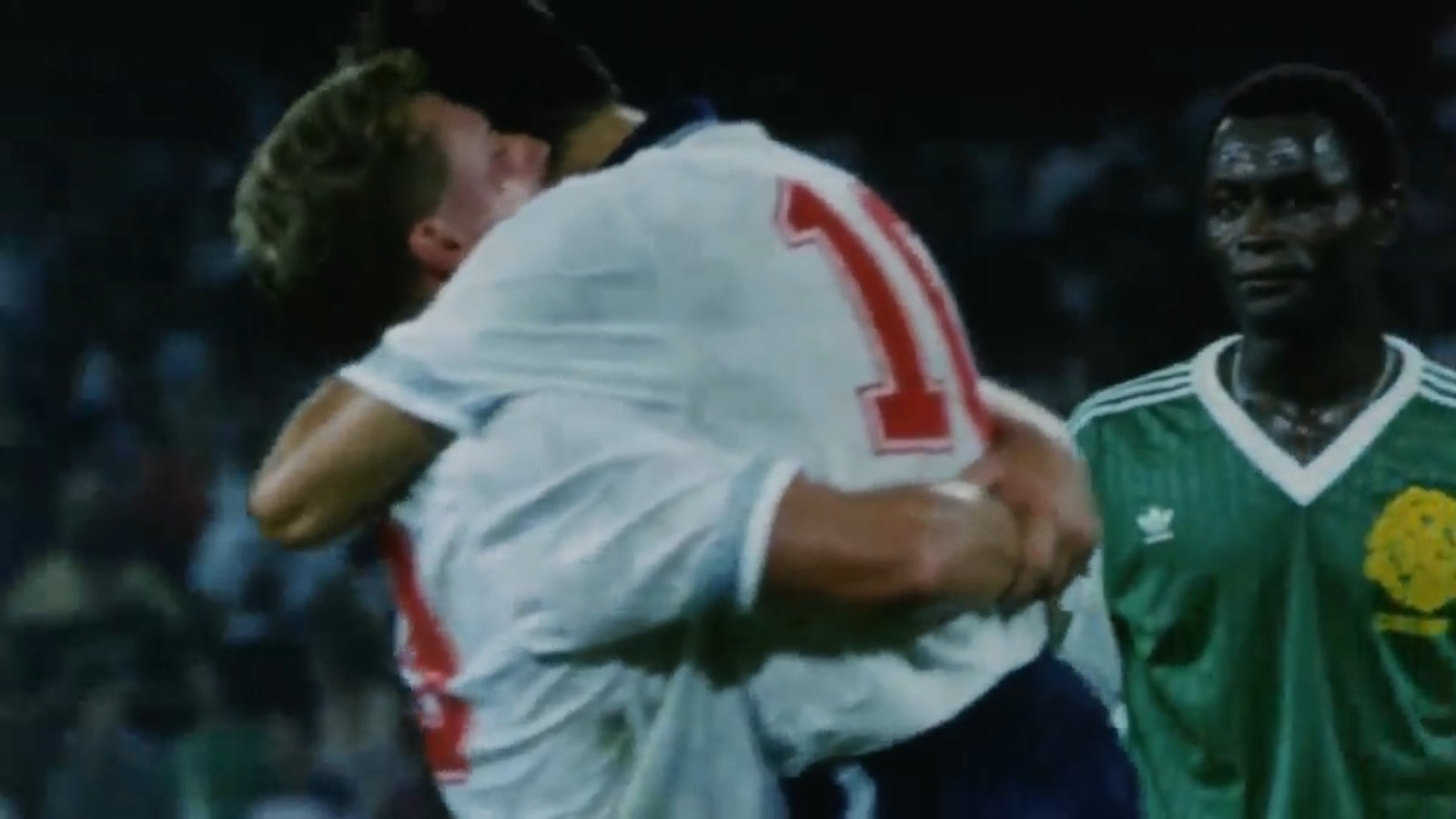 England beat Cameroon 3-2 at the 1990 World Cup
80. Van Bronckhorst's blast
Giovanni van Bronckhorst went from uncertain roster selection to national hero at the 2010 World Cup.
Van Bronckhorst goes top bins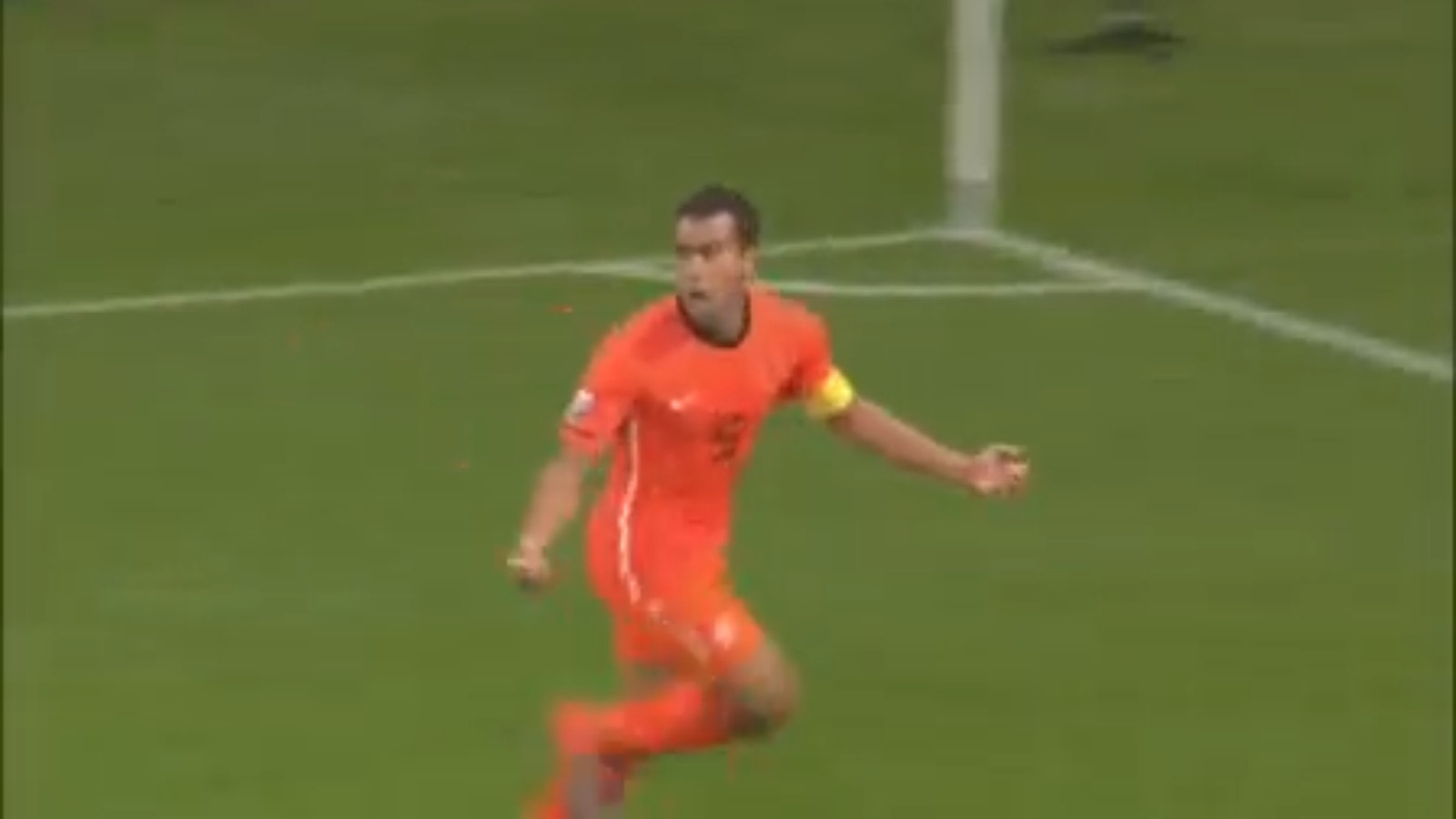 Fernando Muslera didn't stand a chance against this shot.
79. South Korea play spoiler
South Korea's win over Germany wasn't enough to push them through to the knockout stage, but it did eliminate the then-reigning champions of the world.
South Korea's stoppage time thriller
Son Heung-min sent the Germans home in 2018.
78. England hold off Colombia
England's misfortune with penalty shootouts took a brief break at the 2018 World Cup.
Dier ends England's curse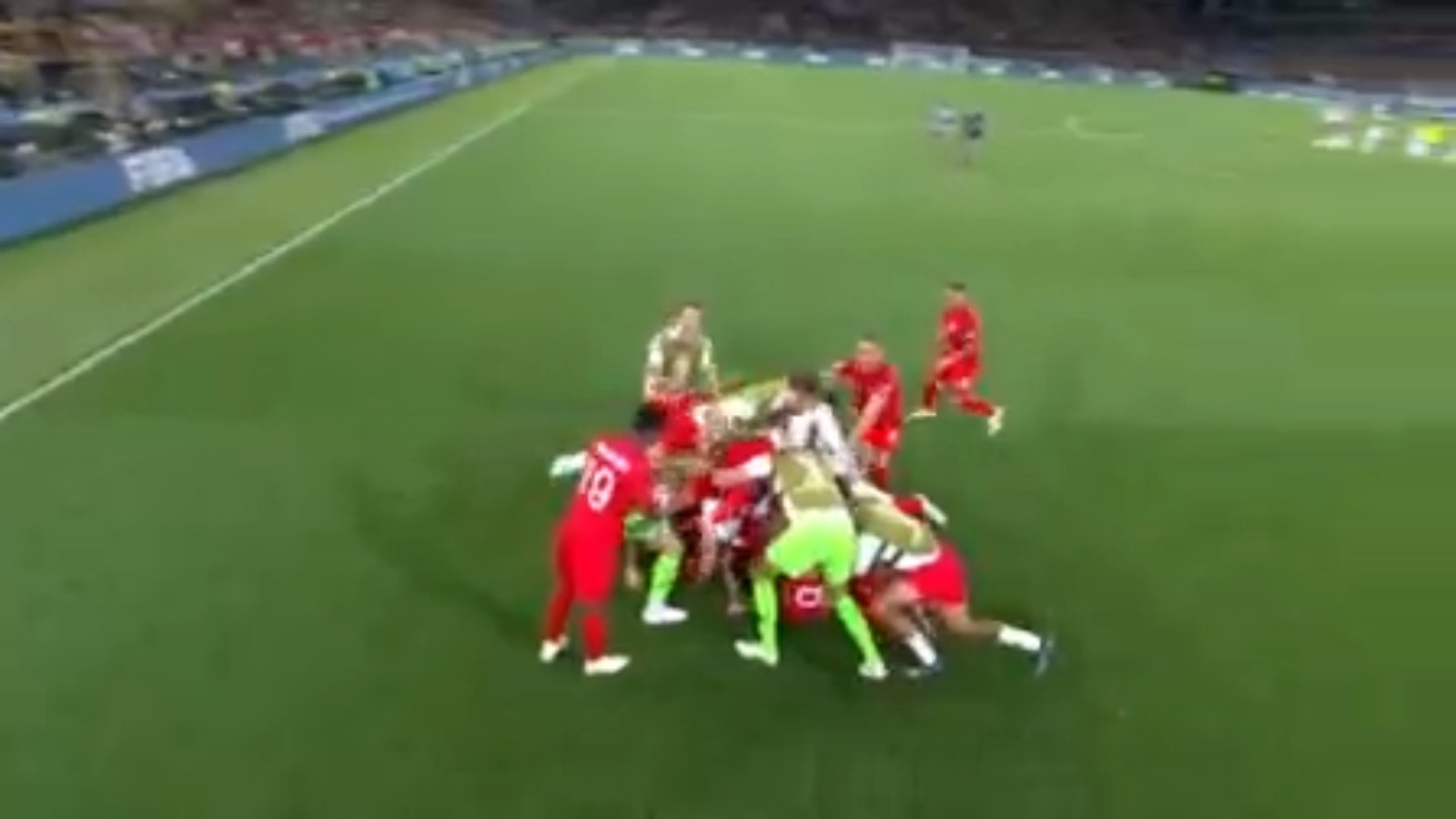 The Colombians nearly upset England.
77. Iran's gesture of peace
Although Iran beat the United States on the pitch, their gesture was the talking point of the game after the final whistle.
Iran sends a message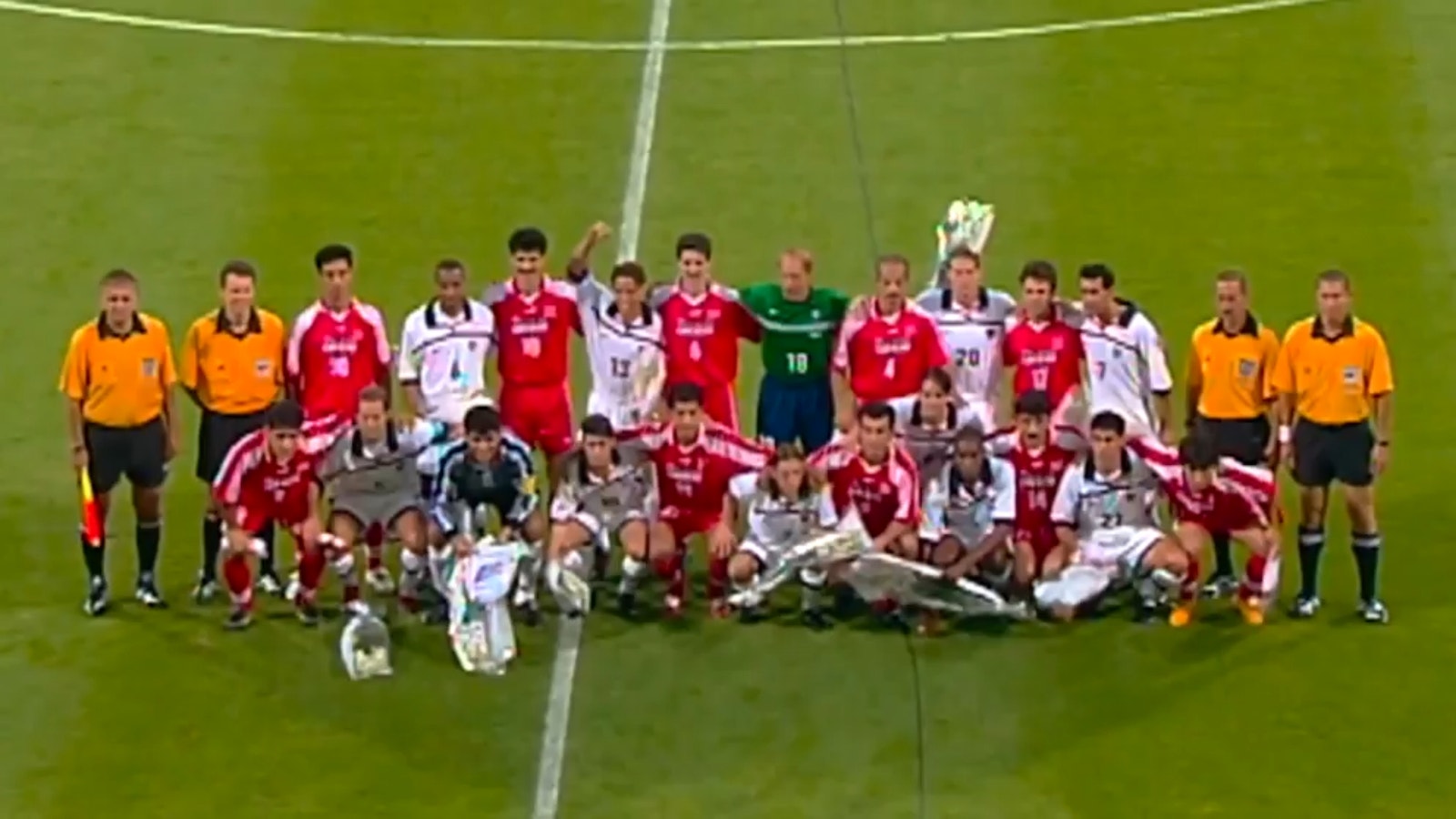 Members from Iran gifted the USMNT bouquets of flowers.
76. Just Fontaine's 13 goals
Just Fontaine scored 13 goals at the 1958 World Cup, as many as the last two World Cup Golden Boot winners scored combined.
Fontaine fires record 13 goals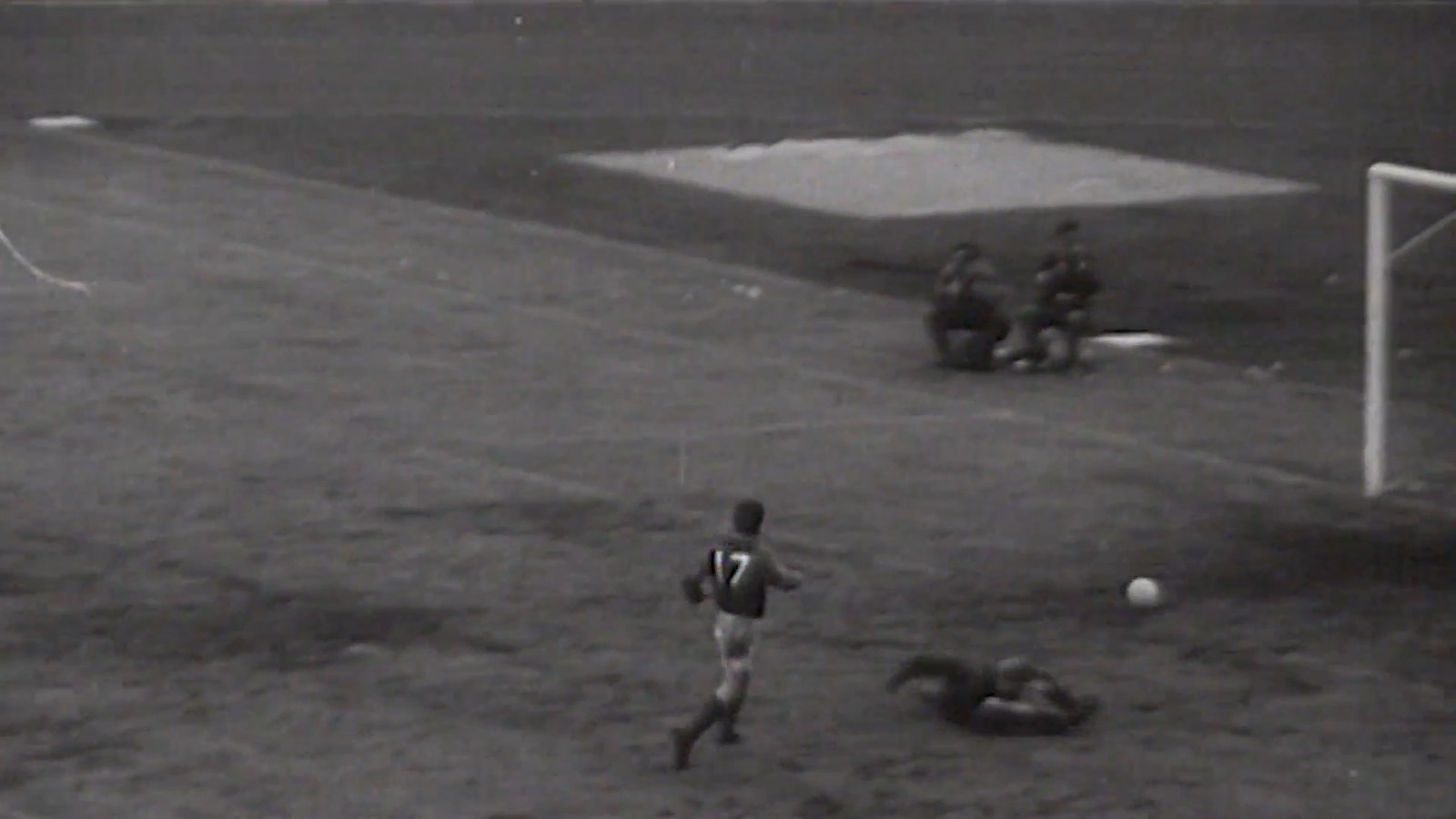 Just Fontaine scored 13 goals in six matches for France.
75. Rivaldo's shameful dive
How did the sideline referee miss this one?
Rivaldo's acting results in red card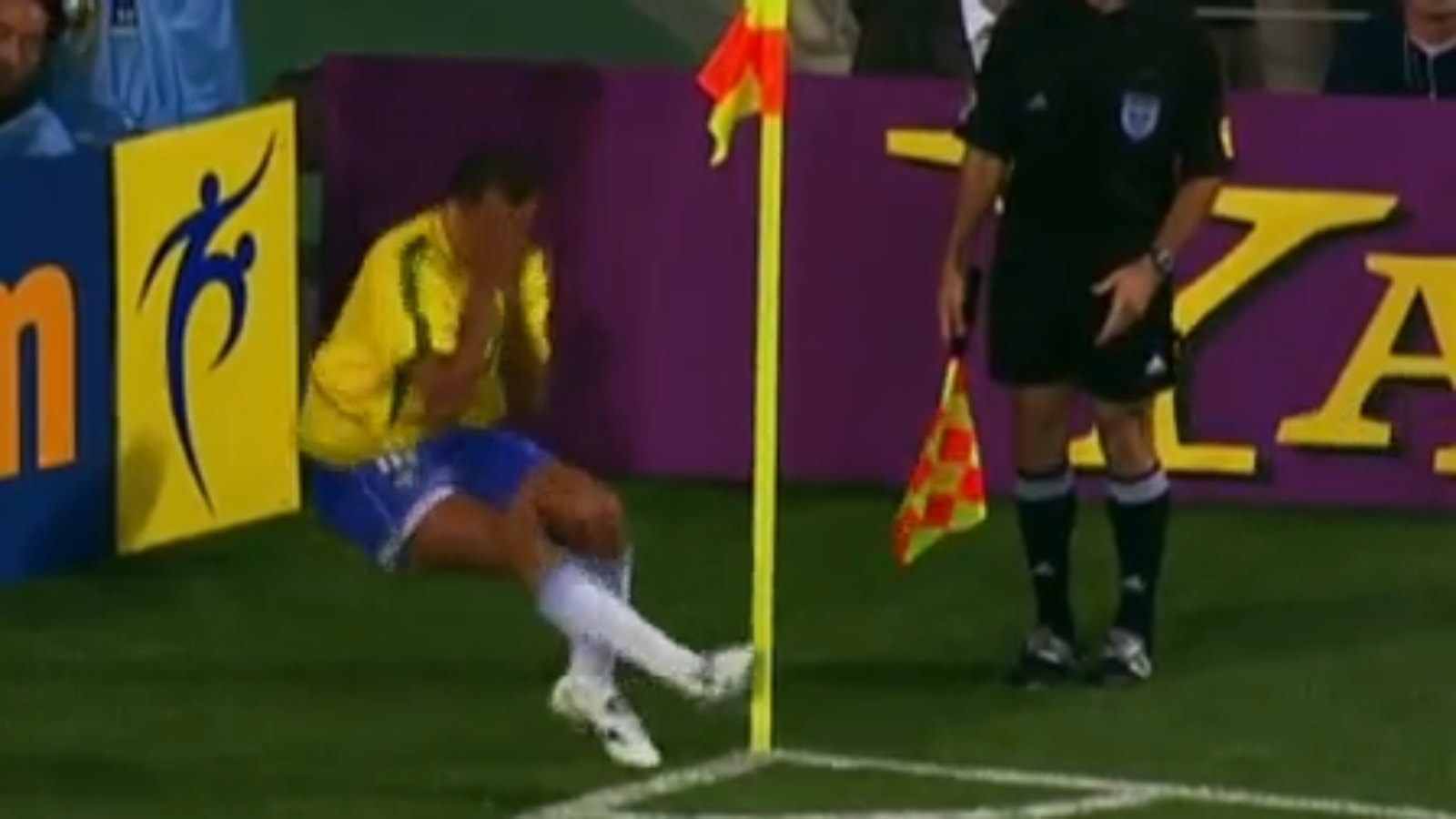 Brazil's Rivaldo was seen flopping, but it was Turkey's Ünsal that got the red card.
74. The Flying Dutchman
With the flick of his neck, Robin Van Persie helped the Netherlands get a consolation prize against Spain, who beat them in the 2010 World Cup Final.
Flying Dutchman defies gravity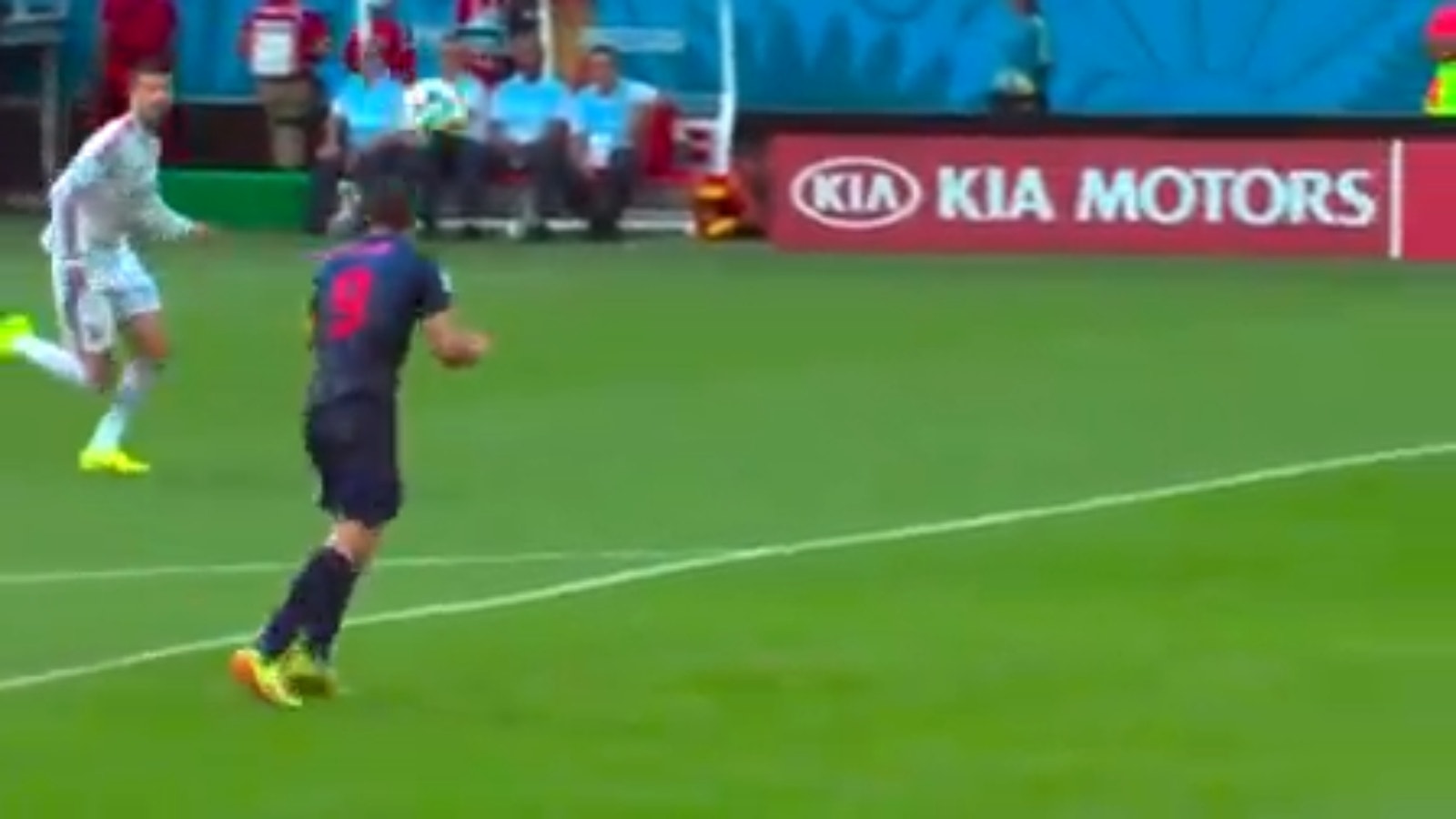 Robin Van Persie's header helped Netherlands defeat Spain.
73. Maradona bests Brazil
Even when Maradona wasn't scoring, he controlled the tempo of the match.
Maradonna and Caniggia send Brazil packing
Argentina sent Brazil home after Maradonna and Caniggia connected for a goal late in the match.
72. Three yellow cards?
Josip Šimunić was able to stay on the pitch after his second yellow due to a mental lapse by the referee.
One, two, three yellow cards
Josip Šimunić was famously awarded three yellow cards when Croatia took on Australia in 2006.
71. Luis Hernández comes through
Mexico needed every minute of stoppage time to upset the Dutch.
El Matador Magic
Luis Hernández scored a huge goal to give Mexico the victory.
70. Scotland vs. Germany '78
Scotland couldn't stop the Netherlands from scoring at Argentina '78.
Gemmill's goal not enough for Scotland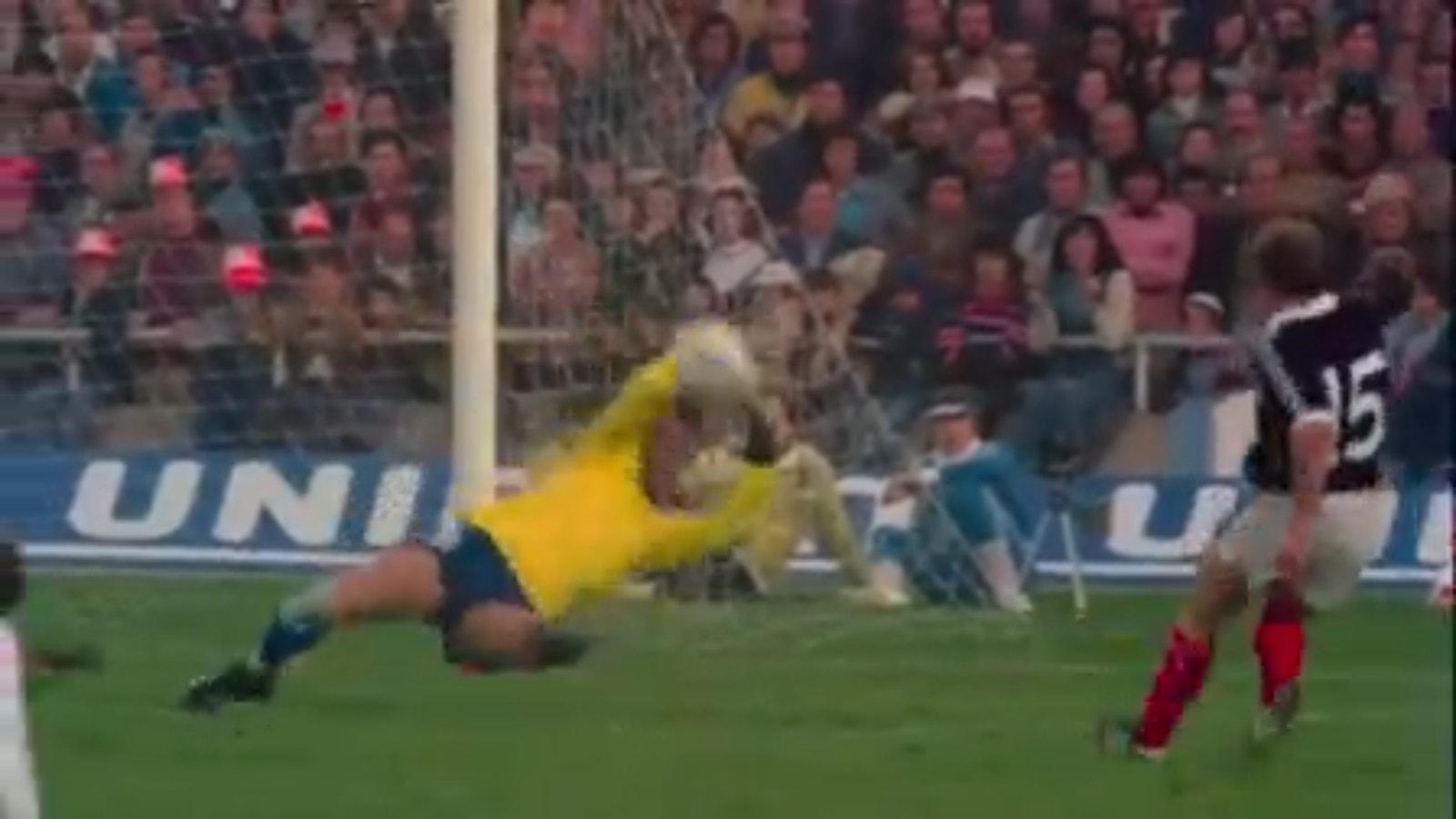 Archie Gemmill scored one of the best solo goals in World Cup history.
69. De Jong's high kick
How did Xabi Alonso manage to stay on the pitch after this nasty challenge from Nigel de Jong?
De Jong's kick starts wave of bookings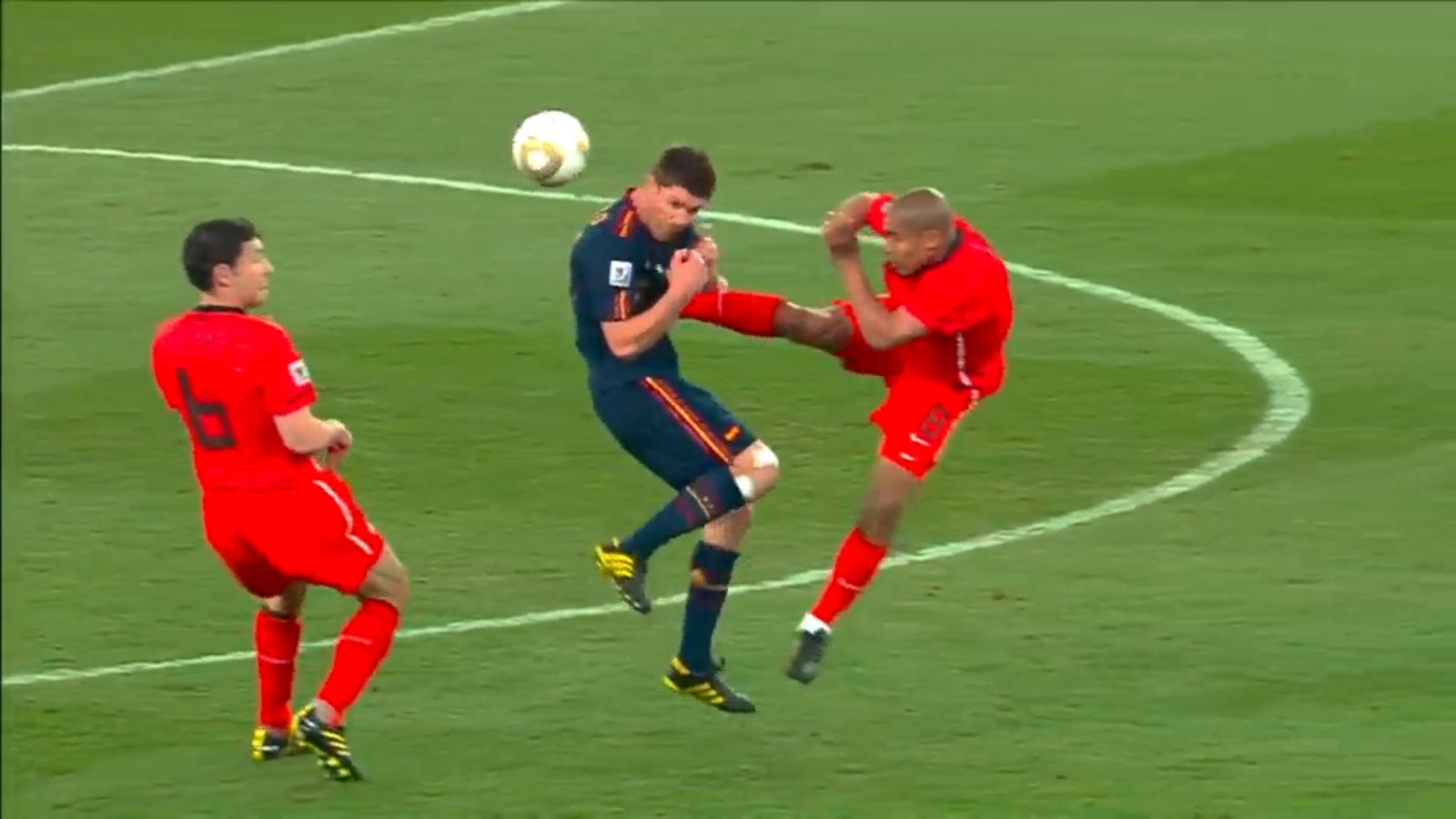 De Jong's risky tackle raised tensions in an already-intense matchup.
68. Schillaci's surprise scoring tear
Salvatore Schillaci is considered the most unlikely Golden Boot winner in World Cup history.
Salvatore Schillaci's scintillating tournament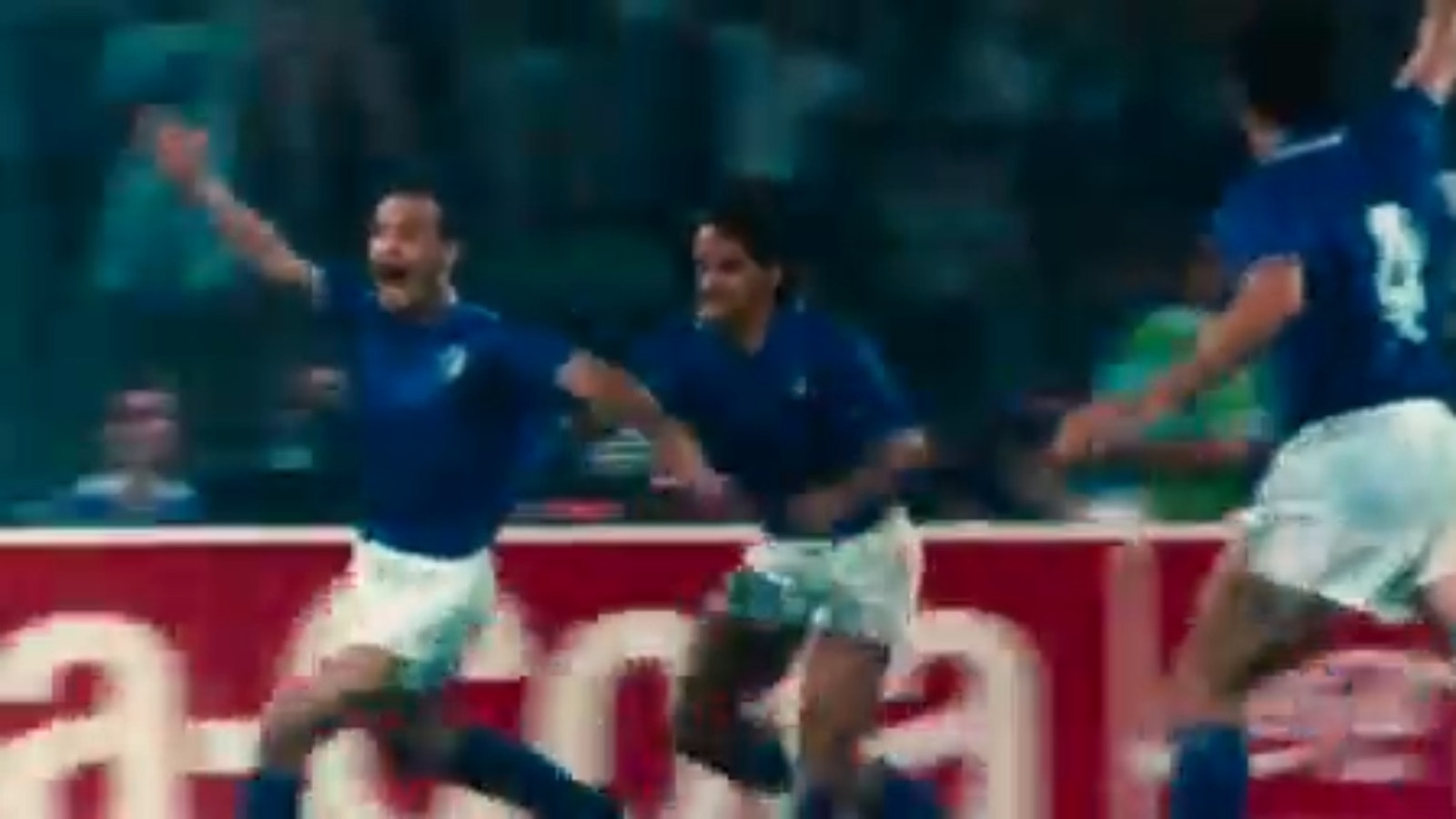 Salvatore Schillaci had a fantastic World Cup for the Italians.
67. Kuwait's princely protest
Kuwait's last World Cup appearance was a memorable one and not for anything the players did.
The Prince Protests
The Prince of Kuwait came onto the field to protest an errant whistle heard during France's fourth goal.
66. France's heated locker room
There were no winners in the fight between French striker Nicolas Anelka and coach Raymond Domenech.
France, Anelka crash out
Anelka had some choice words for France's manager, which resulted in Anelka being sent home from the tournament.
65. Argentina fall short of back-to-back
Argentina were heavily criticized for not being more aggressive with their attack vs. West Germany.
Maradona falls to Germany
In 1990, Argentina lost to West Germany in the World Cup Final and became the first team to not score a goal in the championship game.
64. Red Devils rally
Japan thought they had punched their ticket to the World Cup semifinals, but Beglium had other plans.
Belgium's comeback win vs. Japan
In 2018, Belgium came back from down 2-0 to bea Japan 3-2.
63. Baggio's divine dribbling
Czechoslovakia's couldn't take the ball away from Roberto Baggio, and the keeper couldn't stop him from putting it in the back of the net.
Baggio slaloms through the Czechs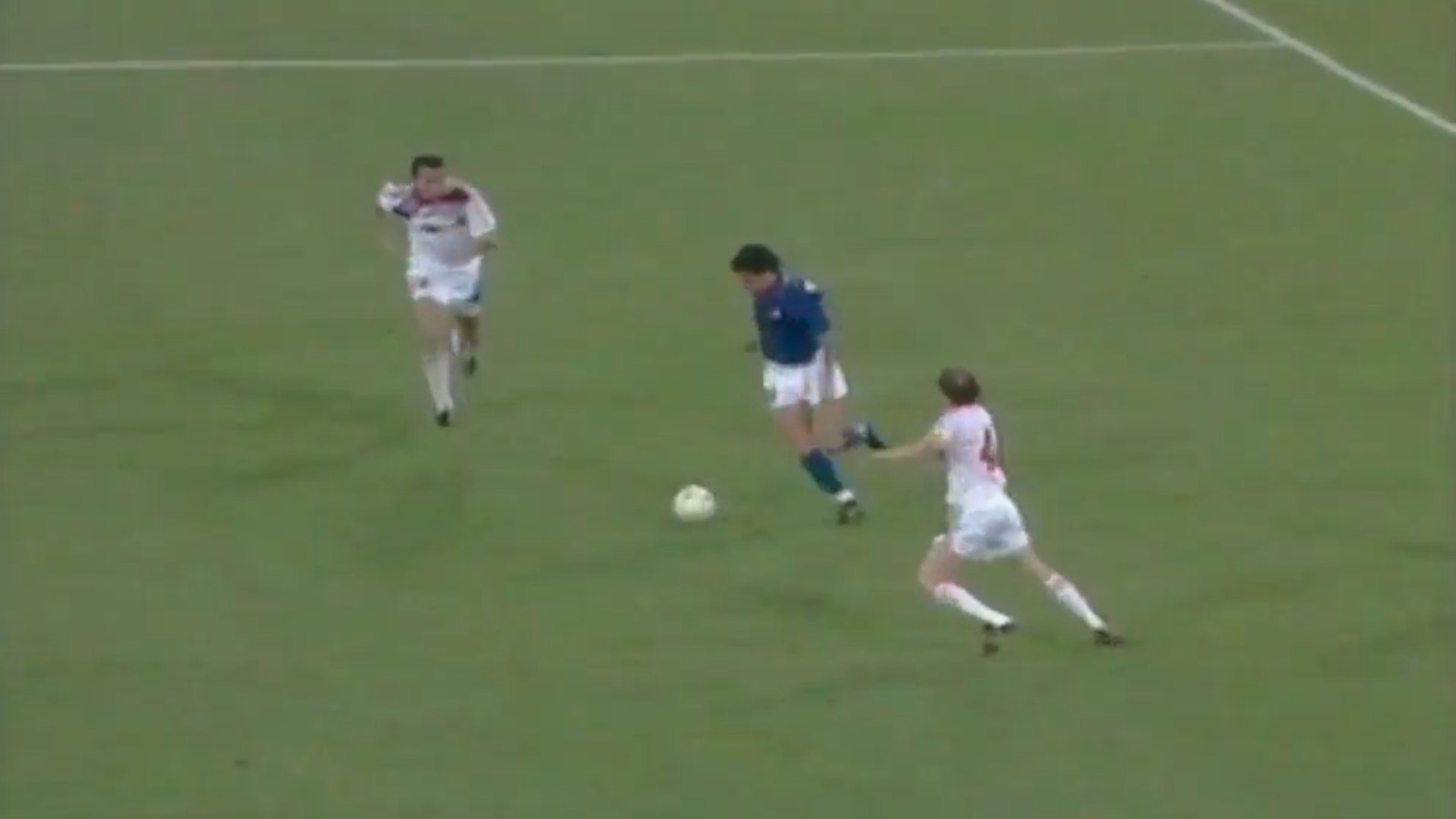 Italy's Baggio scored a beautiful goal by weaving through Czech defenders.
62. Best World Cup quarterfinal ever?
Before the 1998 World Cup Final, this was the most memorable matchup between Brazil and France.
Brazil, France go to penalties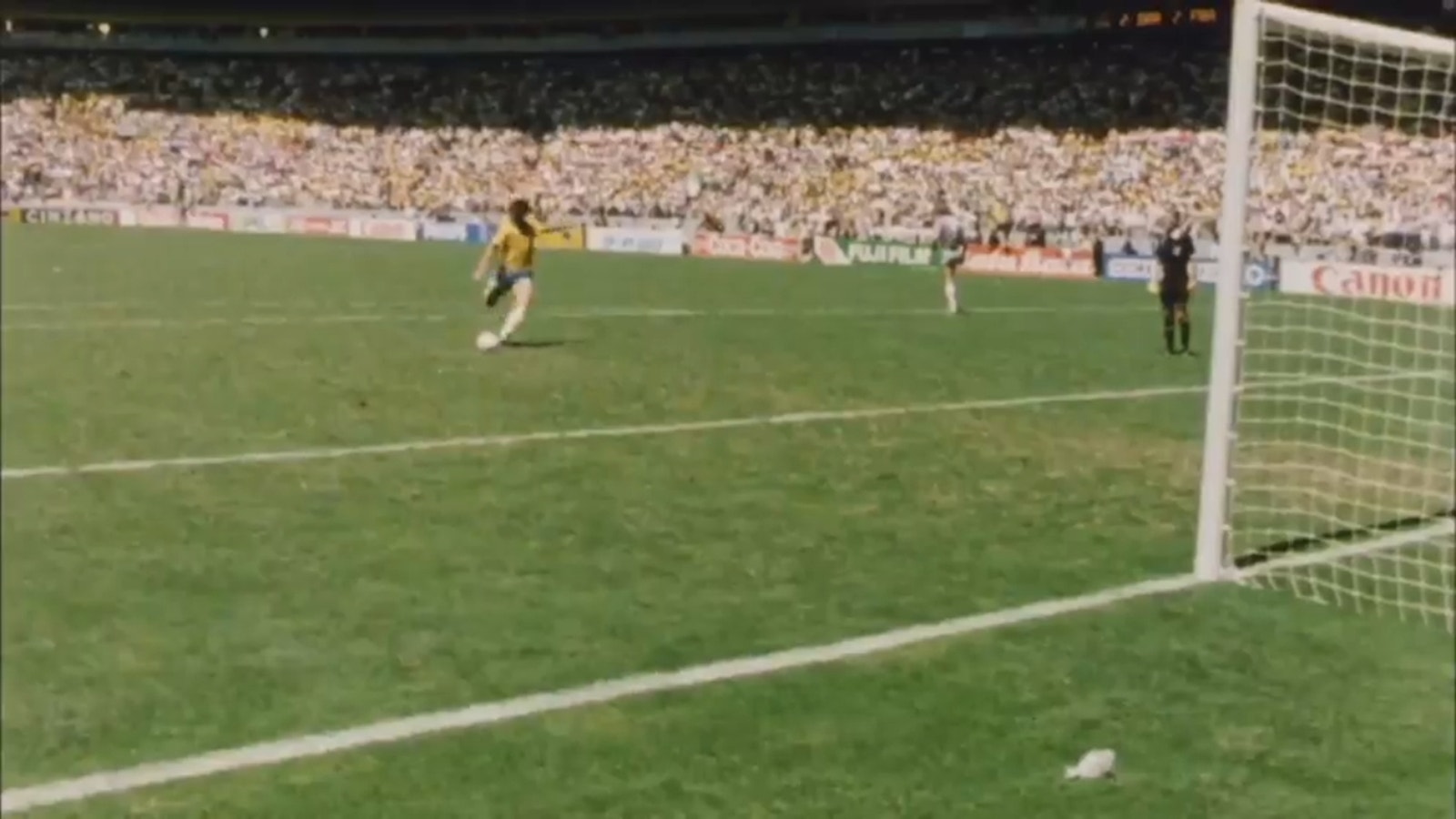 It was close, but France won out in the end.
61. Maxi's magical volley
This should have been named goal of the tournament the moment it left his foot.
Maxi Rodríguez stuns Mexico
Maxi Rodríguez put in a wonder goal off a volley to defeat Mexico.
60. Garrincha leads Brazil to glory
Garrincha steps up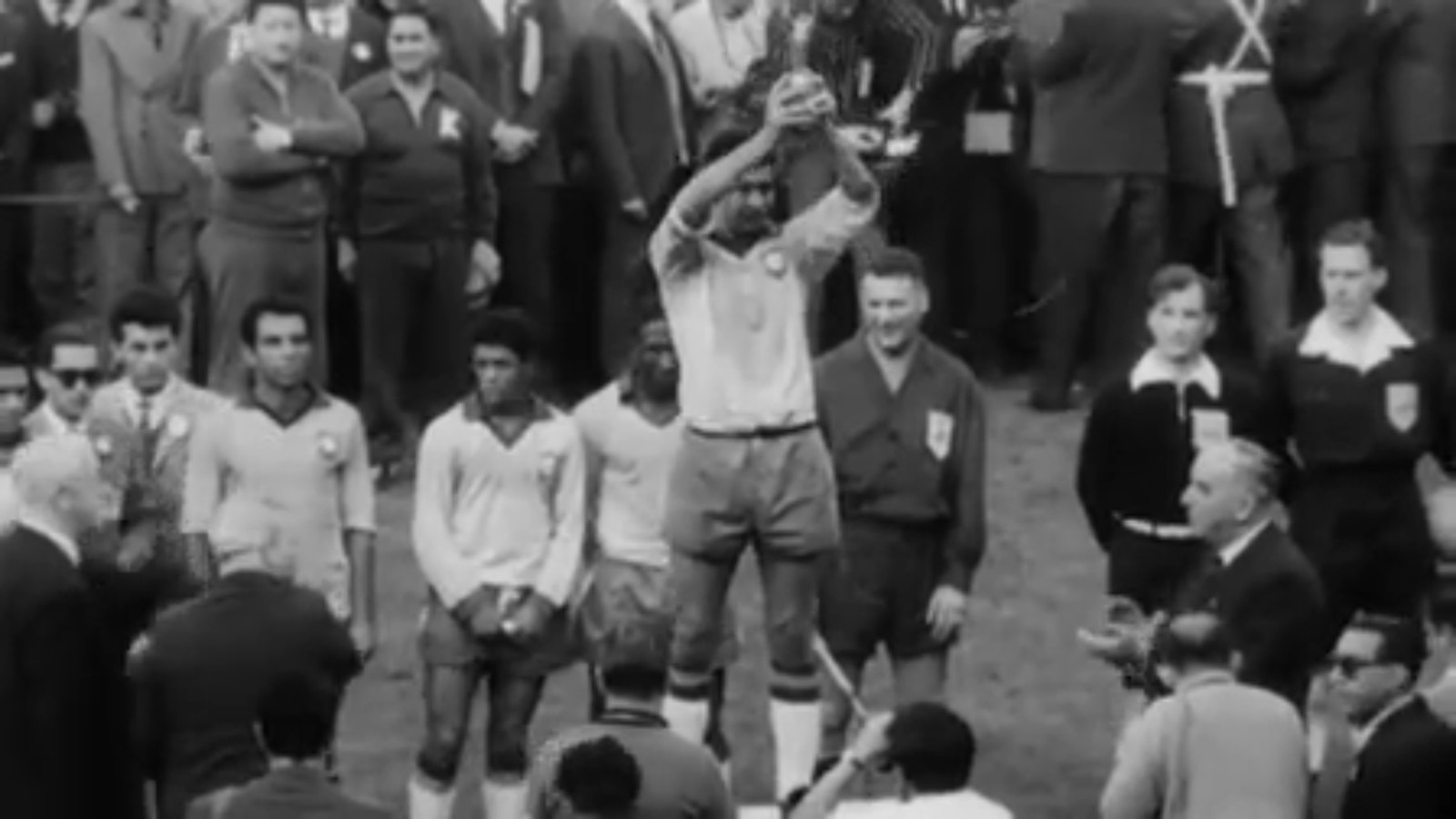 With Pelé sidelined, Garrincha had to be Brazil's star player.
59. Maradona's inglorious goodbye
One of the greatest soccer players of all time didn't get to leave his last World Cup on his terms.
Maradona sent packing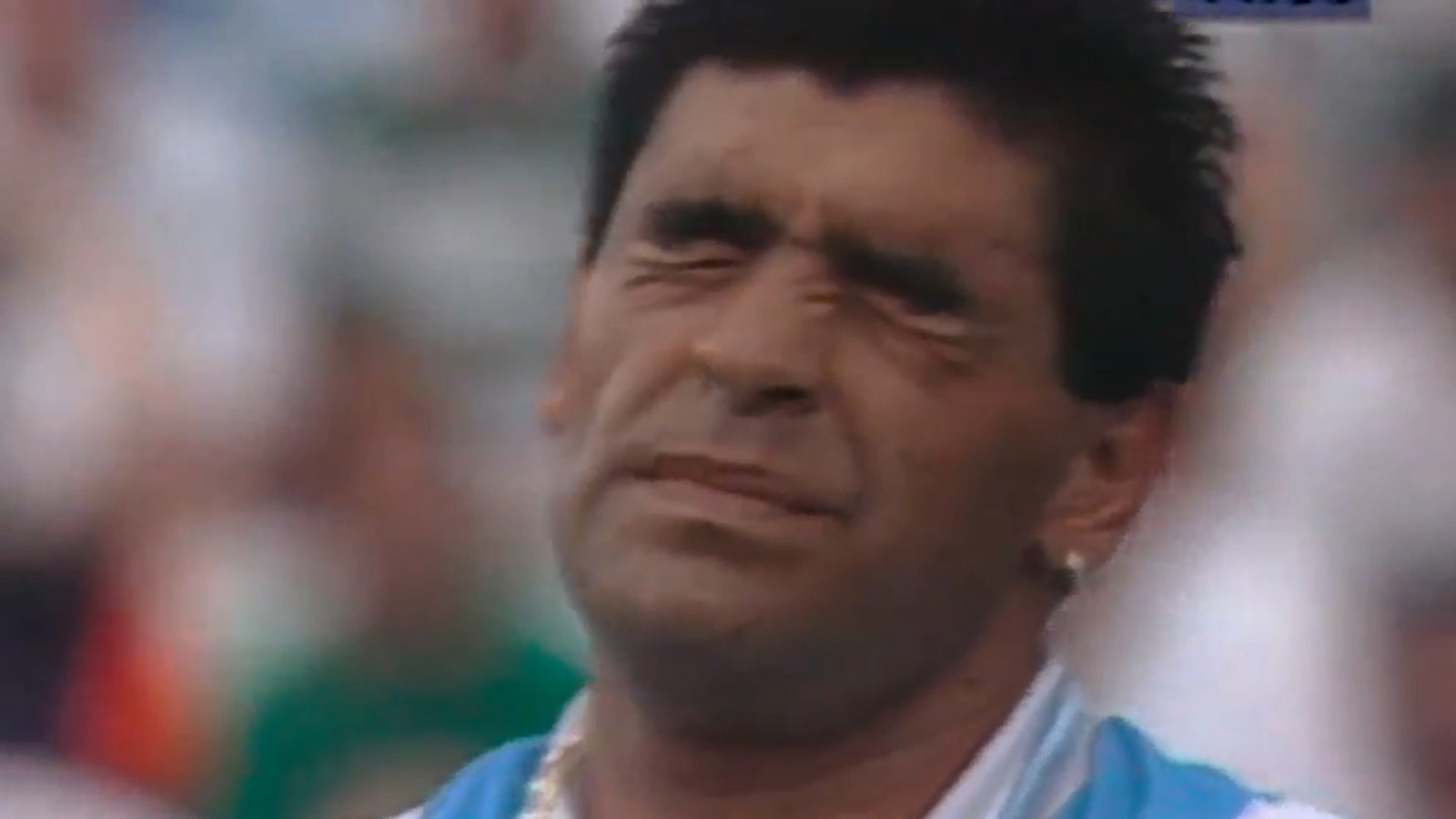 It was supposed to be Argentina's Diego Maradona's redemption tour, but he was booted from the world cup for doping.
58. Zaire time-waste for safety
Win or go home was't an option for Zaire.
Zaire's head-scratching defense
Mwepu Ilunga kicked the ball out trying to waste time because of a scary ultimatum.
57. Brazil make opening statement
Not one, but two beautiful goals in one game.
Eder and Socrates' legendary strikes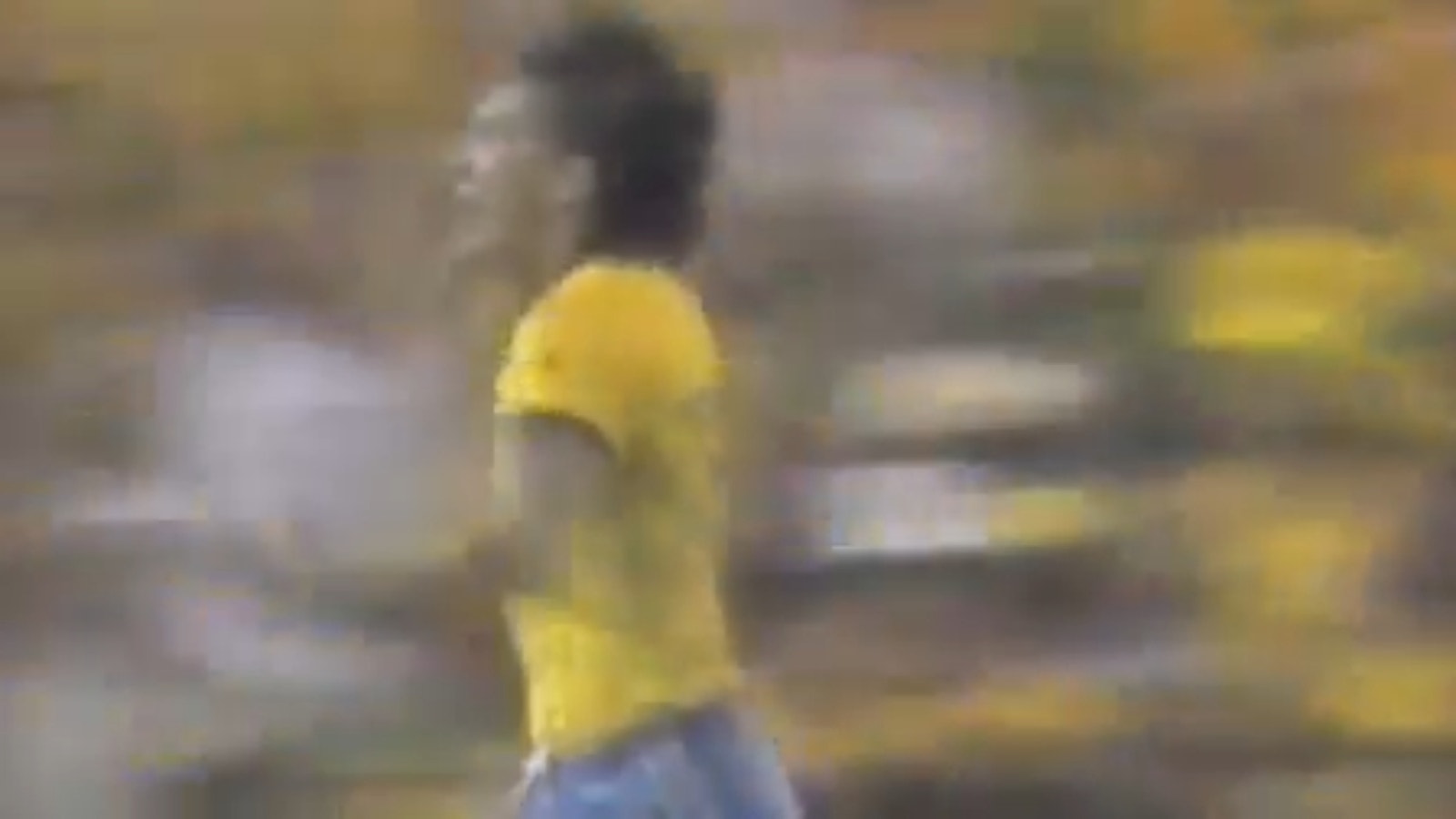 Eder and Socrates gave Brazil fans something to remember about the 1982 World Cup squad.
56. Michael Owen does it himself
An 18-year-old Michael Owen stole the show against Argentina.
Owen's wonder-strike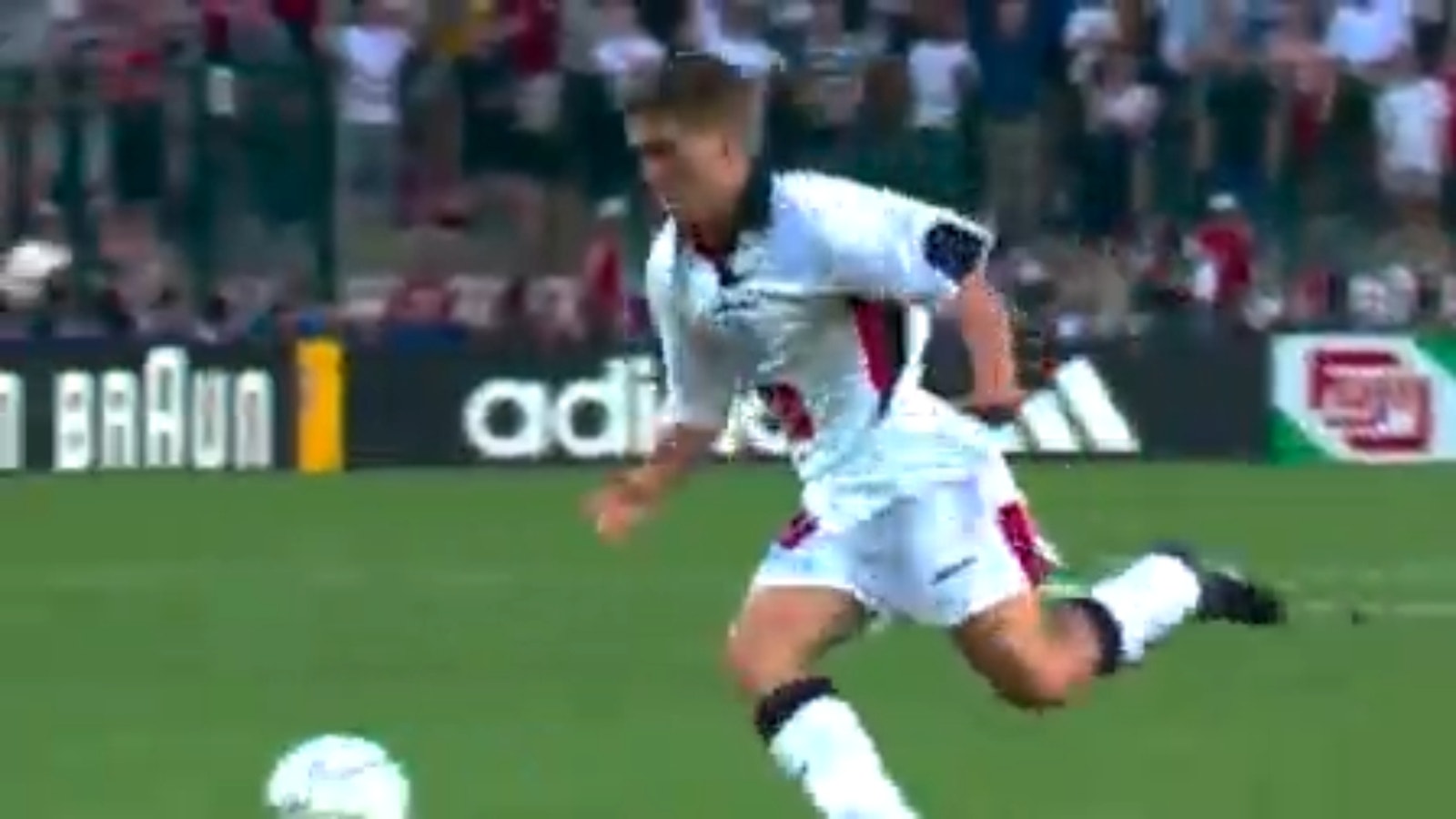 Michael Owen scored a beautiful goal for England in their match against Argentina at the 1998 World Cup.
55. Luis Suárez stops history
Ghana would have been the firs African country to make a World Cup semifinal if Suárez didn't intentionally block the ball with his hand.
The other Hand of God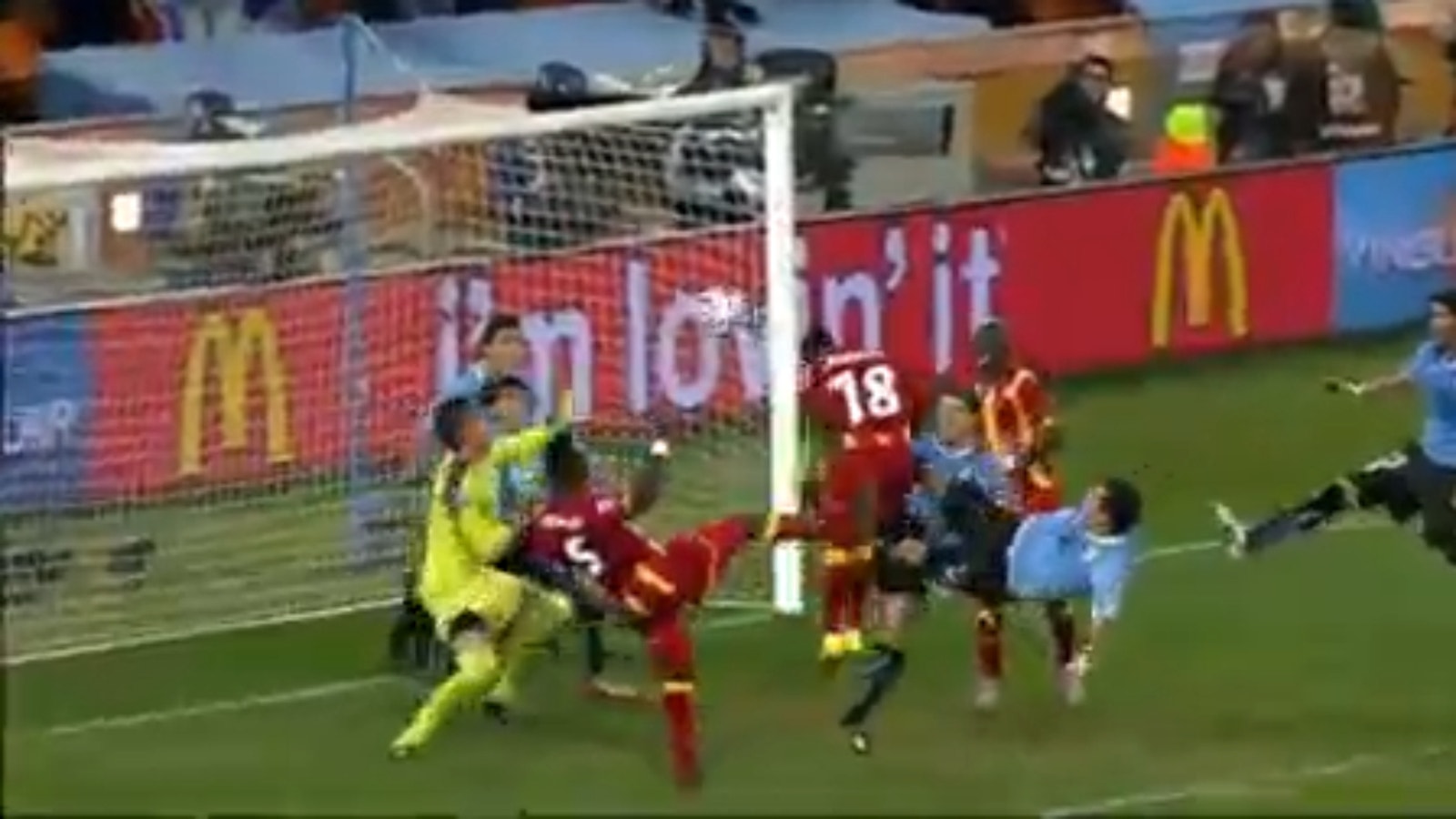 Luis Suárez received a red card for blocking a goal with his hands in Uruguay's matchup against Ghana in the 2010 FIFA World Cup.
54. Senegal stun France
No one could have guessed that Senegal would be the reigning world champions.
Senegalese stunner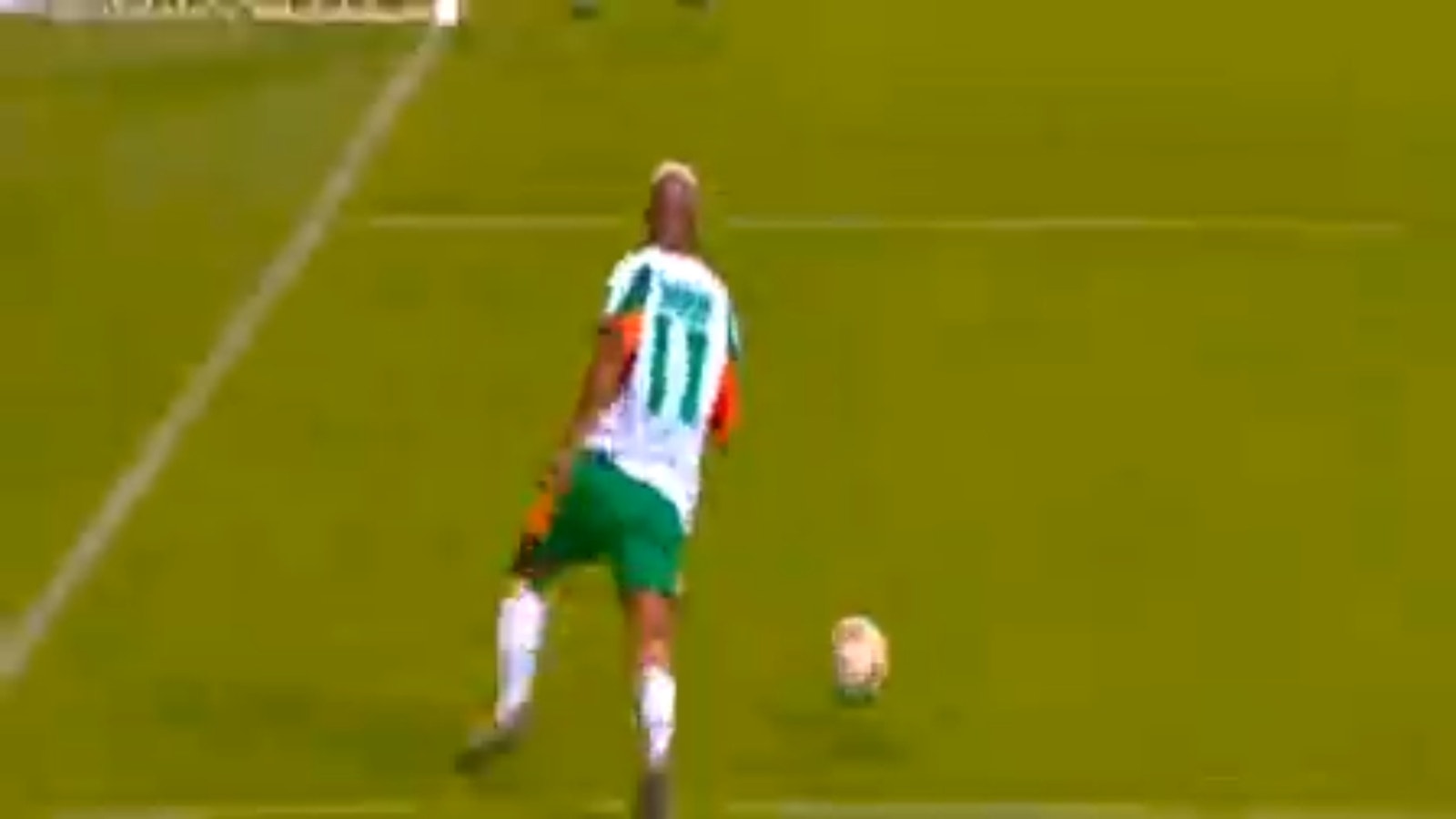 Senegal shocked the world when they beat France in the 2002 FIFA World Cup.
53. Cambiasso finishes it off
Argentina practically passed the ball into the back of Serbia's net.
La Albiceleste run circles around Serbia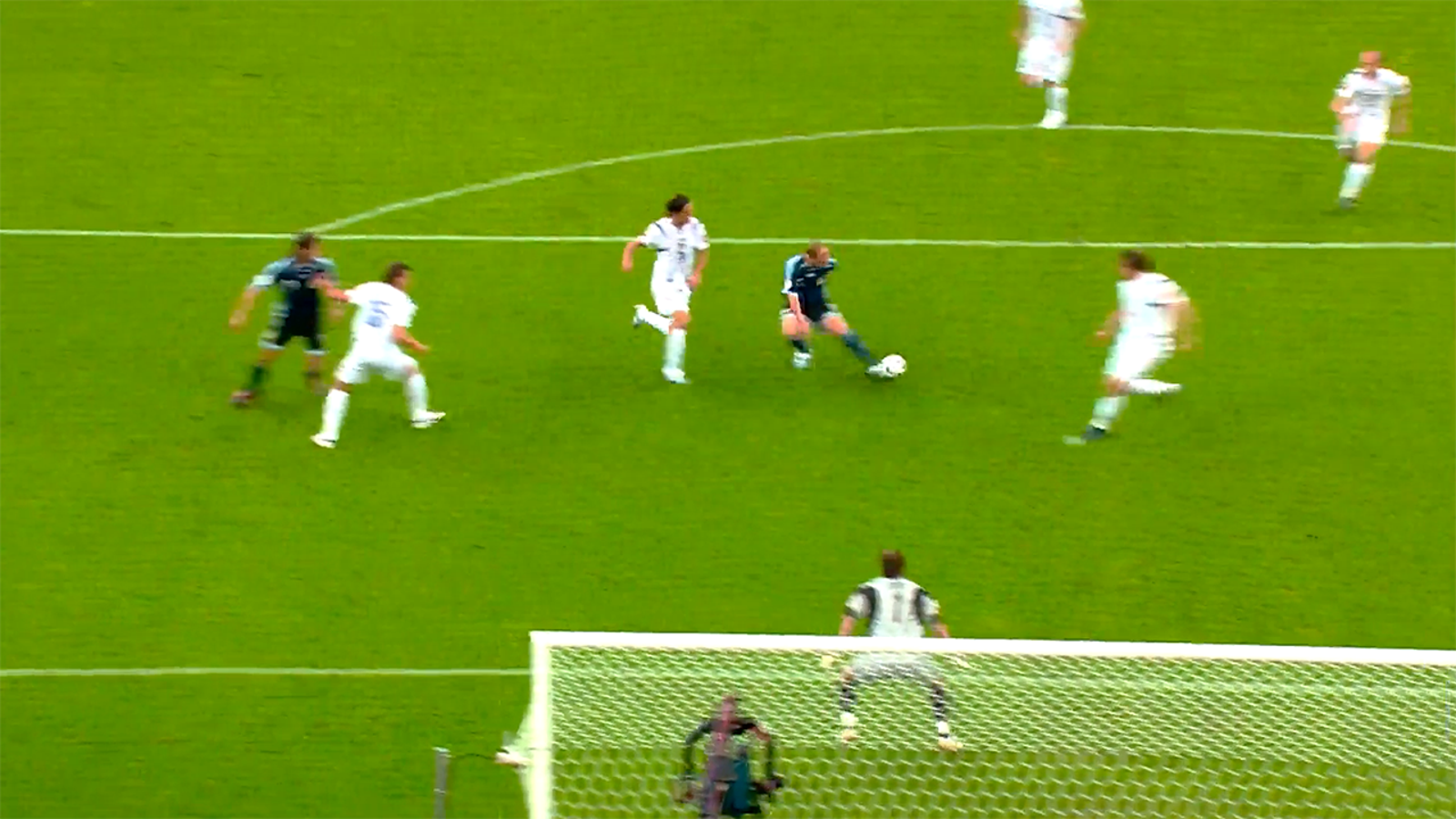 All Esteban Cambiasso had to do was shoot it on target.
52. A storybook start in South Africa
Tshabalala's strike found the top corner of Mexico's net.
Tshabalala wows the world
Siphiwe Tshabalala made sure he was the first one to score in the first World Cup held on African soil.
51. Ronaldo comes through again
Spain learned to never count out Cristiano Ronaldo.
Ronaldo's hat trick vs. Spain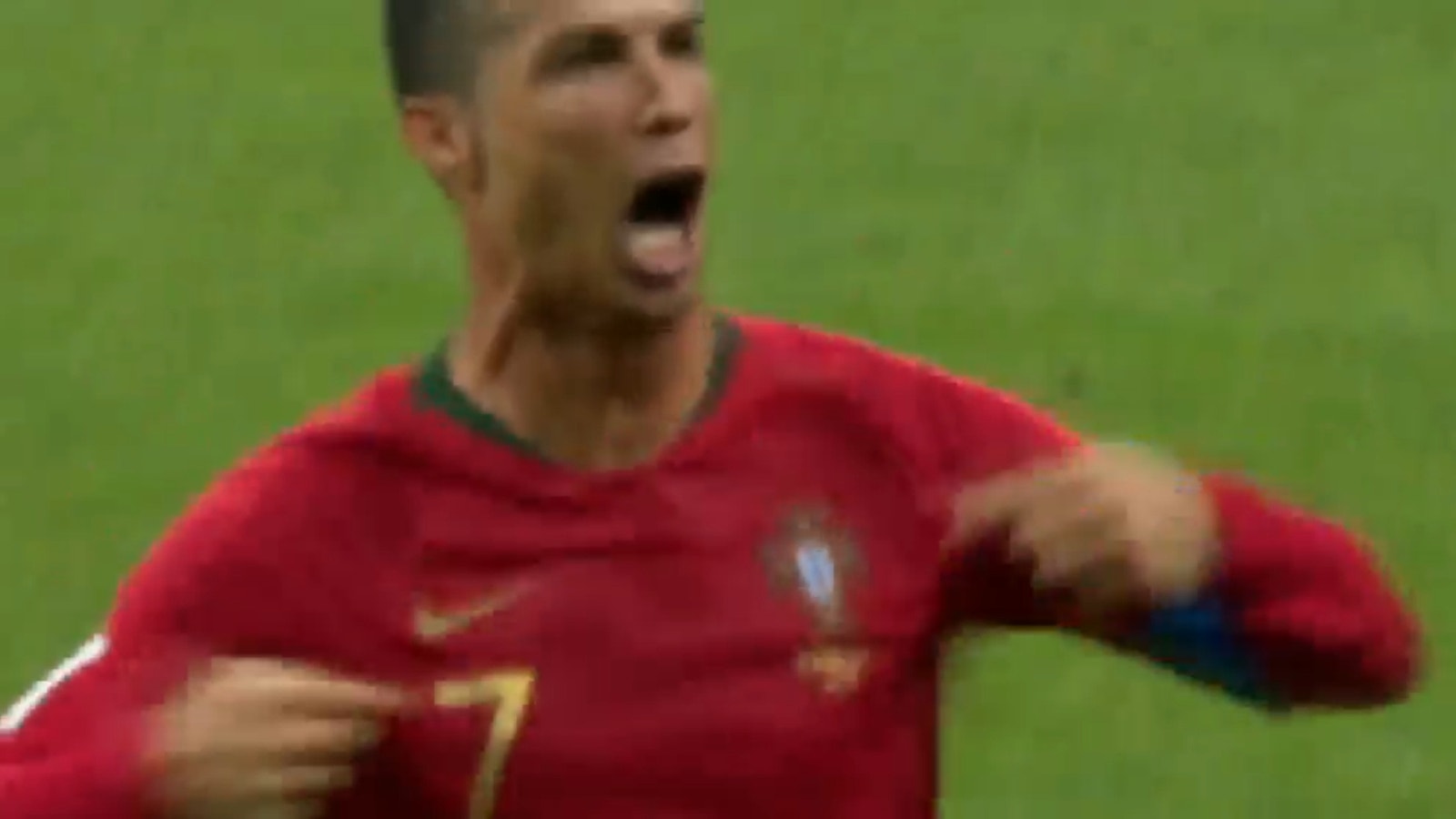 Ronaldo got Portugal a much-needed point at the 2018 World Cup.
50. Donovan delivers
At the peak of his powers, Landon Donovan lived up to his U.S. soccer legend with a critical goal.
Go, go USA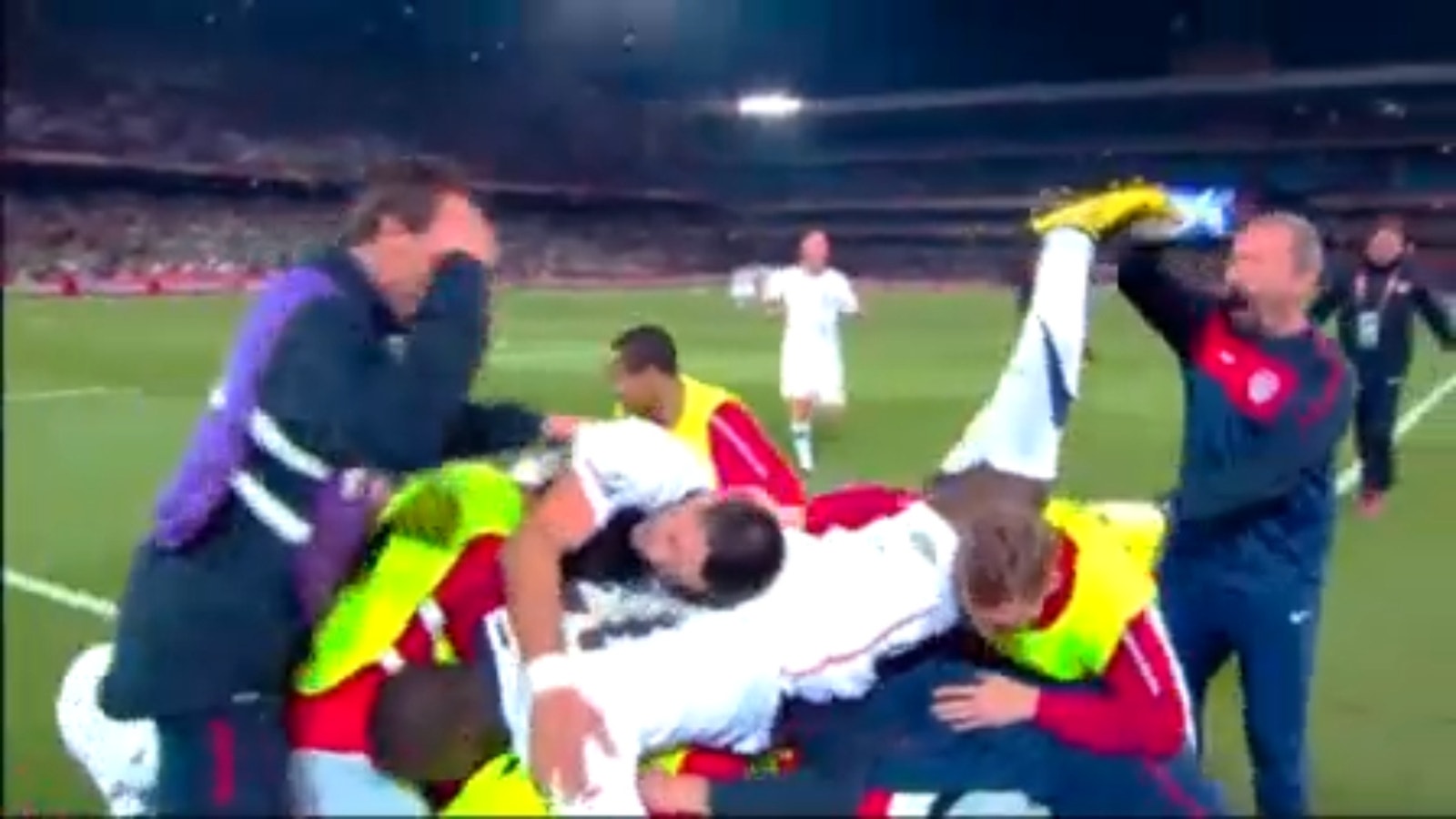 Ian Darke's "Go, go USA" call of Donovan's goal is iconic.
49. Pavard volleys from distance
It takes some luck to score a worldie like this, and France had all of it in 2018.
Benjamin Pavard's rocket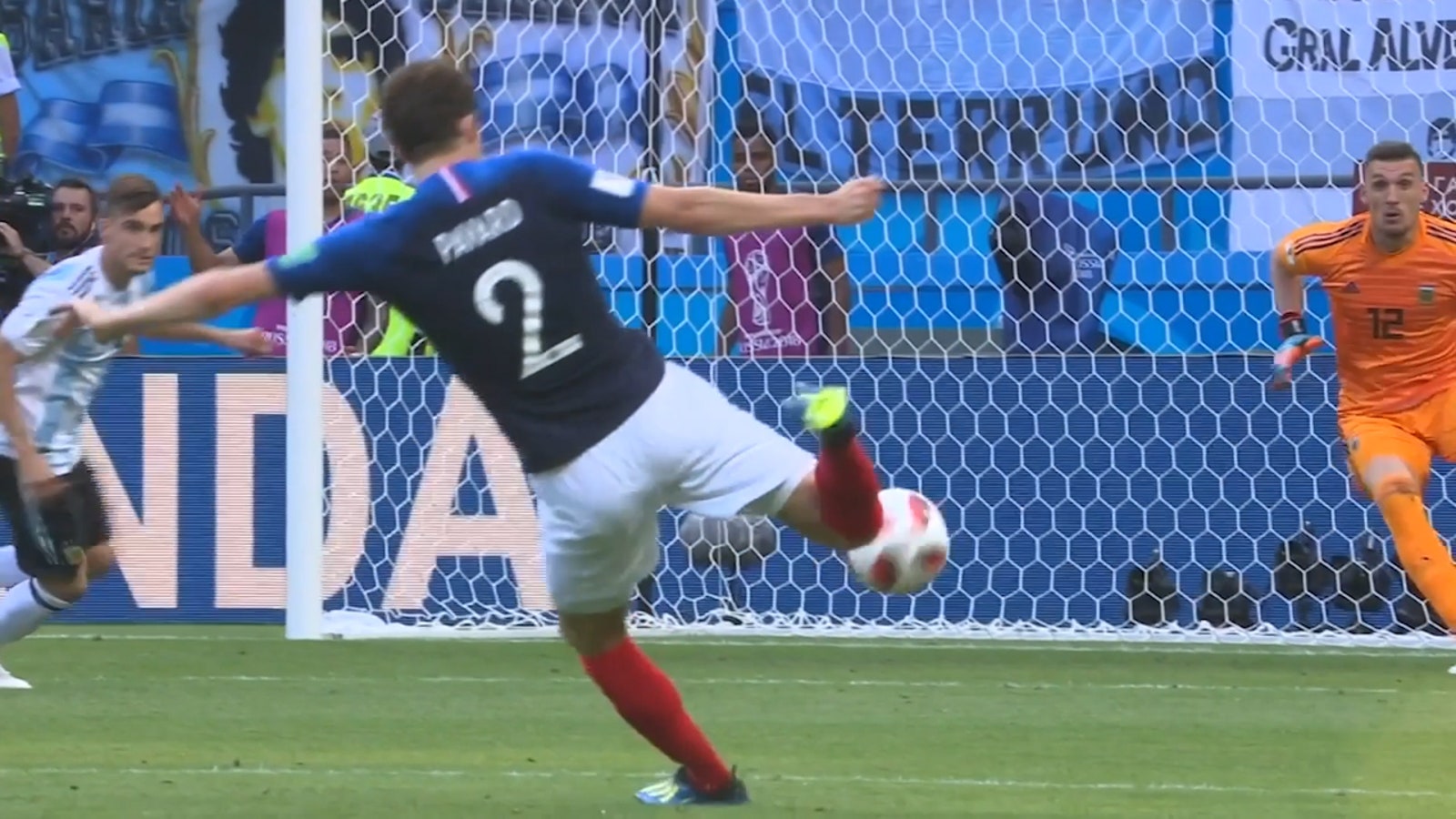 Benjamin Pavard scored an unreal goal against Argentina in the 2018 FIFA World Cup.
48. Croatia's Cinderella story
Croatia went from a nice story to a powerhouse at Russia 2018.
Croatia's incredible run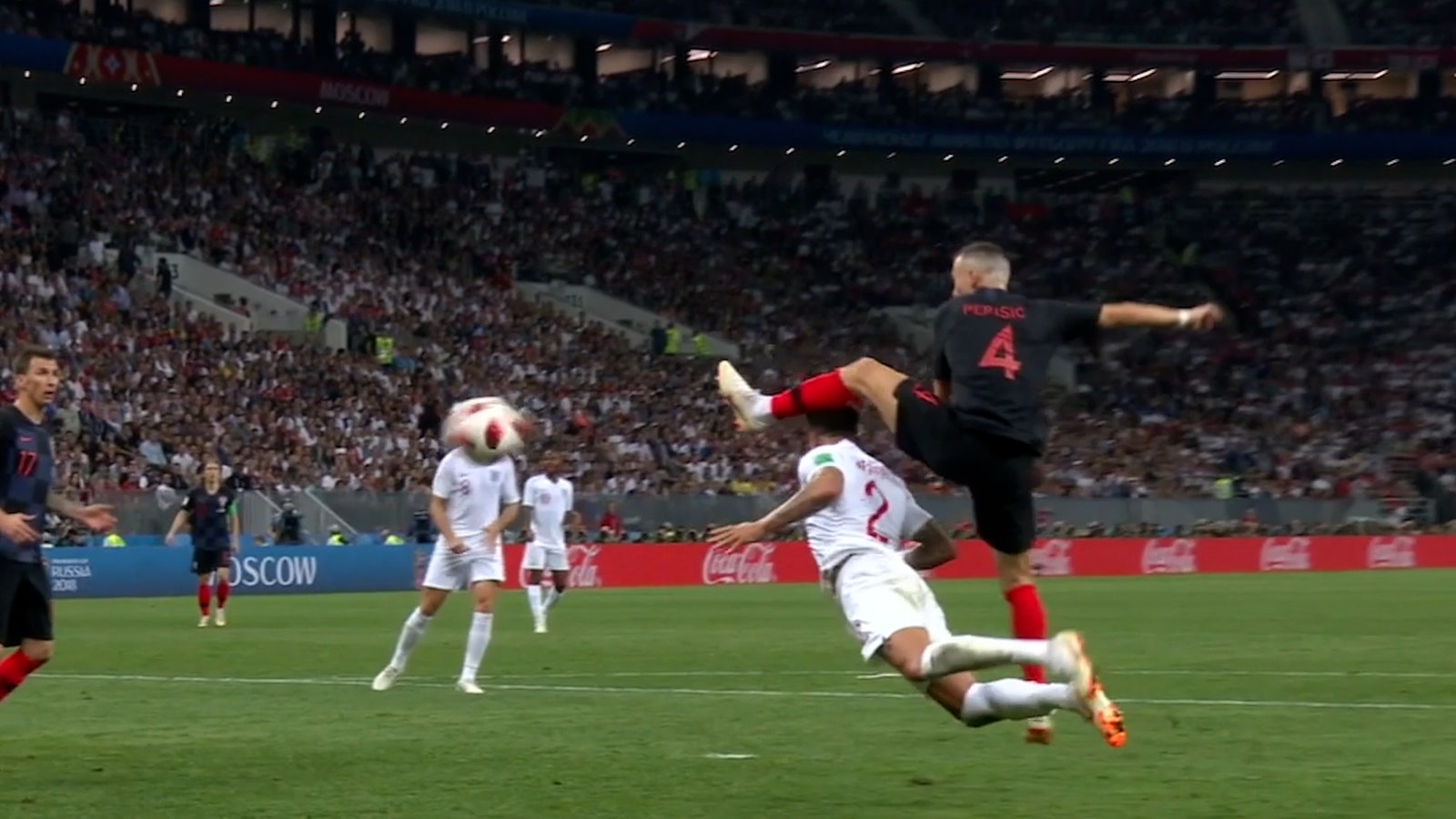 Croatia defied the odds at the 2018 World Cup.
47. Negrete's sensational scissor kick
Mexico is home to one of the greatest goals in World Cup history.
Manuel Negrete's scissor kick
Manuel Negrete scored an amazing scissor kick against Bulgaria in the 1986 FIFA World Cup.
46. A howler from James
James Rodríguez made this masterfully skillful goal look easy.
James rips goal of the year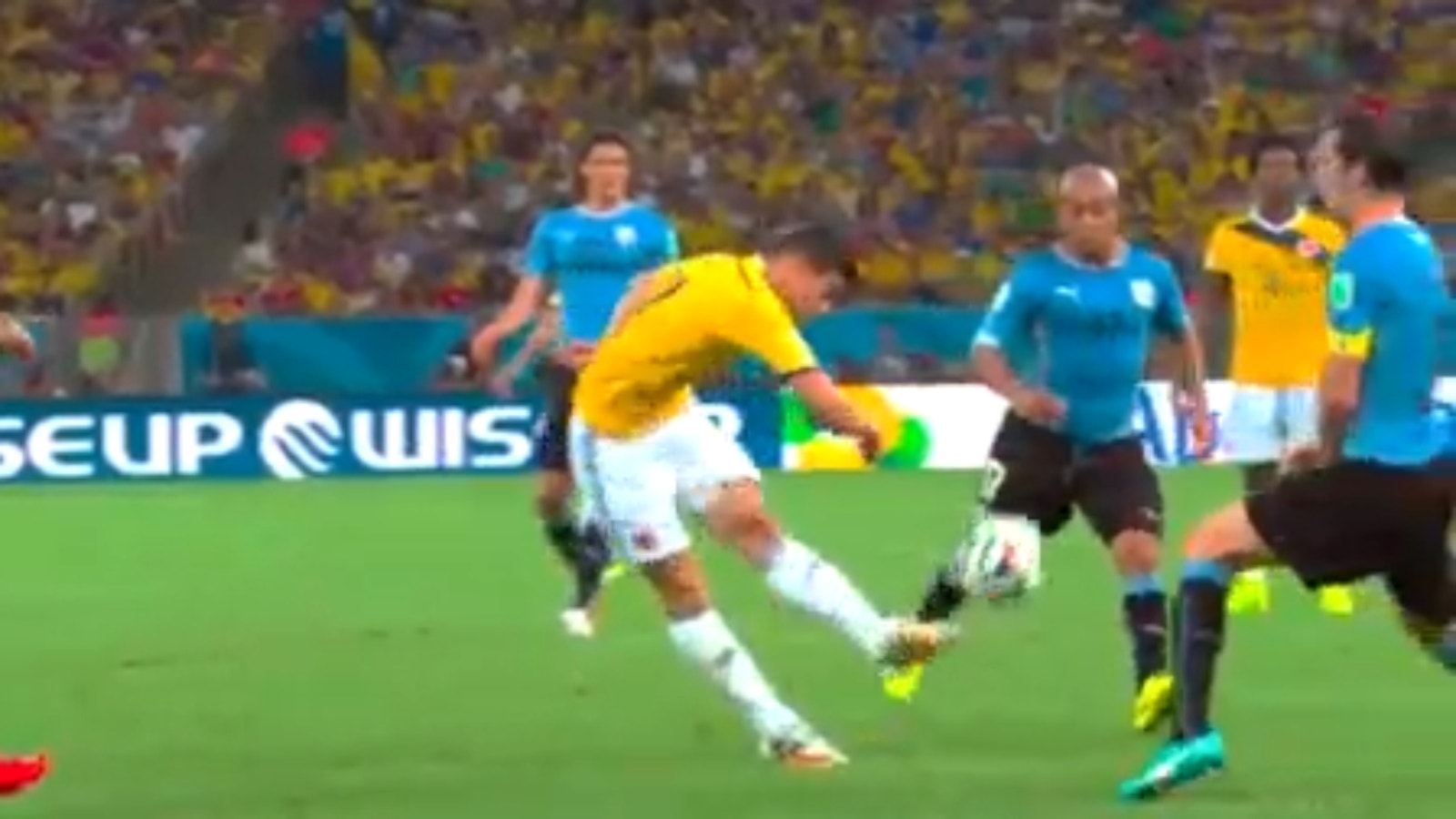 James Rodríguez put in an absolute lazer right outside the box to give Colombia the victory.
45. Ronaldinho's perfect mistake
Intentional or not, Ronaldinho's free-kick got the job done for Brazil.
Ronaldinho's cheeky free-kick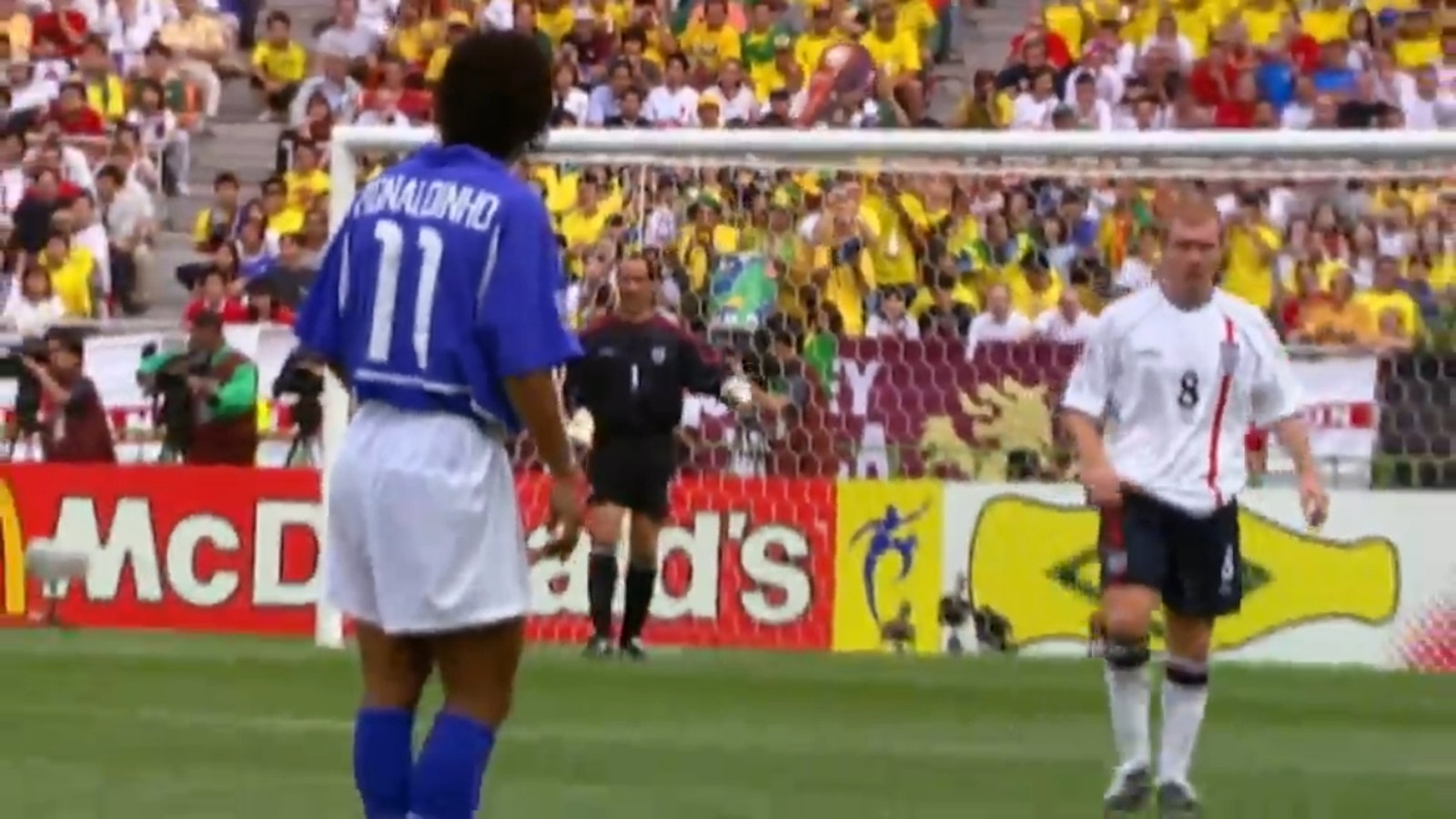 Was it meant for the goal or not?
44. Argentina create controversy
Things went almost a little too well for Argentina when they needed to win by at least four against Peru.
Argentina's controversial 6-0 win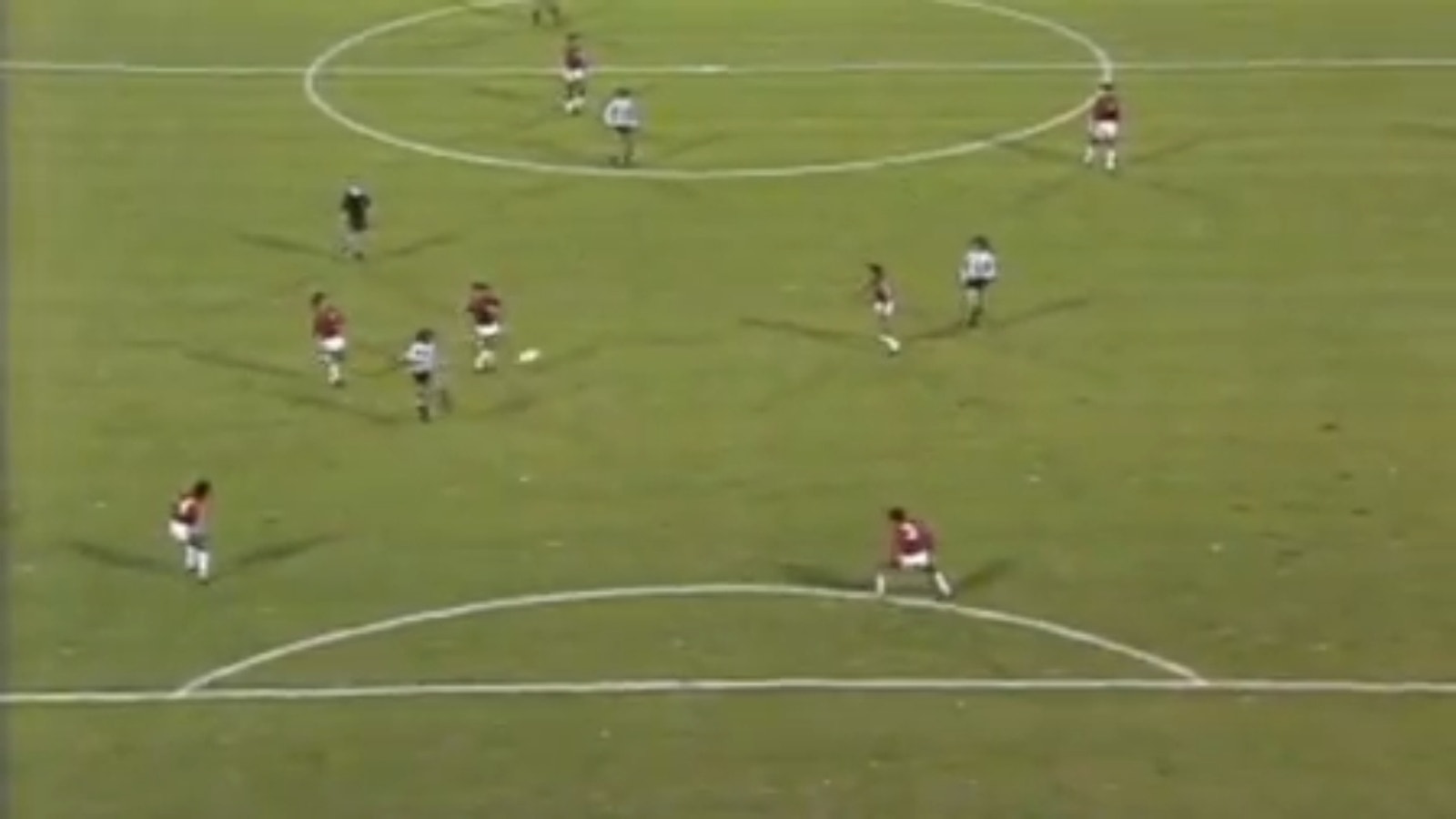 Argentina needed to win by four goals; Peru gave them six.
43. Rijkaard spits at Voller
Emotions were high when Germany and the Netherlands faced off at the 1990 World Cup.
Frank Rijkaard and Rudi Voller see red: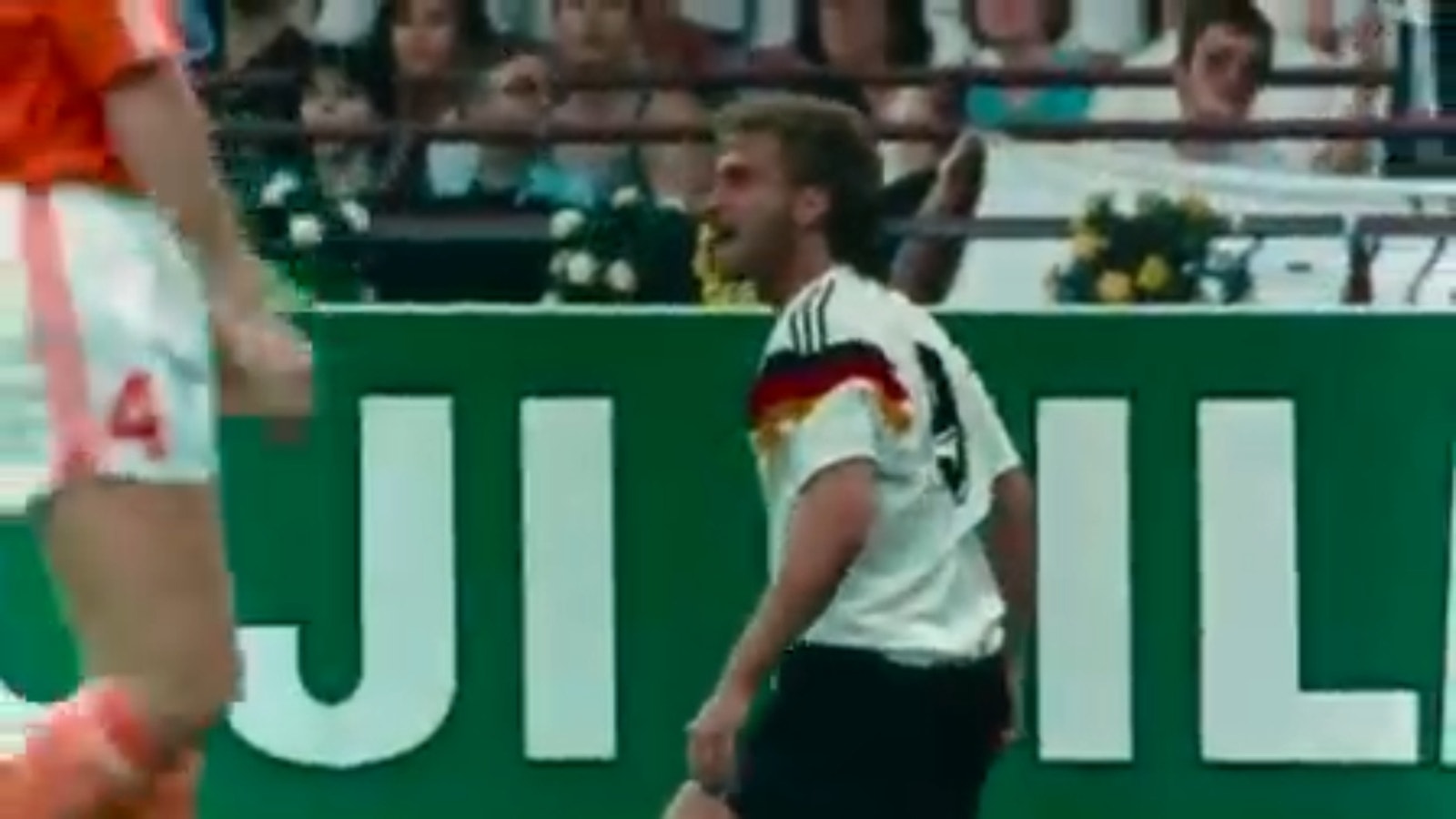 Frank Rijkaard and Rudi Voller both got red cards in Germany's matchup against the Netherlands.
42. North Korea make history
North Korea didn't just beat one of the best teams in the world — they also made history during the process.
North Korea pull off historical upset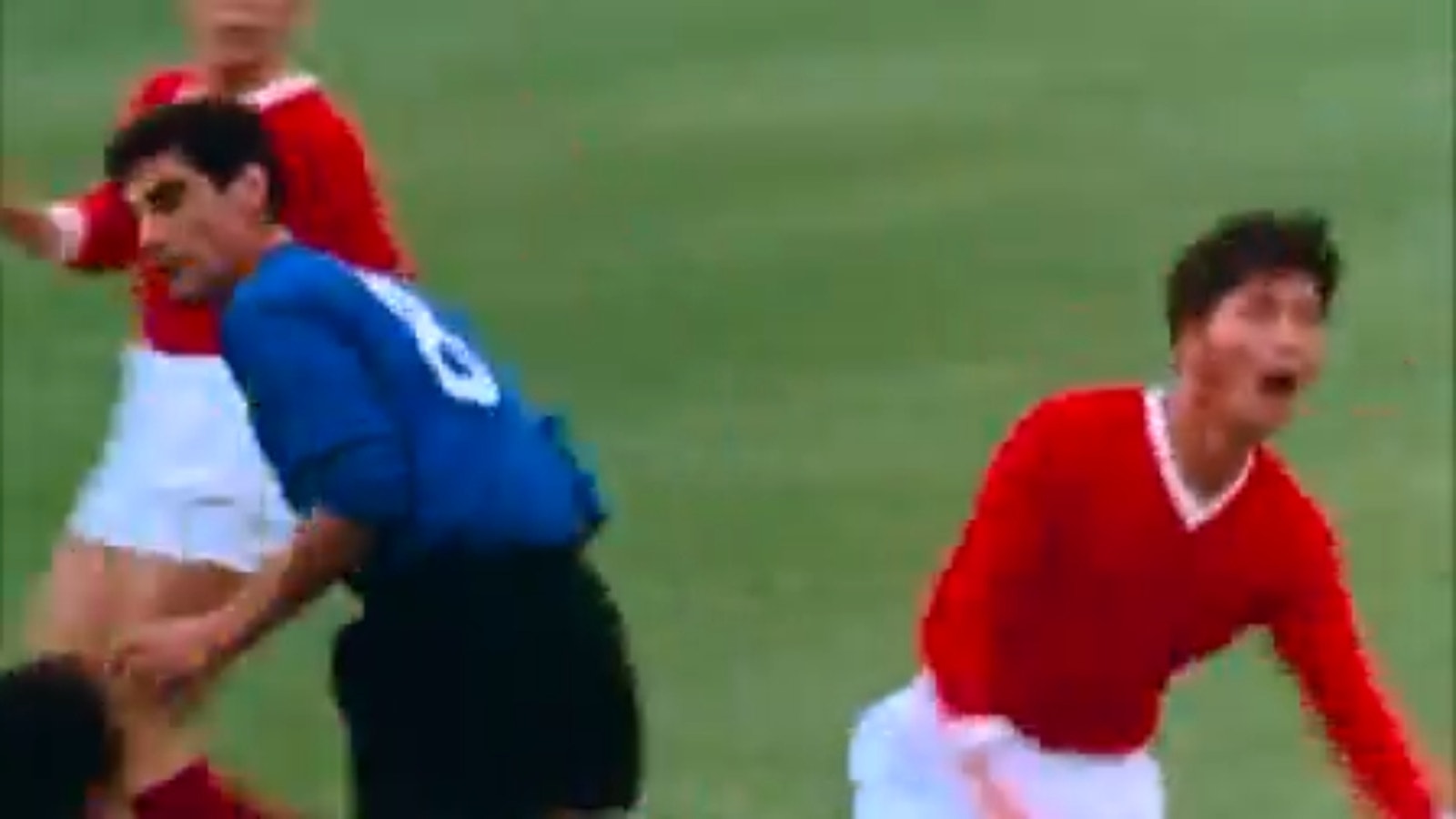 North Korea became the first Asian team to progress past the first round.
41. England's penalty shootout curse is born
England's now long history of misfortune with penalty shootouts began in their semifinal match against West Germany at the 1990 World Cup.
West Germany send England home from the spot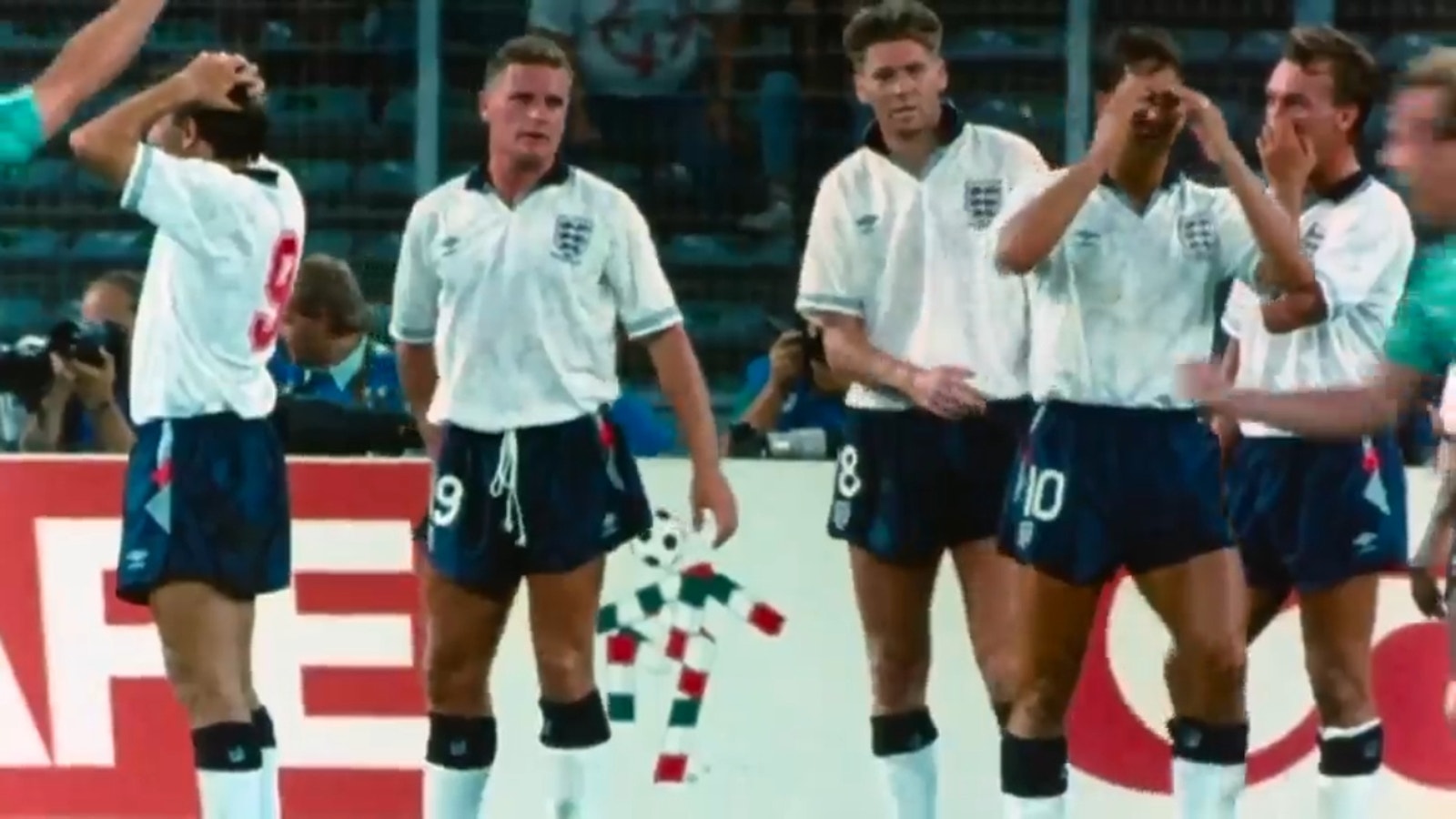 Stuart Pearce and Chris Waddle failed to convert from 12 yards.
40. David Beckham sees red vs. Argentina
Did Beckham's completely avoidable red card cost England a trip to the World Cup final in 1998?
Beckham gets sent off
Beckham's retaliation led to him getting ejected from the game.
39. Fabio Grosso bends it vs. Germany
German keeper Jens Lehmann had no choice but to watch Fabio Grosso's shot curl past him.
Bend it like Grosso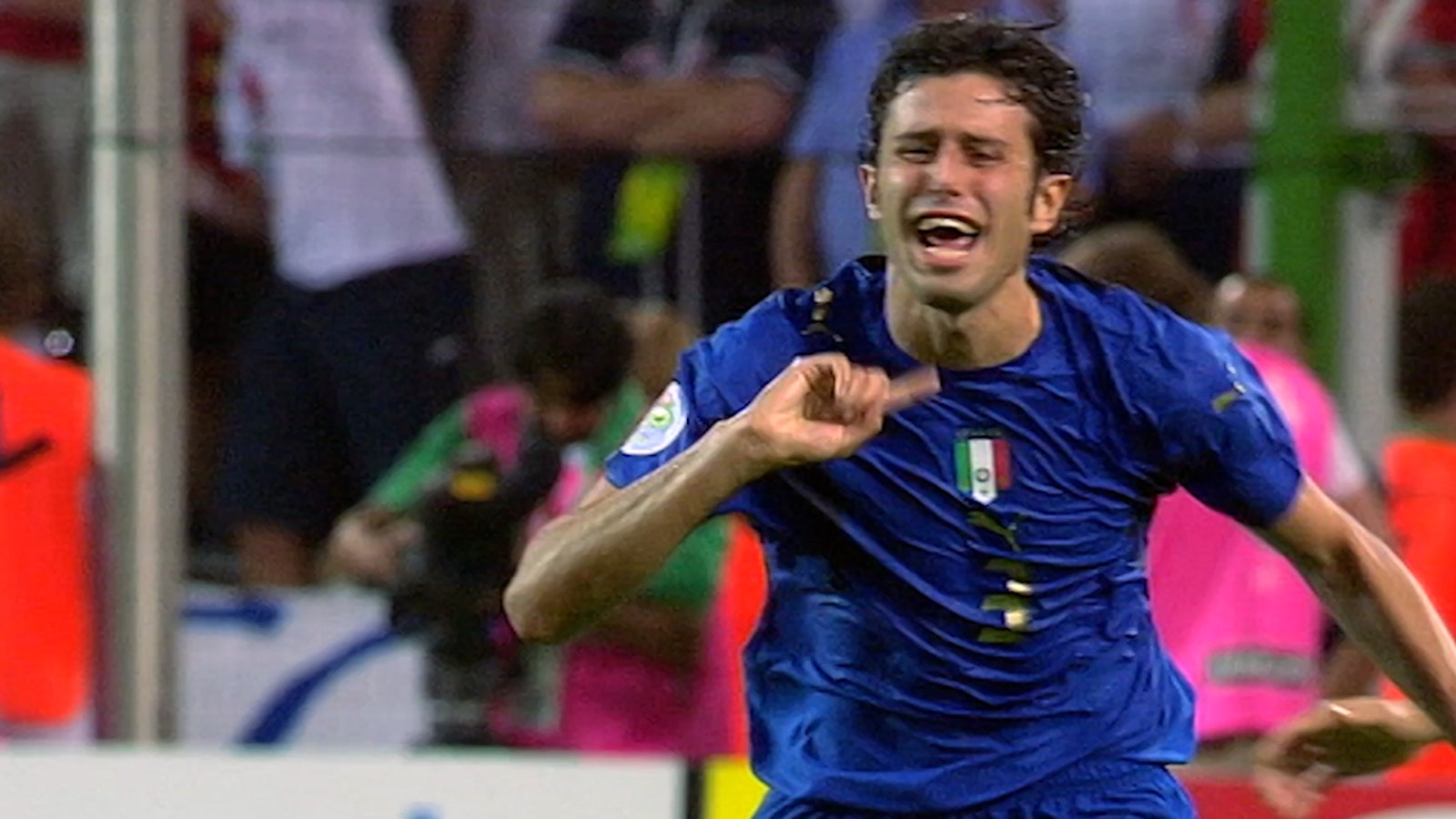 Fabio Grosso scored a beautiful goal for Italy in their matchup against Germany.
38. The first-ever World Cup
Uruguay won the first-ever World Cup in 1930 after coming back from a 2-1 halftime deficit.
Uruguay wins first World Cup
Uruguay beat Argentina 4-2 to win the first-ever World Cup in 1930.
37. The Saudi Maradona
Saeed Al-Owairan's goal against Belgium at the 1994 World Cup was Maradona-esque.
The Saudi Maradona's 70-yard run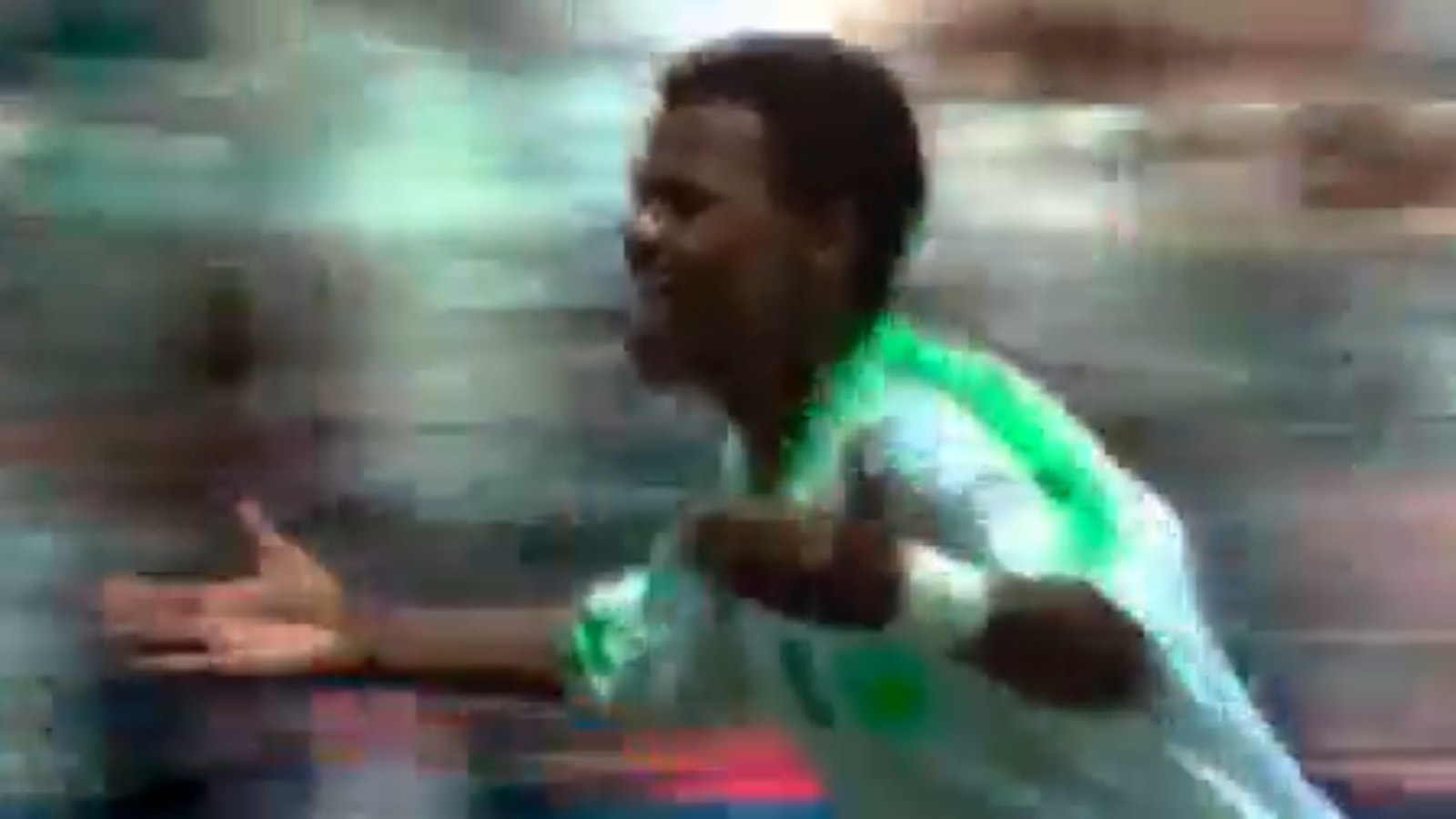 Al-Owairan's goal gave Saudi Arabia the 1-0 win over Belgium.
36. Dos a Cero
What's better than beating your arch rival 2-0? Doing it at the World Cup.
Origins of 'Dos A Cero'
The United States beat Mexico 2-0 at the 2002 World Cup.
35. Jorge Burruchaga wins it for Argentina
Maradona was the player of the tournament at the 1986 World Cup, but it was Jorge Burruchaga's that won it all for Argentina.
Burruchaga's late-game heroics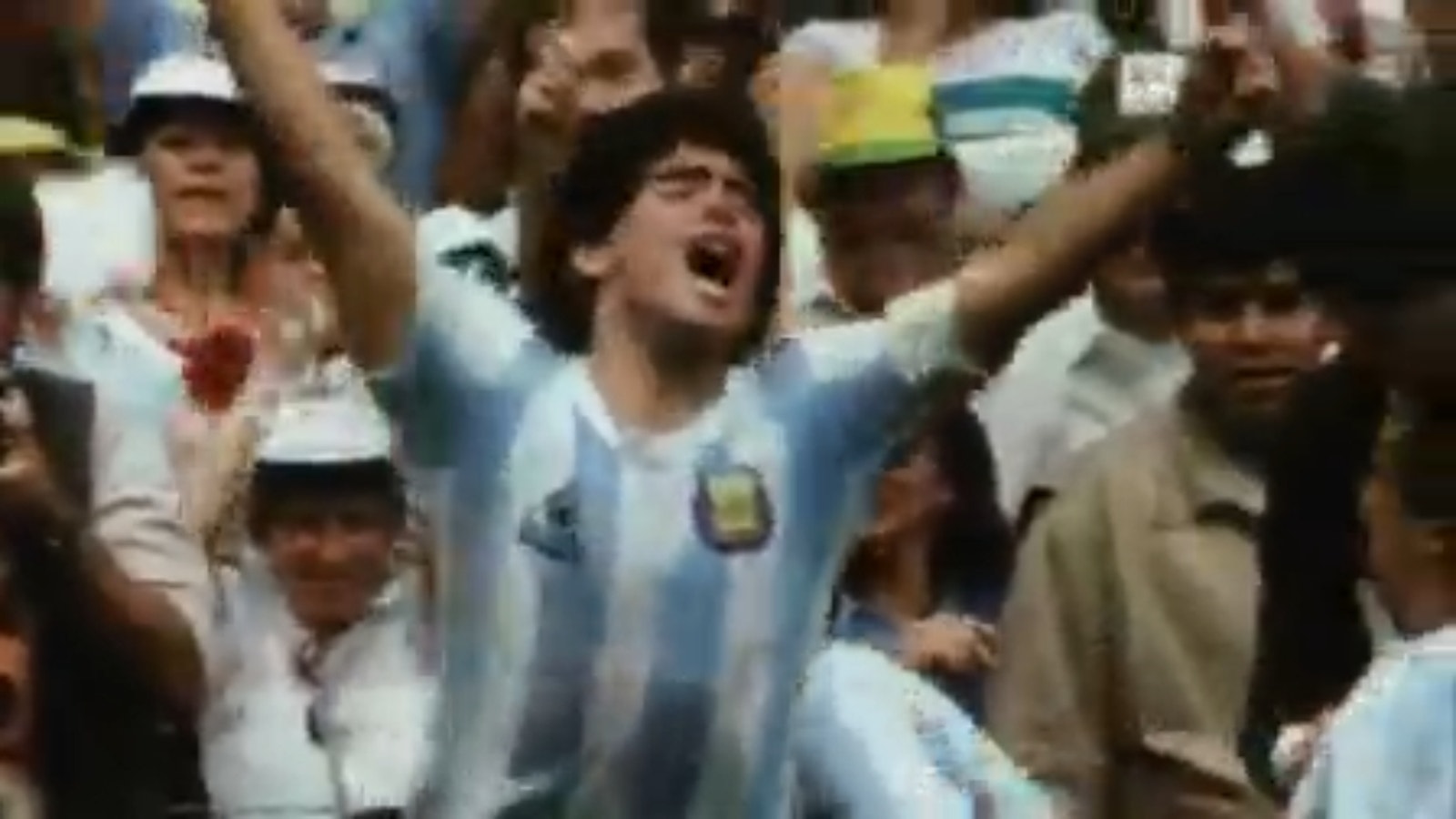 With just four minutes in regulation, Burruchaga pulled Argentina ahead.
34. Eusebio carries Portugal in comeback win
Eusébio was unstoppable in Portugal's monumental comeback win vs. North Korea at the 1966 World Cup.
Eusebio's legendary haul
Eusebio scored four goals in Portugal's come-from-behind win against North Korea.
33. Müller seals second title for Germany
Gerd Müller's final goal for Germany was the biggest of his illustrious international career.
Gerd Muller's final shot
Müller's goal secured another World Cup for the Germans.
32. The fantastic France-Croatia Final
The 2018 World Cup Final was a goal-fest, something that's a rarity for a Final.
A Final to remember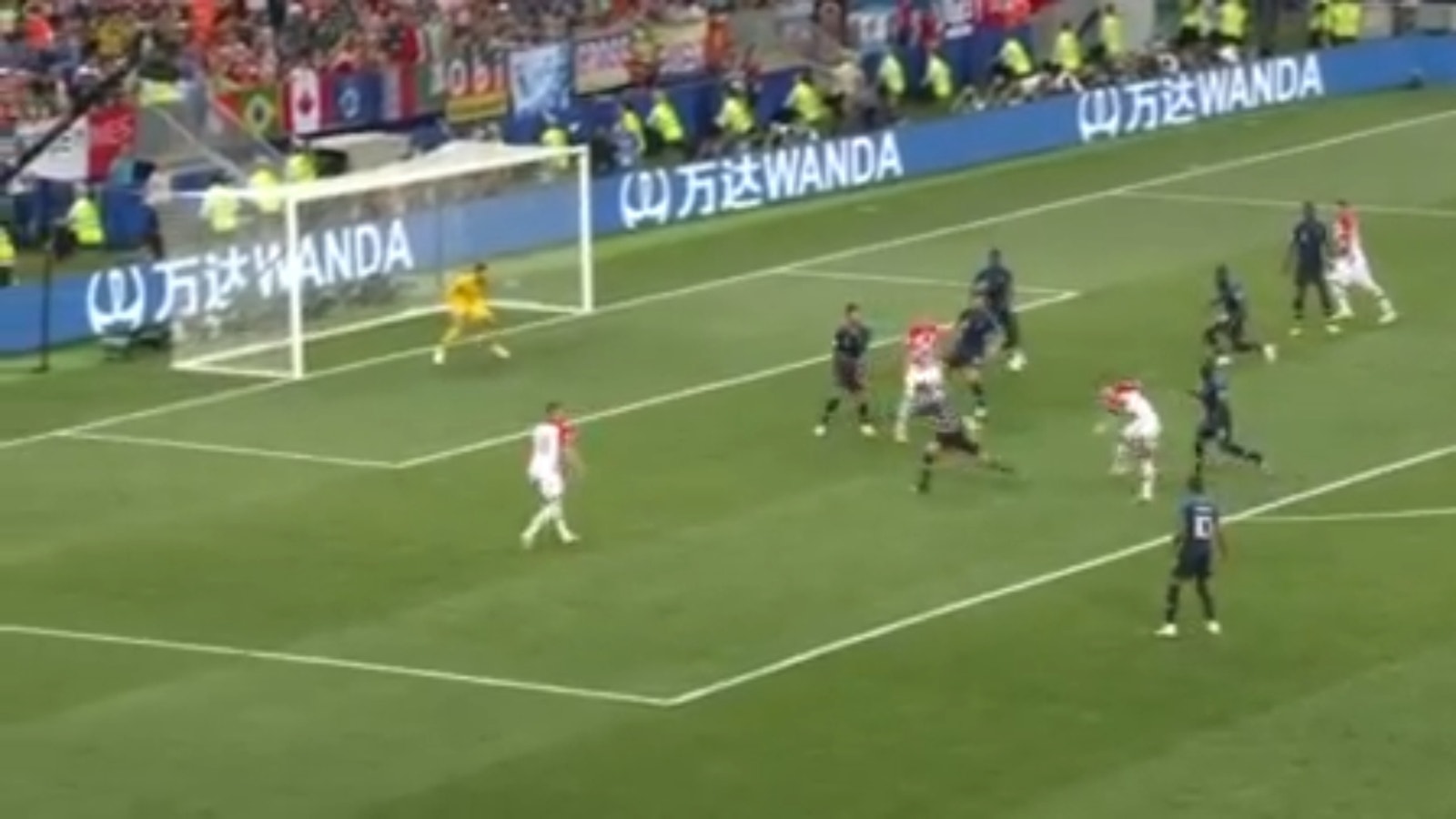 France beat Croatia 4-2 in the 2018 World Cup Final.
31. England robbed of Frank Lampard goal
VAR would have shown Lampard's ball was over the line, but it didn't exist in 2010.
Lampard's no-goal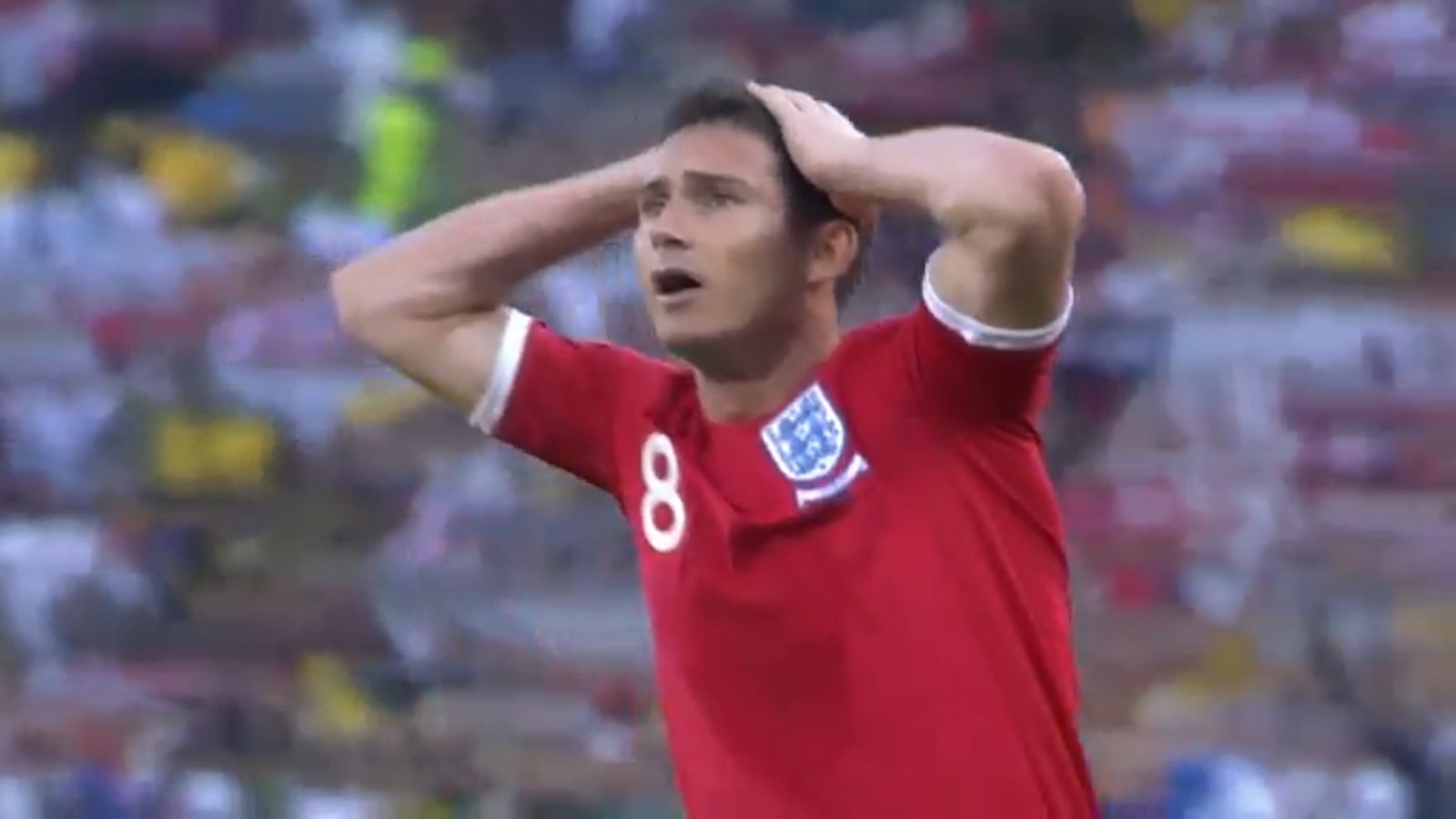 Lampard's goal would have put England within a goal of Germany.
30. Ronaldo returns for 1998 Final
Ronaldo had a health scare before the 1998 World Cup Final, but he was cleared to play just in time.
Ronaldo's health scare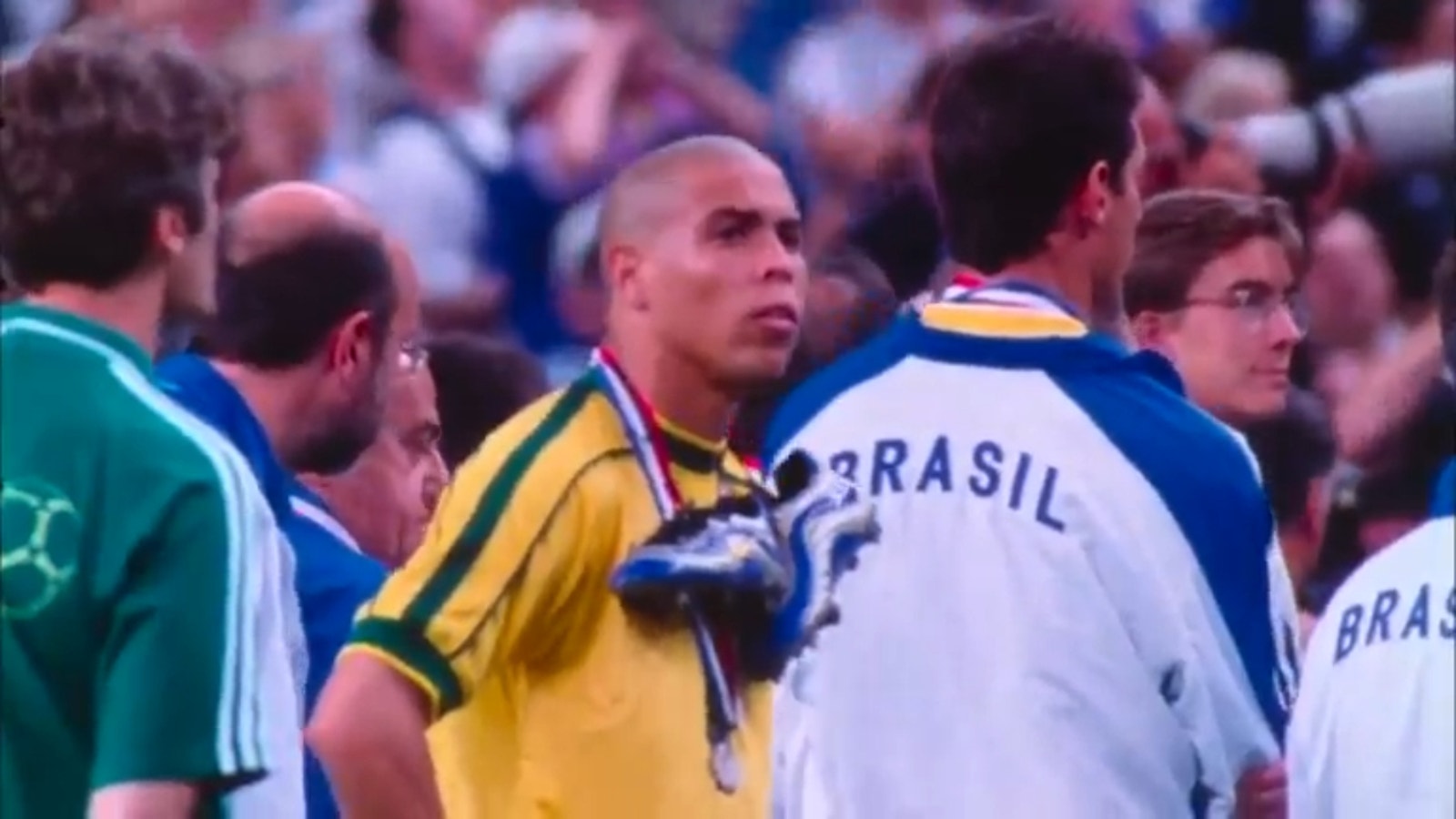 Ronaldo had a seizure hours before kick-off.
29. Paolo Rossi scores hat-trick vs. Brazil
Paolo Rossi broke his cold streak for Italy with a hat-trick vs. Brazil.
Rossi's return
Paolo Rossi was a question mark for Italy's World Cup roster.
28. The Disgrace of Gijón
Germany and Austria got exactly the result they needed to advance to the knockout stages. Coincidence?
"The Disgrace of Gijon"
Austria only needed Germany to win by one goal for both of them to advance.
27. South Korea's controversial win vs. Italy
Did South Korea have the refs on their side, or was Italy just unlucky?
South Korea Topples Italy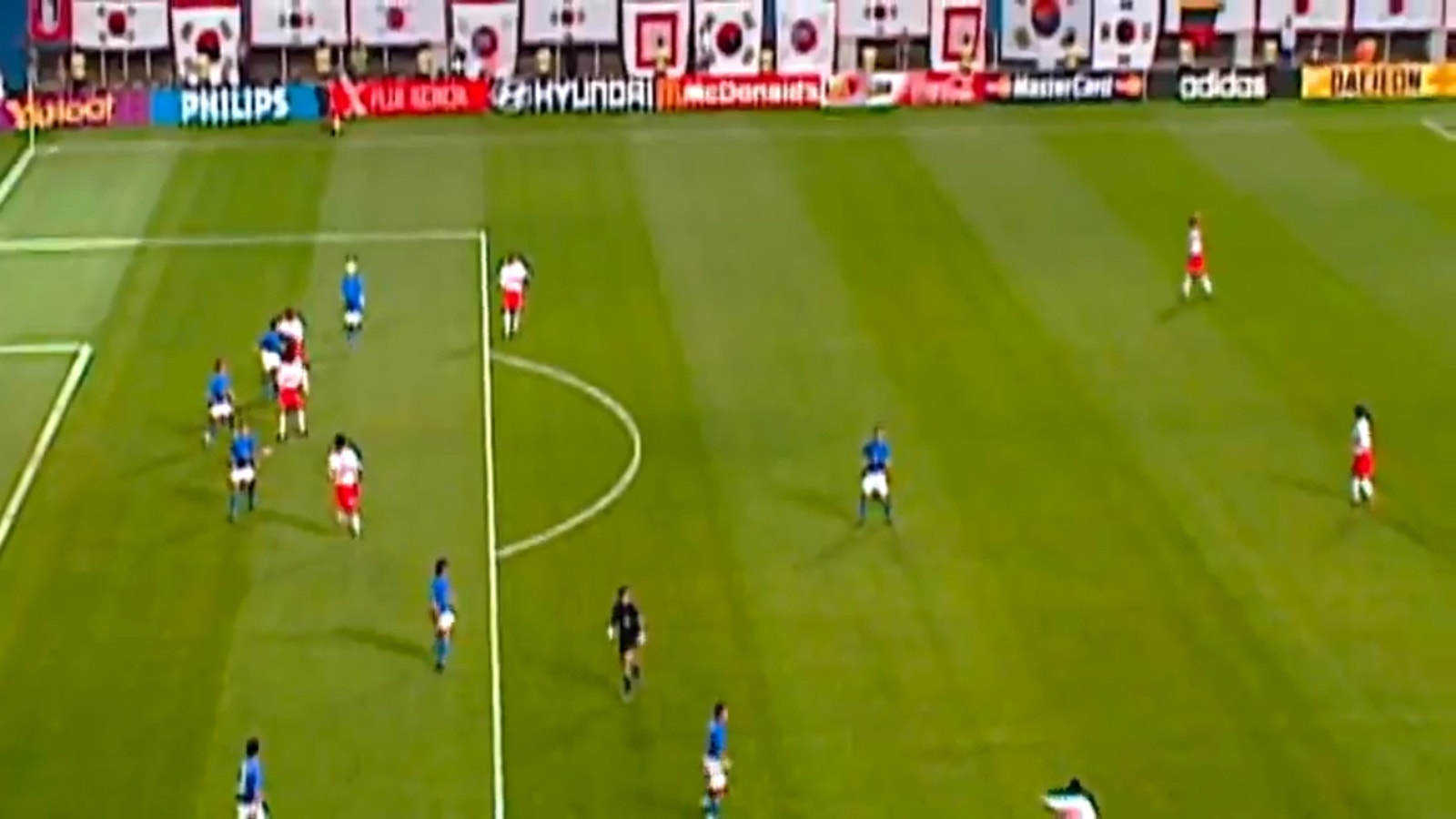 Check out the 27th-most memorable moment in World Cup history.
26. Schumacher's careless tackle
Schumacher wasn't given a card for what many consider the dirtiest tackle in World Cup history.
Battiston loses teeth, ribs cracked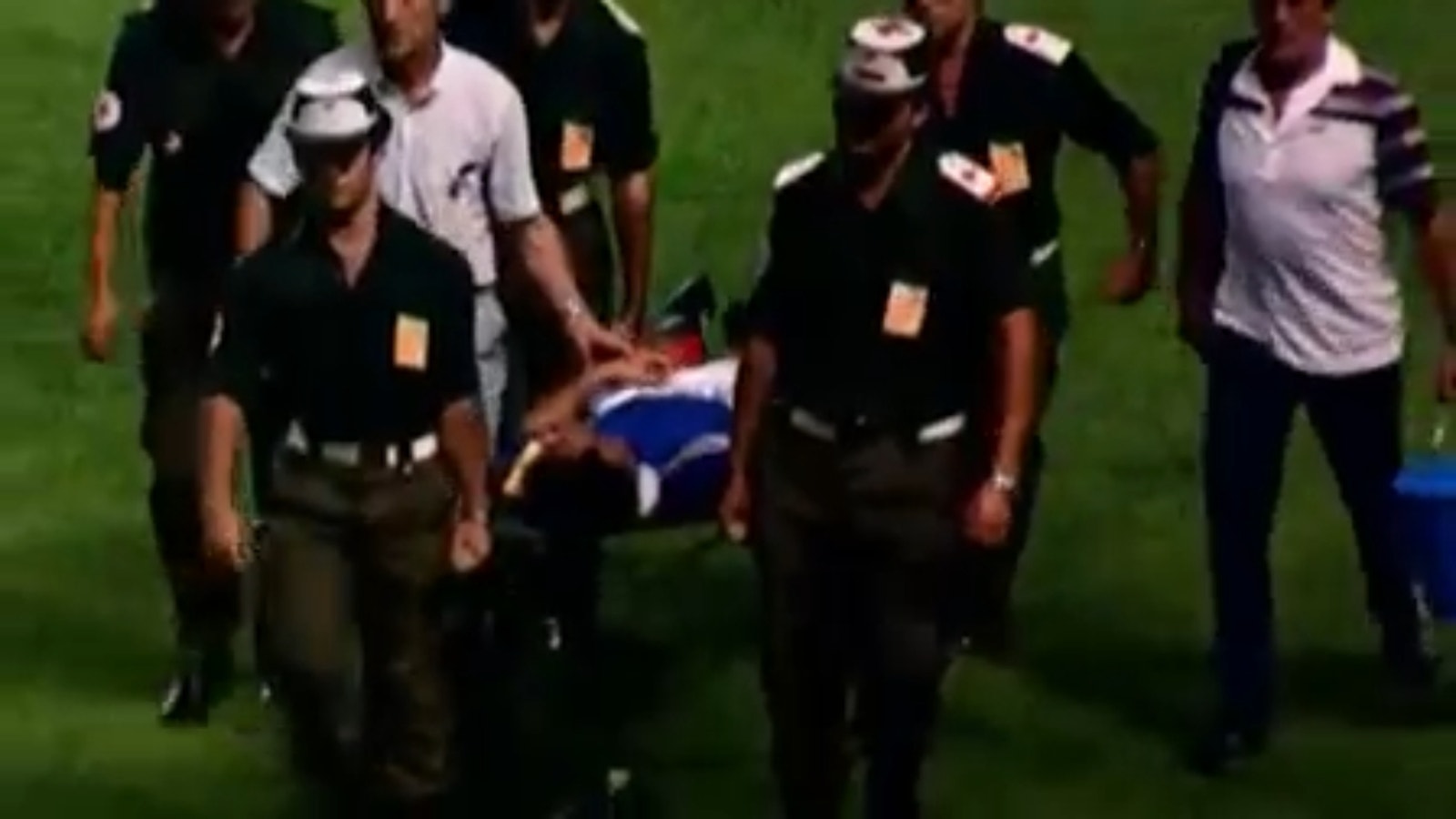 Check out the 26th-most memorable moment in World Cup history.
25. Götze denies Messi of trophy
Mario Götze's goal won the World Cup for Germanny against Argentina.
Gotze's winner for Die Mannschaft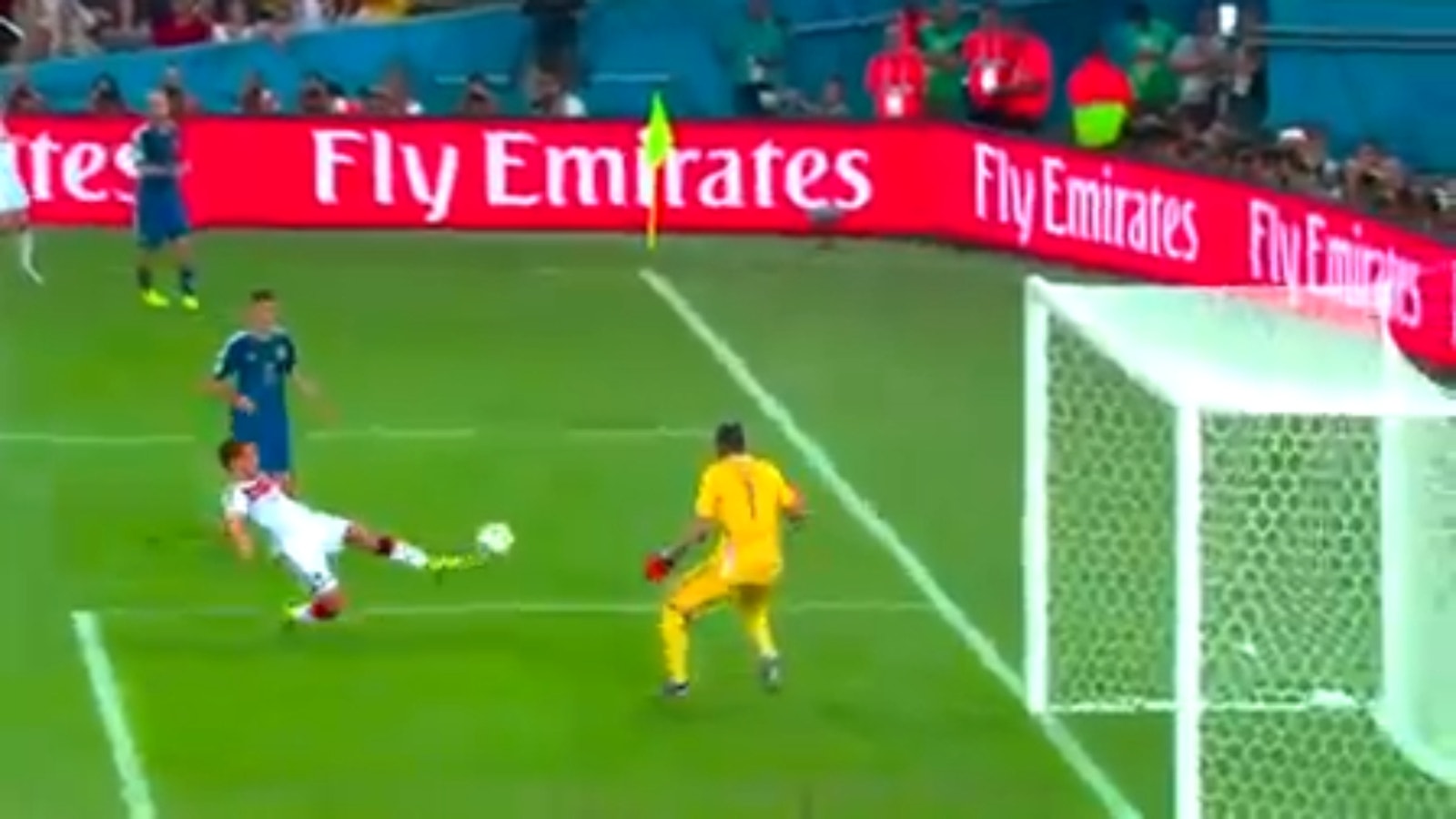 Check out the 25th-most memorable moment in World Cup history.
24. 'El Matador' shines for Argentina
Mario Kempes is Argentina's lesser-known World Cup hero.
Kempes' historic tournament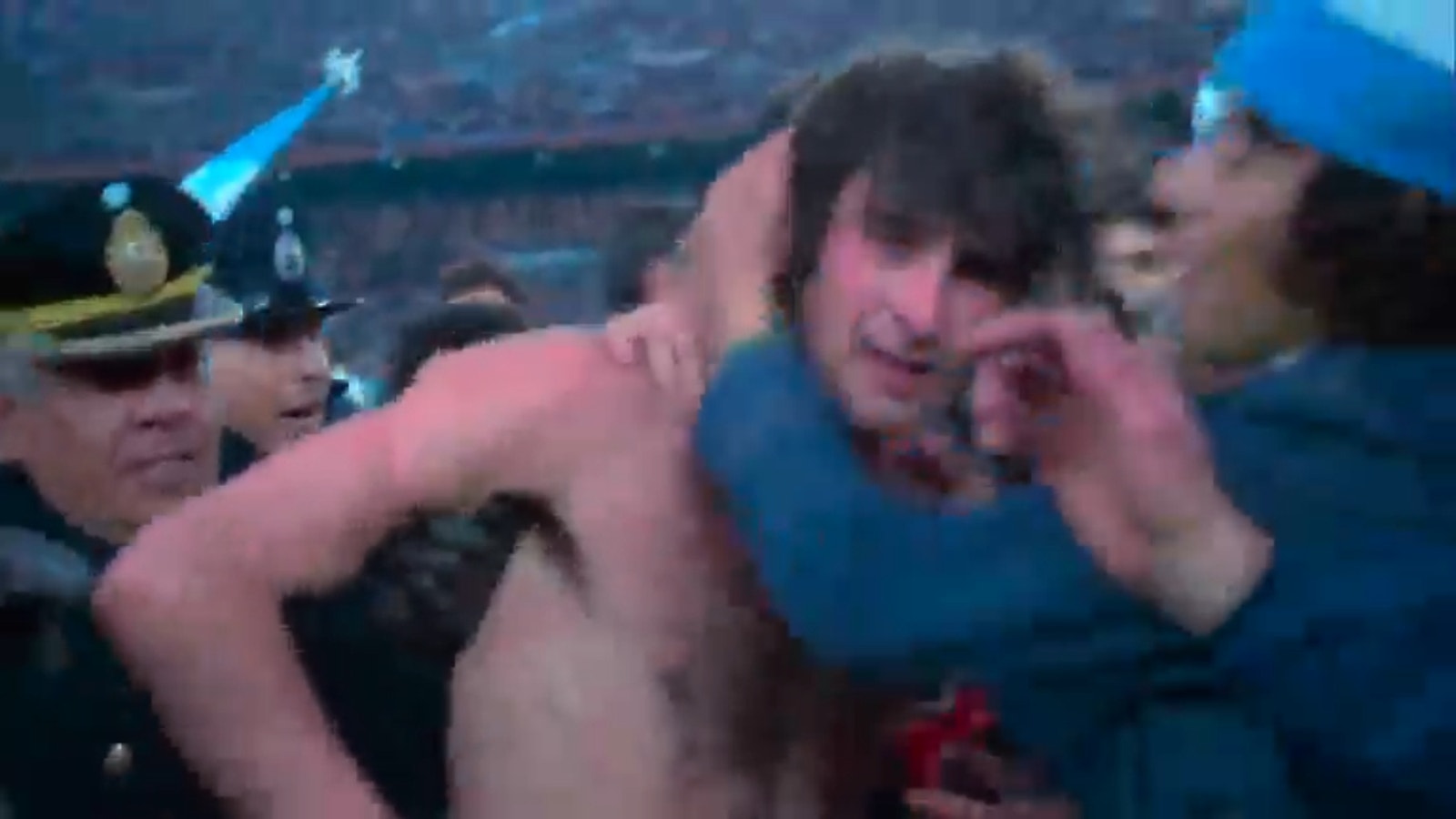 Check out the 24th-most memorable moment in FIFA World Cup history.
23. Ronaldo's 2002 redemption
After experiencing adversity in 1998, Ronaldo dominated the 2002 World Cup Final.
Ronaldo's redemptive brace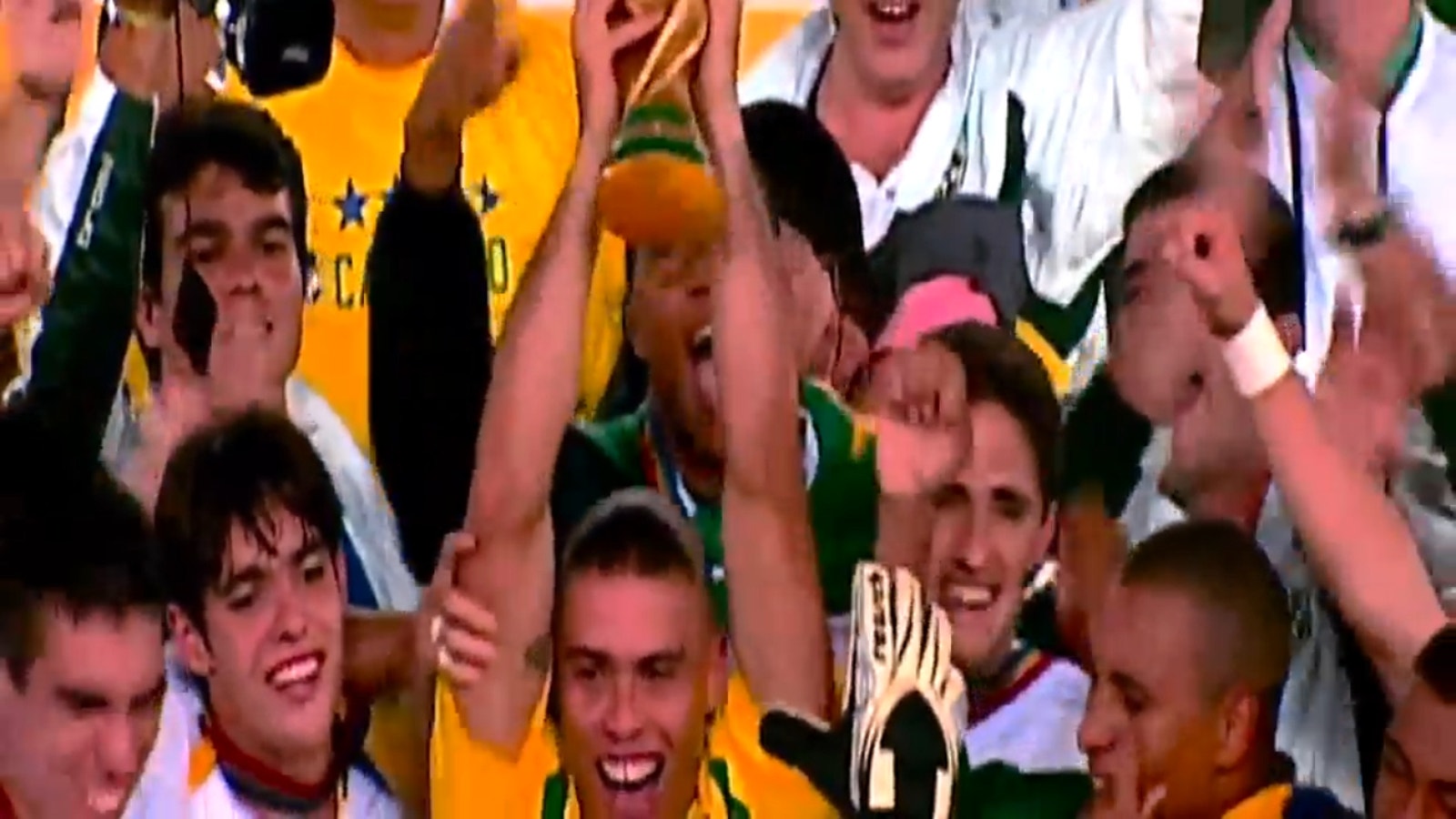 Check out the 23rd-most memorable moment in FIFA World Cup history.
22. Suárez bites Chiellini
 Luis Suárez dug his teeth into Giorgio Chiellini's shoulder.
The bite seen around the world: No. 22 | The Most Memorable Moments in World Cup History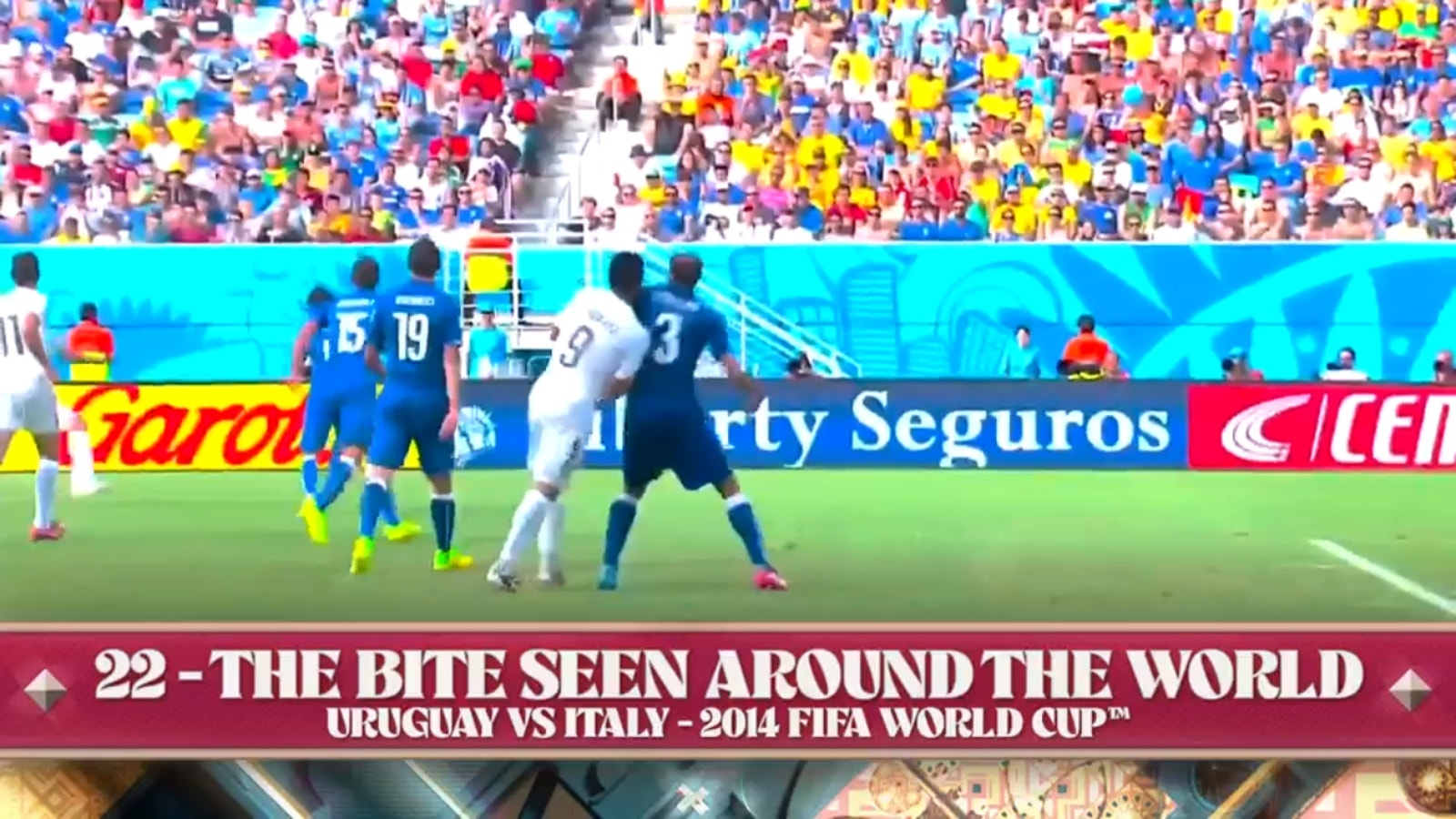 Check out the 22nd-most memorable moment in FIFA World Cup History.
21. Roger Milla turns back clock
Age was just a number for Roger Milla at the 1990 World Cup.
It's Roger Milla time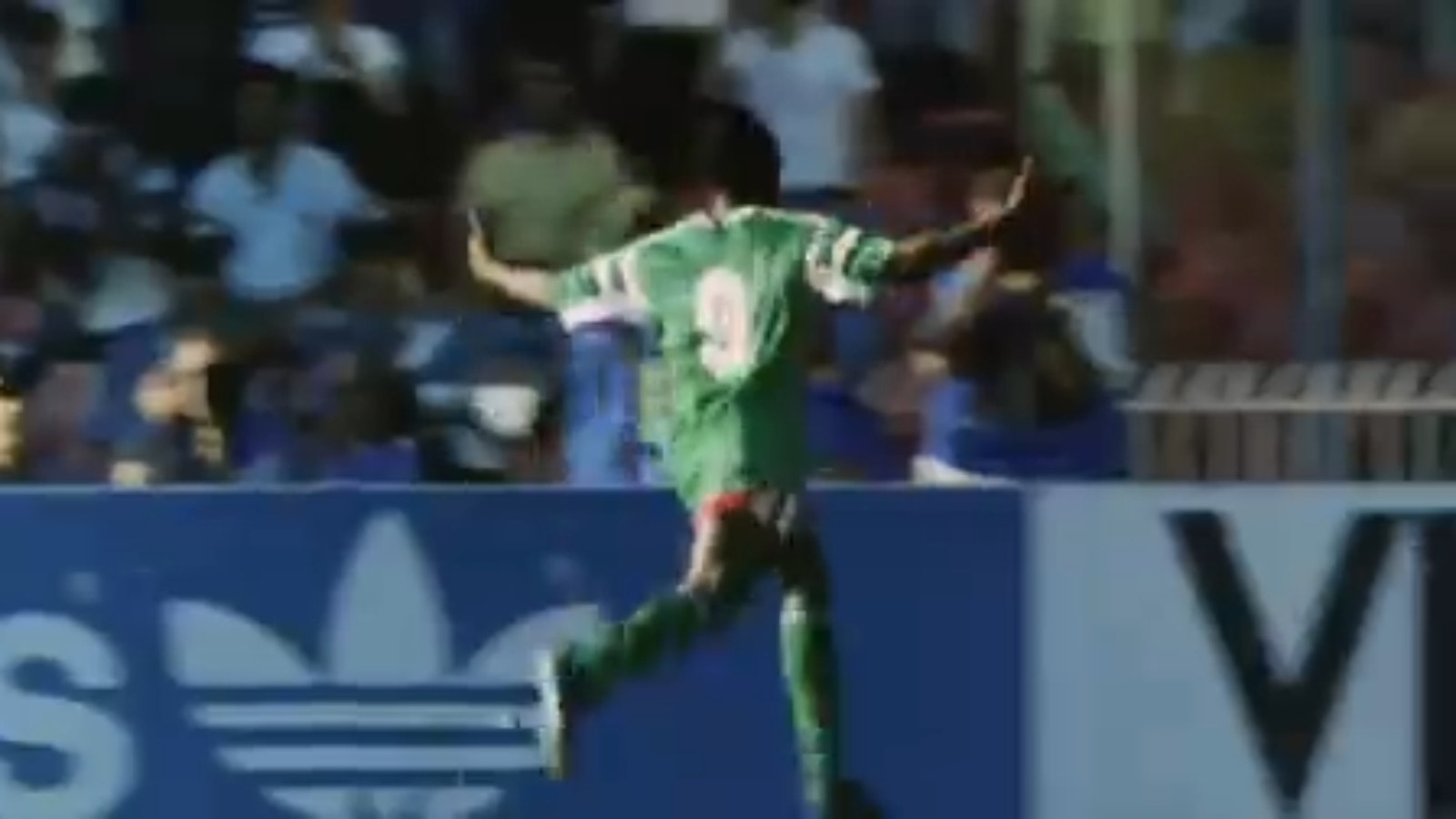 Check out the 21st-most memorable moment in World Cup history.
20. USA hosts for first time
Who's excited for 2026?
USA hosts for the first time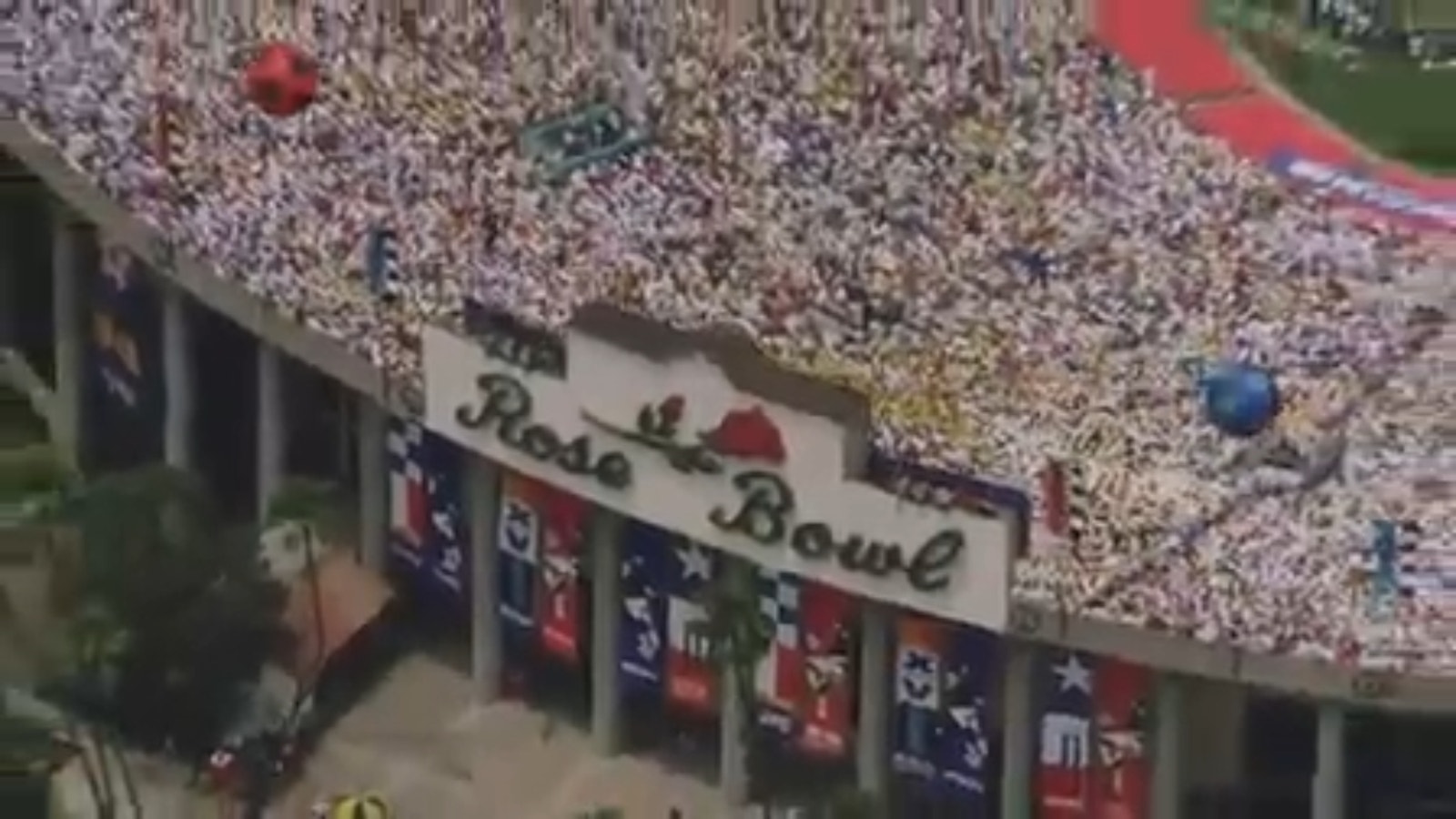 Check out the 20th most memorable moment in World Cup history.
19. Bergkamp settles it vs. Argentina
Dennis Bergkamp scored a sensational match-winner against Argentina.
Bergkamp's legendary goal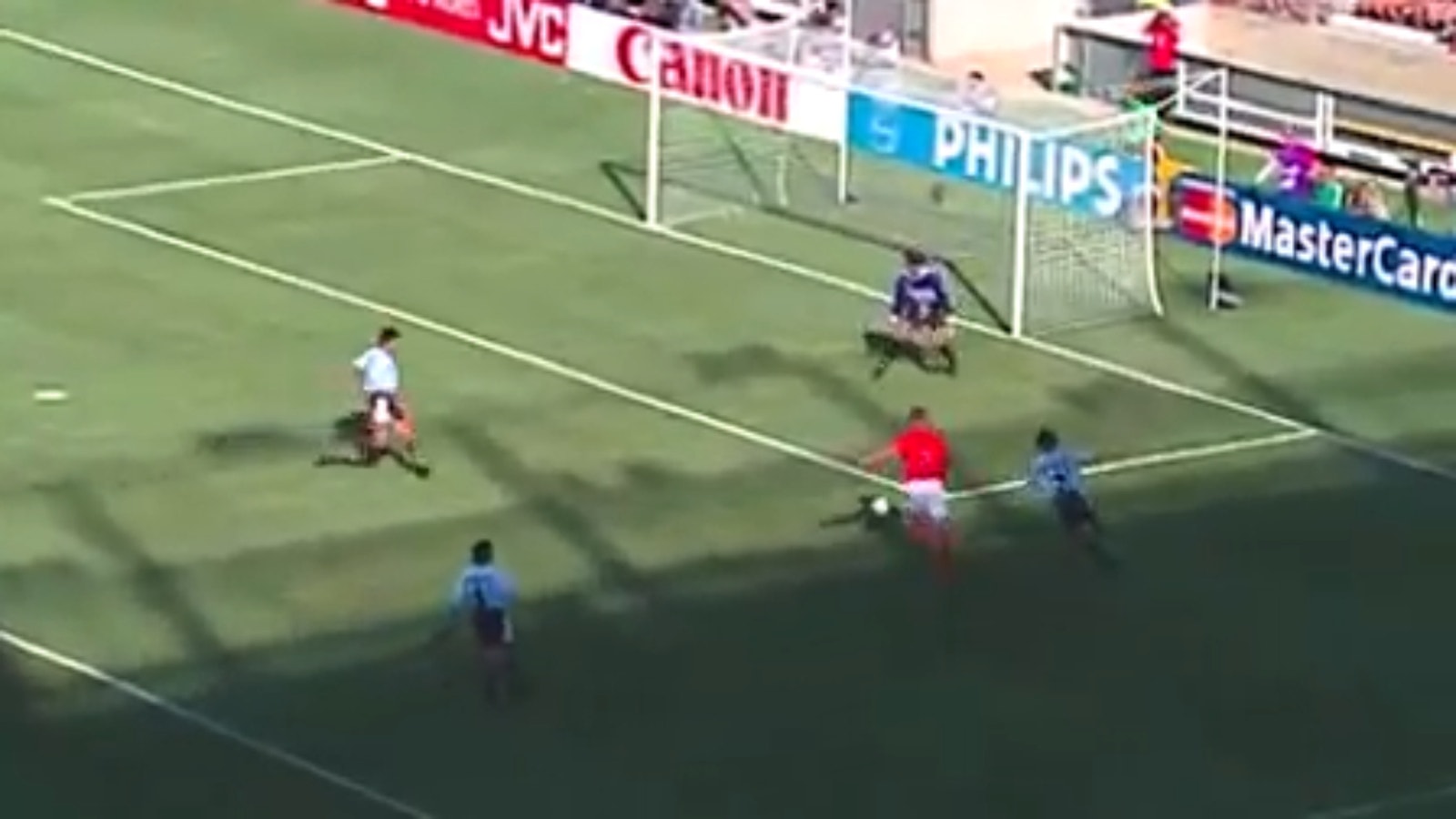 Check out the 20th most memorable moment in World Cup history.
18. Germany upsets Hungary
It's hard to imagine a time when Germany were underdogs at the World Cup, but that was the case in 1954.
The Miracle Of Bern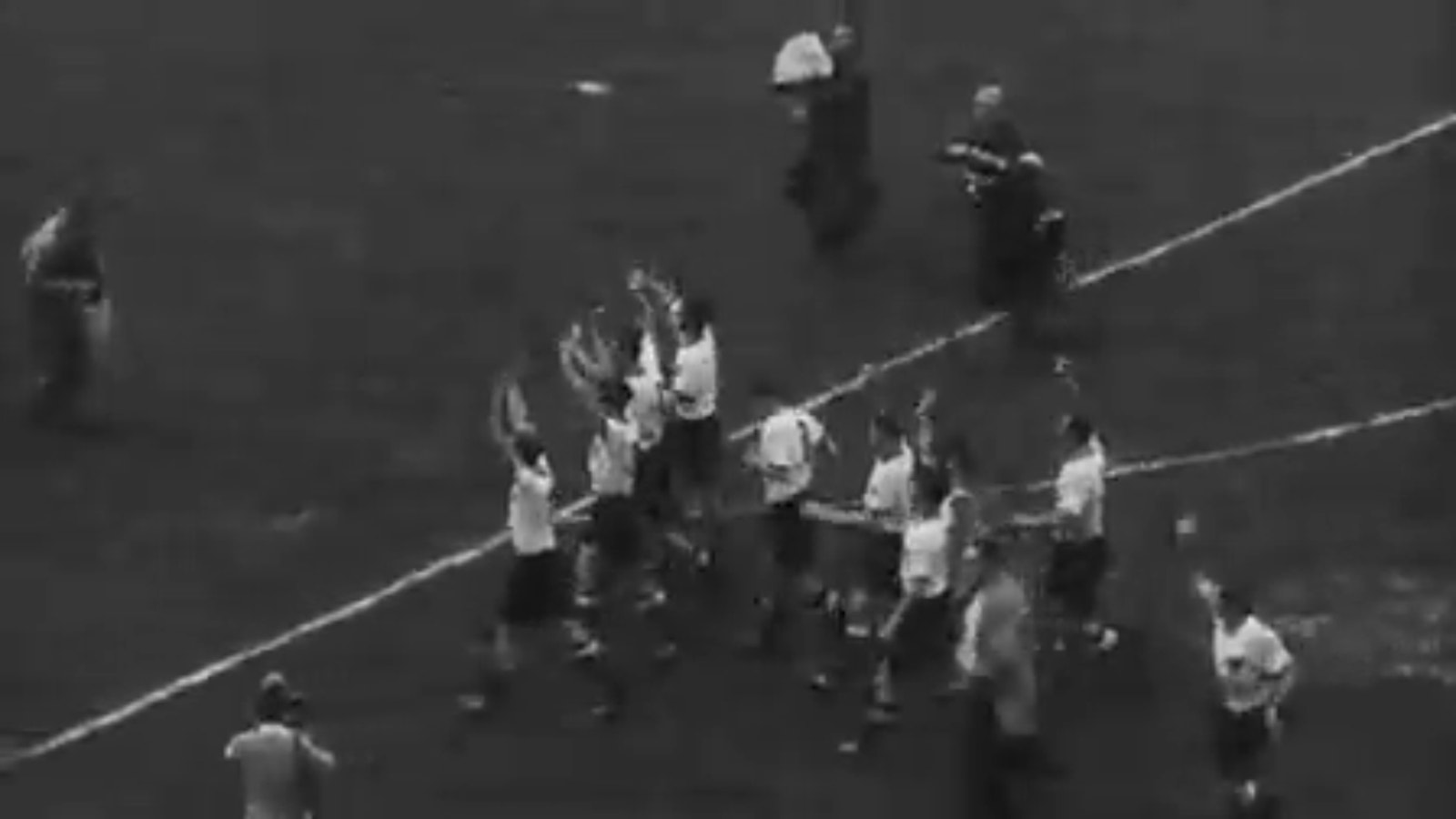 Check out the 18th-most memorable moment in FIFA World Cup history
17. U.S. pull off massive upset vs. England
The U.S. will be hoping for a repeat come Nov. 25. 
The Game Of Their Lives
Check out the 17th-most memorable moment in World Cup history.
16. The birth of total football
The Netherlands didn't invent total football, but they perfected it at the 1974 World Cup.
Total Football For The Oranje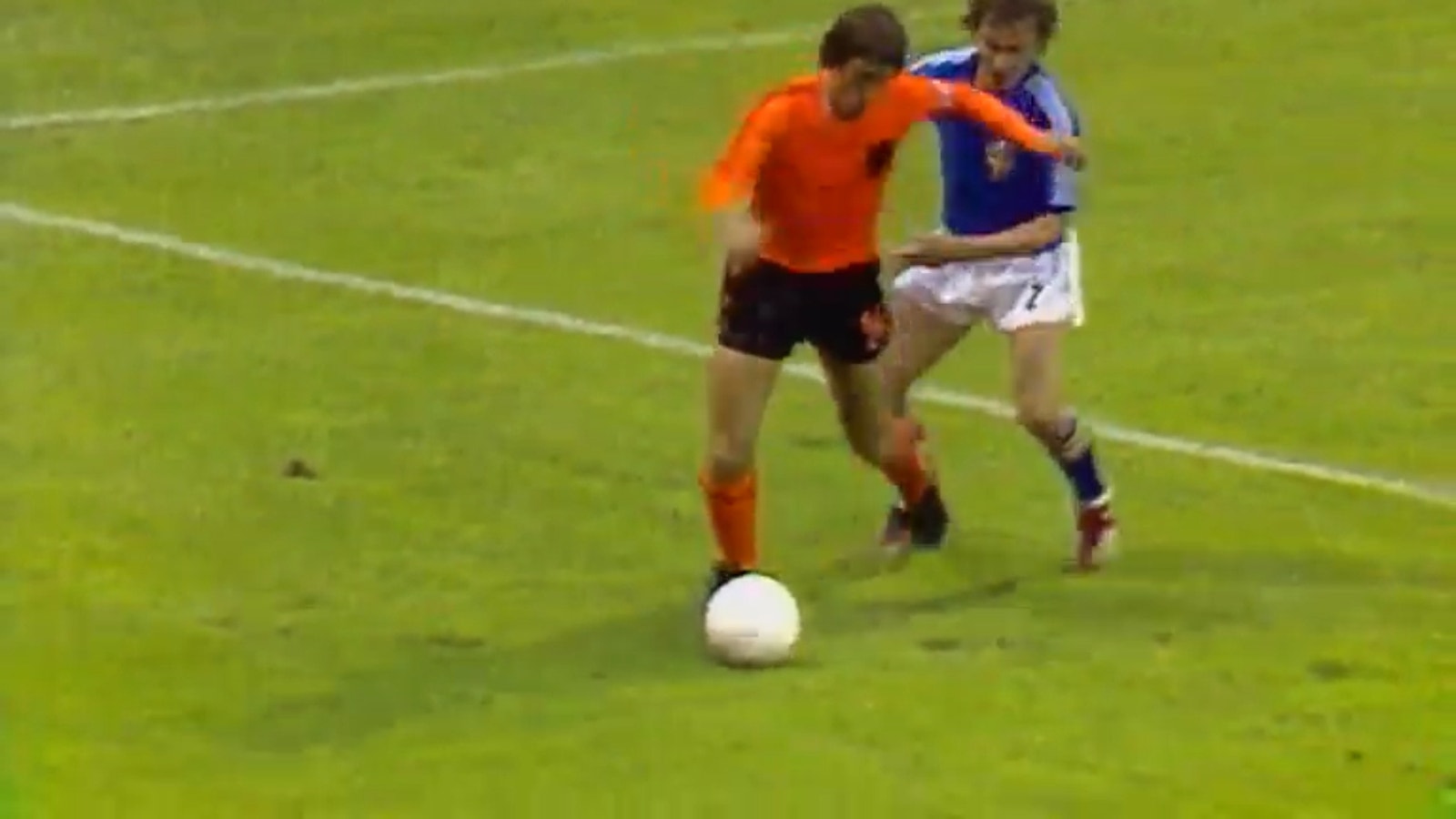 Check out the 16th-most memorable moment in FIFA Men's World Cup history.
15. Andres Escobar's tragedy
Andres Escobar was just 27 years old when he was slain.
Andres Escobar's tragedy.
Check out the 15th-most memorable moment in FIFA Men's World Cup history.
14. Game of the century
You'd be hard-pressed to find a better World Cup semifinal than the one between Germany and Argentina in 1970.
Game of the Century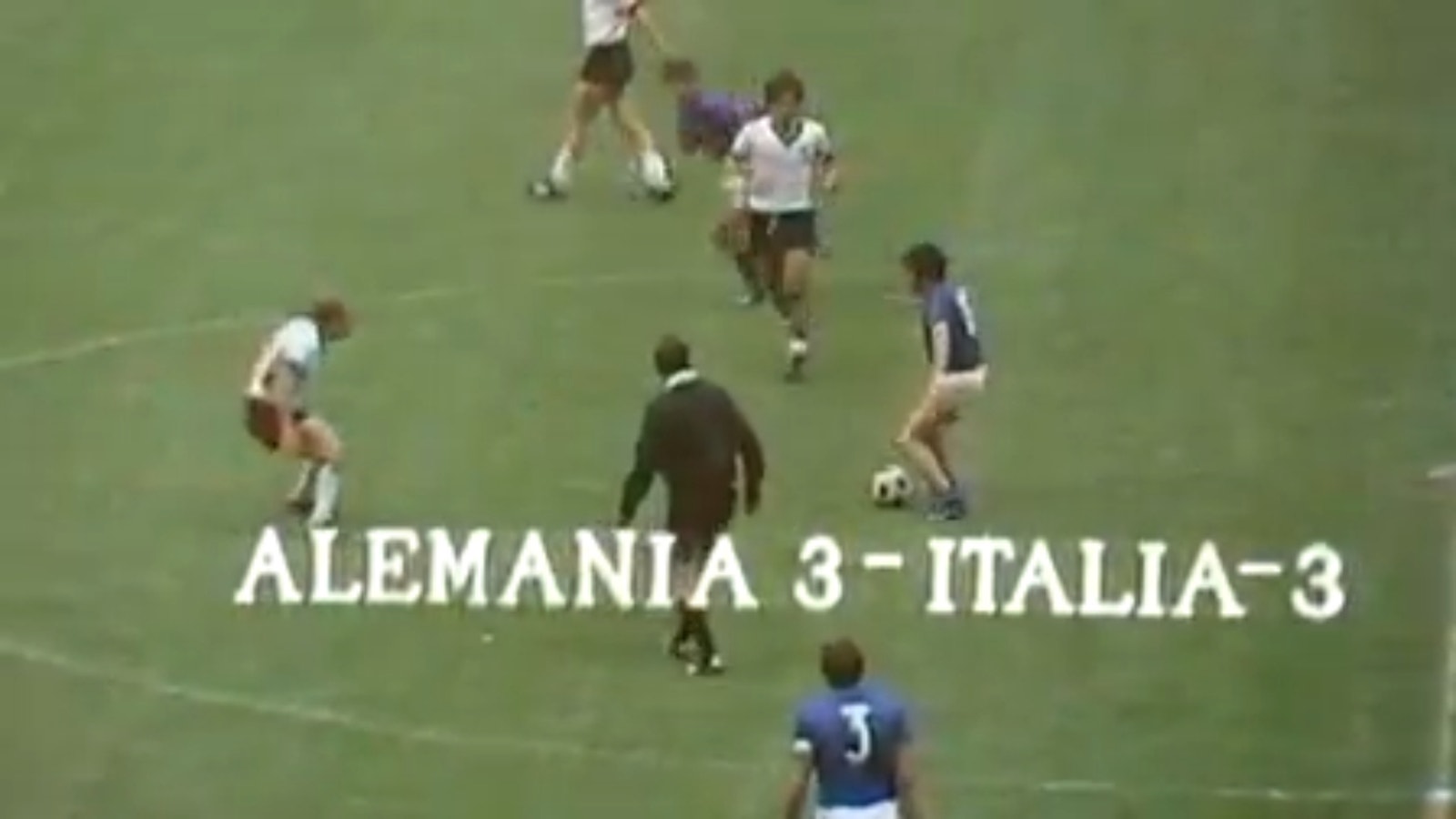 Check out the 14th-most memorable moment in FIFA Men's World Cup history.
13. Gordon Banks robs Pelé
Everyone but English goalkeeper Gordon Banks thought Pele's header would cross the goal line.
Gordon Banks robs Pele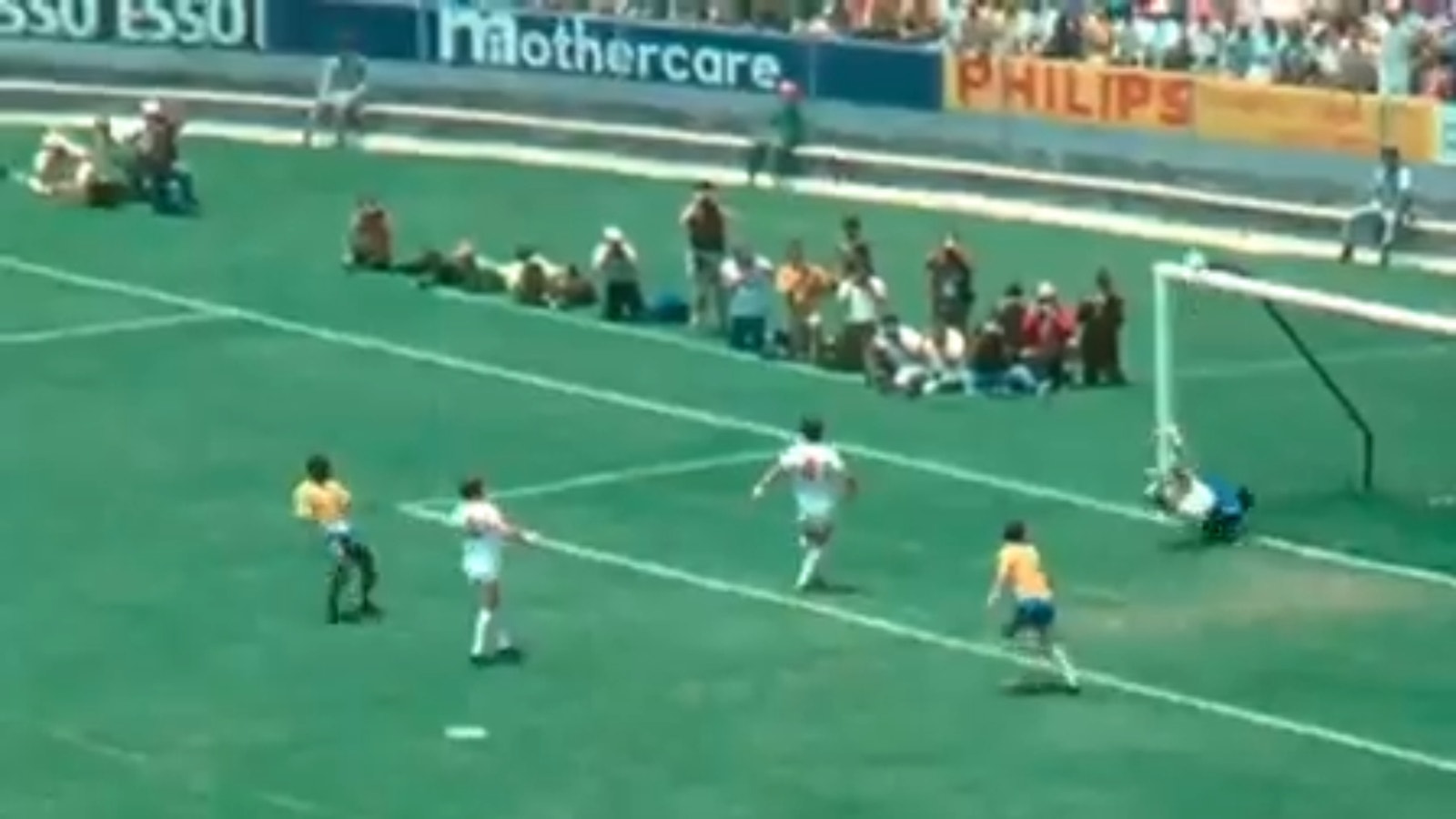 Check out the 13th-most memorable moment in FIFA Men's World Cup history, taking place in 1970 in the England vs. Brazil matchup.
12. Roberto Baggio skies it
Baggio's missed penalty defined his otherwise great career.
Roberto Baggio skies penalty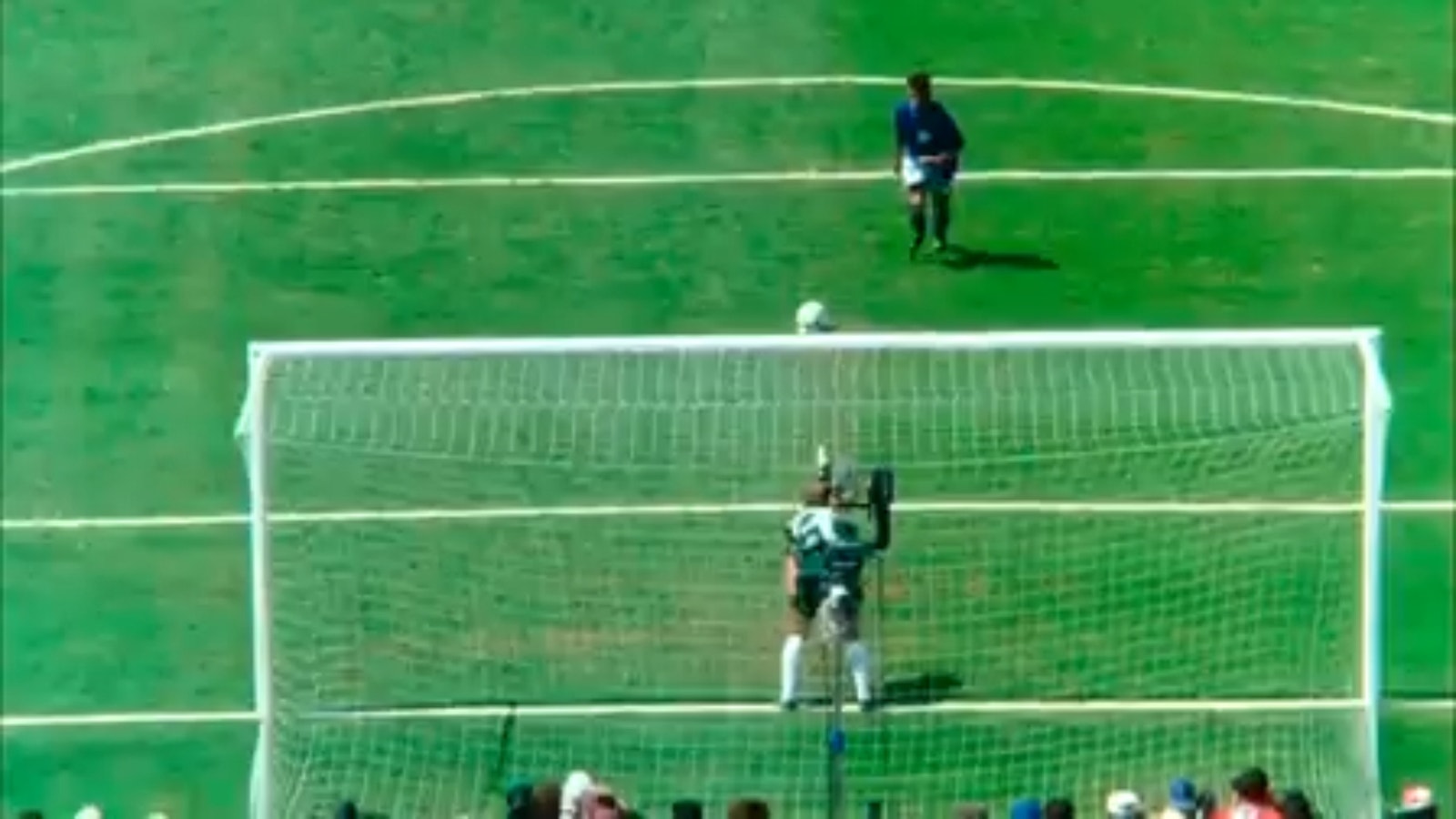 Check out the 12th-most memorable moment in FIFA Men's World Cup history.
11. The Maracanazo
Uruguay came back from down 2-1 to win the 1950 World Cup.
The Maracanazo
Check out the 11th-most memorable moment in FIFA Men's World Cup history.
10. Iniesta seals Spain's first
Andres Iniesta's goal won Spain their first World Cup and second consecutive international trophy.
Spain wins first title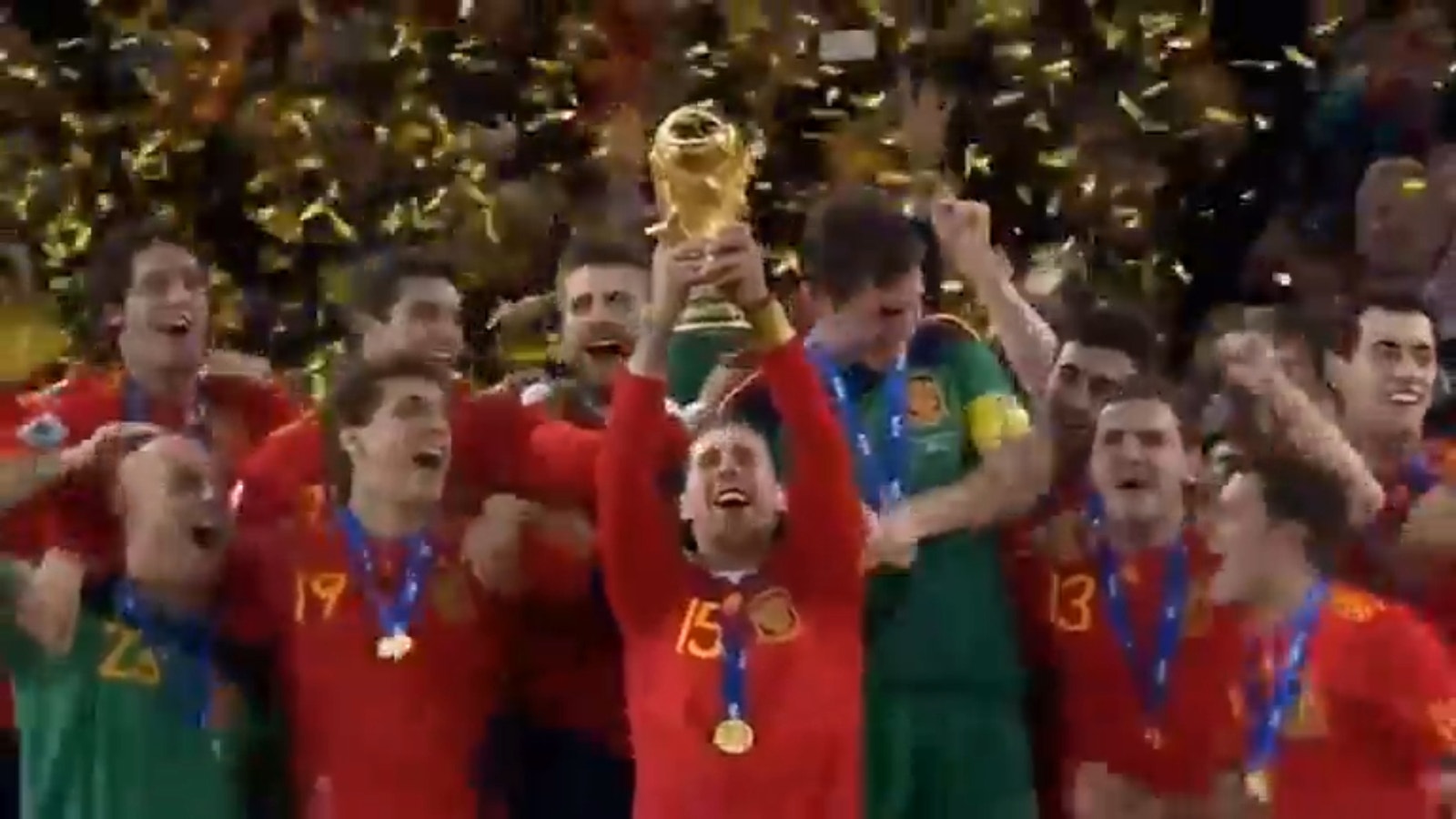 Check out the 10th-most memorable moment in World Cup history.
9. Zidane wows in 1998 Final
Zinedine Zidane's brace
Check out the ninth-most memorable moment in World Cup history.
8. Marco Tardelli's iconic celebration
Tardelli couldn't fight back his tears after scoring the eventual match-winner for Italy.
Marco Tardelli's emotional celebration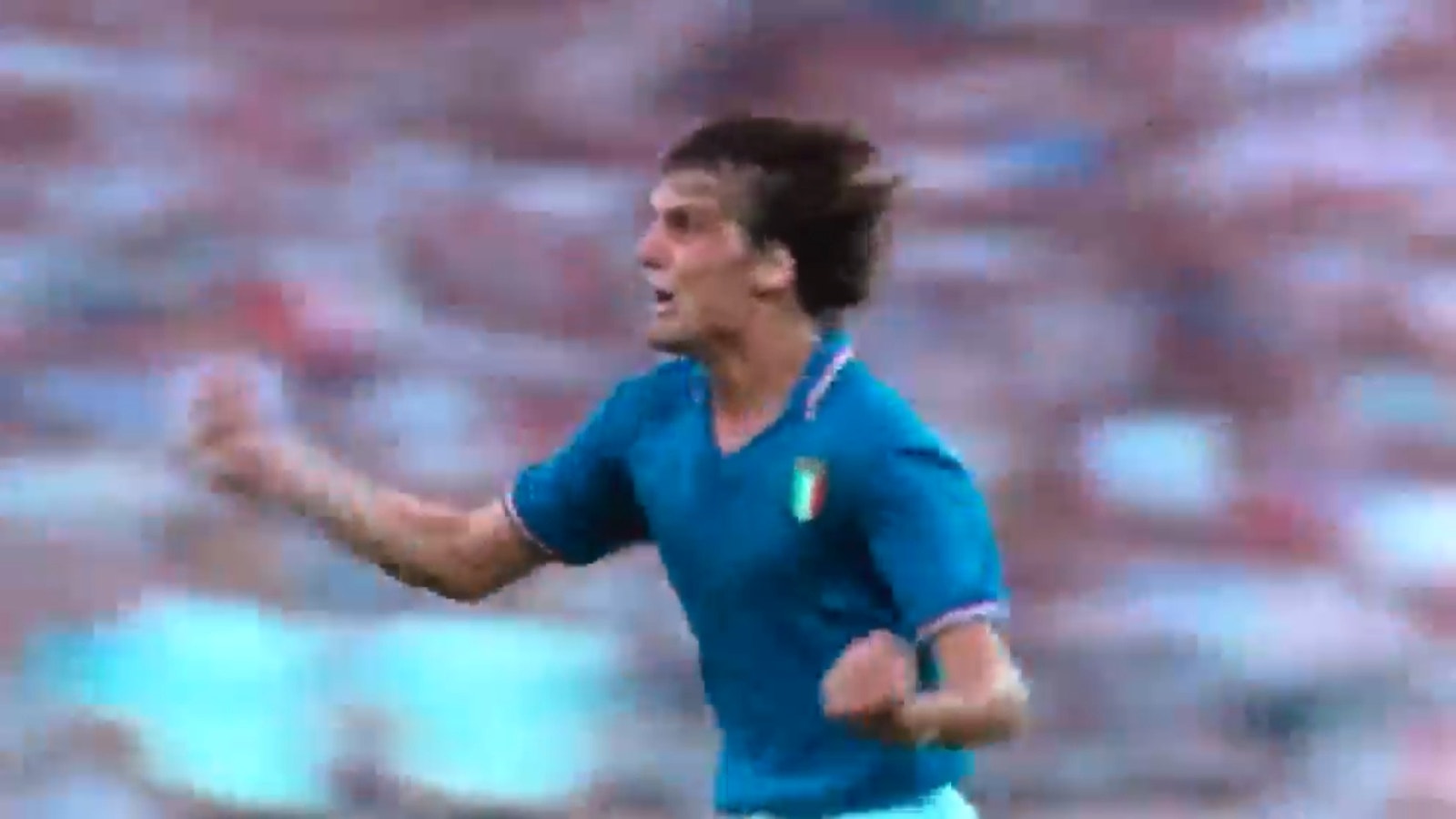 Check out the eighth-most memorable moment in World Cup history.
7. Phantom goal at Wembley
England's lone World Cup triumph came with a great deal of controversy.
The Wembley Goal.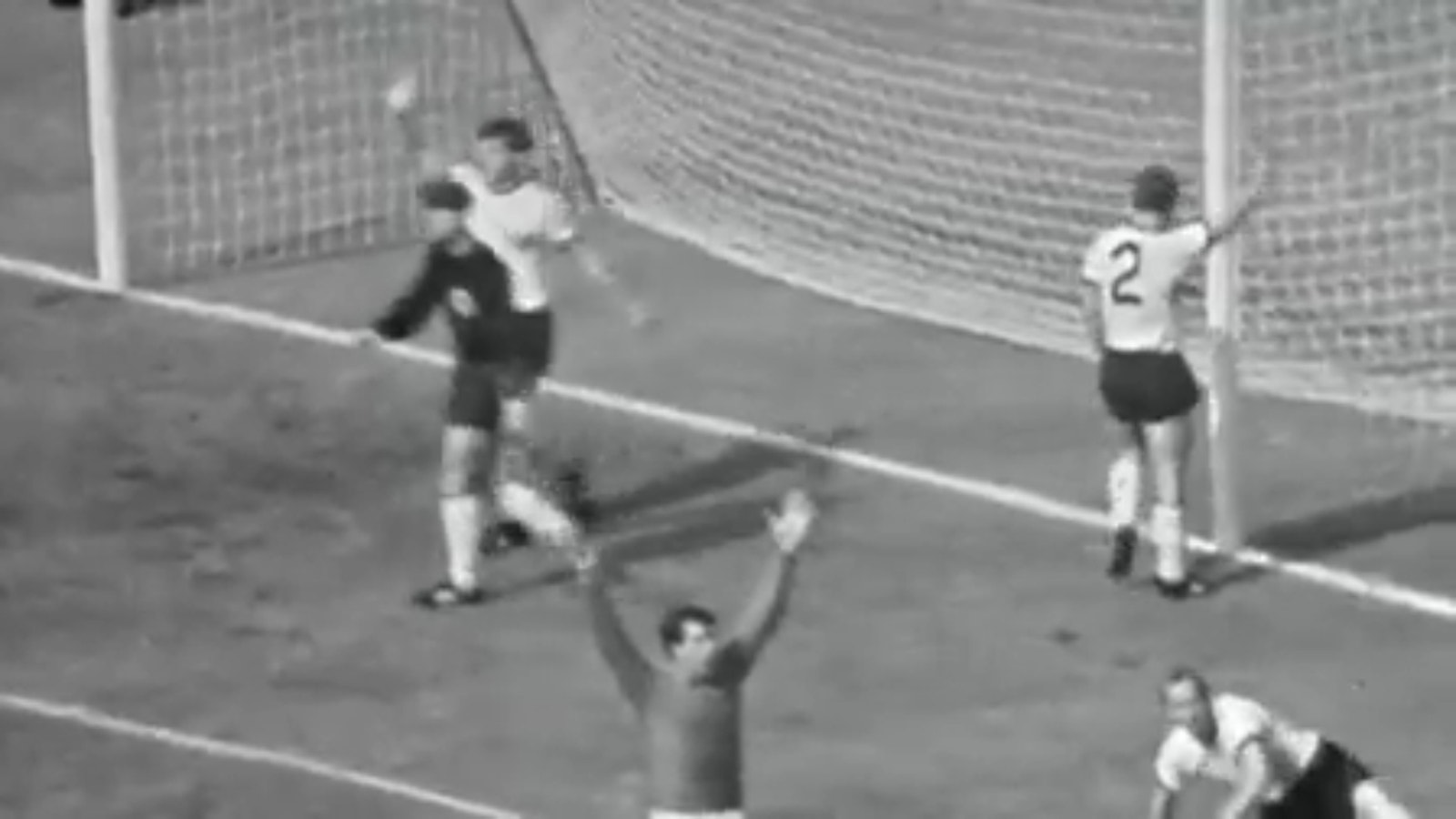 Check out the seventh-most memorable moment in World Cup history.
6. Germany 7, Brazil 1
 Brazil was humiliated by Germany on home soil.
Die Mannschaft routs Brazil
Check out the sixth-most memorable moment in World Cup history, this one taking place in 2014 between Brazil and Germany. See what happened here!
5. Zidane headbutts Materazzi
Materazzi made an off-color remark about Zidane's sister.
The Headbutt: No. 5 | The Most Memorable Moments in World Cup History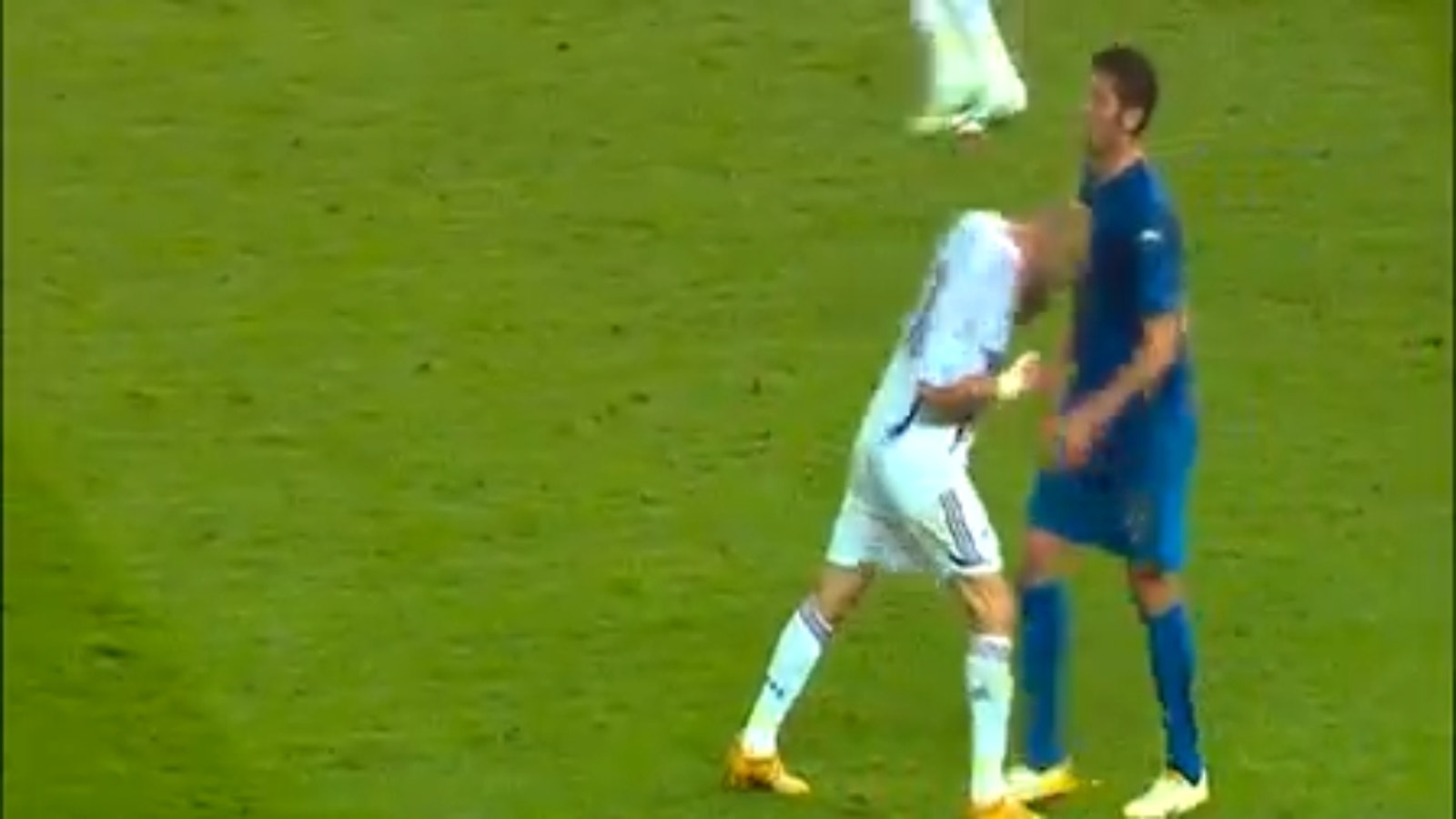 Check out the 5th-most memorable moment in World Cup history, this one taking place in 2006 between France and Italy. See what happened here!
4. Pelé's legend begins
Pelé became a global icon at the 1958 World Cup.
Pele's legend is born
Check out the 4th-most memorable moment in World Cup history.
3. The 'Hand of God'
Maradona scored two goals in the 1986 World Cup  quarterfinals — the first was with his fist.
The Hand Of God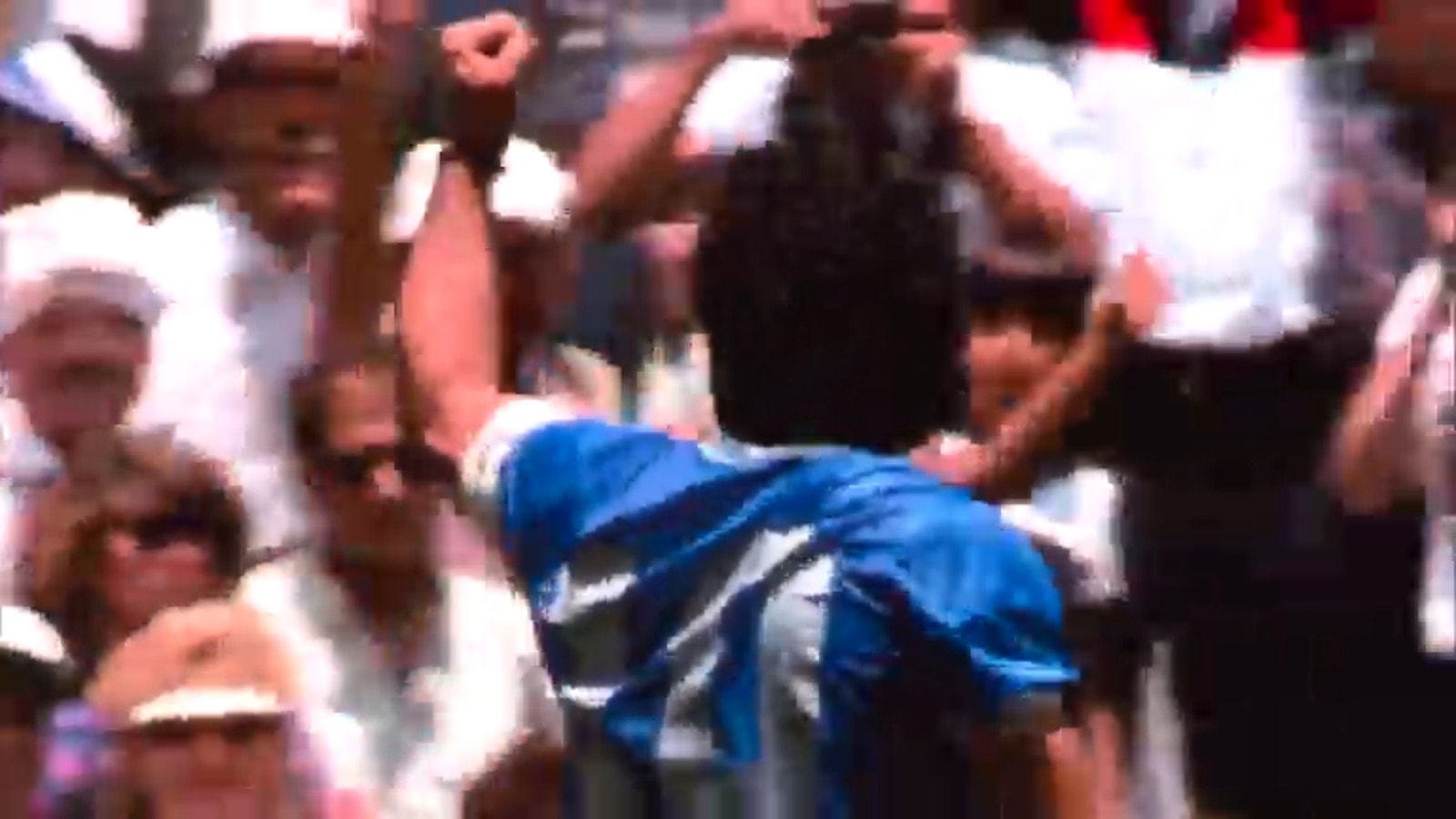 Check out the third-most memorable moment in World Cup history.
2. Maradona's 'Goal of the Century'
This was the other.
Goal of the Century
Check out the 2nd-most memorable moment in World Cup history.
This page will be updated every day through the start of the World Cup on Nov. 20.
---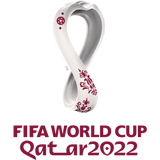 Get more from FIFA World Cup 2022 Follow your favorites to get information about games, news and more
---
---